Two weeks ago, I was invited to attend the media tasting event for Knott's Boysenberry Festival 2015, which runs from March 28 through April 12. It was my first festival, as I'd been living outside of California for a few years, but I've always been a freak for boysenberry funnel cakes so I knew I'd leave full and happy. I was not disappointed and I left with a list of things I needed to share with the family…like this fun bun.
On Saturday, the first day of the festival, we were able to attend courtesy of Knott's, who supplied us with four tickets for the event and complimentary food to keep us full all day long. (And hydrated, though that was more for the adults!) I took my two sons and my oldest son's fiance, and we headed straight over to the Silver Bullet. In under 10 minutes, we were on our first ride, screaming, but that didn't stop us from heading right to the next one, my favorite, Xcelerator.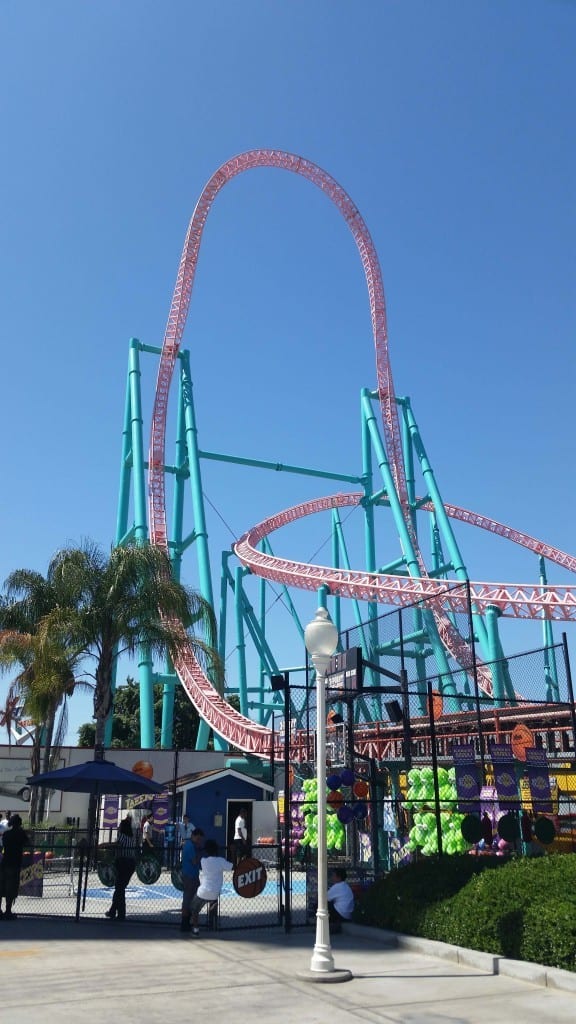 Doesn't that ride look crazy fun? It accelerates from zero to 82 miles per hour in under three seconds, and before you know how fast you're going, you're headed straight up into the air. I dare you to open your eyes! I never do, I don't open my eyes until we're headed back down…which may not be any better.
We then parted ways for a bit, with the under-18 crowd headed off to meet with friends for more rides while the 21+ group headed to the wine tasting area in the barn in Ghost Town. What a blast it was!  A room full of tables topped with wine glasses and different varietals of wine. What adult wouldn't like this area? Boysenberry wine. Prosecco. Strawberry-chocolate wine. Sangria. Chardonnay. Pinot Noir. Sauvignon Blanc. And that's just some of the wines we were able to sample.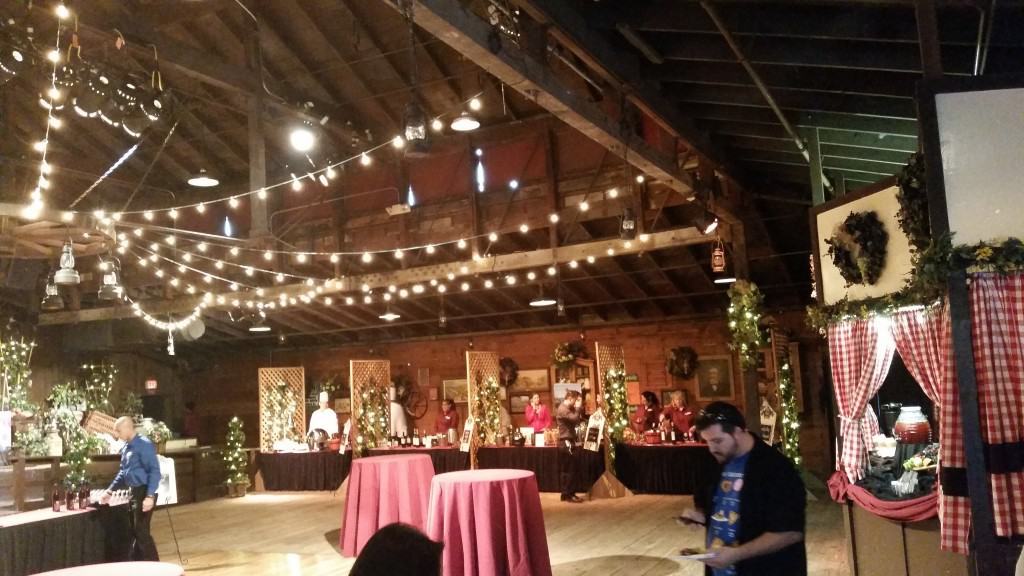 Greeted by this fruit and cheese plate, we headed outside with a glass of boysenberry wine, which turned out to be so popular, they ran out and had to go find more! (You aren't able to buy the bottles there at Knott's, but you can find Honeybrook Winery online; they are located in Oregon and their website offers options on how to purchase it.) Sitting under an umbrella on this gorgeous day was perfect. We met other press, media staff and bloggers, and moved onto the boysenberry beer.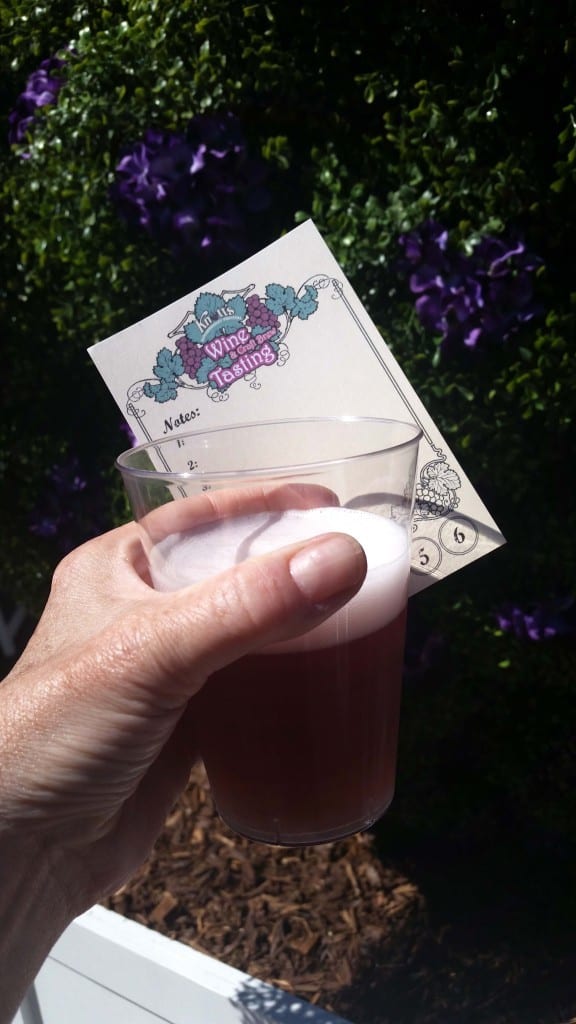 What a treat that is! On a hot day, or not, it's so good. It definitely has a beer taste with a tangy kick, and I could get into some trouble with that. The line was the longest, too, so I'm certainly not the only one.
Outside of the wine tasting, there were boysenberry food options everywhere. The Calico Fry Co., normally known for its various loaded fry plates, now offers up fried alligator bites with boysenberry aioli, in addition to a couple other menu options you won't find there permanently. Sutter's Stand is now all about the boysenberry bbq wings, pictured below. Look at that glistening boysenberry bbq sauce! These were delightfully messy and meaty and I should have gone back for another platter..but there's so much to choose from, I didn't want to get filled up too early. Corn on the cob with boysenberry butter, an all-beef hot dog with boysenberry ketchup and boysenberry relish, and for the love of all things boysenberry, try a boysenberry trifle or boysenberry-filled churro. (The Churro Factory was so busy, they actually ran out for a while!)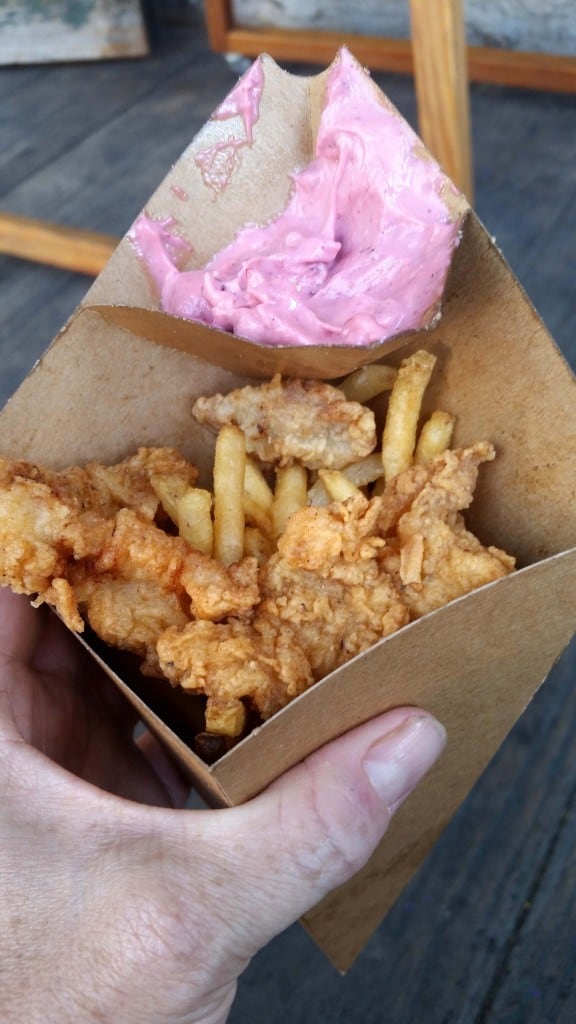 If you see it — as I couldn't find where it was sold on Saturday, but I saw some kids enjoying it — grab a boysenberry cotton-candy. Like regular cotton candy, it's so light you're not really eating any calories, right? Right. In fact, I didn't consume any calories at all on Saturday <shaking my head> and definitely need to return and try what I missed, after I run another 20 miles and then do a few zumba sessions. So worth it!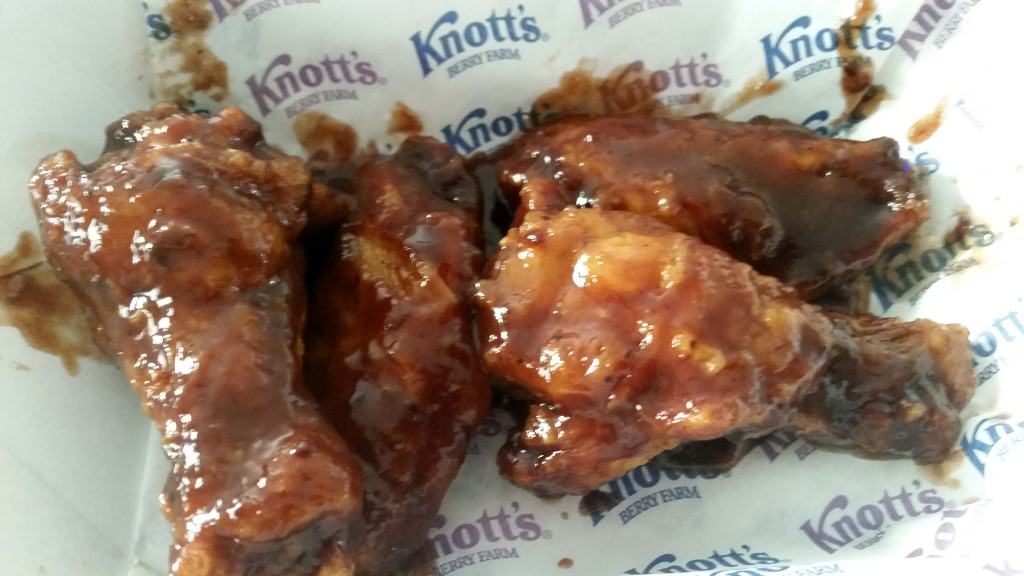 Little Dude's favorite was the bbq wings, and after that, he didn't want anything else. He'd spent hours on rides and I wish I had his appetite, which means I'd be able to go for hours without eating anything, then I'd consume everything in sight..in ten minutes…and run off again only to repeat the process later, all while being so skinny I'd need a super-small belt to hold up my skinny pants. Sigh.
The park is has some extra decoration, with purple everywhere, which was awesome for me, a serious purple lover. In fact, I wore a purple shirt so I could blend right in.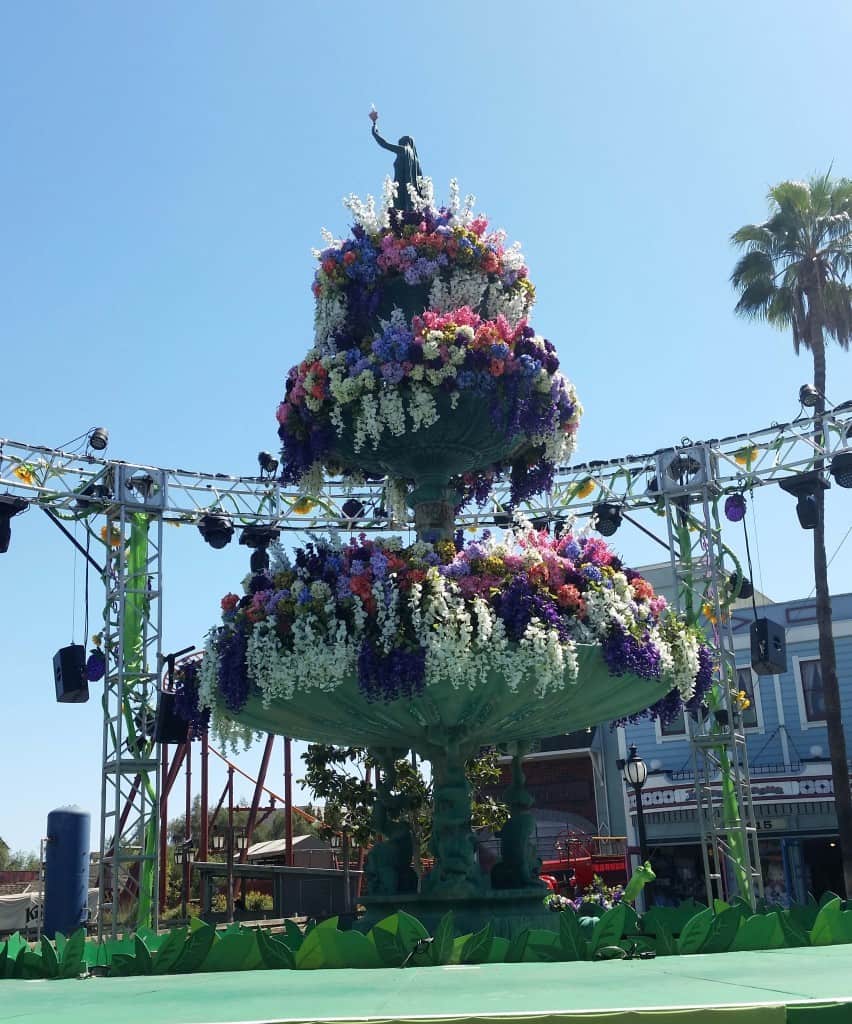 Little piece of Knott's Berry Farm trivia: these wisteria vines are original to Knott's, all the way back at its inception! They aren't in full bloom yet, but if you see them in the arbor in Ghost Town, now you know why they are so special.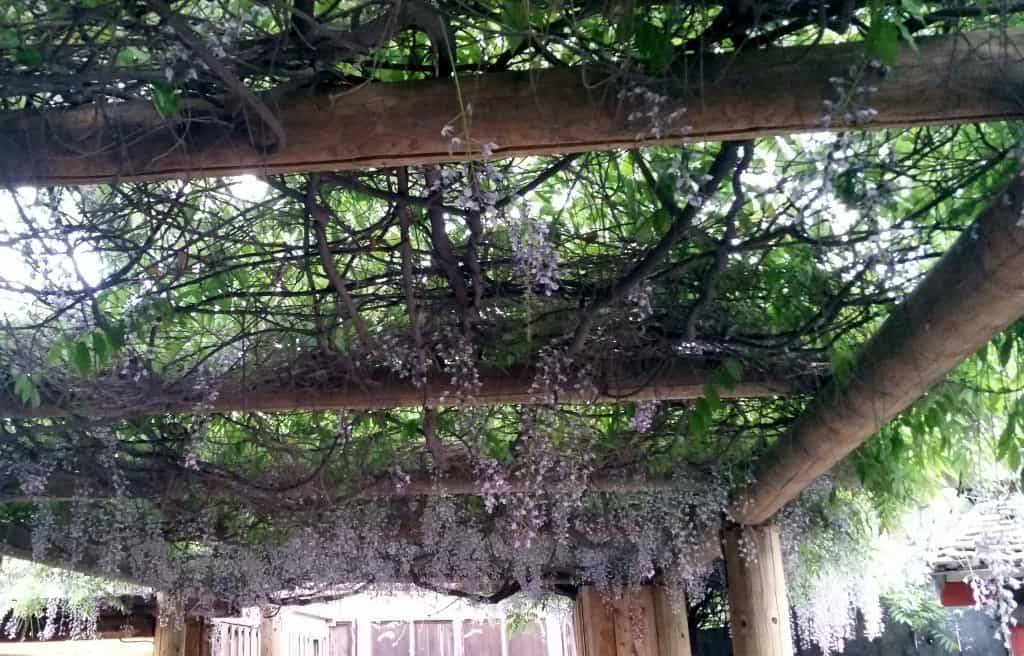 We hadn't realized it ahead of time, but we were excited to hear about the pie eating contest that took place at 2pm in the Calico Square.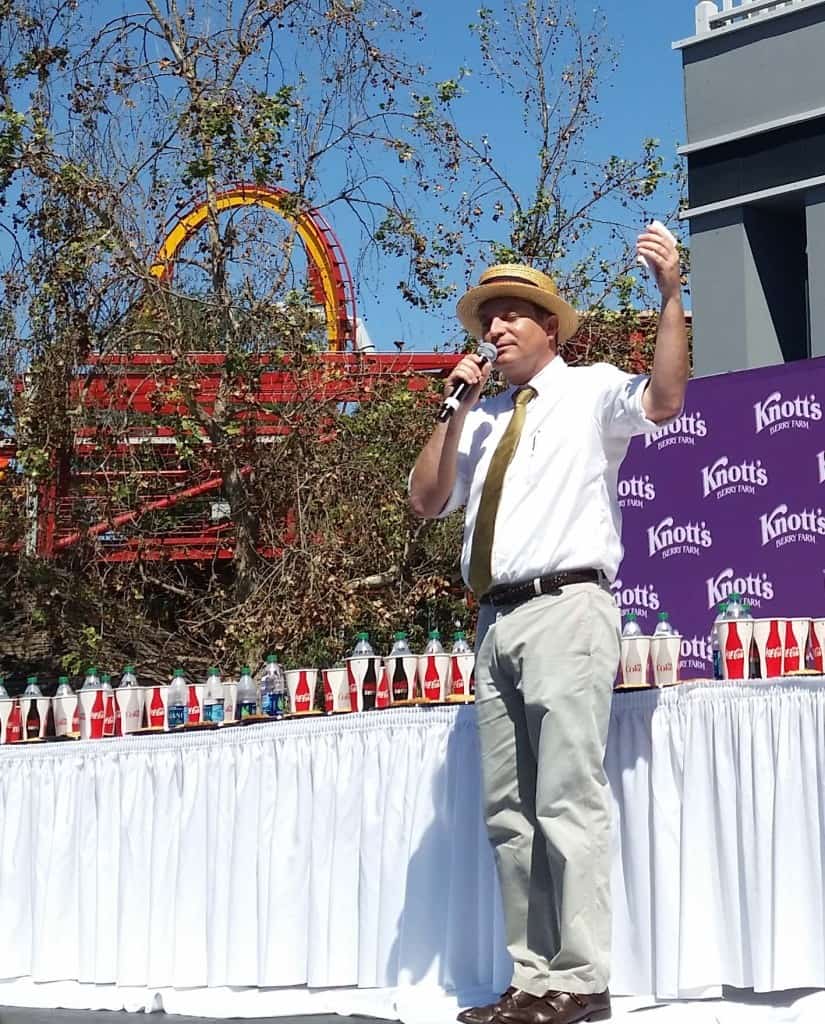 The top people in the competitive eating arena were in attendance, ready to see who could eat the most boysenberry pie — crumbs, crust, goop and all — in eight minutes. What a process they go through to prepare! We watched them each arrange their cups and liquids in their own way; some used water, some used who knows what (as one cooler said Bud Light on it) and someone else poured what looked like tea. I admit to watching and cringing, both for the messiness and need to wipe my face by proxy, but the mass amounts of pie consumed. Kudos to you all, especially to the winner, Joey Chestnut! (And how do you all stay so small??)

In addition to the fantastic food, wine and boysenberry-inspired decor, there is also new entertainment for people of all ages. Peanuts Party in the Park, Lucy's Really Big Spring Show, Salsa Dancing and Jammin' in the Dark. There's also Krazy Kirk and the Hillbillies, and of course the cowboys and other random performers wander — the picture below isn't from this past Saturday, but it's one of my all-time favorite Knott's photos of my daughter and the cowboys. The story behind this is that she wanted a photo with them, they smiled, said sure and proceeded to stand on each side of her all innocent. When I took the picture, out came the guns! The look of surprise on Devon's face is totally legit and I was laughing so hard, I almost didn't get the shot!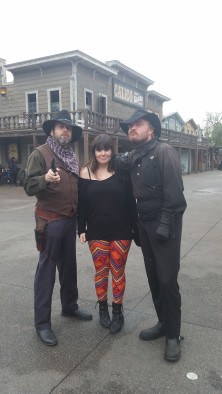 And that is one of my favorite reasons for visiting Knott's. No long lines for photo opps, the 'hidden' Starbucks over by Snoopy's Theater, fast times to get onto rides like Xcelerator and always different shows to attend. It makes everyone happy. And where else can you bring home an actual boysenberry plant or a bottle of boysenberry punch concentrate?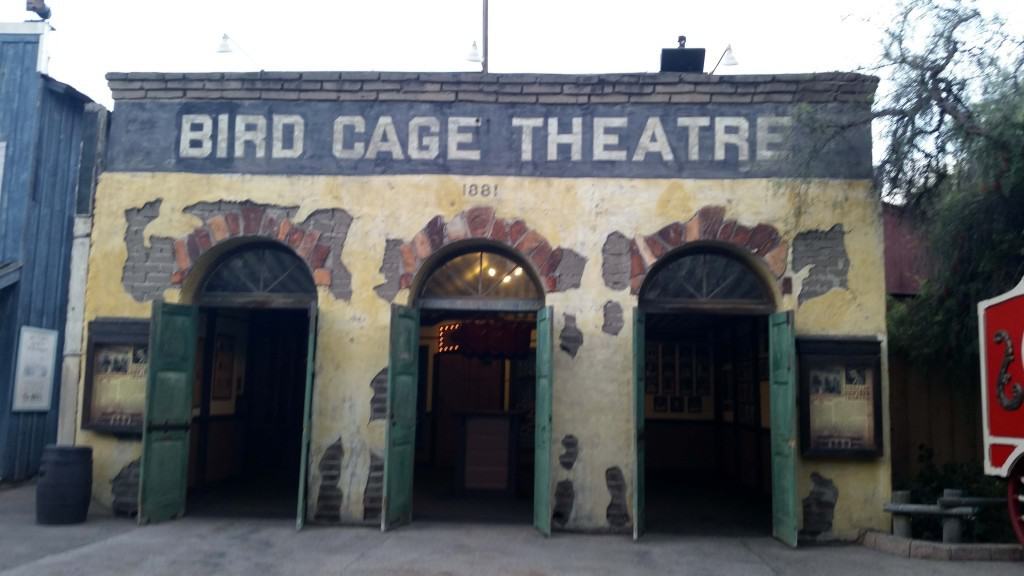 This Bird Cage Theatre, an original building, is a great photo opportunity place, too.
I hope you're able to plan a visit! Season passes are really affordable and you can even buy tasting cards that make trying all the beverages and food a lot cheaper. You can visit the Knott's website for more info, or check them out on Facebook. Save money on a fun family outing and do not miss out on the churros, boysenberry flautas and fun buns!!