Brrrr…Southern California hasn't really had a fall yet, with temps in the 80s the last several days, and even hotter the week prior. If you're as sick of the heat as I am, a visit to the Chill at the Queen Mary will help that!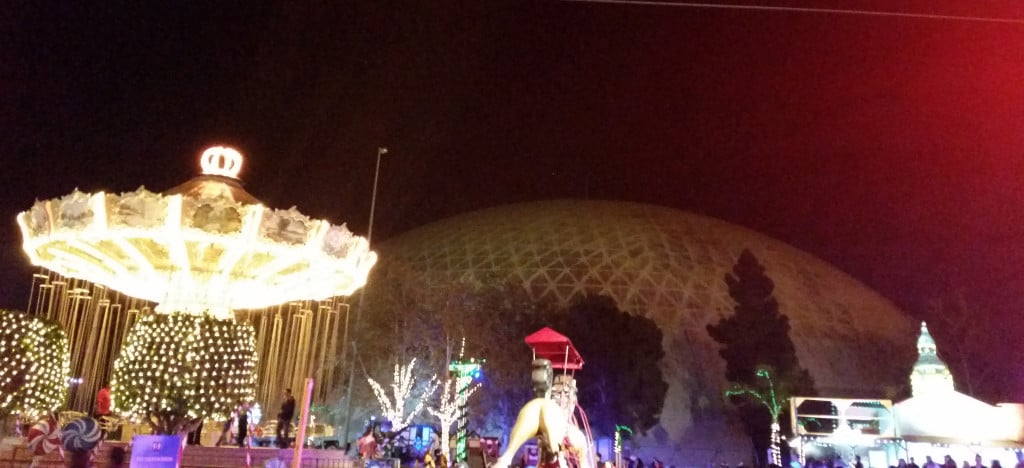 Located at the Queen Mary, Chill is centered around its main attraction, the Ice Kingdom, housed in the "igloo" dome once home to the Spruce Goose. Numerous other activities, such as riding the world's biggest rocking horse, ice skating, paintball and the Neverland Ranch swing ride, are scattered around the property.

Everything is decked out in gorgeous holiday lighting, and of course, Santa Claus takes up residence in Claus Cottage, near Ginny Gingerbread's home and a slew of food and bakery options.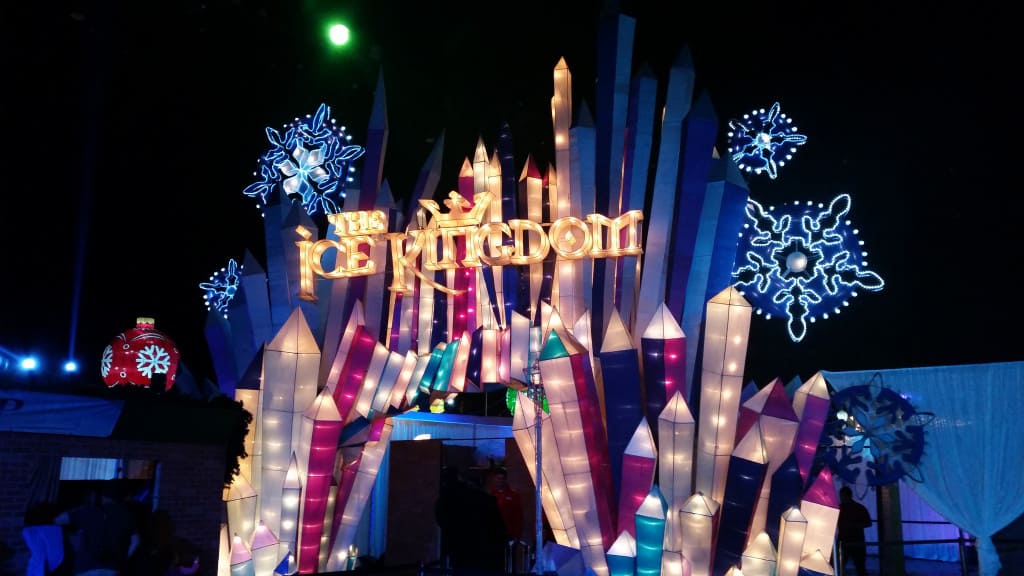 In need of a warm-up? Visit the Scrooge & Marley Pub, which offers typical bar fare in addition to warm mulled wine and coffee concoctions to bring you back up to temperature after your visit to the Ice Kingdom.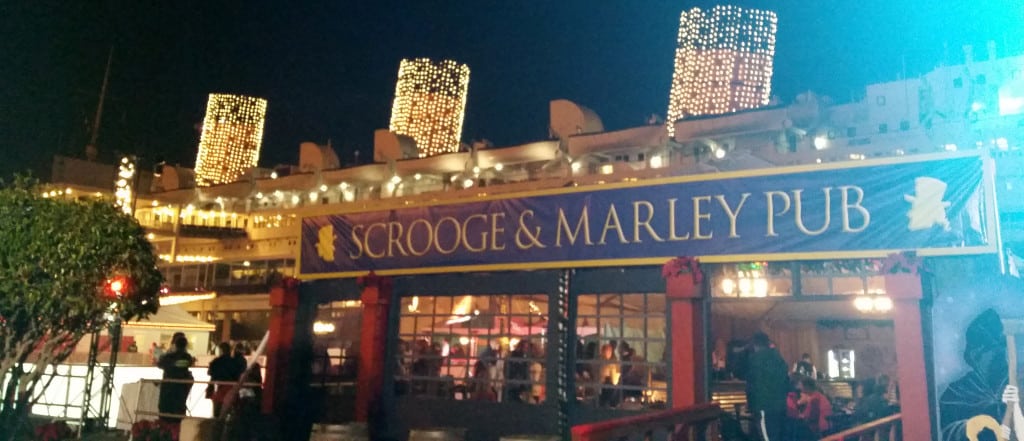 The 13,000 square foot Ice Kingdom is like nothing else I've ever seen. Created out of two million pounds of ice, it tells the story of Dickens' Christmas Carol, entirely in ice sculptures. Each room is a scene from the book, taking you from the outside of the city of London, alongside Big Ben, into Scrooge's home, and if you aren't familiar with any particular setting, there are signs throughout explaining the story as you go along.
None of my pictures do it justice, as it has to be seen to be believed. It's only nine degrees in there though, so be sure you take advantage of the parkas provided for your visit, and if you think about it ahead of time, gloves are good, too. My fingers were frozen halfway through, as I had them out of the sleeves, made extra long to cover your hands, to take photos. My backside got a little cold, too, but all for a good reason — I rode the ice tube and the slide! (That's one extra tip: you can wear your own coat, but their parkas are made extra thick to help cushion the rides and provide a better sliding surface.)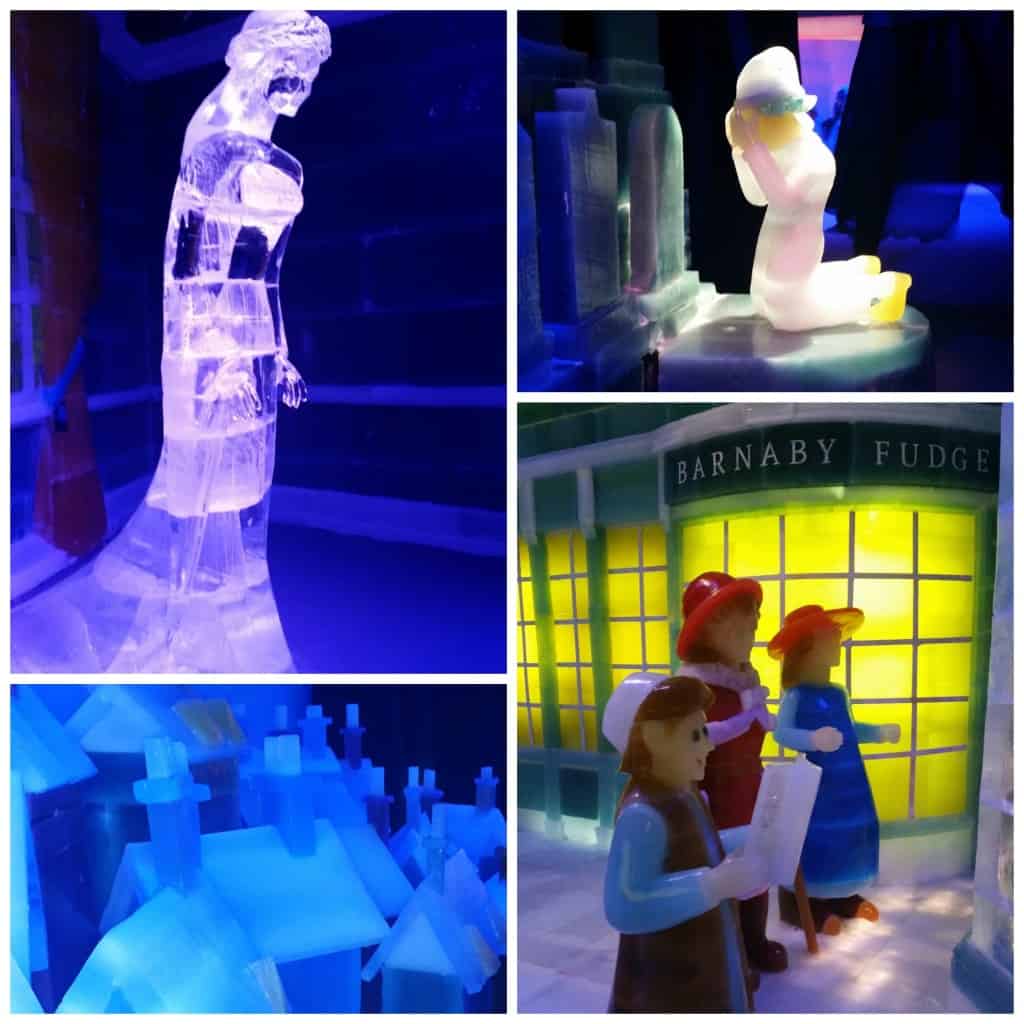 There is a lot to see and do when you chill at the Queen Mary but don't skip anything! Hidden in little corners are photo opps and a visit aboard the Queen Mary is also included.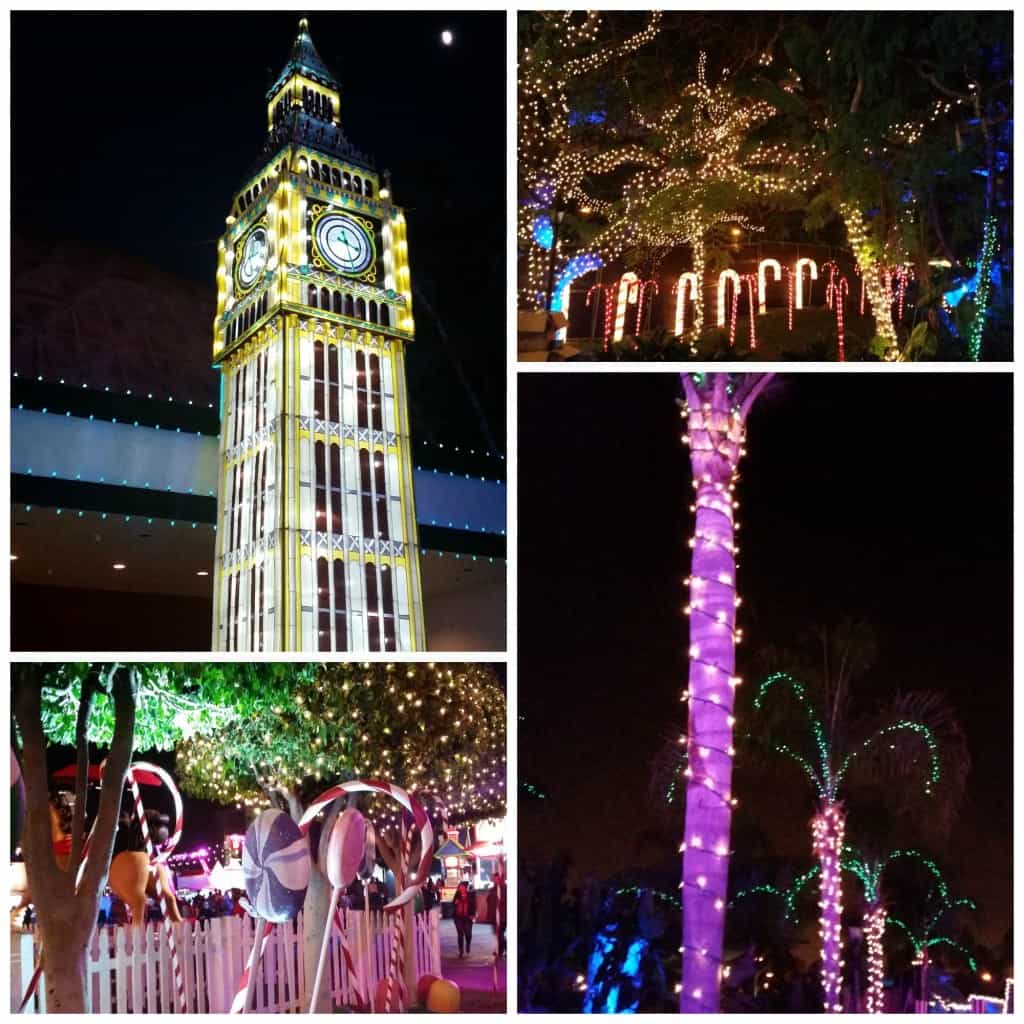 On your way out, look to your right. Before the exit, you'll see an entrance into a big flat building, with a sign for the Enchanted Garden. We almost missed it, and it turned out to be one of my favorite things of the evening. It's a maze of hedges, through moss-draped trees and tiny bridges, almost a little Christmas fairy tale. Look carefully and you might even see a fairy amongst the Christmas decorations!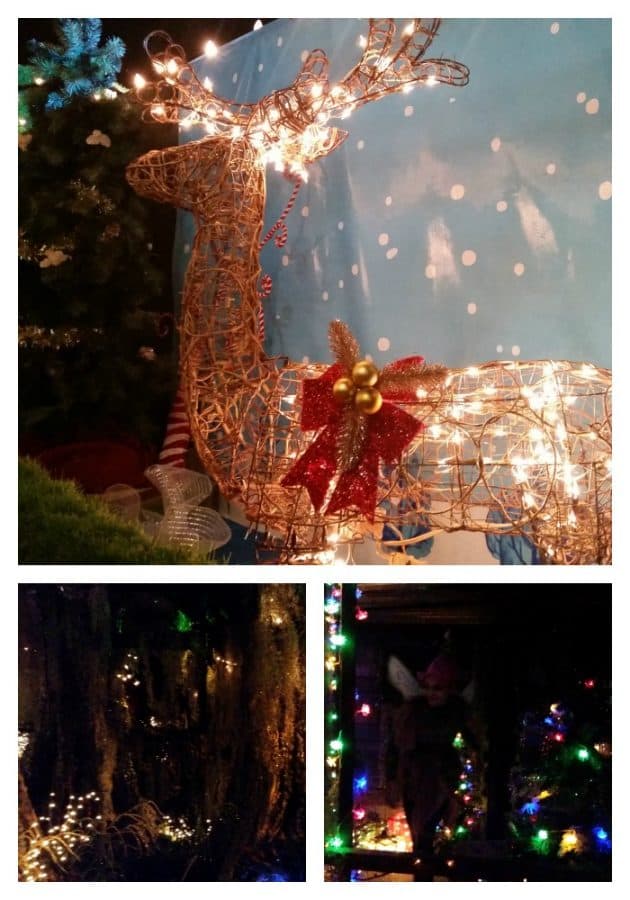 I didn't make it to Illumination, the candle shop, in time and I was bummed! You get to choose your candle colors and scents, gingerbread and root beer, and they complete it for you, but it takes an hour to cool so plan your visit to this cool (additional cost) event. It smelled so good in there!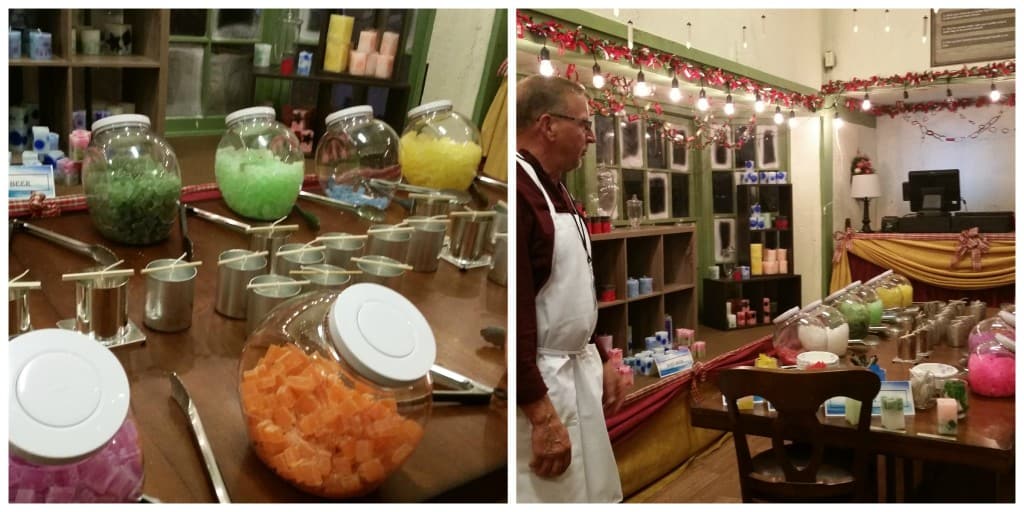 If you're interested in attending, visit the Queen Mary website before as it's only open on select dates. Tickets start at $34.99 per adult and $24.99 per child, with optional E.L.F. (front of the line) passes and other packages available. Some things do cost extra, like the ice skating and swing ride.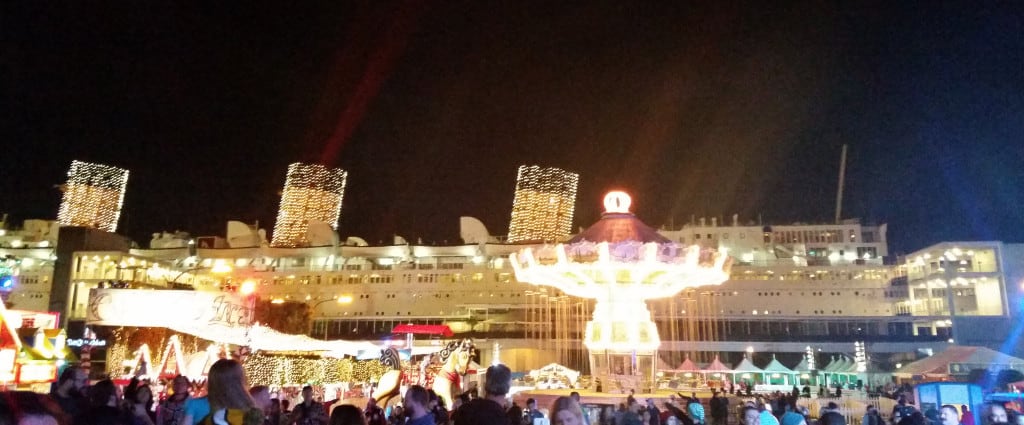 We attended on media night, and it was also opening night, so we were there for the special arrival of the Christmas skydivers, there to officially start this year's Chill and to signal that it's time to light the Christmas tree. We had a front row seat to those divers landing in a very tiny space, but I wish I could have seen it from their viewpoint! Being guided in by Santa, the captain of Chill at the Queen Mary, and all those amazing lights, here's a video so you can see firsthand.
Here are a few other random photos we took throughout the evening. I'm so lucky the husband's up for a spontaneous photo and has a good sense of humor to get silly as the moment allows.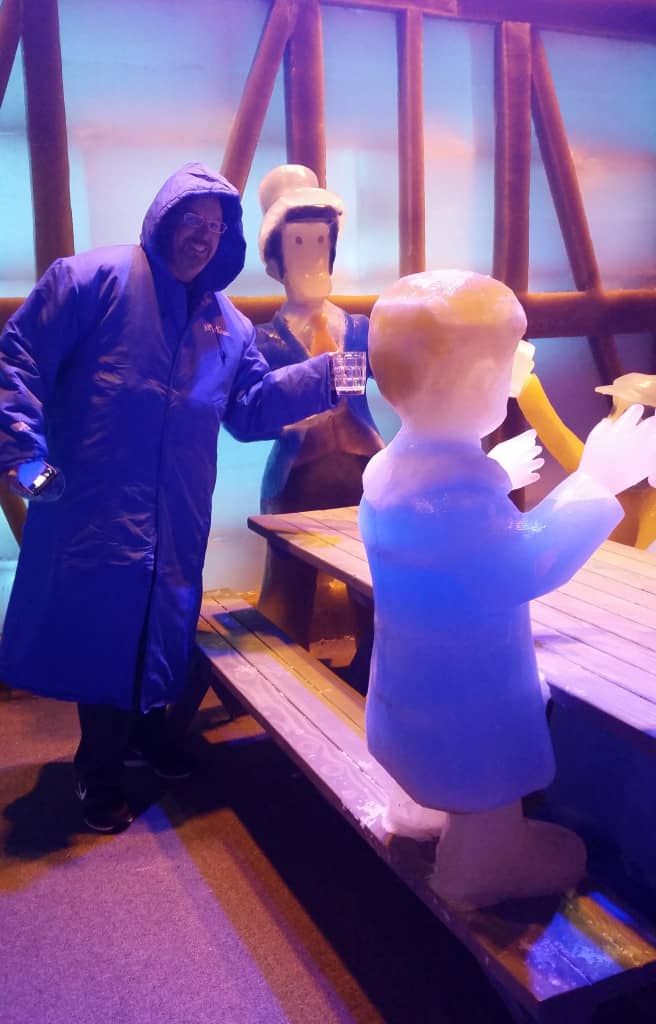 He got to cheers with the Christmas Carol gang!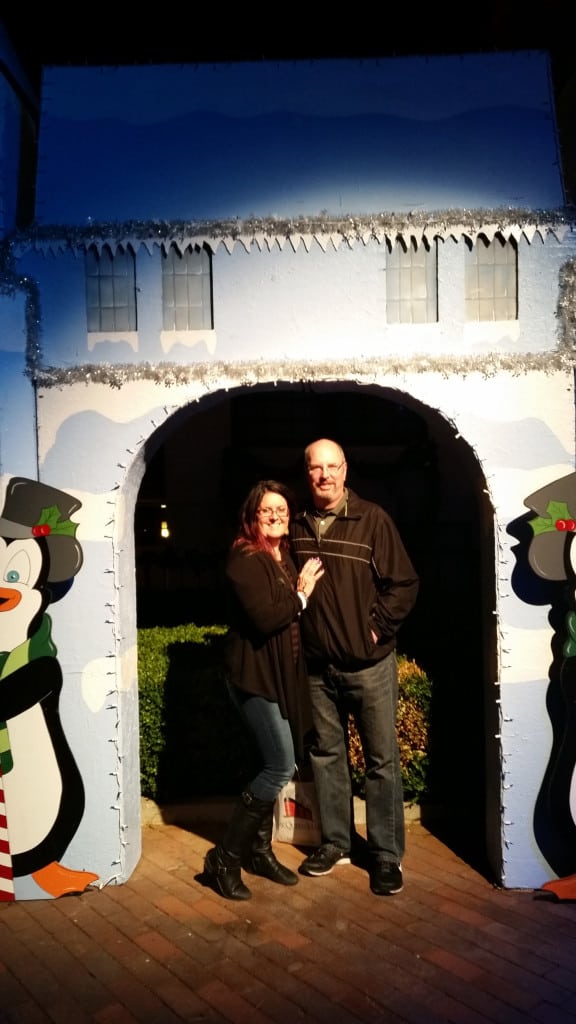 Penguin photo opp!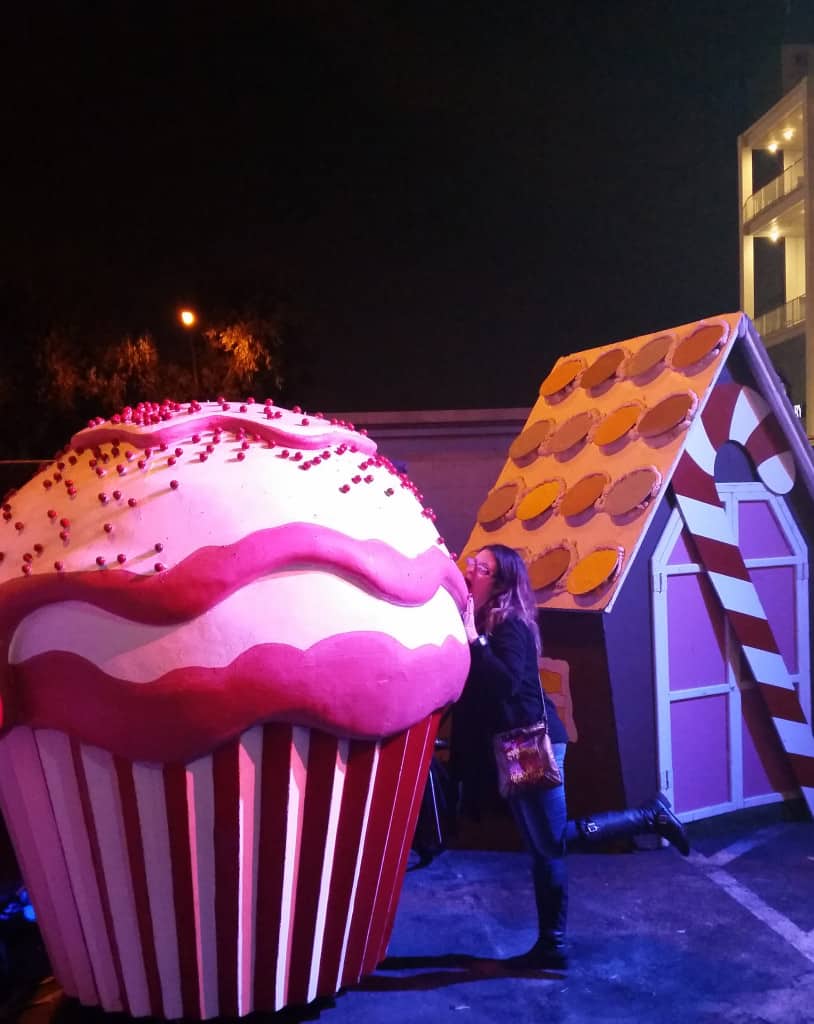 And just in case you don't follow me on Instagram, here's me and one really huge dangerous cupcake!