Whenever I think of the Knott's Berry Farm Boysenberry festival, I immediately think of all the boysenberry food. Boysenberry wings. Boysenberry cheesecake. Boysenberry ice cream. The list goes on, but did you know that there's a lot more to the boysenberry than just boysenberry food?
Take a look at these items we spotted when visiting Knott's Berry Farm last week for this year's Boysenberry Festival.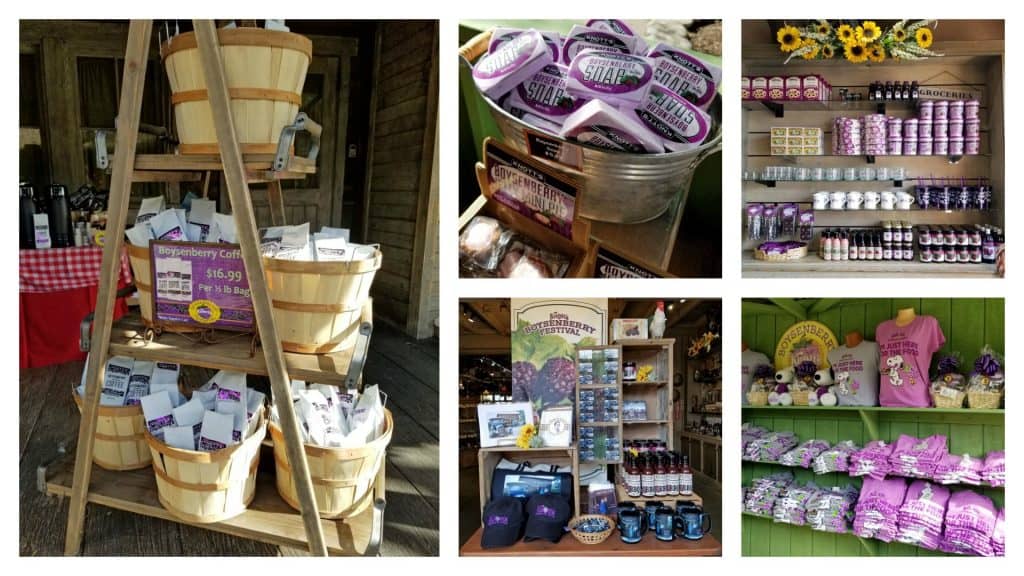 First, there's that boysenberry coffee. Can you imagine waking up to that coffee on a Monday morning? Way to start the week right! The boysenberry soap is another winner. It smells so perfectly fresh and fruity and definitely like something you always say "I could take a bath in this" but now you really can.
Everywhere you look are boysenberry items. Shirts, Snoopy's in boysenberry-theme clothes, hats, mugs, barbecue sauce, salad dressing, preserves, sauces, jams, you name it. I may or may not be wearing boysenberry chapstick on my lips right now. (At three for $9.99, it's a steal.)
Good luck with getting out of Knott's Berry Farm without at least a few of these items….like this honey. This tastes SO good on a toasted English muffin on a rushed morning before getting the kids out the door or going off to work.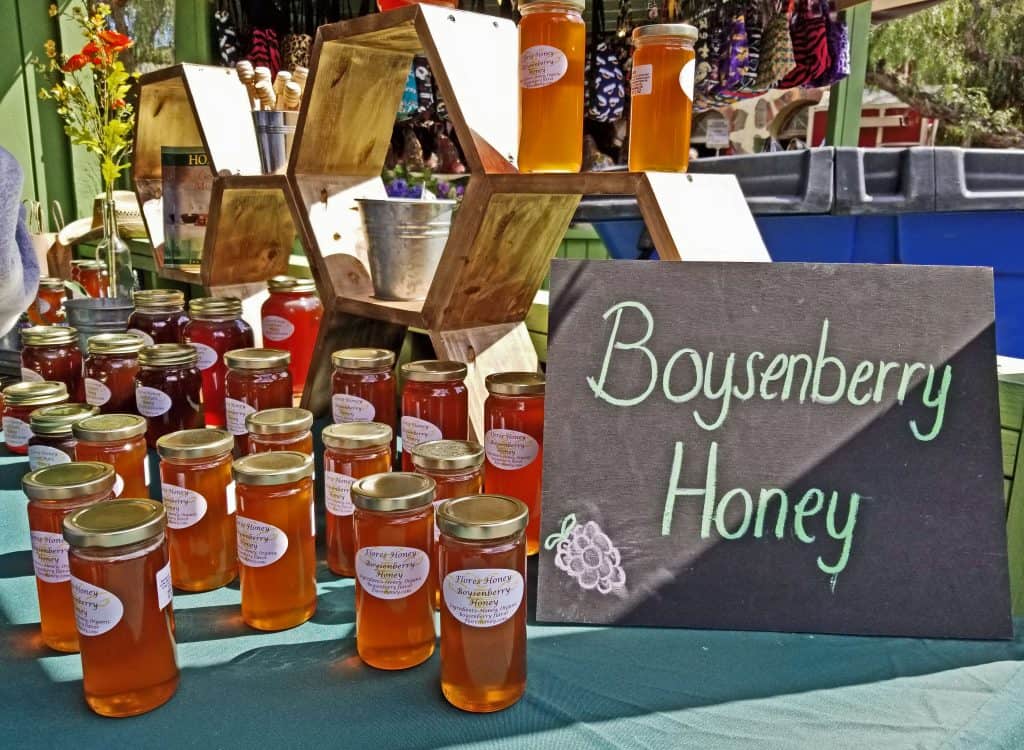 That competes with the boysenberry butter we bought to put on top of pancakes. The possibilities with all of this are endless!
Back to the boysenberry food in the park though… Knott's gave my family and I tickets to get into the park as well as food and wine tasting cards…so we definitely put them all to good use.

The boysenberry macaroon is new to the menu this year, as is the boysenberry boba. It's got a very mild boysenberry flavor, not unlike the boysenberry cheesecake, a treat on a stick that doesn't overpower with sweet and still lets the cheesecake flavor shine through the boysenberry sauce coating and the boysenberry center. Yum.
Then there's the new boysenberry elote. This line was long, but the Knott's team gets you out of the line and on your way quickly. The process for making the elote takes about 30 seconds, after the corn is fully grilled, and it's fun to watch.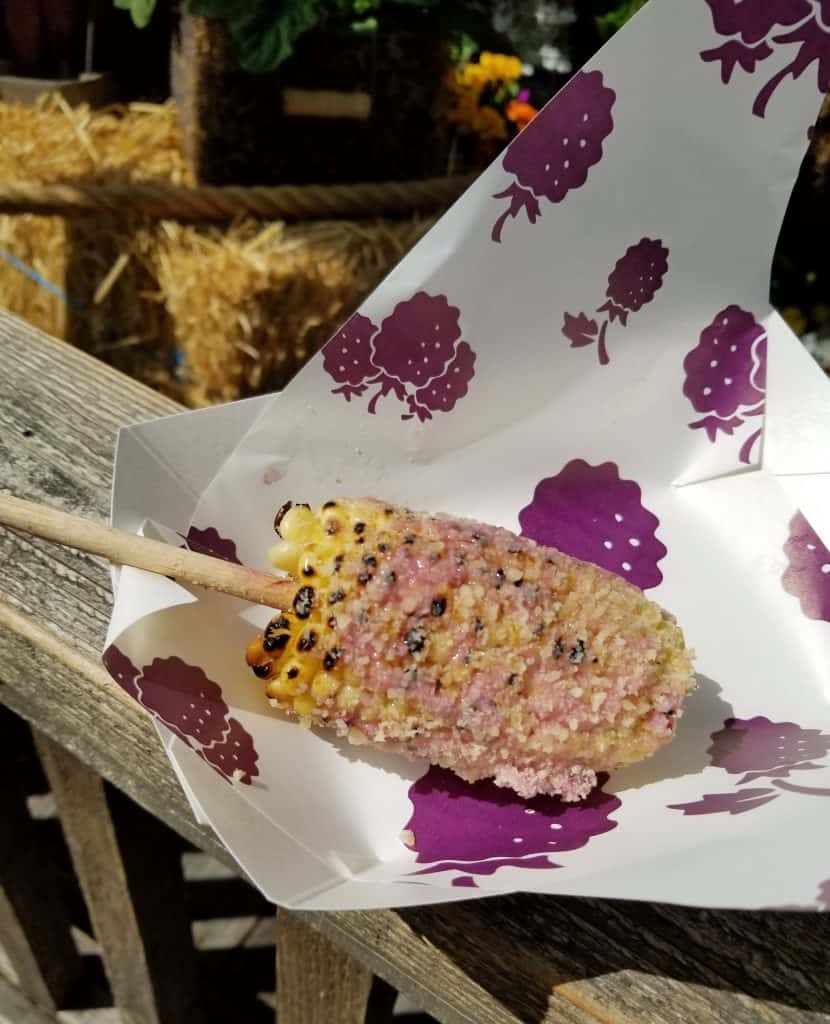 That street corn takes about 30 seconds to eat, too. We only got one and it was gone in a heartbeat. That's the problem with the Boysenberry Festival, if I had to find one. There is so much food, you can't possibly eat it all, so I actually have to share.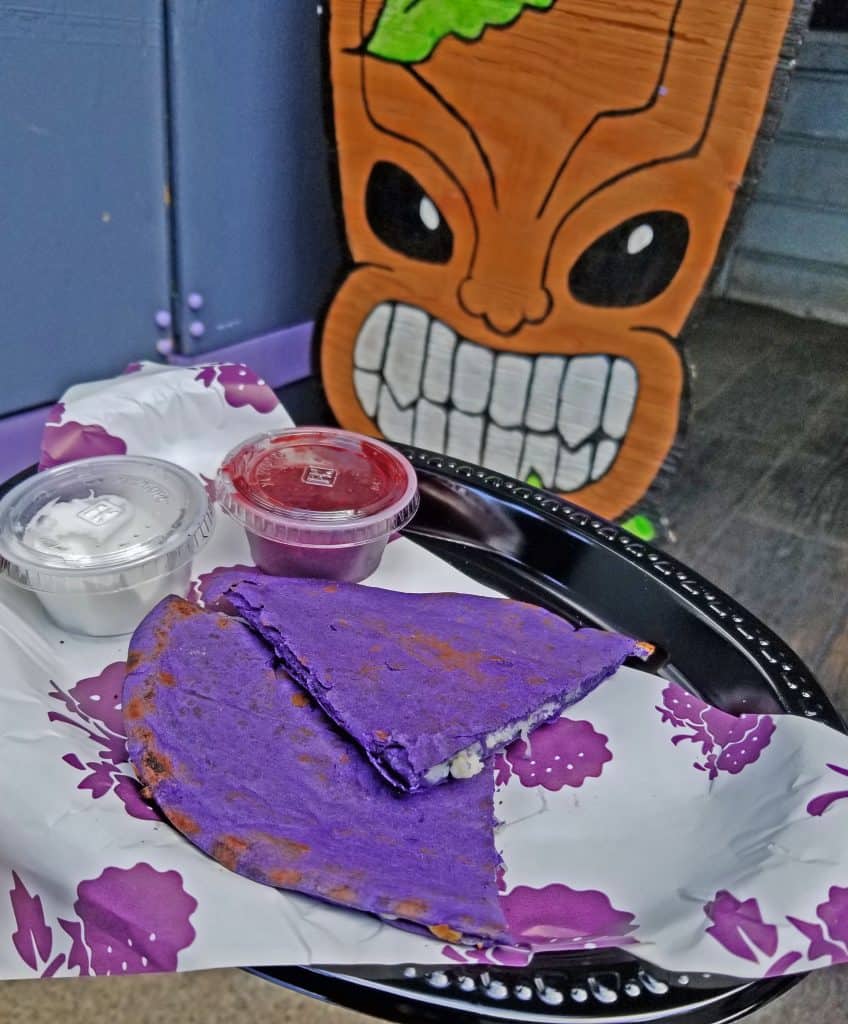 The boysenberry quesadilla is the mildest of the boysenberry food items we tried, but you have to give it a lot of points for presentation. Who can complain about a purple food? That little purple tiki guy in Knott's Ghost Town wasn't complaining.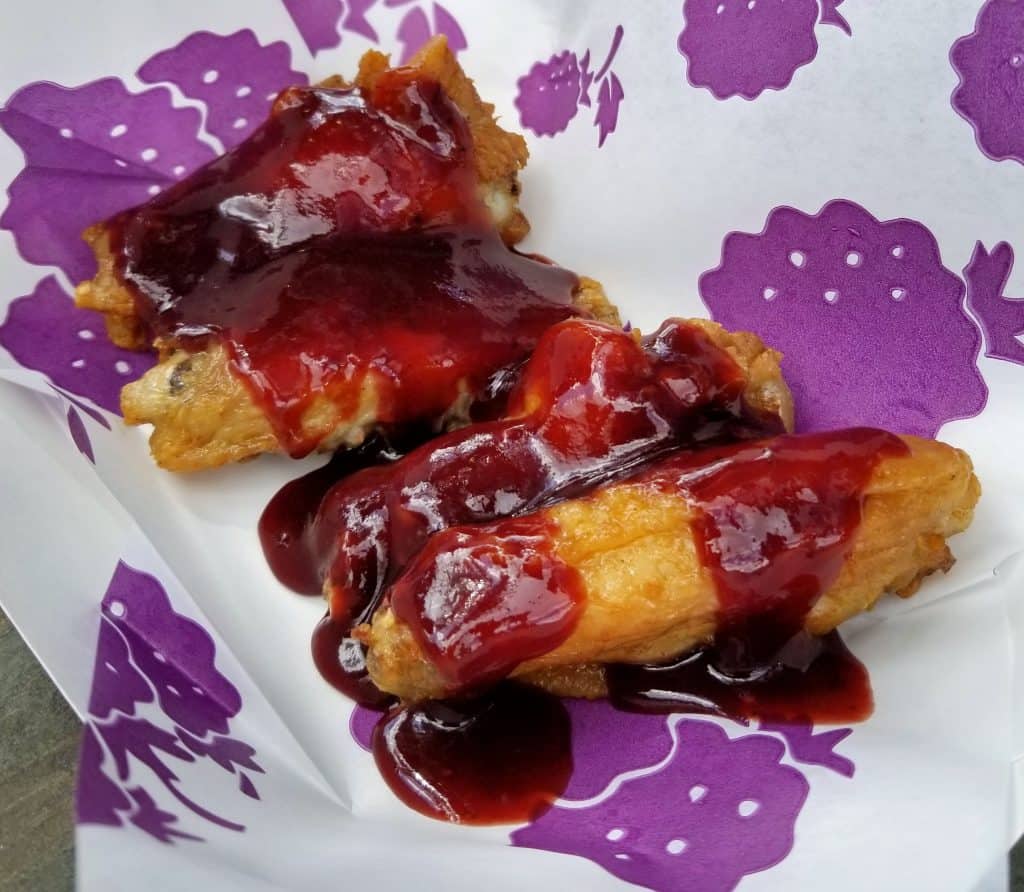 Boysenberry chicken wings are infamous. They are made to order so they are perfectly saucy and not at all soggy. These were an absolute favorite of the day and we did get more than one order.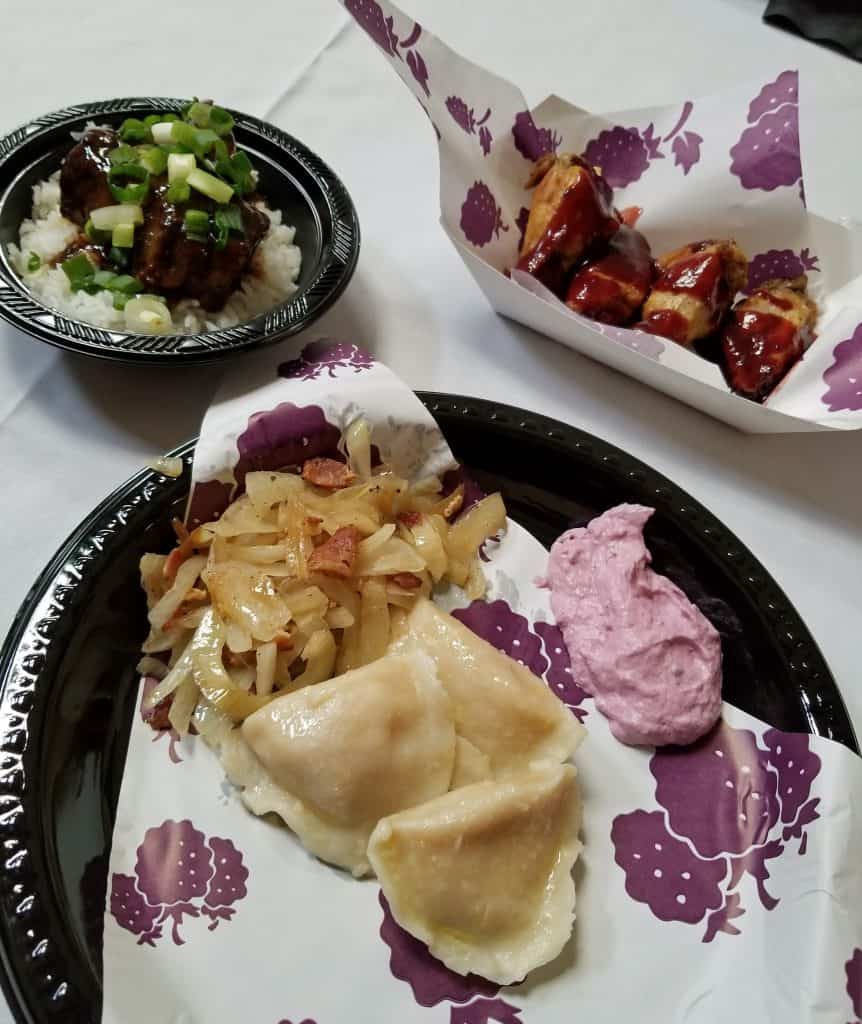 My personal favorite was the boysenberry pierogis, with a boysenberry cream cheese dip and grilled onions. I've always loved pierogis and this was a twist on an old-time food that everyone will love.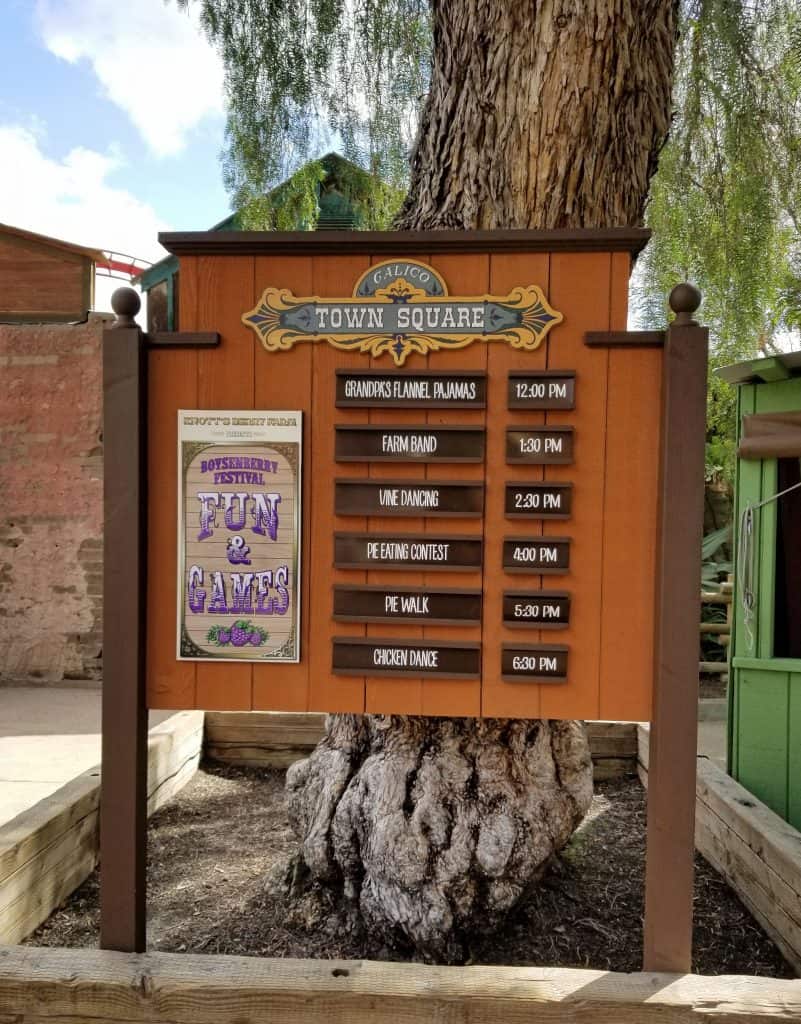 In keeping with the Boysenberry Festival and the Knott's tradition of themed entertainment, look at the list of just some of the shows happening at Knott's throughout the festival. There are also shows on various stages throughout the park and of course, Snoopy and friends roaming the park. Don't miss the photo opp with Snoopy when you first get into the park! You'll find him under the windmill covered in huge boysenberries.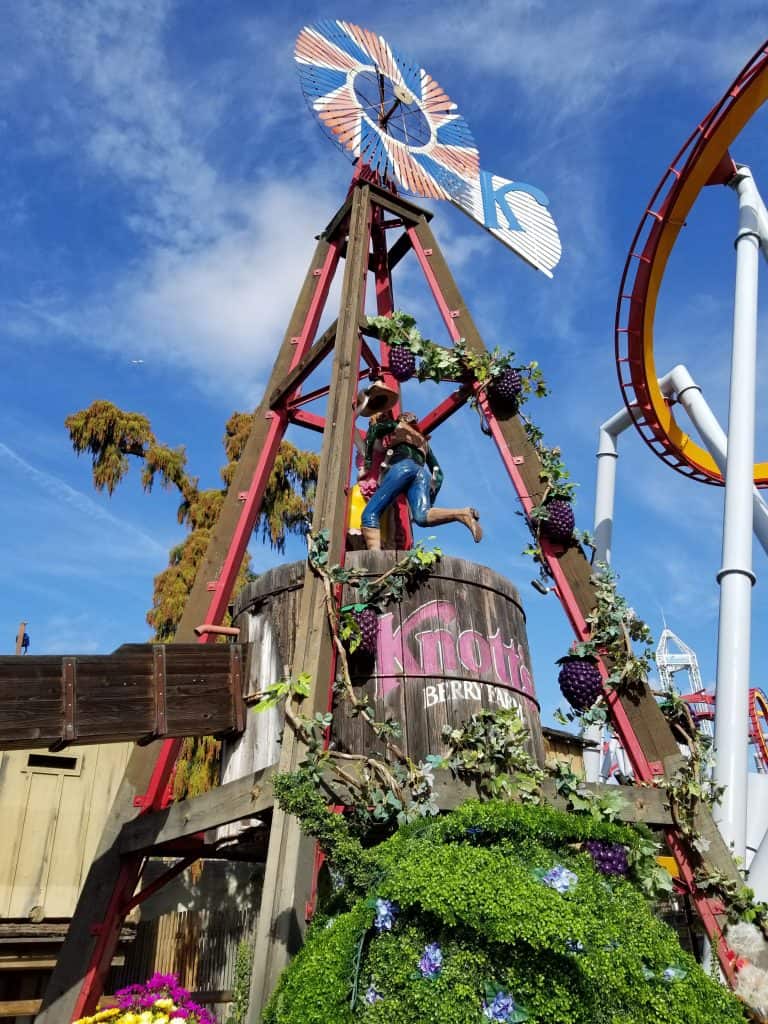 Scattered throughout Ghost Town, you'll find even more references to the theme park-inspiring berry, along with facts about the boysenberry and the park's humble beginnings. (And now I really want to grow boysenberries!)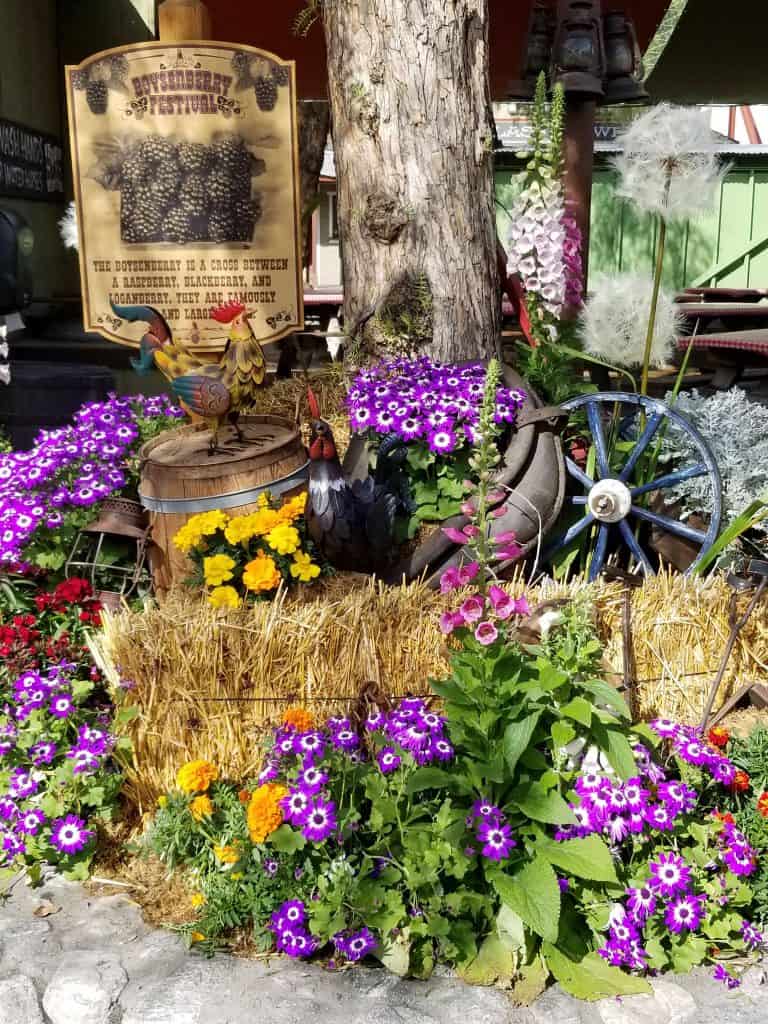 You also don't want to miss the wine tasting in the Wilderness Dance Hall. Purchase a wine tasting card and get six wine or craft beer samples for one low price. Allot yourself time to really enjoy the experience. The various wineries are scattered throughout the hall, and you'll receive a plate of cheese and fruits to go along with your tastes, one with each tasting card.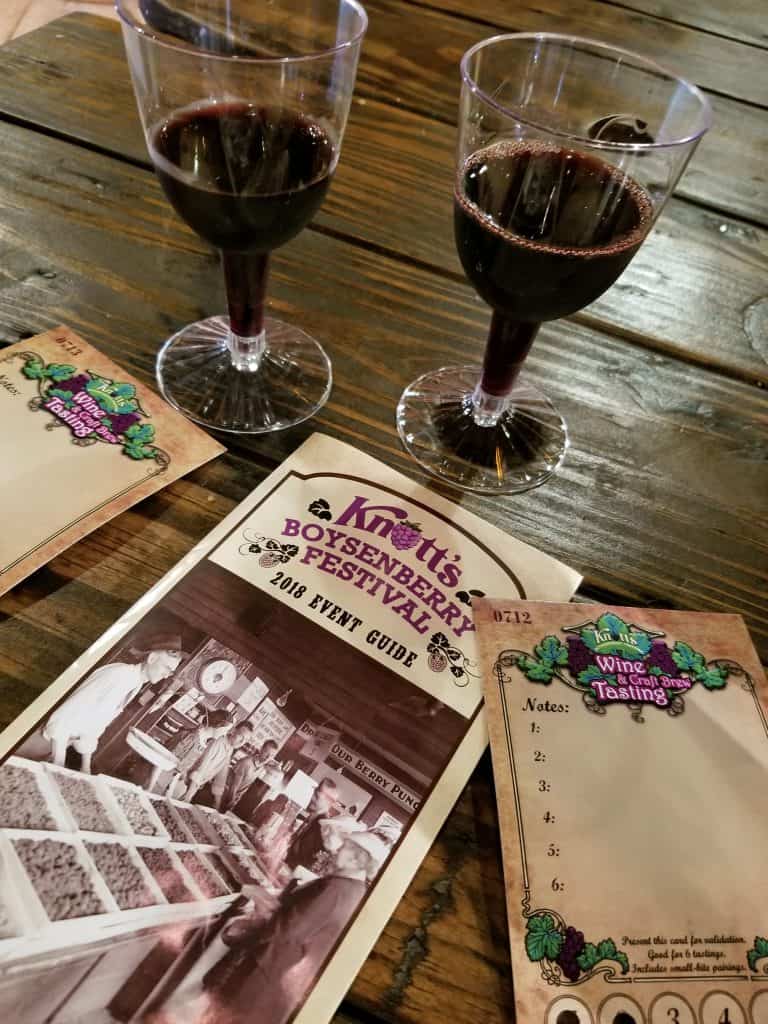 Don't miss the actual boysenberry wine, too. It's on the sweet side, like a dessert wine, and is delicious. You can also buy a boysenberry food tasting card, which gives you eight foods for only $30. You can mix and match, repeating foods or getting one of each. There is also a lot of other food throughout the park, from north to south, that isn't included on the card so don't pack it in after you try those eight foods! From the fun bun to the churros, you'll be eating boysenberry food from morning to night, so plan accordingly and go to the park hungry!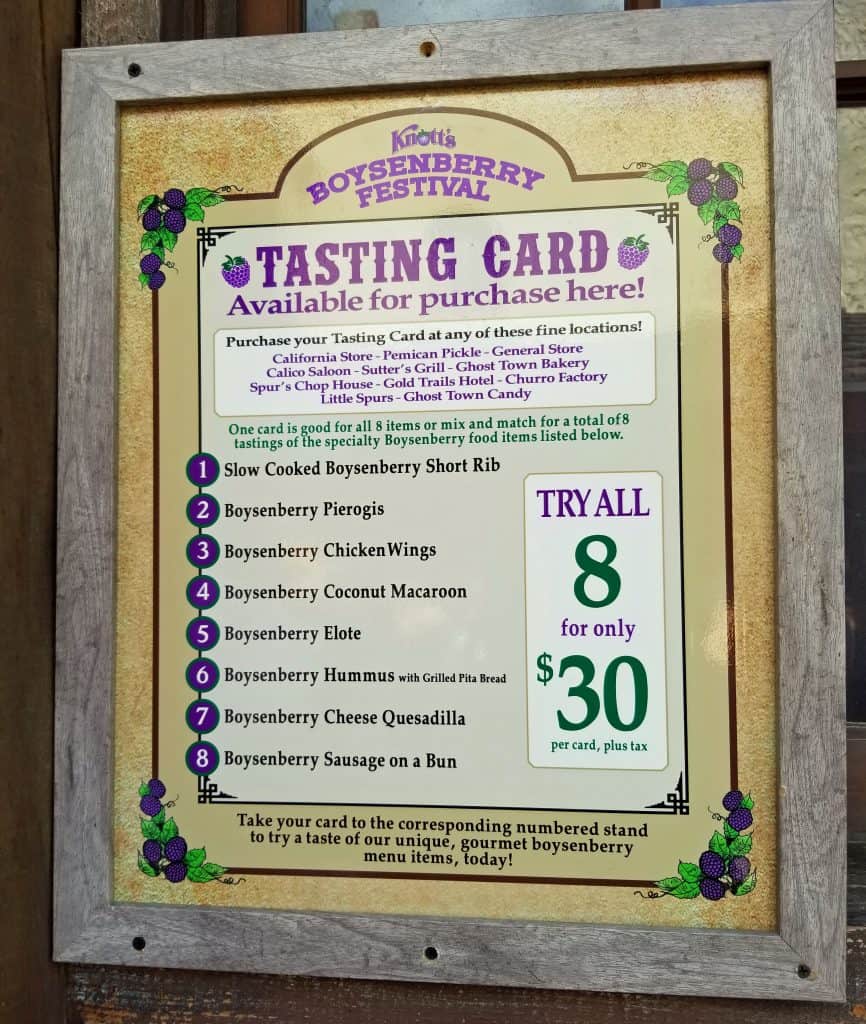 The only thing I didn't get to eat that I wanted was the boysenberry ice cream chocolate chip cookie sandwich. I'd planned on grabbing it as I was heading out of the park, but I couldn't eat another bite. Sad face. Next time, right? (I'm a sucker for any chocolate chip cookie ice cream sandwich.)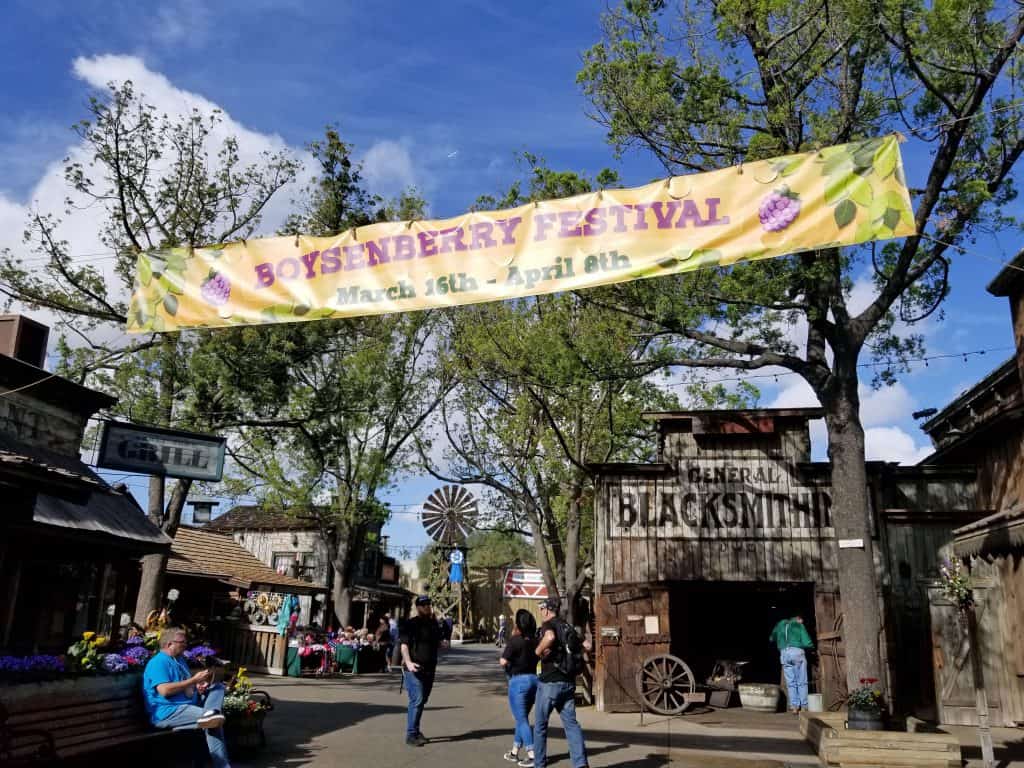 Plan on walking around the park in between all the treats. There's a lot to see, including the normal things such as watching the blacksmith make horseshoes and talking to the sheriff as he wanders.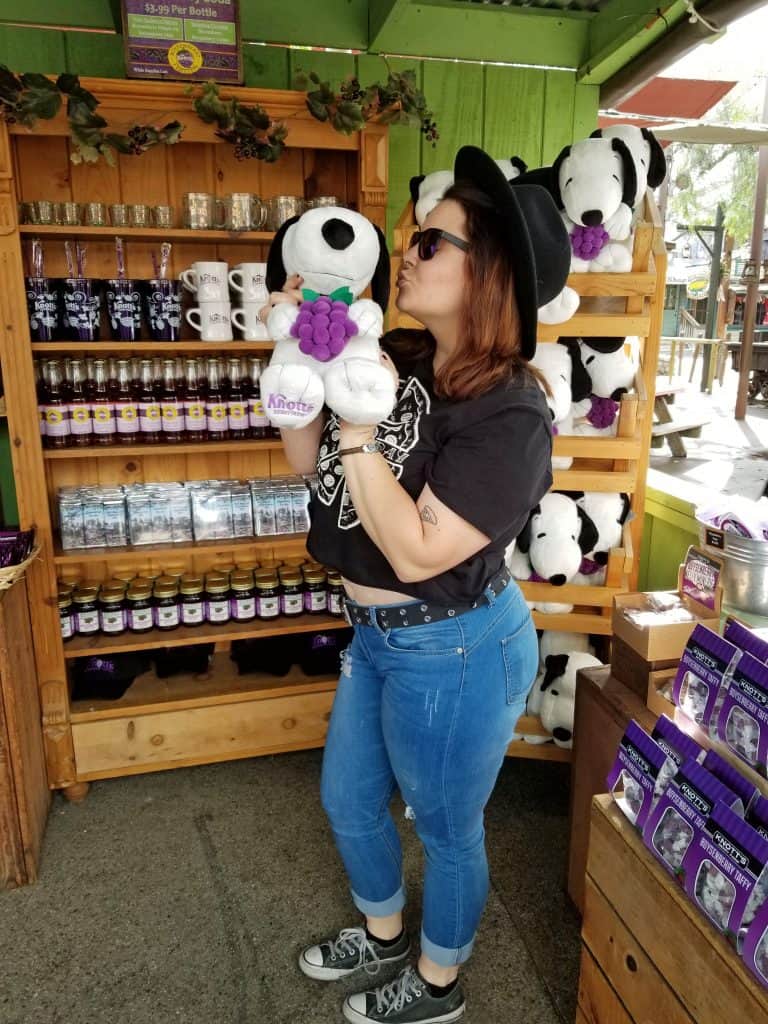 Whatever you do, don't forget to pick up a Snoopy…or at least give him a hug. We found him over by the boysenberry taffy and soda. And yes, we bought both….and the boysenberry gummy bears, extra large gummies that are hard to put down once you open the bag. Trust me.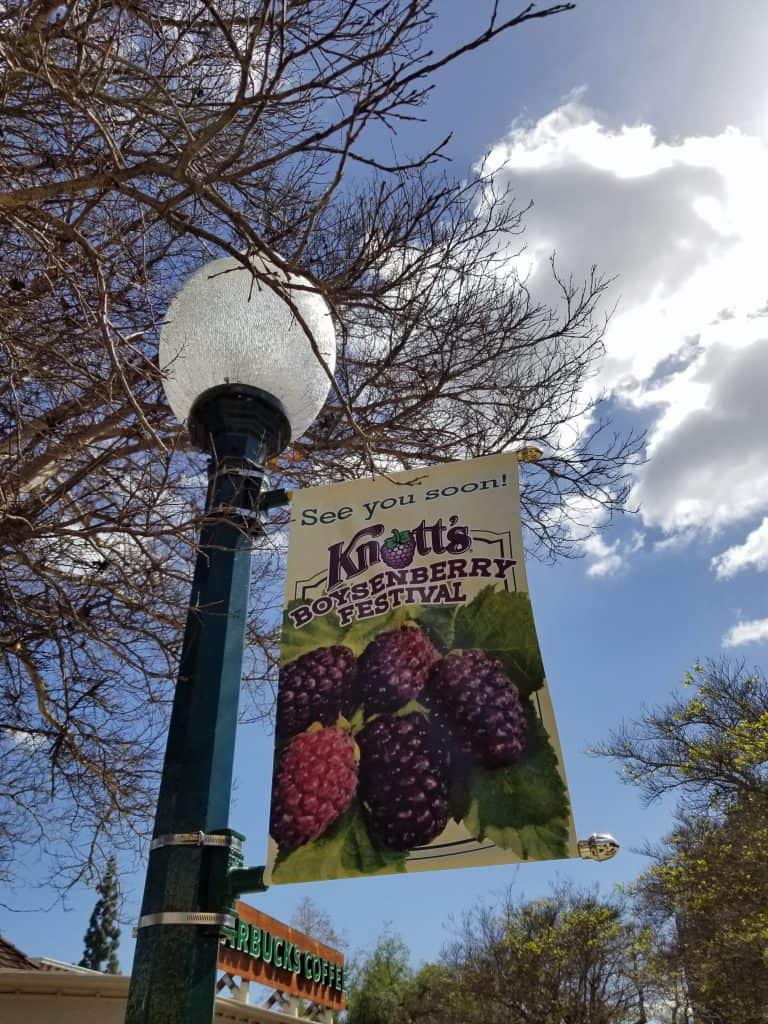 See you soon, Knott's Boysenberry Festival! Tickets are still available and the festival runs through April 8. Learn more at the Knott's website and check out the low prices on daily tickets as well as season passes. If you're coming from out of town, there are also hotel and park ticket packages available. Go at least once, even if you go just for the boysenberry pie. You won't be sorry.