Just yesterday I was in Las Vegas, surrounded by opulence, glamour and fancy foods. Today, I'm in my home, working, surrounded by dirty laundry, re-runs of ER and a packaged kale salad.
Guess which I like better.
I mean, I love my house. My office is as opulent as I can make it, I was still wearing diamond earrings and the salad was pretty high-end. Still…
We're not gamblers but while in Vegas, there's no shortage of other things to do. We explore the strip to see what new displays are up in the hotels like the Bellagio, where year-round, there is a beautiful tribute to some holiday or event. This year, it is the Year of the Dog and it was as creative and colorful as we'd expected.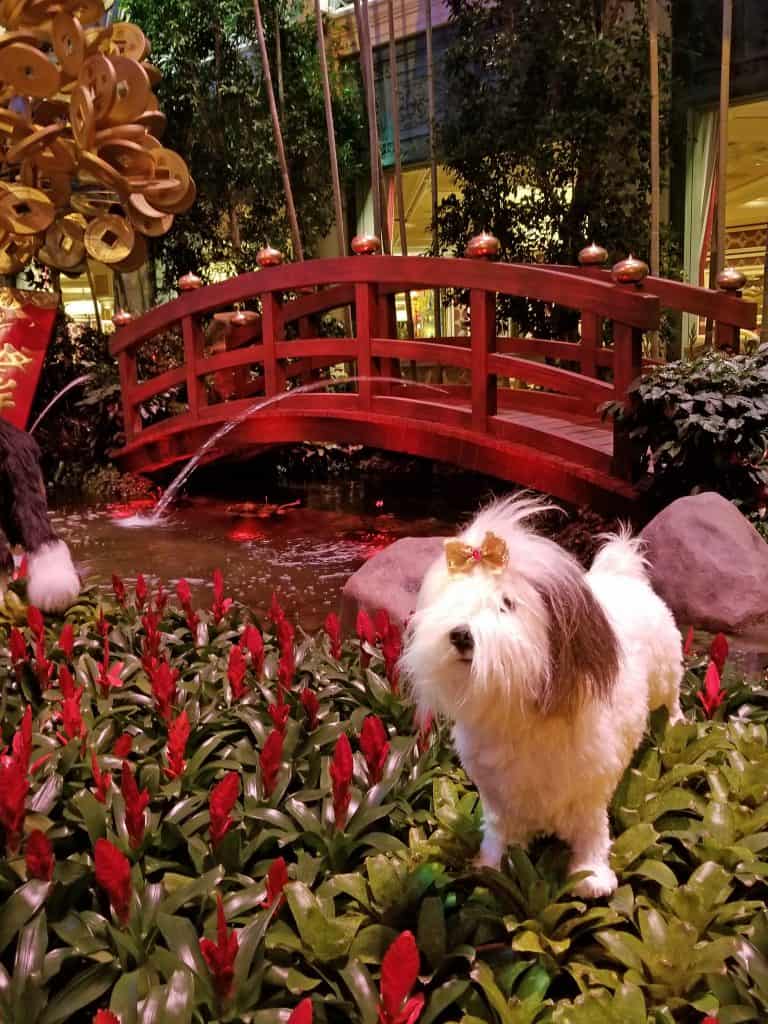 We try to do something new and exciting every visit. Last year, we went zip lining over Fremont Street. We've ridden the New York, New York coaster and the one at the Hard Rock. This visit, we had tickets for the NASCAR Xfinity race held on Saturday, so we didn't explore much during the day. When night arrived though? Game on.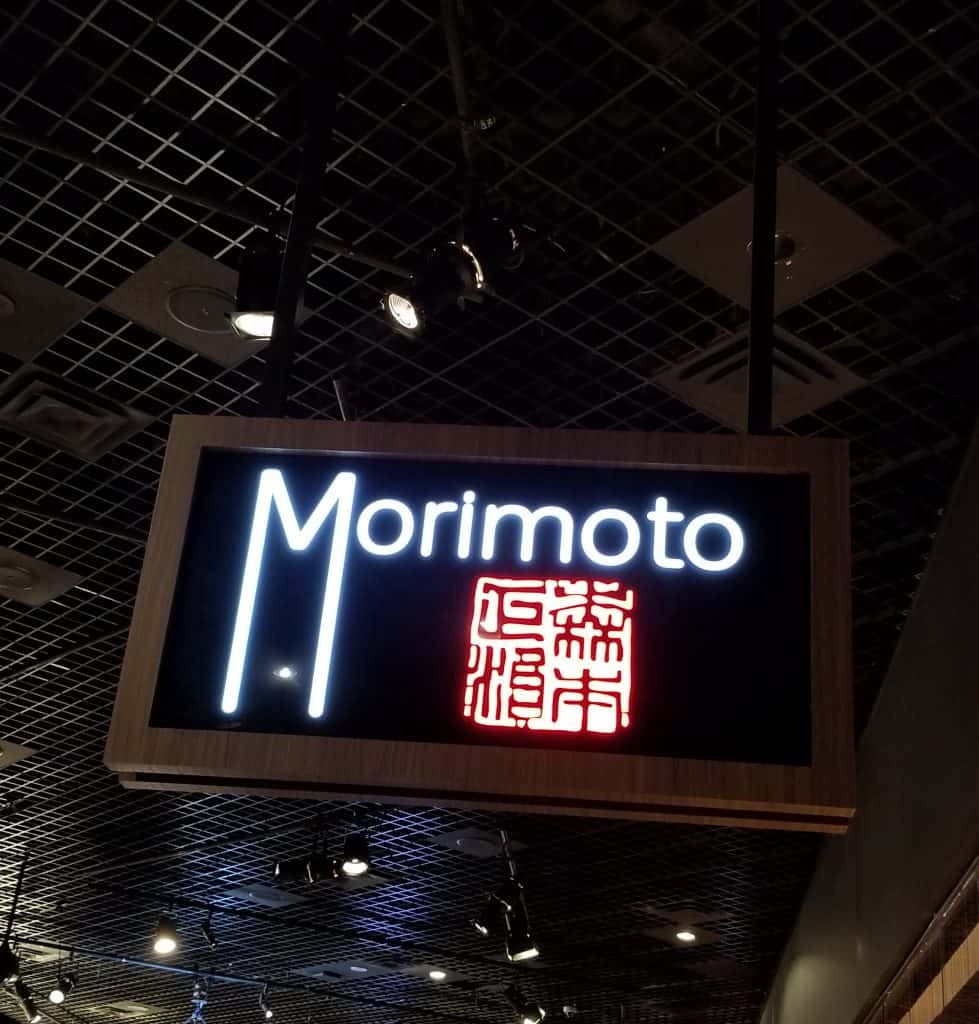 A few months ago, we'd made reservations for dinner at Morimoto's in the MGM Grand, on the strip across from New York, New York and the Monte Carlo. We always do one big dinner while in town, such as Bobby Flay's Mesa, Gordon Ramsay's Steak, Guy Fieri's Vegas Kitchen and Bar or Mario Batali's B & B Ristorante. (Last year, we had a feast, courtesy of Sugar Factory. You can read more about that amazing dinner experience here!) We pull out all the stops, ordering whatever we want, from app through dessert…and of course, cocktails.
Some day, I'll tell you about what we call The Ketchup Experience at Guy Fieri's restaurant. One little oops by a waiter ended up having us all laughing, giving us a story for the ages! (And the management was fantastic in their resolution! No regrets…) For now, I'll just say it's a good thing my dress was black.
This year's dress was red. One night, we're to the nines, and the next day, we were in t-shirts, Chucks and caps. (I'll save that photo for another day.)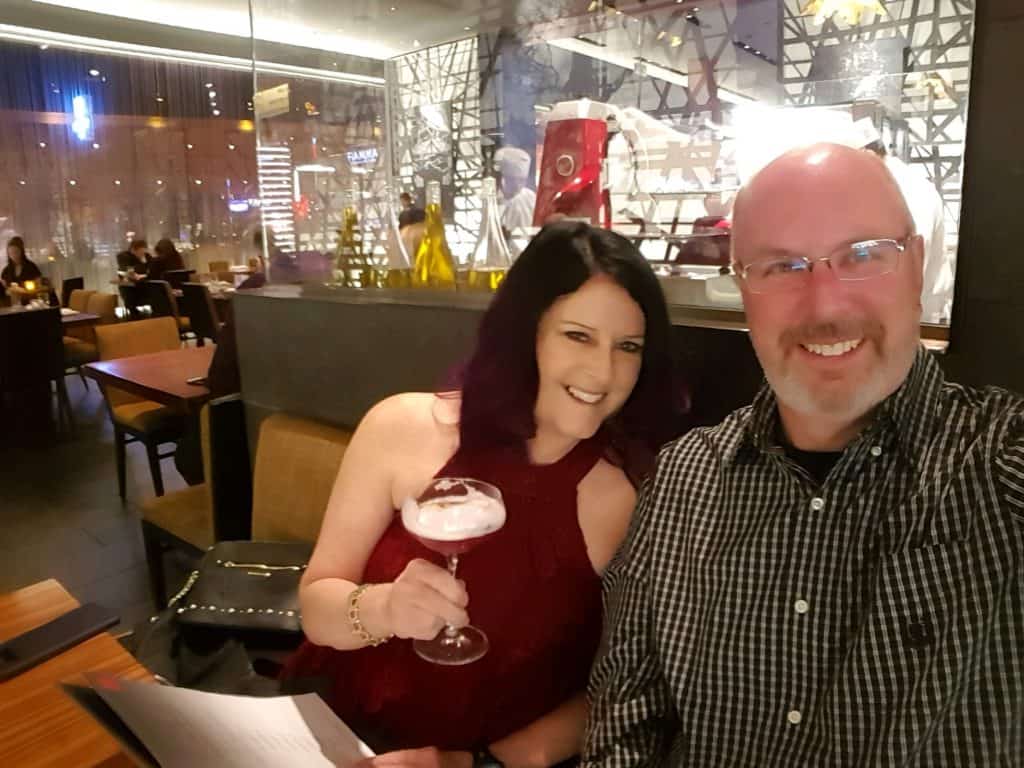 Even booking months earlier, reservation times were already limited. We ended up with a 5:45 seating time, which was a little earlier than we'd initially wanted but we planned to head back to the hotel after, change out of fancy duds, and head out on the town for more exploration and beverages. We arrived about 30 minutes early, after a quick taxi ride from the Monte Carlo to the MGM Grand, and they suggested we head to the bar and they'd get our table ready early.
Not a problem! Please, give me an excuse to go to this very fancy, craft cocktail bar ANY day.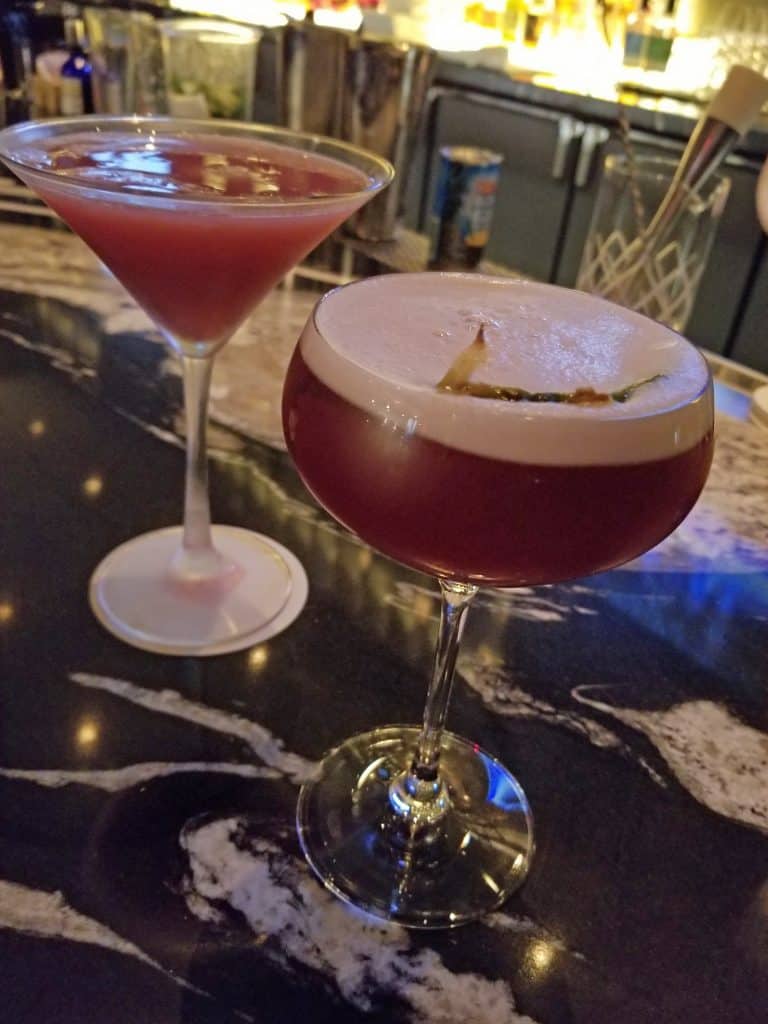 The beverage menu is extensive, but we knew we'd start with a signature cocktail. I chose the Thai Basil Smash, a gin drink with St. Germain, pineapple, basil and a few other ingredients. The husband ordered a Geisha's Secret, with lychee vodka, pomegranate and more. Before we'd tried them too much, they came to get us for our table. Let the eating adventure begin!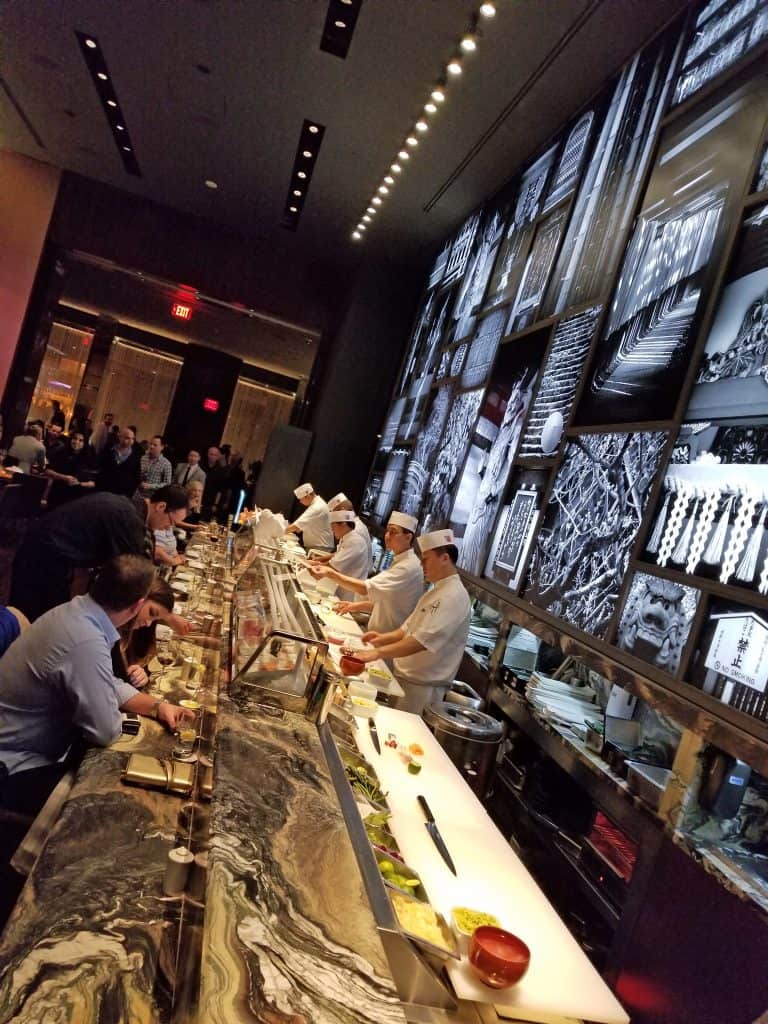 The menu is broken up into quite a few categories and as our waitress explained, things are served family-style. It's easy to look through the sections — appetizers, entrees, sushi/rolls, sashimi (charged per piece), soup, sides, etc. — and the only real problem is that there is SO much to choose from! A huge bonus is the pace of the meal. There was zero rushing. Our waitress told us to enjoy our evening, take our time and order as we wanted, so while we didn't take any down time, we were able to enjoy every moment. (And for the price of the meal, you'll want to do this, too!)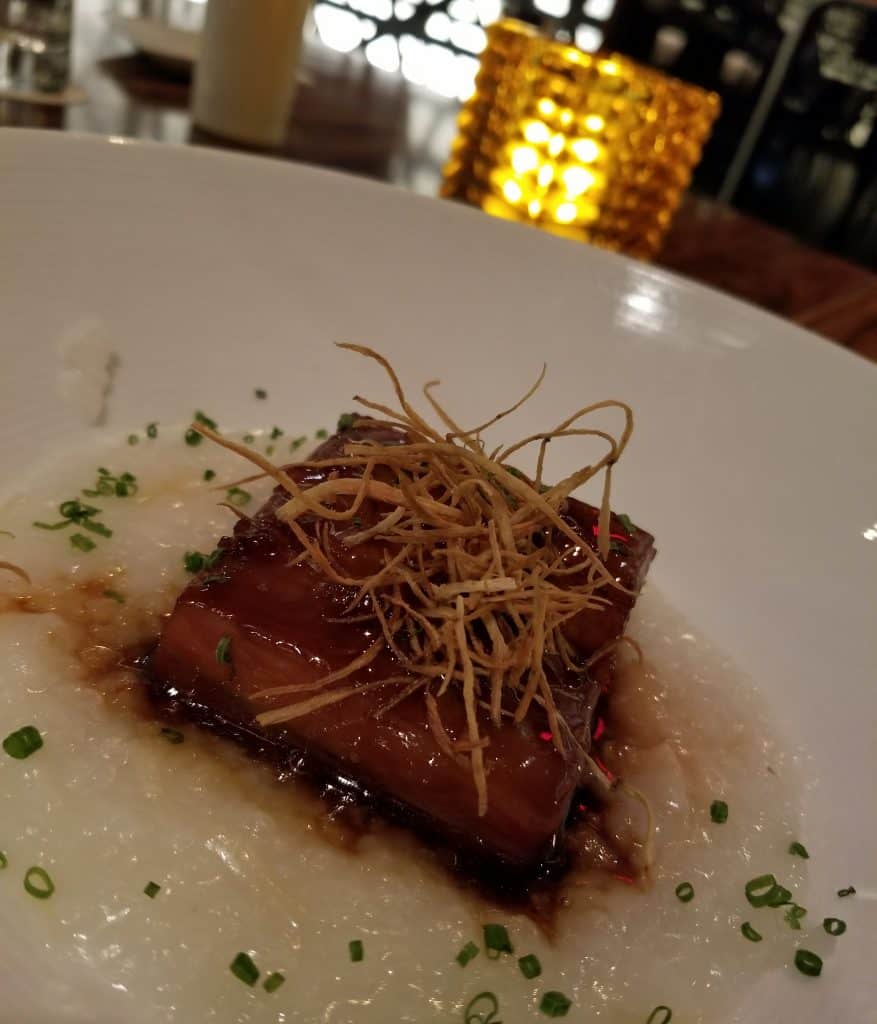 We started with the Pork Kakuni, a pork belly served over a hot rice porridge. Just look at this thing of beauty…..and drool, I mean, I am.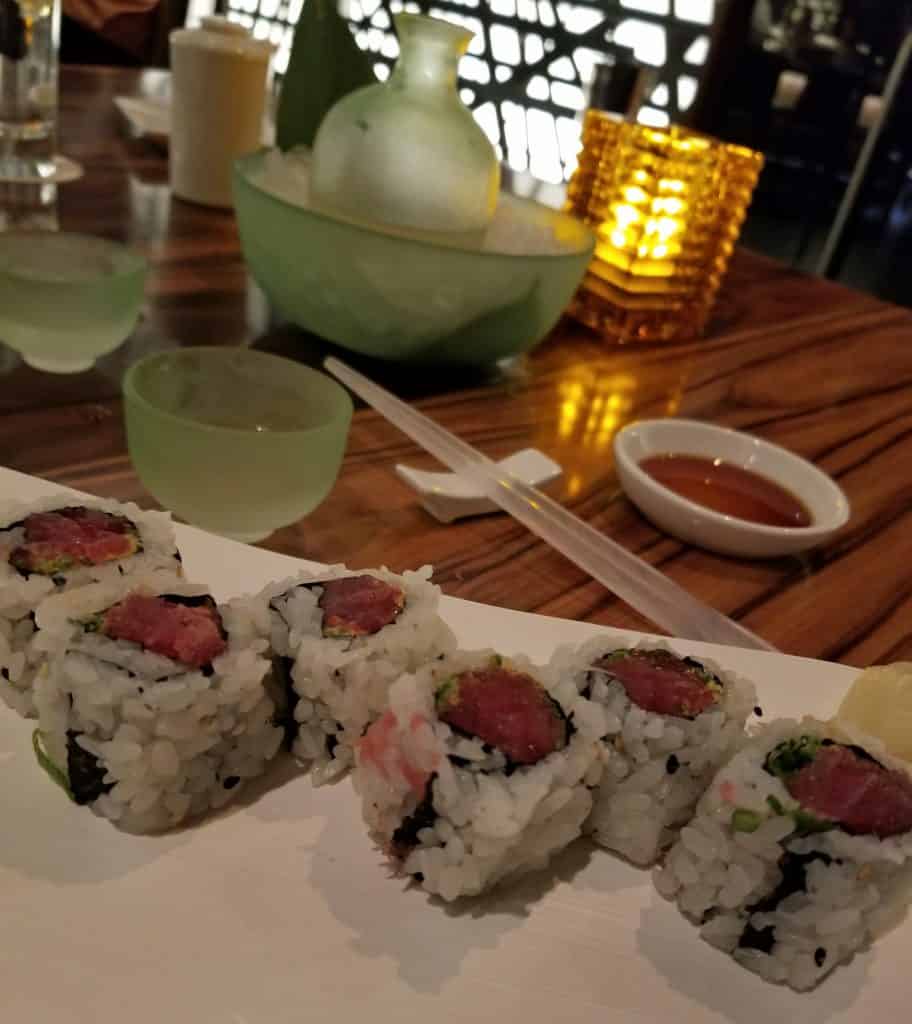 Next up was a spicy tuna roll, cut into six pieces. This baby literally melted in our mouths.
I think it was about this time we ordered a carafe of sake. We tried the Fukumitsuya Morimoto, described as caramelized pear with a ripe stone fruit finish. My own un-sake-educated description is that it tastes mildly like melted sherbet…and that's a good thing, though it shows my naivete. (I can bust out wine terminology like nobody's business, but this was our first time getting sake. I've had a lychee sake martini at Kabuki, which was fantastic, but I've never been brave enough to drop a lot of money on a beverage I know nothing about.) Our waitress was extremely helpful, giving us a quick course on sake before she returned with this beautiful green carafe.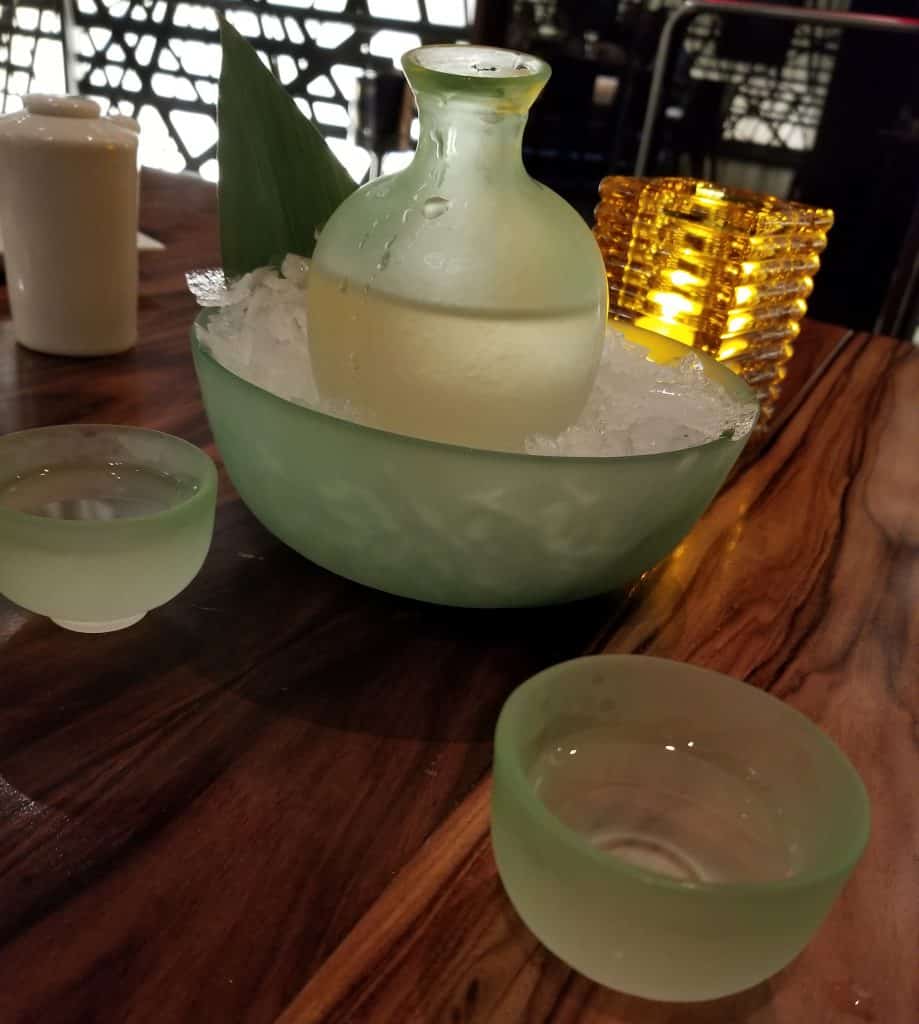 We are new newfound sake lovers. I can't wait to try some again! I do have this fear though that it won't be as good as the Fukumitsuya Morimoto. I'm working on learning about sake though, even to the point of creating a Pinterest board specifically about sake. I also think I need to buy a sake carafe and glasses, right? (Say yes, please…they are SO cute and I love to shop for new kitchen things.)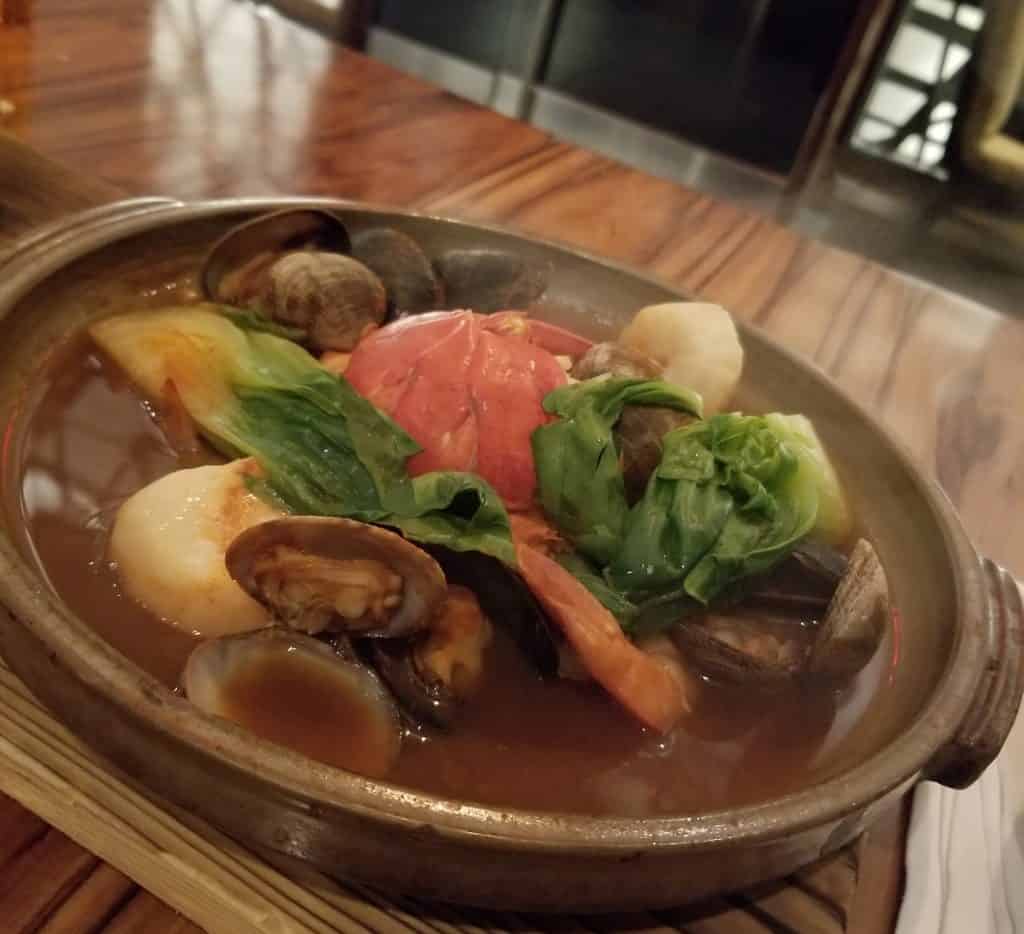 I wanted about 17 other things on the menu, but we settled on two entrees and a side of the shishito peppers. (I make them a lot, but I wanted to know how THE Iron Chef makes them. I was not disappointed!) I chose the Seafood Toban Yaki, a mix of sweet prawns, scallops, king crab, bok choy, little neck clams, oyster mushrooms, lobster and citrus butter.
The husband got the Ishi Yaki Bop, a take on Korean Bibimbop. It's a rice dish cooked at your table, with either wagyu beef or yellow tail. He chose the yellow tail, and it was amazing. Watching it be cooked was a treat, too.
I'm so glad he is good at sharing. In return, I let him have one of my scallops.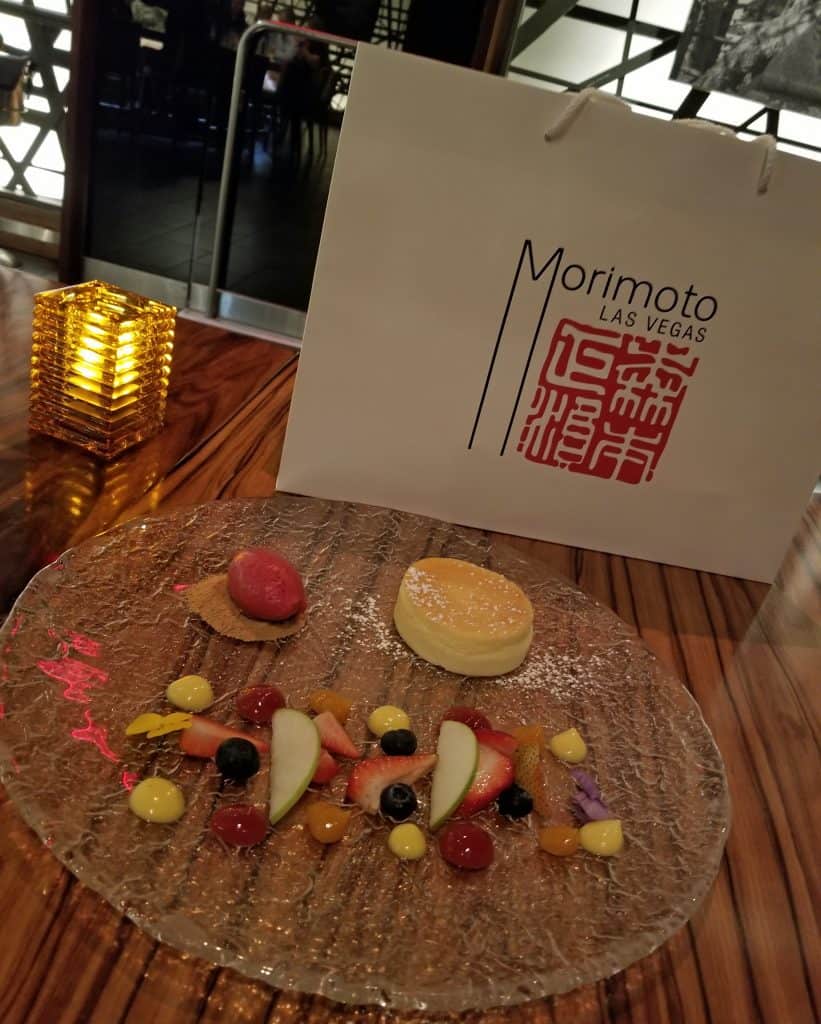 By the time we got to dessert, we knew we wanted something light, so we chose the chilled cheesecake souffle served with dots of various sauces (like custard and strawberry-pomegranate) and small bites of fruit. Sharing the dessert was perfect, as it's big enough for two.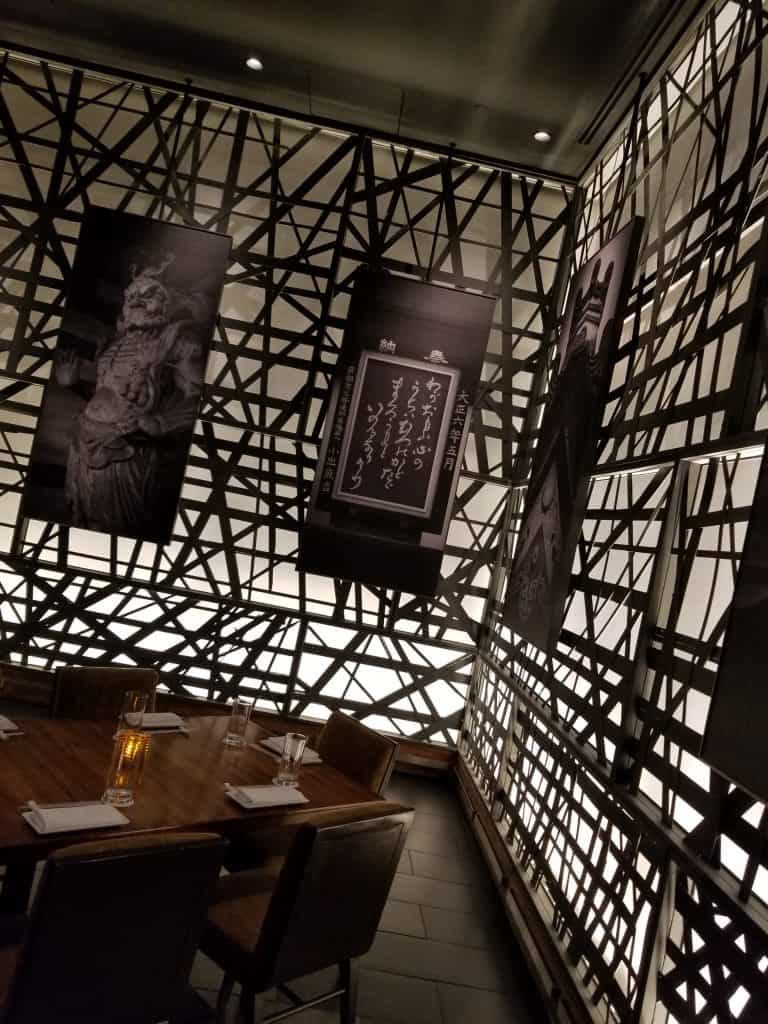 The ambiance of the restaurant doesn't feel like you're inside of a major Las Vegas hotel. The paintings, the color scheme, the clean lines and the candles all come together for an upscale but quiet experience. Even the restroom is behind a mirrored section of wall that blends in with the rest of the decor.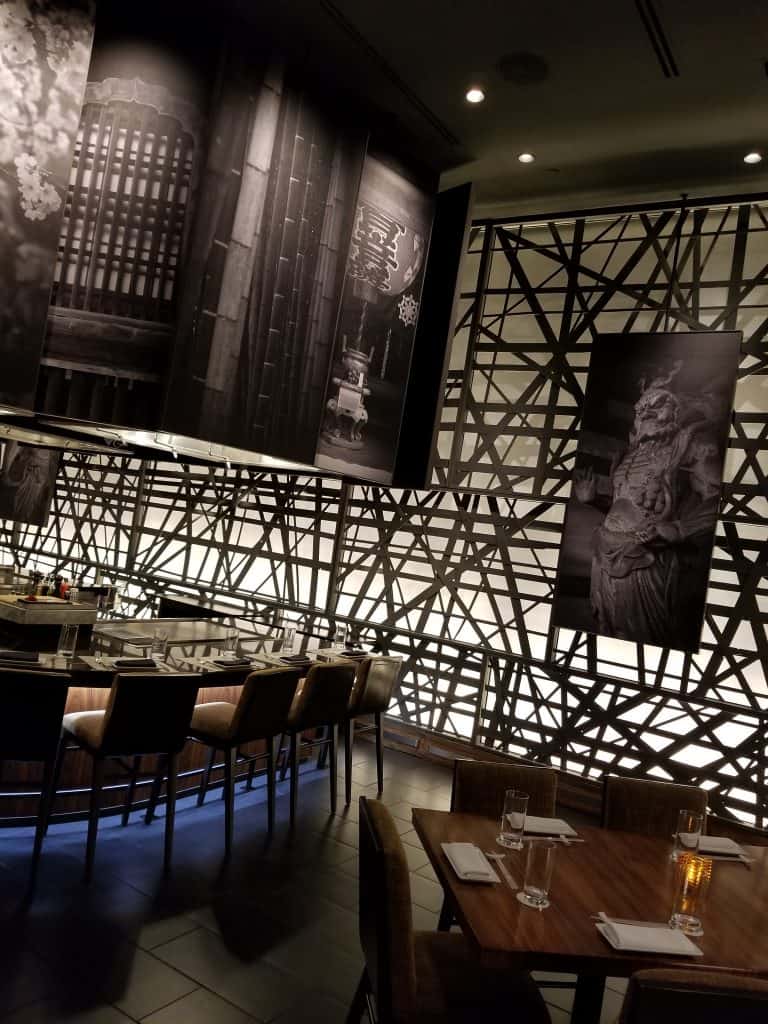 All in all, I'd do it again in a heartbeat. Dinner at Morimoto's is an experience, not just a meal. We've been long-time Iron Chef America watchers, and we watch a lot of Food Network in general. Being foodies, the chance to try so many of their creations firsthand is one of the best parts of visiting Las Vegas. Next year, we're thinking about Giada's restaurant, or we may change speeds and go to Gordon Ramsay's Hell's Kitchen in Caesar's Palace.