At midnight on March 7th, 2014, Walmart held The Hunger Games: Catching Fire DVD release parties in Elgin, IL. and Orange County, CA. and you can bet that the DAM Bloggers were there. The DAM Bloggers (Dad and Mom Bloggers) were represented with interviews from Pat Jacobs (Just a Dad 247) and Donna Biroczky (Dangerous Cupcake).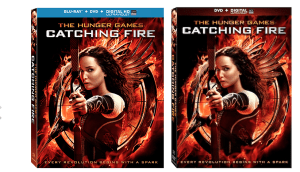 Orange County, CA
In Orange County, a crowd of nearly 300 people waited in line for midnight to arrive and to meet The Hunger Games actress, Willow Shields, aka Primrose Aberdeen. Before the anticipated event, DAM Blogger, Donna Biroczky from Dangerous Cupcakes, and her daughter (aka photographer/assistant who does a lot of events with her mother) were given VIP access to interview Willow away from the crowds.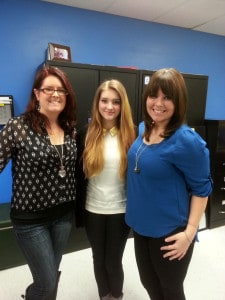 With no pretense at all, Willow immediately smiled and spoke with us, getting the ball rolling while she enjoyed her iced coffee. She has an infectious laugh and is very mature yet so totally a young teen, if that makes any sense. She's very genuine and didn't shy away from our obvious nervousness.
Southern California DAM Blogger (and daughter) with Willow Shields[/caption]When asked whom she was closest to, she said Sam Claflin, aka Finnick O'Dair, and Jena Malone aka Johana Mason. She said at this point, they're all just like one big family. She stated she didn't have a favorite movie or book from the series and while they were still working on the fourth movie, she enjoyed them all equally. We commented how exciting it must be to be a part of something this big, and she nodded and said yes. When we asked if we still had time for a quick photo opp, she jumped right in between my daughter and I and put her arms around us for a fantastic photo memory.
She thanked us for coming, and she headed out front where the crowd continued to grow. Wal-Mart staff had to rearrange things a bit and eventually stop blocking people from coming near the area, which startled some late-night shoppers but it was all handled very smoothly.
We talked to several fans, including one from Bitter-Sweet Stories Designs who was dressed in a movie-related outfit, complete with a Mockingjay-patterned skirt. There were a lot of fans in movie-themed shirts or wearing other gear. There was a definite buzz of excitement from all of the fans. As they laughed and screamed as Shields made her way out to greet the crowd.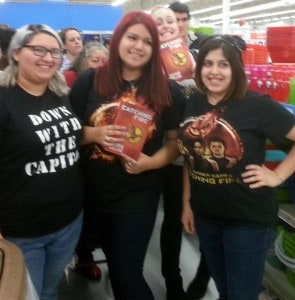 Orange, California, Catching Fire fans
My favorite was a young teen, probably 13 or 14, who was in tears as she got to the front of the line. She had to be one of Willow's biggest fans, and Willow pulled her behind the table not just for a photo, but for a hug. Photographers all gathered around as everyone noticed how emotional she was getting. It was pure innocence and excitement and so much fun to see.
Age aside, Hunger Games rocks and getting a few minutes to sit with one of the stars and hear her stories solidifies it for me. I am always going to be one of those parents enjoying it just as much as my kids, another reason the Blue-ray/DVD release is a great idea and trust me, Wal- Mart has a ton of them.
~ Donna Biroczky from Dangerous Cupcakes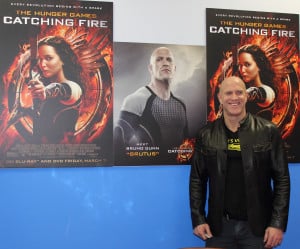 Bruno Gunn in Chicago
Elgin, IL
In Elgin, crowds waited eagerly to meet The Hunger Games actor, Bruno Gunn, aka Brutus. DAM Bloggers David Wallach (D.A.D. – Dad All Day), Meredith Nichols (Suburban Coupon Mom) and Pat Jacobs (Just a Dad 247) were there to meet with Gunn. In a complete change from his killing machine character in the movie, Gunn is subdued and extremely focused on answering every question from the heart.
Gunn expressed his excitement for fans to see the DVD because of the hard work that went into training and filming big fight scenes like the Cornucopia. There were bits and pieces that didn't make the film, but they would be in the "Making of" section of the extras.
When asked what it was like to play a killing machine in such a huge series, his response was simply, "Fun!" He said he truly enjoyed playing a blood thirsty killer and getting away with it. It was important for him to embody that and he wanted fans to feel scared and threatened.
When asked to recall the moment that he got the role and the anticipation that came with it, he let us know that he had been on this journey for a long time. When he got the call that he was one of the top three choices, he started getting his hopes up and hanging on to it and was very blessed to have been chosen by Lionsgate.
We got a very deep look into the actor and his journey when he told us that a friend of his told him a long time ago that "There's a role being written for you right now." He said he really believed that, hung on to that, believed it in his heart. Somewhere there was a role that was just right for him. It would show up and the hardest part is staying in the game. Acting is hard, but surviving the course is harder. So when "Brutus" showed up, he never felt more connected to a character. It was easy for him to sink his teeth into.
Before he went to greet the crowd, he was asked to give advice to a 14-yr old aspiring actress about finding her character and getting into "the business." He told her to treat it like a business. No one wants to work with someone they don't like. Stay generous and treat it like a business because that's what it is. Listen to what your heart says, that will give you guidance. Your instincts are the best advice. And, practice. You have to work at it. No one is going to hand it to you.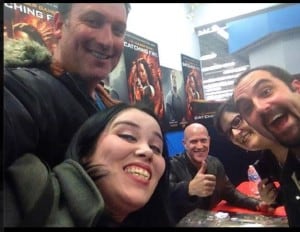 Ellen, check out this awesome selfie with Bruno and Chicago-area bloggers!
Bruno Gunn was nice enough to give us not only a photo with the DAM Bloggers, but a video as well.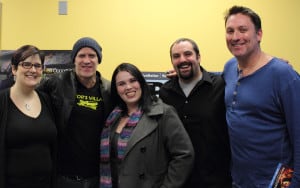 Inside Walmart, excited fans lined up, some in costumes, to meet Gunn, get autographed copies of the DVD and take pictures. Fans that we talked to were very excited for the 9-part making-of documentary that was a Blu-ray exclusive.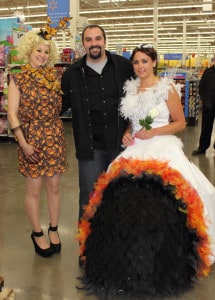 ~ Pat Jacobs from Just a Dad 247
In the end, Walmart hosted two very successful events and our DAM Bloggers were DAM glad to get an opportunity to meet Willow Shields and Bruno Gunn. The Hunger Games: Catching Fire is now available on Blu-ray + DVD + Digital HD with over 2 hours of bonus footage and extras.
 *Remember to like the Bloggers above by clicking on their blog names! HUGE shout-out to Pat for being so DAM cool in doing the editing for our piece while I had my lazy butt in Vegas for the weekend.*