Disney Pixar's newest movie, Coco, is now out in theaters and it's a must-see for so many reasons! If you haven't seen the official Coco trailer yet, watch it real quick and then I'll tell you more about it.
Go ahead, I'll wait…
You want to go see it now, right?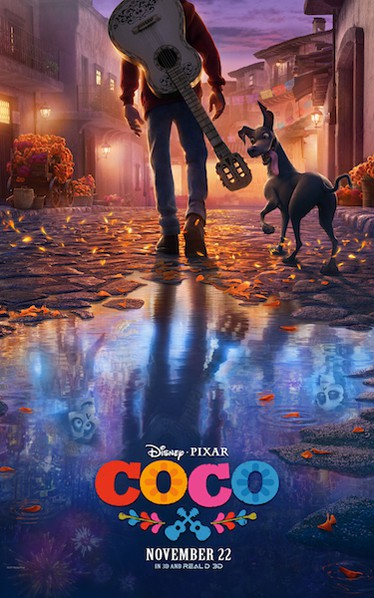 Coco is the story of Miguel, a young boy who feels he is destined to be a musician but faces roadblocks by way of his loving and overly protective family. Miguel doesn't understand that they do it out of love, as they aren't just protecting his future but his past. His adorable Grandma Coco, the matriarch of his family, is the key to so much but what stands out is their devotion to the oldest living family member. When Miguel goes out on an adventure, in an attempt to forge his own path, he ends up in places he never could have foreseen.
Enter Hector, Mama Imelda and of course, the musician that Miguel emulates, the infamous Hector de la Cruz. Edward James Olmos portrays Chicharron, a very small part but one that will have a lasting impact on everyone in the theater. Before he realizes it, Miguel's carrying the weight of the world in his hands and he's on a tight schedule.
Bring tissues.
Coco does a wonderful job of explaining Mexican culture. I knew the importance of Dia de los Muertos from some family members, but it never really hit home until listening to Miguel learn the stories of his ancestry and why we need to remember our ancestors. From the ofrenda to La Llorona, I left the theater with a newfound interest in family history. My daughter also attended the junket for another outlet and most of our very long extended ride home (Los Angeles traffic at 5pm on a week night) was filled with conversation about our family, our relatives and I took the advice from the movie: tell your children your stories. Keep your relatives alive in your memory.
Thanks to Ancestry.com, we get to fill in the many gaps. We were gifted with a one-year membership to Ancestry, and a DNA kit to delve even further into our real personal history. I grew up knowing very little of where our family came from, and the few hours I've spent working on my family tree shows me that what I did know wasn't necessarily accurate. When I signed in that first time, I anticipated browsing the site and coming back another. No. I got sucked in and an hour flew by so fast but intrigue had turned into fascination. Now I sign in periodically, looking for new leaves, the icon that there's a new hint about your family tree. (You can also benefit from others' trees, so if they've already done the work, they can make it public, saving you a lot of time.)
Coco is a movie for all ages. It is easily understood by the younger crowd, features a lot of beautiful costumes and music — as you see in the official Coco trailer — and if you weren't raised in the Mexican culture, you'll have a newfound respect for it. (And once I get the DNA results back, I can confirm the hint towards my very own Mexican heritage!) It was a real honor to be at this press junket and be able to see this movie early.
Coco, in theaters on November 22. You will want to see it a second time!