Did you hear about Mimi's Cafe entree contest? They asked their guests to submit entree recipes for the new Fall menu. Judged by Ellise Pierce, author and Texan-turned-Parisian writer at Cowgirlchef.com, the new Honey Lavender Pork Chop was the Mimi's Cafe Entree Contest Winner. After trying it a few days ago, I can attest to the prize going to the right person! Out of 175 entrants, all hoping to win the grand prize of a trip to France, this pork chop recipe is the best pork chop I've ever had in a restaurant, hands down. Kudos to the creator, Michael Watz of Evanston, Illinois. (I'm coming to your house for dinner one of these nights if this is what you enter into a contest. You have mad skills, Michael.)
First, thanks to Mimi's Cafe for inviting the husband and I to come try the menu. I was compensated for sharing all this with you, including my amazing food, but the photos and opinions are all my own. Photos of food with presentation this beautiful are easy to take!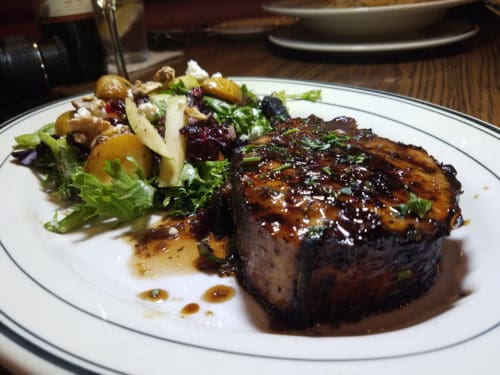 Isn't that beautiful? It's truly delicious. Glazed in a light honey, herbs de Provence and lavender mixture, it's seared to perfection. Each side had a lightly crispy and perfectly fatty edge. The flavors are layered, so you get the glaze, the honey, then the herbs, with just a light finish of lavender. No overpowering flavors, nothing that overwhelms, the flavors all blend together to combine in a bite that is perfection. It's paired with a mixed green salad with green apples, cranberries, goat cheese, toasted walnuts and roasted potato croutons tossed with balsamic dressing. The combination totally works!
I'm picky with pork. It's so easily overcooked and dry in the center, but the chef at Mimi's prepared theirs perfectly. No dryness whatsoever. In fact, the whole experience was excellent. From the minute we walked in and Danny, the manager, greeted us, we had a good time. We were seated in a banquette booth, just the two of us, in an area that was a little off to the side.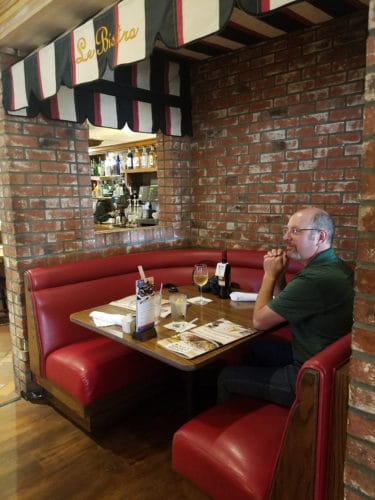 I loved it. We could watch people and see the bar area but were relatively on our own in a nice romantic area. It was ideal for a nice date night!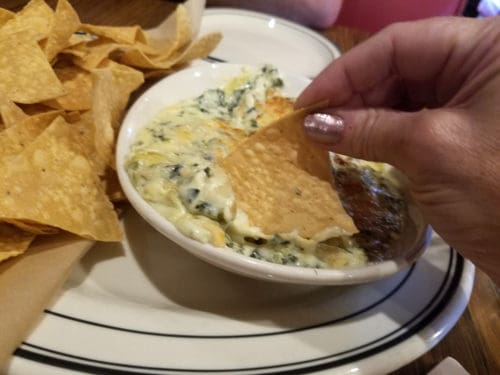 You can't go to Mimi's Cafe without ordering the French Onion Soup, but first we ordered the Spinach Artichoke Dip. Drool-worthy, you need to order it. Just don't eat too much of it or you won't have room for your dinner. Not that I did that or anything.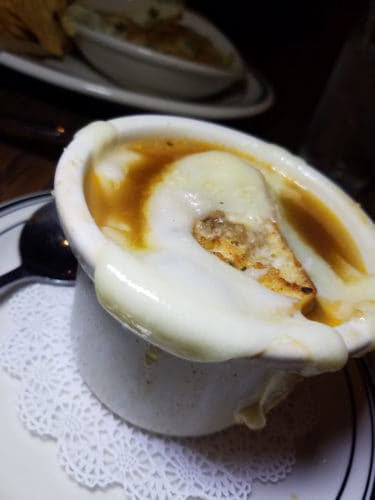 Up next was the ever-amazing soup. To be clear, I'm not a broth person. I typically don't order soups that are mainly brother, other than egg drop or miso soup. Mimi's' French Onion Soup is the exception and has been forever. The rich broth with prolific onions, a slice of French bread flavored just enough from the broth and covered in a huge slab of cheese, which melts over the side and crisps up. I can't imagine that any bowl of that soup gets turned back in with any remnants of cheese on it. Is it just us, or does everyone pick that clean? SO good!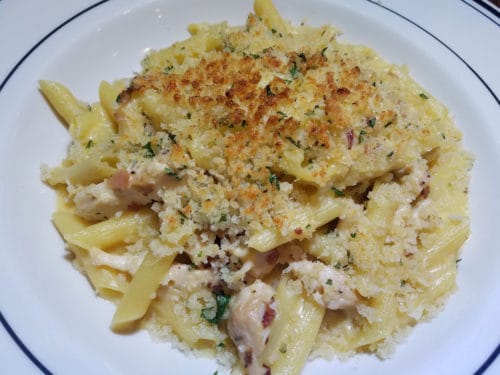 Then the entrees. I obviously had the pork chop, but the husband ordered the Chicken Tillamook Cheddar Mac, another addition to the new pasta lineup. It was pulled chicken, baked in a Tillamook Creamery cheddar sauce and topped with crumbled bacon. It had a light Parmesan crust and the waitress shared a good tip: if you take your bite and swirl it in the bottom of the bowl, that's where the sauce lies. I snuck a few yummy bites of his entree, even though I didn't really share my chop much. Who would, that thing rocked! I did, however, stop before I became completely overstuffed, planning on bringing it home for lunch the next day.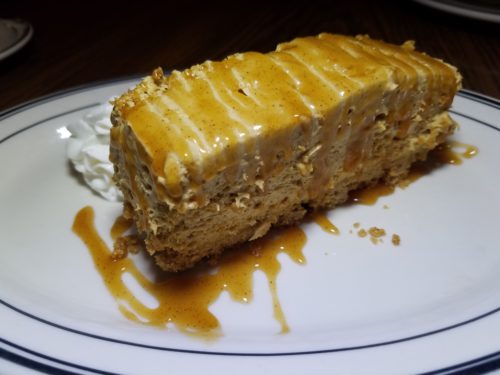 But then this dessert perfection showed up on our table, the new Pumpkin Spice Cheesecake. Holy desserts, take back that extra fork, this thing is all mine! Light and fluffy, the crust on this cheesecake was exactly what you want for a cheesecake. Not soggy, not soft, just crispy and thick enough to offset the sweet and melty texture of the cheesecake itself. Topped with that spiced caramel, you will want to lick the plate. Trust me. No, we did not do that, we do have our limits.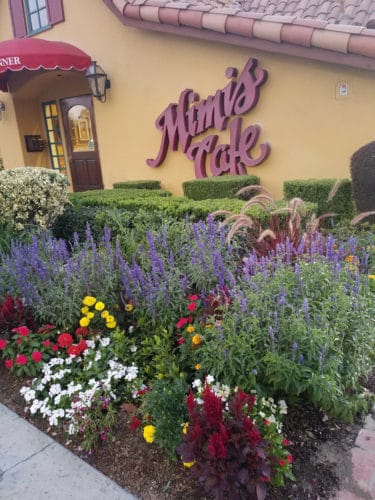 We love Mimi's Cafe. We've been fans for many years now, enjoying the various seating options and menus, from the outdoor patio area to the bar to the waiting area while waiting to be seated, which typically isn't long as management has it down to a science. In fact, all of the staff we ran into was kind, friendly and professional.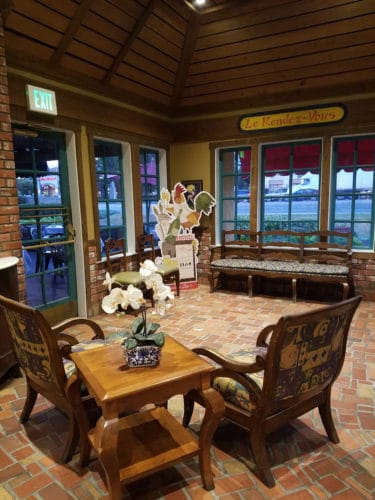 If you've got to wait, why not do it in this cute area? It's a great place to enjoy a glass of wine while you wait for your table, with plenty of room overlooking the patio to lounge with your friends and family. And you need to try the Mimi's Cafe Entree Contest winner, the Honey Lavender Pork Chop entree.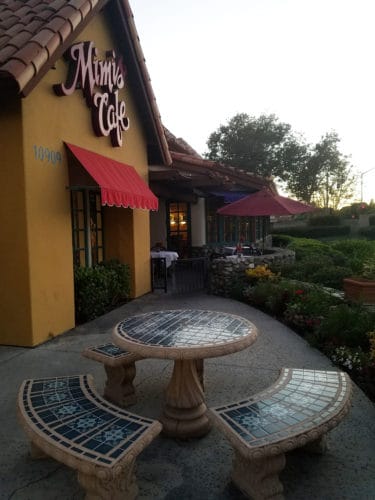 Mimi's Cafe, you've got it all covered. Your American comfort food with a French influence covers all food bases, with something everyone will love. We enjoy your atmosphere, your menu and the way your staff deals with everyone. The Rancho Cucamonga location staff was professional, completely efficient and very kind. We're going to be back, I promise.