Hot sauce. I put it on almost everything. No lie, I go through so much of it and then I'm on the hunt for something newer, spicier, different. When I was offered a complimentary three-pack of Tabanero Hot Sauce for the purposes of reviewing, who could turn that down? (The photos and opinions below are all my own.)
I'm not so great at menu planning. I mean well, but I usually go to the store with a list and some basic ideas that come together after I get home. Following a recent trip to Sprout's Farmers Market, I was fully stocked on fresh produce and some non-GMO meats for the week. Beyond that, what to do? A few recipes were scattered in my head but I wanted to shake them up a bit. I decided to use my sweet chicken sausage, bell peppers and fresh corn and make them into something my family would really enjoy.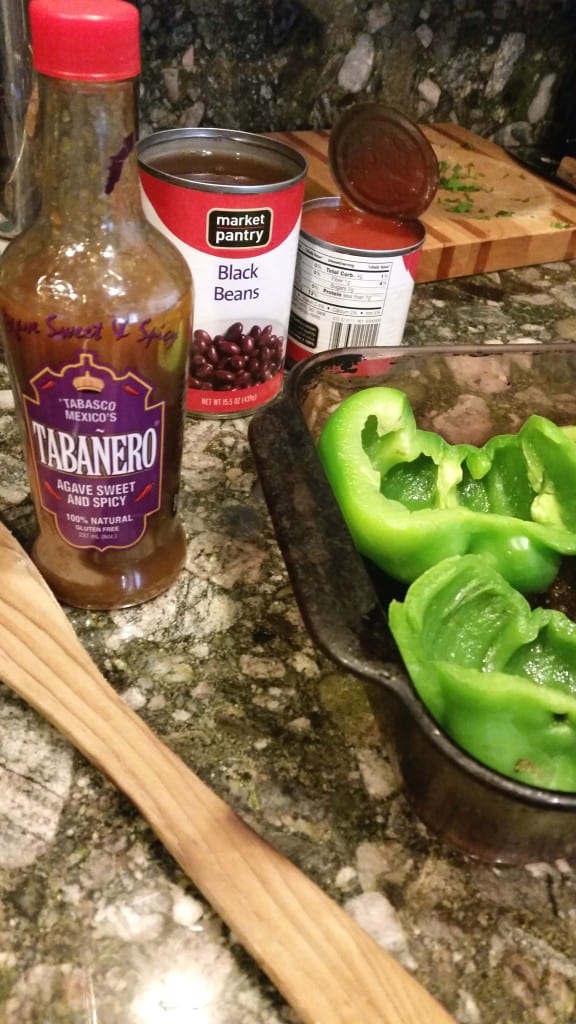 I started by frying up the sausage; it was a good quality sausage with no real fat to drain. I seasoned it with salt and pepper and added in some chopped purple onion until it was just a bit wilted. I then added in a can of black beans, drained, the juice of a lime and 3 tbsp of Tabanero Hot sauce in the Agave Sweet and Spicy flavor. Meanwhile, while that was heating up gently over low heat, I boiled the bell peppers, cut in half and seeded, and then blanched them to stop the cooking process. (I cut the bell peppers in half from top to bottom, they're easier to stuff and eat.) Each bell pepper half was then filled with the sausage mixture and placed in a lightly oiled 8 x 8 baking pan, where I sprinkled each with some grated three-cheese blend. Once the oven was heated to 400 degrees, I popped the peppers into the oven to heat for approximately 15-20 minutes. I used that time to make the corn, which was really easy.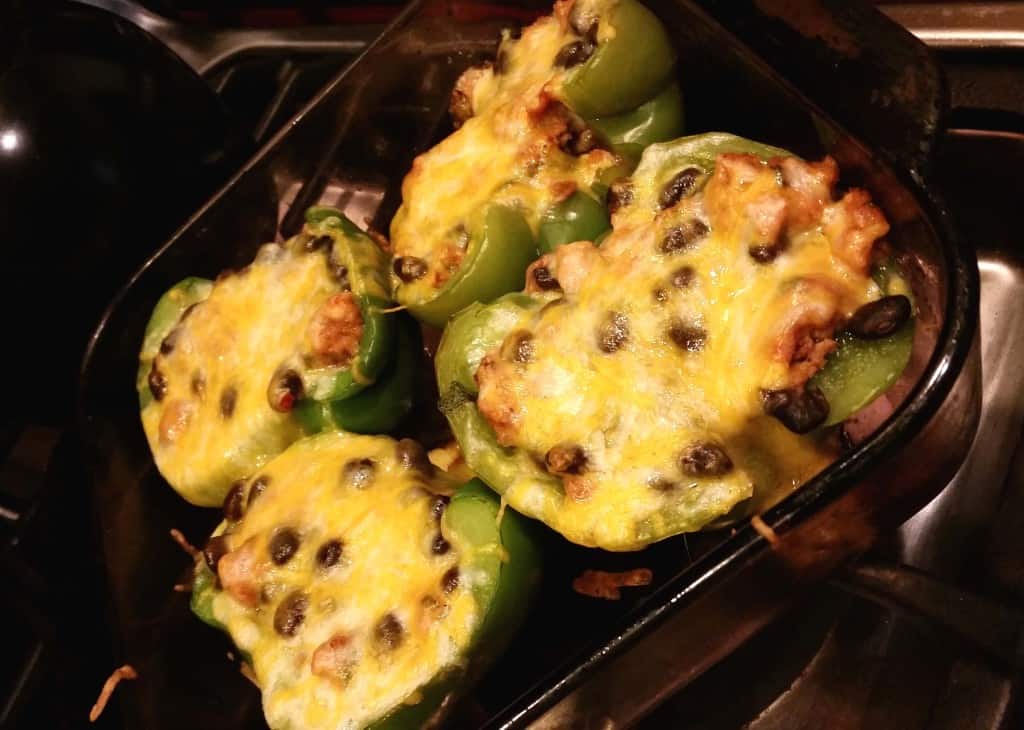 Sometimes the little things make all the difference in the food. The Tabanero Hot Sauce added a sweet yet spicy zing to the pepper filling. You can add a little more if you want, but you don't want the filling to be overly juicy or it will be messy to eat. Tabanero Hot Sauce is available at Sprout's and other stores; you can learn more about the new product at their website. The product is also available online with free shipping. In addition to the Agave Sweet and Spicy, it's also available in Hot Sauce Picante and Extra Hot flavors. I liked all three, but our favorite is the Agave. We didn't find the "Extra Hot" to be as hot as we expected, but it has a good kick of flavor and was great mixed with ketchup for a spicy french fry dip. I also use the Hot Sauce Picante in a homemade salsa and the guests picked up that it was something new.  For some other ideas on using it, follow them on Twitter.
Tabanero is made with habanero peppers, carrots, onions, key lime juice, agave nectar, garlic and salt. All the products are quality and it's made in the USA. They also make a blood mary mix which sounds SO good. I love a good bloody mary but it has to be spicy and not all mixes fit the bill. I need to get my hands on some of that.
If you're like me and feel like spice is undervalued in many foods, grab a bottle of Tabanero and give it a try. It's not overly sweet and it won't burn your mouth, so don't be afraid to dab a corner of your quesadilla into it at lunch. Or pour it on your enchilada at night, like I will be in about 20 minutes. I put the Tabanero on the table last night during my husband's birthday dinner — chicken enchiladas with red sauce — and it made its way around to everyone. It's really that good.