Okay, so you can just call it chipotle salsa for now…after you've tried it, then you will call it fabulous chipotle salsa. Be ready though, it's hot stuff!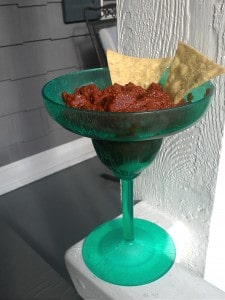 Chipotle Salsa
1 8 oz jar chipotle peppers in adobo sauce
1/4 cup olive oil
3-4 cloves chopped garlic
3-4 tbsp lime juice
1 small onion
1 15 oz can diced or chopped tomatoes
1/4 tsp salt
1/2 tsp pepper
3-6 whole (seeded, if you like) fresh jalapeno or chili peppers
1 8 oz can tomato sauce
1 tbsp crushed red pepper
Put it all into the food processor and whir to your preferred consistency. It's spicy, so you can adjust the levels of spice as you like. Love this stuff! I keep it in the refrigerator for up to 5-6 days, but it never lasts that long! (This makes a large jar.) My garden's still spitting out peppers on a daily basis so I always add at least 5-6 into my batches.
If you're less of a spicy food lover than me, you can cut back on the chipotle peppers. The sauce is just as hot as the peppers, so another option is to use just the sauce OR just the peppers. I like a mix of both to really give the salsa a depth of flavor.
This salsa is great with pita chips, tortilla chips or even a veggie tray. We've put it on top of enchiladas — sparingly, not as a spread — and of course, if you make it, you need to get the margaritas going. And you may want to keep the ice water handy. And tissues. Why do I torture myself by making it as hot as I do?
My chipotle salsa recipe is the result of experimenting one evening when I couldn't find a salsa hot enough but with the consistency that I like. I don't like salsas too chunky, or too watery and this salsa fits the bill right in between.
Enjoy your snacks and that margarita!