I'm on a quick dinner kick lately. Get in the kitchen, make a delicious meal that everyone will like, and get out. With the help of fresh produce and a pantry stocked with all the basics, I can put things together like this easy spicy noodles recipe in under 30 minutes. It cost about $15 and serves six, so not only did everyone have plenty of dinner, but there were leftovers! Winning.
These spicy noodles are inspired by a drunken noodles recipe I made quite a while ago. I didn't have fish sauce, but I had a couple of new ingredients to try and I think this new recipe delivered above and beyond the original.
I know a lot of people who look for free recipes don't like to see photos, so you're in luck! I only took a few pics — wok meals come together fast and I only have two hands.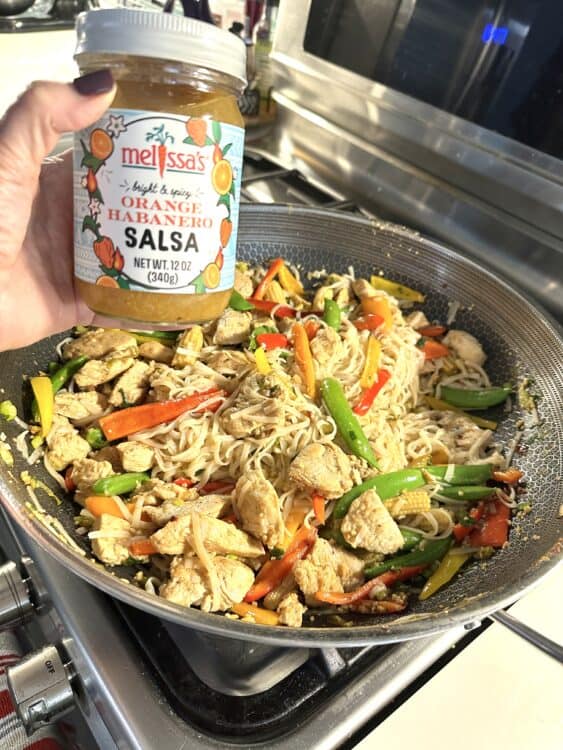 The secret ingredient in this recipe is something you won't expect: Orange Habanero Salsa from Melissa's Produce! I used it as a marinade for the chicken breasts, and it added just a layer of heat to the dish. (If you're worried about heat, yes, this salsa is hot, but it's also very flavorful; it can be mixed with other salsas or used sparingly if it's hotter than you prefer.) It also adds a citrus tang to the chicken and is unlike any other citrus-based salsa I've tried.
On to the recipe spicy noodles recipe!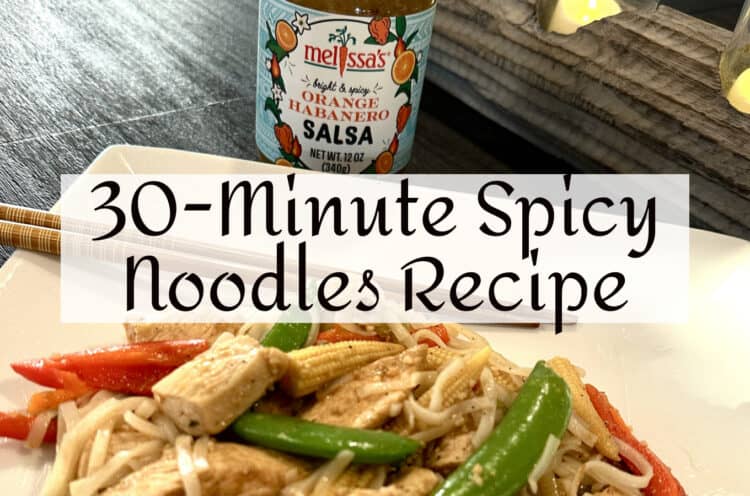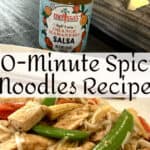 Spicy Drunken Noodles with Chicken
Ingredients
1

cup

Orange Habanero Salsa

(Melissa's Produce)

3

chicken breasts, chopped

4

tbsp

vegetable oil

1

14 oz package of rice noodles

4

tbsp

soy sauce

(I used light sodium.)

1

tbsp

sesame oil

2

tbsp

Hoisin sauce

2

tbsp

brown sugar, packed

(light or dark)

salt and pepper

2

tbsp

chopped fresh garlic

7-8

mini bell peppers, chopped

4

oz

fresh baby snow peas

1

can

baby corn, chopped in half

3

green onions, chopped

(green and white)

1/4

cup

fresh basil, chopped

1

tbsp

hot chili sauce

(I used homemade.)
Instructions
PREP Step: Place chicken breasts and salsa in bowl; cover and refrigerate for at least 30 minutes.

Boil 3 qts of water; when boiling, dump rice noodles in and boil 6 minutes. Drain thoroughly in strainer. Leave aside.

Heat wok, add two of the tbsp of oil. Add chopped chicken and marinade; sprinkle with salt and pepper. Cook chicken until almost entirely done. Remove from wok and set aside.

While chicken is cooking, make sauce from: soy sauce, sesame oil, Hoisin sauce, brown sugar, pinch of both salt and pepper. Leave in separate bowl.

Keep wok hot. Add remaining 2 tbsp of oil. Dump in garlic, bell peppers, snow peas and baby corn. Cook for 2-3 minutes.

Add in green onions and fresh basil. Cook another two minutes.

Put chicken back in pan, along with noodles, chili oil and the sauce mix. (If noodles are clumpy, quickly rinse with cold water and drain.) Combine and heat through, another 4-5 minutes. Serve hot.
The easiest way to make this is to have everything ready and next to the stove. I used a large wok/frying pan from Hexclad. It's sturdy, scratch-free and goes in the oven up to 500 degrees. (And it looks really cool hanging from my copper pot rack.) The prep didn't take long, but don't forget to marinate the chicken first!
Thanks to Melissa's Produce for the salsa! It's got such unique flavor and I love trying new ingredients. If you're not a fan of heat, you can omit it and still have spicy noodles. Just keep an eye on the chili oil; you can use less if you want. Mine was homemade and I used dried pesilla peppers, so it was decently warm but not over the top. You can also omit that if you're looking for drunken noodles without the spicy factor.
If you find that you like the salsa, you can use it as a barbecue marinade, and it also tastes great in sour cream for a yummy dip, or poured over cream cheese! Experiment and have fun with it!