You all know I'm a huge NASCAR fan. I've written about it quite a few times, like this primer about racing and how it's about far more than just left turns, and this wrap-up about a typical week when NASCAR comes to Fontana. On Sundays, you can find me in front of the Sprint Cup race somewhere. We've followed the sport forever now, having traveled from tracks here in California, as far up as Sonoma to down here in Fontana, all the way to the east coast as far Dover, Delaware's Monster Mile. With 55+ races under our belts, it's safe to say this is a lifelong interest with a lot of time and money invested. When I was invited to the media event to meet and interview Kasey Kahne, driver of the #95 car for Leavine Family Racing, I knew I had to make it happen.
Auto Club Speedway partnered with Rockstars of Tomorrow's Rancho Cucamonga location to promote both the young musician's academy and the speedway in advance of the Auto Club 400. NASCAR driver Kasey Kahne flew out from Las Vegas to attend today's event, where he learned how to play the electric guitar from a nine-year-old student of the academy. Together, they performed "Smells Like Teen Spirit" with the young band, Sugar Bombs, accompanied by Dave Allen, President of the speedway, also on guitar. Here's a brief clip of the performance.
The Auto Club 400 takes over the speedway from Friday, March 16 through Sunday, March 18. The haulers come into town on Thursday, March 15, where fans can line up at the speedway to watch them enter, then do some NASCAR gear shopping and check out the entertainment there in the fan area of the parking lot. Qualifying for Sunday's cup race takes place on Friday, the Xfinity race occurs on Saturday and then the Auto Club 400 begins mid-day Sunday. Tickets are still available for all three days, and if you're really into it, be sure to pick up some pit passes. Pit passes allow you access to the pit road area at certain times. (Read up on the details when you purchase the passes to ensure you're in proper attire due to safety as the cars are entering/leaving pit road throughout the day. And if you hear a whistle, GET OUT OF THE WAY.)
Today's jam session was a blast. We all had the opportunity to speak with Kasey briefly after, then a few of us moved on to Brio to have lunch and talk more with Kasey and the other writers and track representatives. The band was amazingly talented, especially considering they were 9-11 years old! I'm going to be inquiring with Rockstars of Tomorrow about my son attending so he can learn how to use the electric guitar we bought him at Christmas. This place seems to really take music seriously and that's right down my son's alley. Those kids were impressive!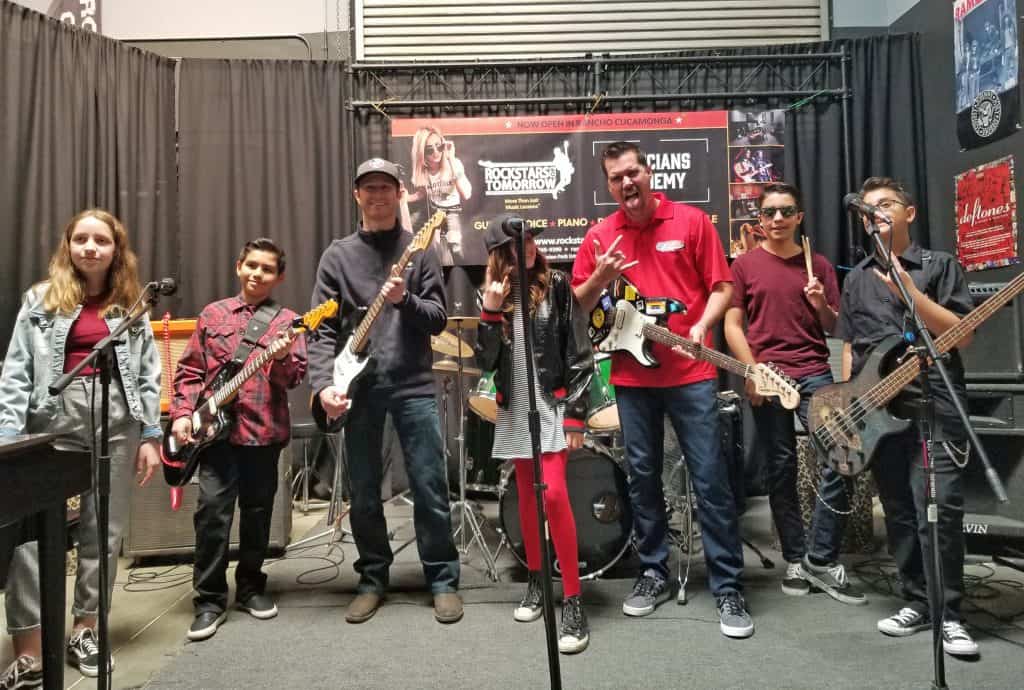 I have to confess: there was a moment today at lunch that I had to pinch myself. I've followed the sport for so long, I can bore my friends that aren't into it. Today, I got to sit with a current NASCAR driver and actually talk about racing! It doesn't get any better than that. Kasey was down-to-earth, humble and open with his responses, both during the interviews and during lunch. When asked about what his favorite track from the NASCAR Goes West trio? He said he'd want to expand that to include Sonoma, though that's later in the season. Sonoma is a 2.5-mile road course full of inclines, hairpin turns and tight quarters. It's a different kind of racing from the typical oval track and NASCAR fans love to watch as a road course brings a different level of difficulty, strategy and even just different ways of passing other drivers.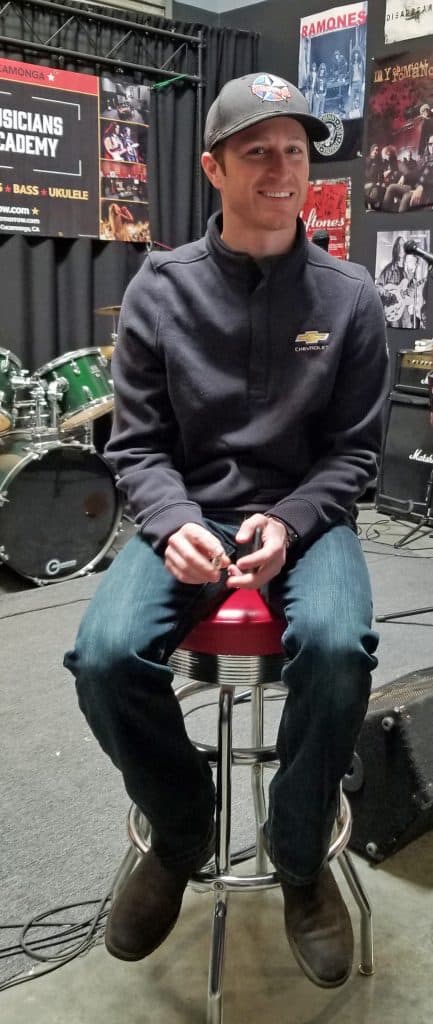 Kasey had to fly out right after lunch to get back to Las Vegas, where he's racing through Sunday; then he has a couple of days 'off' before he heads to Phoenix, then he'll again repeat the cycle but here in Fontana. It's a long way from home in North Carolina, and our weather out here is nuts right now so it's certainly not what was expected. If you're coming to any of the upcoming races out here, check your weather reports right until you head out the door. I'm actually packing a full-on winter coat for Vegas this weekend!
This 2018 race season brings a first: the addition of a road course to the playoffs, otherwise known as the Chase. The Charlotte infield is being re-purposed for this new road course, with all but 400 feet of the current Charlotte, North Carolina, track being incorporated into racing surface for the road course. I can't wait to see how that transpires! (Don't tell anyone, but my daughter and I climbed up into the flag tower of the Charlotte Motor Speedway a few years back during a very informal tour. It's the memory of a lifetime!)
Kasey Kahne isn't just an amazing driver, but he's also the father of a two-year-old boy and the creator of the Kasey Kahne Foundation, a charity that helps under-privileged families. He's from Enumclaw, Washington, and he started racing when he was 15. (He laughed a little at that being 'late' in comparison to the Sugar Bombs band members who were so much younger.) 2018 marks his 15th season as a cup driver, and back in 2006, he won six races in just one season! He used to be in the #9 car, then the #5. This is his first year with Leavine Family Racing and it will be a lot of fun seeing where things go.
If you're not a NASCAR fan, give it a shot and visit Auto Club Speedway for one or more events over the Auto Club 400 weekend. Once you smell the burnt rubber, hear the tires screech and get caught up in seeing who beats the rest to the finish line, you'll be hooked. Tickets are available in all price ranges, and the fan zone is going to have activities for all ages. This year, they're adding the Dock Dogs, a canine aquatic competition that everyone will love watching. Announcements will officially be made soon about the Grand Marshall and headline entertainment. There are typically musical performances in addition to a ton of food choices. No matter what your dietary needs are, the Auto Club Speedway's selection usually works for everyone.
We'll be there from Friday through Sunday, tailgating, shopping, watching the entertainment and of course, cheering the drivers on from our seats. We'll also be wandering the pits off of pit road and not a race goes by that we don't score on another autograph we don't have yet. (The drivers walk in/out of the tunnels between pit road and the garages, if they're not in their car, and if there's time, many will sign your ticket stub, hat, shirt, etc. Have a Sharpie with you for autographs as well as signing the start/finish line if you've purchased the pit pass. My recommendation is to arrive early so you can be sure to see everything you want and have a good viewing location for driver intros if you don't watch from your seat. Gates close in advance of start time so pay attention to those times so you don't miss out or get stuck having to walk the long way back!)
NASCAR is a sport that's so much more than what you initially see. Strategy is so important, because the crew chief and the driver and the pit crew have to work together to keep the car ready to finish the race while pitting at the right times. How many tires to change? Fuel up now? Push it? How to adjust the car? Then there's the NASCAR community. You won't find a nicer, friendlier bunch of people in any sport. If you're camping and you need a tool, your neighbors will clamor to help you. Sitting in your seat waiting for the race to start? Your seatmates are usually going to keep you entertained. Tailgating in the lot? You may just end up the recipient of someone's extra barbecue or beverages. Try it at least once and I think you'll be pleasantly surprised!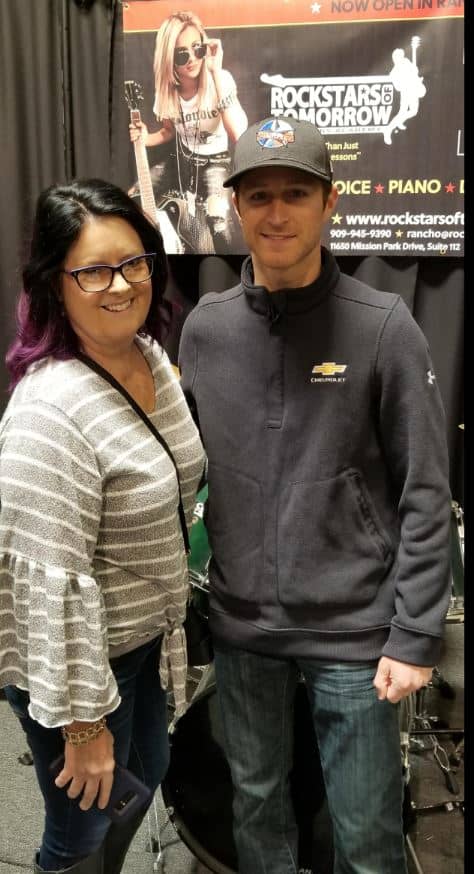 Thank you, Auto Club Speedway, Kasey Kahne and Rockstars of Tomorrow for allowing me to attend — Kasey, good luck this weekend and thanks for the photo!