As a long-time (over 10 years) Nascar race fan, I take a lot of flack from those won't don't enjoy the sport. "Why would you just want to watch cars go around in a circle?" or my favorite, "It's nothing but left turn! Left turn!" I laugh though when I hear it, because it's the true marking of someone who doesn't know the sport at all. If they're willing to listen and give it a shot, I give them the five-minute breakdown on why the sport is full of strategy, teamwork and why the drivers are indeed athletes. Oh, and all about the fast cars. But before I go further, let me show you what a lot of people call our Nascar shrine.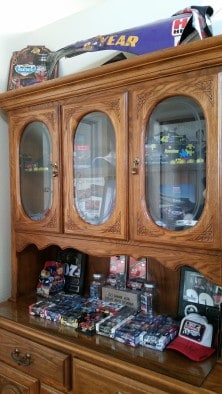 Yep, a little bit of everything there. Cars from every race we've attended the last 8 or so years, autographed photos, commemorative items, a visor from Jamie McMurray's day helmet, even a signed quarter panel. But back to Nascar…
Nascar gets a bad rep, yet it has a fascinating history. Back during the days of Prohibition, moonshiners needed to find a way to get their product from point A to point B, so they souped up their cars and made it happen. Later, put very simply, Bill France decided to put it to good use; he organized Nascar ("National Assocation of Stock Car Racing") in 1921 and in 1949, they held the first stock car race in Charlotte, North Carolina, now considered the home of Nascar. (Many team shops surround Charlotte, in Concord, Mooresville, etc.) It built from there and is now a highly-publicized sport with a huge economy and big name sponsorships.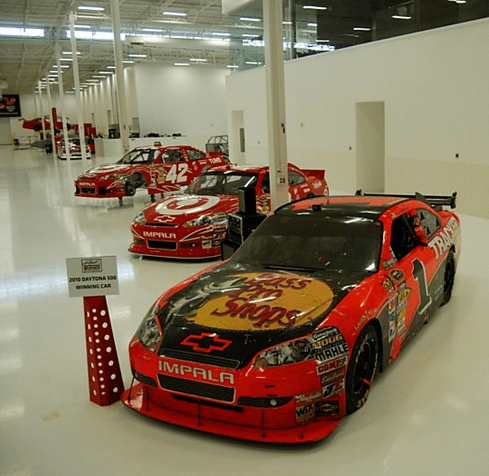 The Chip Ganassi Shop outside Charlotte with Jamie McMurray's #1 Daytona winning car! Such a highlight of that trip for us!
Since 1949, a lot has changed – there is a lot more regulation, which means the cars are safer and everyone has to play by the same rules. Cars are inspected pre- and post-race to ensure fairness and races bring in thousands upon thousands of fans for every race. Drivers are celebrities and the teams are heavily trained for fast pit stops. Racing has gone from a humble beginning to being one of the most watched televised sports, with tracks all over the country and some races even held in Mexico and Canada.
Pretty cool, right?
The sport sounds easy. Everyone starts at the same time and the first driver to cross the finish line completing all the laps wins the race. However, that's where the simplicity stops. To even get to the track, the cars have to be modified, within Nascar guidelines, and while the cars have to use basically the same parts, same sizes, same weight, etc.,  — all the way down to being measured and weighed – the teams can make adjustments that result in a faster and easier-to-drive car. Drivers report if they're loose, tight and where on the track they experience it and the crew chief makes minor adjustments during pit stops based on the driver's feedback. The lingo can be confusing, if not funny, if you're unfamiliar with it: wedges, rear, springs, loose in, tight in the center. Even if you are familiar with it, sometimes you just laugh.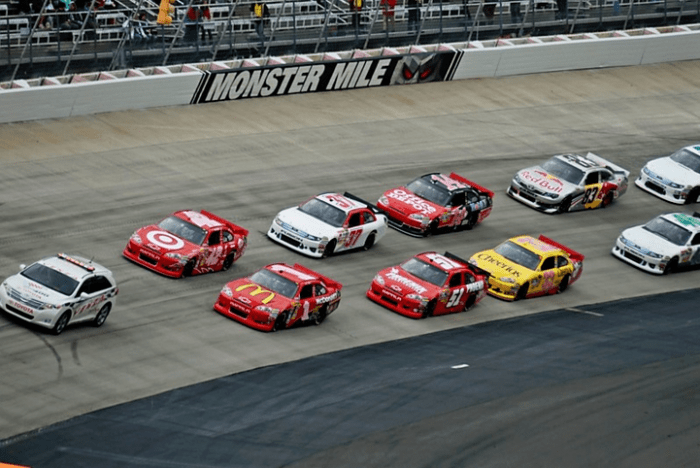 The Monster Mile aka Dover Speedway in Delaware. We drove the 8 hours one day, stayed one night, drove 8 hours home the next. Worth every yawn and tiredness that next day!
Things like wind, a new track that's not rubbered up (where rain has washed off the debris accumulated during practice, which can help traction or hurt it), temperature, clouds, low tire pressure, amongst many other things, can change the car's performance, so during a pit stop, it's far more than merely putting on new tires and adding fuel. The team has to make decisions on if they're even going to change tires, which side or both, loosen or tighten, fix damage from an on-track collision, you name it. They have to do all that within seconds and try not to lose a lap, basically putting them behind.
Races typically last several hours long. Before you groan, remember football and baseball games can do that, too. If you follow a team, it doesn't feel that long, so if you decide to follow a race, do yourself a favor and choose a driver beforehand. Following them specifically helps you focus and when the commentator talks about them, trust me, you will want to say SHUT UP THEY'RE TALKING ABOUT <DRIVER>. I know we're not the only ones that do that. You'll hear the commentators talk about who took two tires, who took four. Who is coming in for a pit stop during the green (meaning not during the caution, which is when everyone goes in as the racing is slowed due to a wreck or debris found on the track) and when they are coming. If the leader comes in, people behind could come in to stay on the same timing he is or they can stay on the track to see if they can gain some race positions. The faster you get your pit stop done, the further ahead you are on the track. See where it's starting to come together as being much more than just left turns?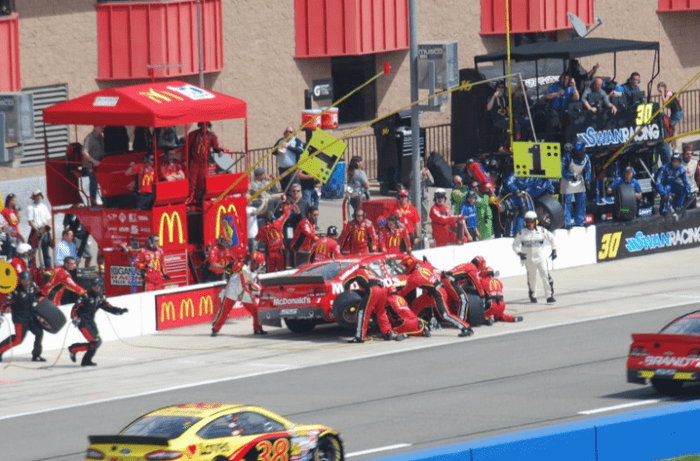 Pit stop for the #1 car at Fontana, California's Auto Club Speedway, our home track.
It's all about strategy. Some people want to only take two tires to gain positions. Others take four tires even when the rest are taking two tires, because their car is fast enough to make up for the lost time of getting that extra side of tires put on. Some teams opt to deal with a problem so they don't fall behind and others figure they're back far enough already that they'd rather make the car faster so they can move to the front.
And not all tracks are created equally. Some are restrictor plate tracks, where the air intake is restricted so speeds and driving is changed. Some tracks require drivers to draft off of each other, so you'll see them driving in packs or pairs. That can sometimes get a little more boring, as a pack or duo can get so far ahead, they're almost in their own race, but even those people have to stop and pit and there are always wrenches thrown in the works that can cause problems. A tire going down can take down an entire pack. There really is no predicting.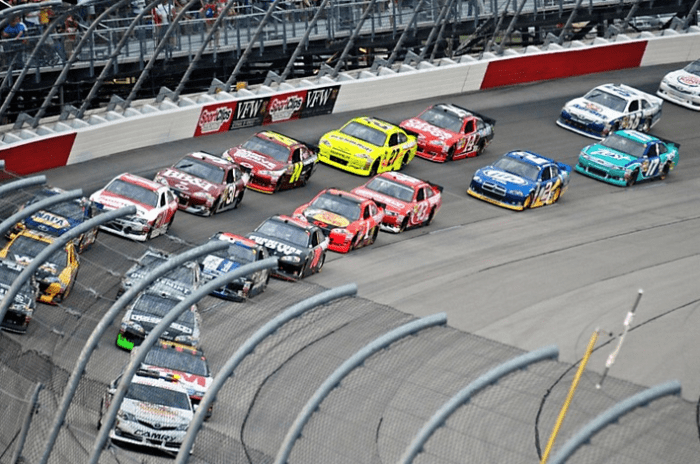 This track is known for the Darlington stripe as they come so quickly through the corners. (And their pulled pork bbq.)
Tracks vary in degrees of banking, too. Banking is basically the angle of the track. Bristol, for instance, has a 24-28 degrees of banking in turns and 6-10 in the straightaway. Try walking on a 24-28 degree berm or hill, then straighten out to almost nothing. Your visibility entirely changes along with how easy it is to walk/run fast.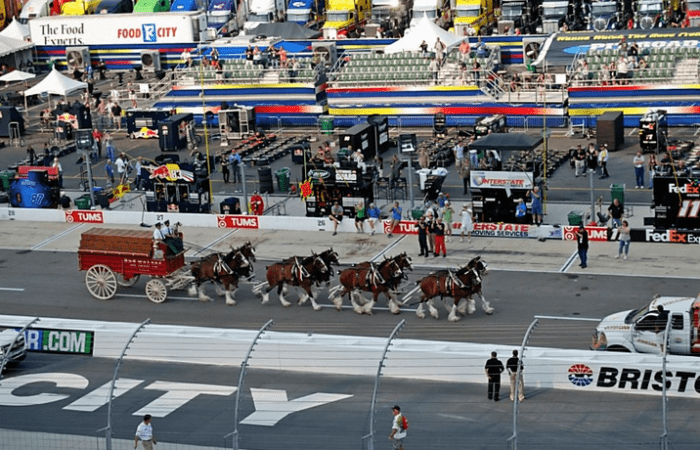 Tracks are mostly loops/ovals though some have some odd-shaped 'corners,' and others are road courses, like Sonoma, where there are s-turns and switchbacks and paper-clip corners. Those races are fascinating, as they can be a lot harder to pass people and you can't see the whole track so you can be surprised when someone different comes around in the lead.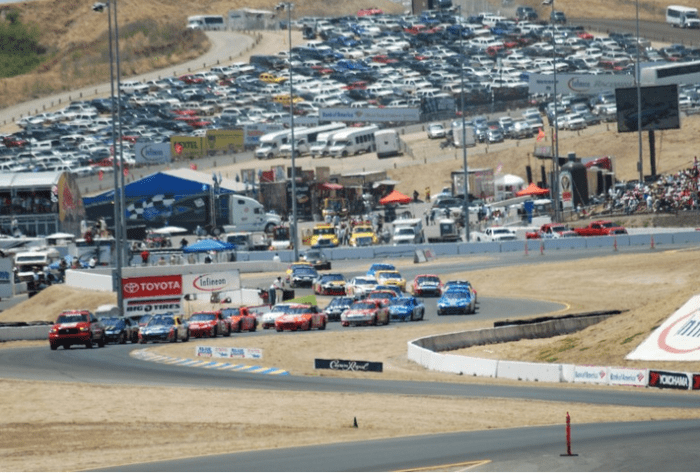 Where you sit really matters as far as viewing experiences in person. We like to sit front row in Las Vegas, right to the side of the start-finish line. Entertainment and driver introduction occurs near there so you can see it pretty well, but cars coming out of turn four are going fast and that part of the track sees a lot of action as far as wrecks. (See below for more on wrecks.) We also preferred front row for some races at Darlington, South Carolina, races. The wind the cars create will literally blow your hat off and cover your face in "schmutz," which is such a fun experience…but wear some shades, it will get in your eyes. Then move up a few rows.
Tracks like Talladega and Fontana are big ovals, so while we've never watched a race at 'Dega (though we have been to the track) we purchase our seats for Fontana higher up. Same with Atlanta, as it maximizes the view. (But the higher up you go, the further you have to walk down stairs to the restroom, food and beverage booths.) Prices also change according to your seat choices. We are going to Fontana in March and we chose to purchase all six seats in a row of only six seats, right behind a gated area so our view isn't blocked by people walking in and out of the row. (The less interested people are in a race, the more they wander…or stand, lost, right in front of you.)
Before you say "you like wrecks? Why?" watch a race. There's always a silent prayer during a serious wreck that no one is hurt, but wrecks almost never end up in an injury. Those cars are set up to protect the driver, and they also wear what is called a HANS device, which goes around their neck so when worn with their helmet, their neck is protected. Safer barriers are installed in most tracks, though not all, and if nothing else, in the most dangerous portions of the tracks; they are basically filled with Styrofoam so the cars don't hit as hard. Cars also have internal roll bars and flaps that help the cars slow down when the driver has lost control. One of the biggest modifications in Nascar rules is to limit speed to decrease the chance for accidents.
Here is a wrap-up of tips for enjoying your first race:
Pick a driver. Research him a little beforehand, just enough to get a little personally invested. Nascar.com is great for helping with this, and most drivers have their own website. Remember the car number and try to learn what the car will look like, as some cars change each week depending on sponsorship.
Invite some people to watch with you, especially if they are into the race. Having resources for questions around will make it more enjoyable. (And if you are at a race, I encourage you to ask others around you for help. Nascar fans are some of the friendliest and most generous fans you'll ever meet. Don't let rumors scare you, they are mostly untrue.)
Record it, if you're watching at home. Being able to stop and use the restroom or refill your drink will give you more freedom, as rushing through it to have a few minutes to potty makes you miss things.
Make it an event! Put down the phones and really get into it.
Learn some additional terms that I haven't shared and read up on the track. Know how many laps in the race and listen to the commentators talk about weather, car problems and funny driver stories. There are always funny stories.
Pick a nemesis. Yep, I mean it. We never get up and leave early in a pout because our driver is out; we still root for the race regardless and may even boo someone we don't like. It's okay. If you were a Patriots fan for the Superbowl, you likely weren't cheering for the Seahawks, right? You may have even boo'd. It's part of the game, as long as you're polite to those around you and remembering there may be kids in the stands. (That said, if you have small children that are bothered by crowds or loud noises and you don't let them hear a profanity or see alcohol, just like any big sporting event, you may want to get a sitter.) It's fun to add another dimension to the race.
Map out the restrooms before you go. Lines can build up so plan ahead. Same with food.
Check the schedules – the pre-race entertainment may be a big name band that you love and the flyovers that still occur at most tracks are one of the best times of the day!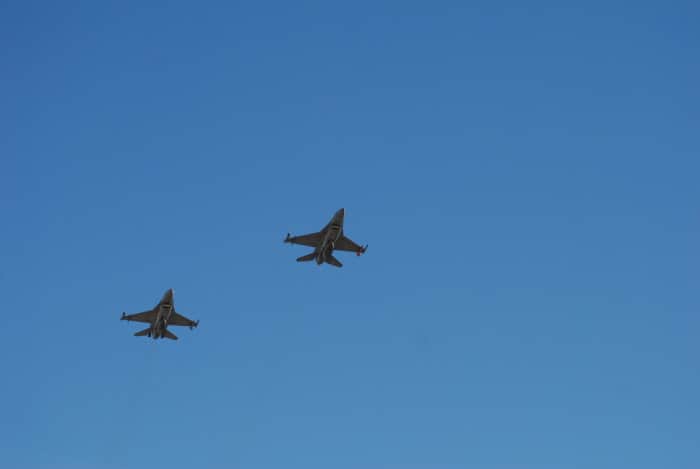 Decide to not judge until the race is over, and if you're on the fence, give it another shot. While we've spent a ton of money on following races throughout the years, as we've traveled as far as Dover, Delaware, for a race, and all the way to Sonoma, California, and most races in between, it doesn't need to be expensive as you can stick to just watching on the tv. If you get into it though, or think you may, or just want a new experience, buy tickets and see it in person. I'll do another blog post next week about tailgating and the whole track experience. Let me know if you have specific questions! I am a diehard Nascar fan and don't see it changing, even if my driver (Jamie McMurray, the #1 car) retires. The sounds, the smell of the cars and the thunderous vibration in the stands is something that has to be felt to be believed. You don't need to be a diehard to have a good time and if you're up for autographs and photo opps, I've got some great stories to share…but that's for another post!
Here are a few special moments for us —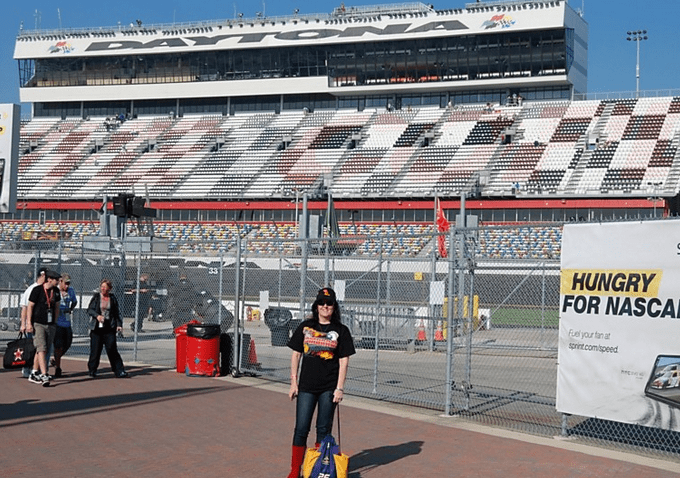 We were so excited to arrive for our first Daytona race!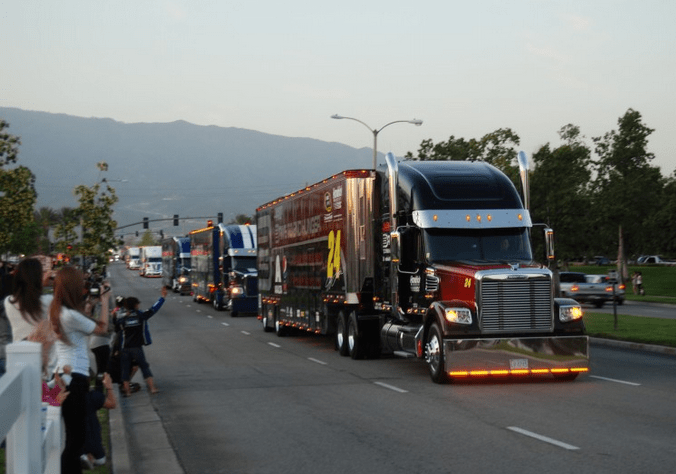 The hauler parade! We only have to walk out to the main street in our neighborhood now to see the Fontana parade yearly.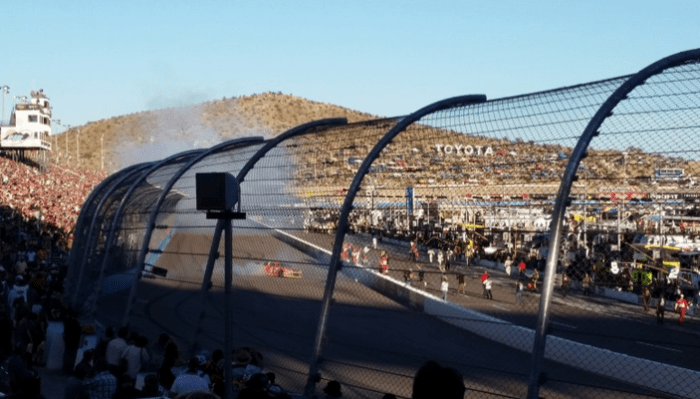 That's Kevin Harvick doing burnouts after winning in Phoenix, the last race before Homestead (Florida), where the Sprint Cup champion was decided….and he won the championship, too!

I have always loved the Clydesdales, so getting to pet one at Daytona? Priceless.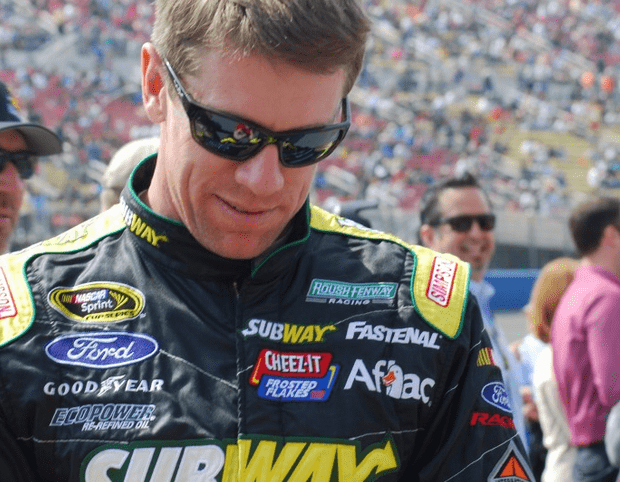 Our younger daughter's favorite driver is Carl Edwards. He is one class act and by far the sweetest driver with fans that we've ever met. He put up his hand to the official press, said "Hang on, guys, I have to go to my young fan over here." That young fan was my daughter, decked out head to toe in Carl's race gear. He talked to her, she cried, I was too close to get a picture of them together. Thank you, Carl Edwards, you made her day. (As you've made ours before, along with your wonderful mom, who we had the pleasure of chatting with as we waited on our food at Cracker Barrel years ago in Phoenix, as she was getting food for Carl and his pregnant wife. The charm runs in the family! Carl and his mother are as genuine and kind as they come!)
Boogity, boogity, boogity …. Let's go racin', boys!