Yep, when I say we celebrate most holidays, I mean it — even the silly ones or food-related days. Today is National Donut Day so why not celebrate it, right? What better excuse and motivation to make some yummy treats for the kids!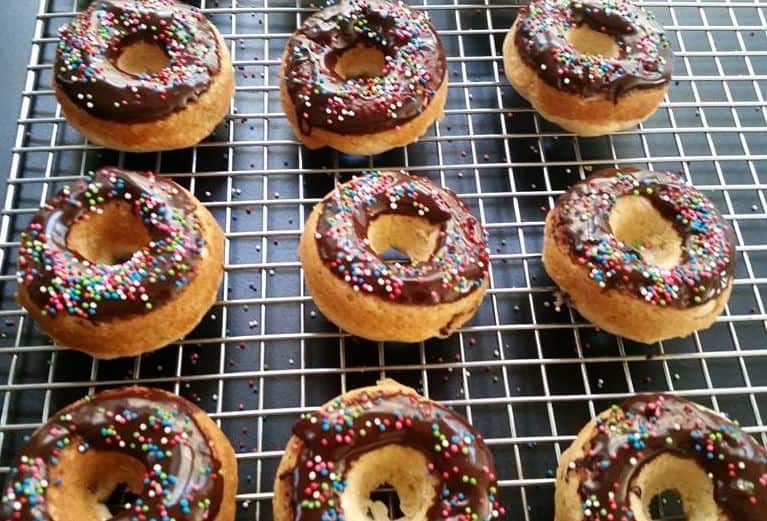 So I made those.
Chocolate chip donuts with a chocolate glaze and of course, sprinkles. I have kids and a huge sprinkle inventory.
Sprinkles. Donuts. Chocolate. You can't lose.
I actually did really well and abstained. Okay, I admit to trying some of the batter for test purposes, of course. Someone had to take one for the team and no one else was here.
It was the sprinkles that got my attention. I could ignore the chocolate and the donut, but put a sprinkle on a burrito, a hard-boiled egg or chopped liver, and I'm in.
Donuts are easy to make if you cheat like me and use a donut pan (Wilton makes a great one, available on Amazon.com) and bake them. No need to fry them and get all fancy. Put together a basic batter. Melt the chocolate glaze or ganache, dip in your favorite sprinkles. Enjoy with or without coffee. You've got donuts almost as fast as you would driving to the donut store, standing in line and crying when you get to the front only to find out your personal favorite kind of donut is already gone.
The next National Donut Day is June 7, 2019. It's actually the first Friday of June every year. I am already planning the type of donut I'm making next, a citrus blend cakey donut with a light citrus glaze. And sprinkles. It just isn't a donut without sprinkles.
Are you planning on celebrating this very important holiday? What kind are you going to make…or buy? No shame in that game, with Dunkin' Donuts and Krispy Kreme being on every corner now. Trejo's Donuts out in Los Angeles are worth the trip, too. Have an apricot glitter glaze one for me!