Years ago, I had pickled watermelon radishes at a restaurant that I absolutely loved. They were as a side to a Banh Mi and I could have eaten an entirely bowl of them, despite their pretty strong odor. I promised myself I'd remember where the restaurant was, so I could go back and eat it again, but in the long list of places we eat at in the Los Angeles area, I forgot.
Bummer. That Banh Mi was pretty good too but those radishes! When Melissa's Produce sent our monthly challenge basket last week, they were kind enough to include some. Perfect time to experiment with my recipe!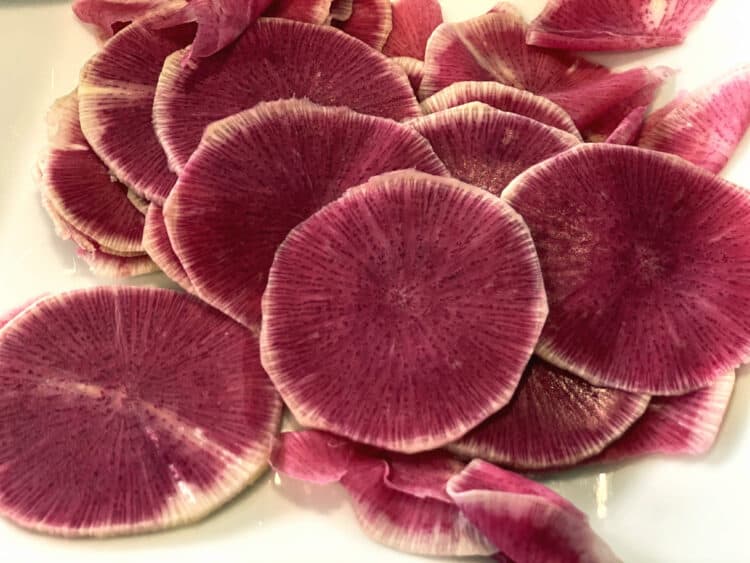 Have you ever had a watermelon radish? First off, they are gorgeous. They get their name because when you slice them open, they look similar to a watermelon. That beautiful center is a deep, dark burgundy that adds color to any plate. This makes them a good addition to a charcuterie tray or salad, because their flavor is milder than a regular radish, with just a hint of sweet. They are a great snack but well-worthy of being added to your main dishes, too.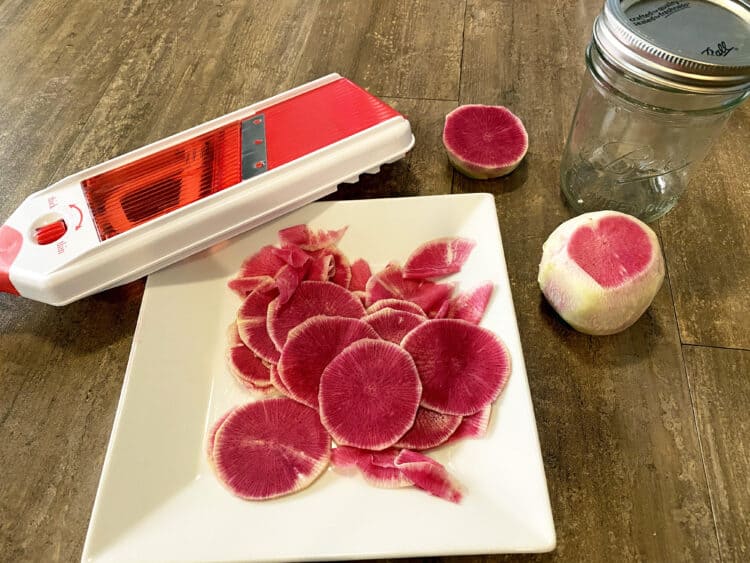 These pickled watermelon radishes are easy to make but be warned: the preparation can make your house smell, well, not pleasant. It's quick though! Once you put it in the jar, it will dissipate fast. (You may want to turn on the fan to help clear it out a little faster. I heard a lot of complaints about the smell of my kitchen, it was entertaining but short-lived.) Once you open the jar, you may experience some deja vu, because yes, it will stink again but the taste is perfect! (It's the liquid that smells, not the radishes themselves.)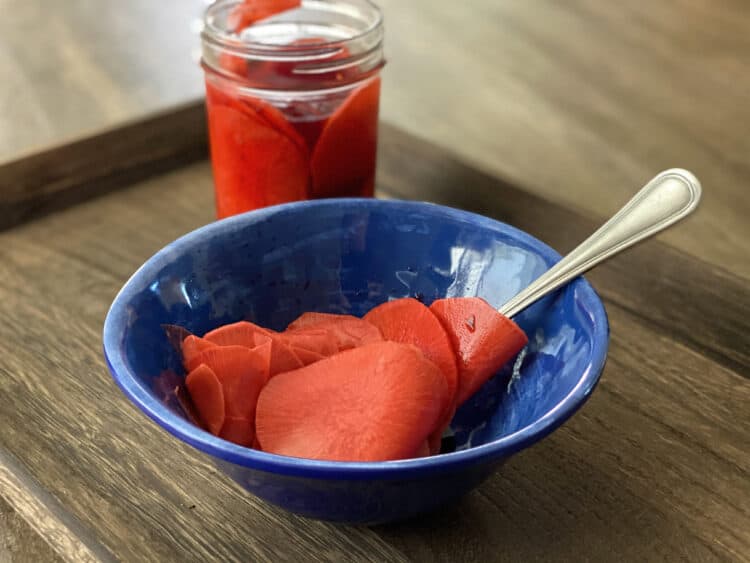 Pickled Watermelon Radishes
2-3 watermelon radishes
1 cup apple cider vinegar
1/2 cup rice wine vinegar
1/4 cup white wine vinegar
1/2 cup sugar
1/4 cup kosher salt
2-3 tbsp lime juice
3 tbsp red pepper flakes
Peel radishes and slice thinly using a mandolin.
Combine remaining ingredients and heat on stove until sugar has melted; stir thoroughly and turn off heat. Let cool.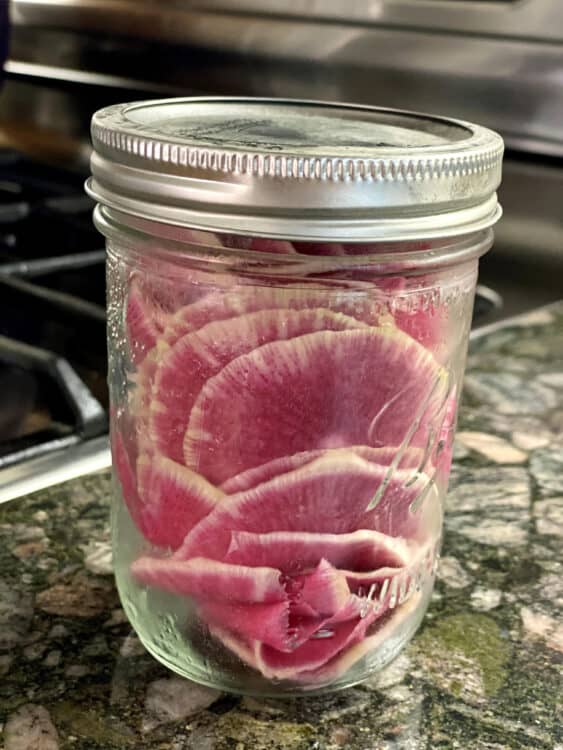 Place radishes in jar, and top with cooled liquid. Leave 1/2″ between liquid and jar lid. Refrigerate for a few days, depending on how long you can wait!
As these are not 'pickled' in the traditional sense, they are are not shelf-stable. They are what you'd refer to as refrigerator pickles and will not last more than 7-10 days.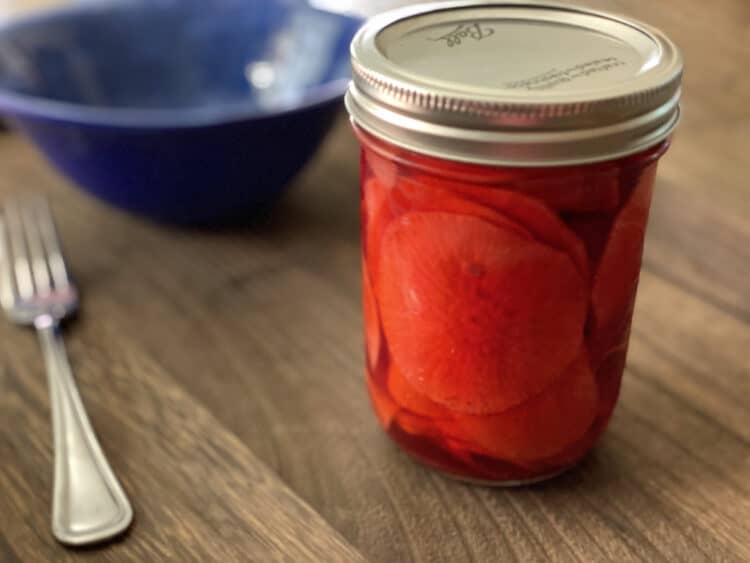 I used our pickles in a few ways. They were an add-on to fish tacos and I placed them on an arugula salad with chopped bell peppers, feta cheese and canned tuna fish. I'd recommend draining them as you take them out of the jar so the liquid doesn't saturate whatever you put it on. I still haven't tried it on a Banh Mi, but I think that'll be a meal for the next batch.
I also haven't given up looking for that restaurant.
You can learn more about watermelon radishes at the Melissa's Produce website. Their products are available in many stores (like Smart and Final) and you can also order online. Give them a try!
Here are a few more recipes from my fellow challenge bloggers. Enjoy!