Here's a confession: I grew up in the OC, in Anaheim, and after being a pass holder for many years, I had never gone to a Disneyland After Dark event.
I know, right? What kind of Disney fan am I?
Let's be honest. We know these events can be crowded, and the extra cost can be prohibitive for some. With four kids, those costs add up. Now that the kids are young adults and older now, I hadn't found one that seemed worth it to me.
Until now.
This year's Disneyland After Dark: Heroes Assemble was so down my alley. A four-hour span of nothing but Marvel: themed food, event merchandise and photo opportunities. What more could a Marvel nerd ask for?
Another bonus? Shorter lines if you wanted to get on any rides during the Disneyland After Dark event, as the gates were closed at 9pm to anyone without a special Heroes Assemble lanyard, given out when we entered. (The event ran began at 9pm, but ticket holders were permitted entry at 6pm.)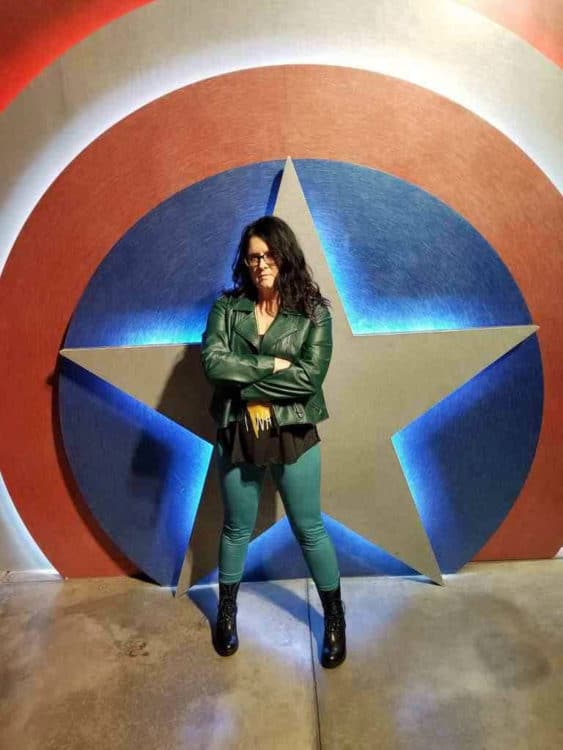 I don't know where to begin, but I will say that the cosplay and people watching was worth the price of admission alone. I wore a Loki jacket, a Loki shirt that said "I do what I want!" and matching Loki leggings, along with black chunky boots a la Loki. I was excited for the chance to wear it all, but I learned in under five minutes that we really, really need to up our cosplay game…as in, I need to make a cape, a headpiece (or helm, if I want to channel Loki again), buy a scepter or a tesseract, get a stormbreaker…the list goes on. People were so creative!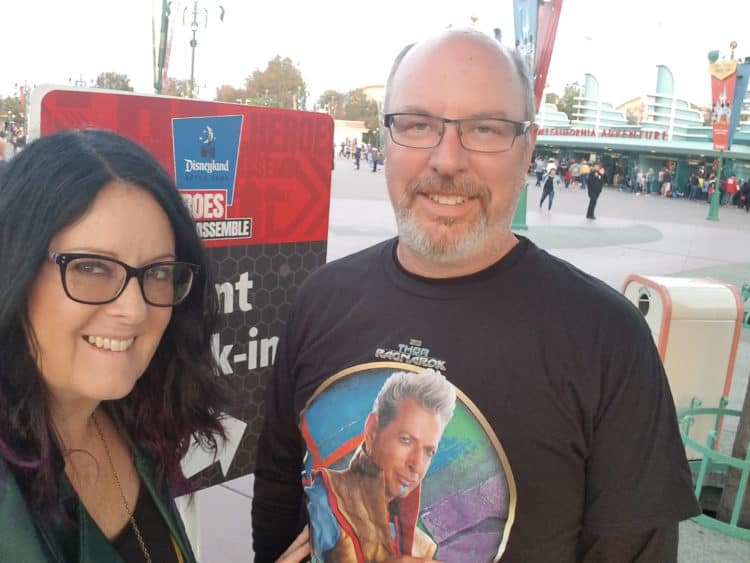 After having dinner at Uva Bar in Downtown Disney, we wandered the park a bit and headed over to get in line to see Thor. As luck would have it…or my unreal obsession with Thor…we were first in line. Go figure. We were not disappointed with our interaction and photos.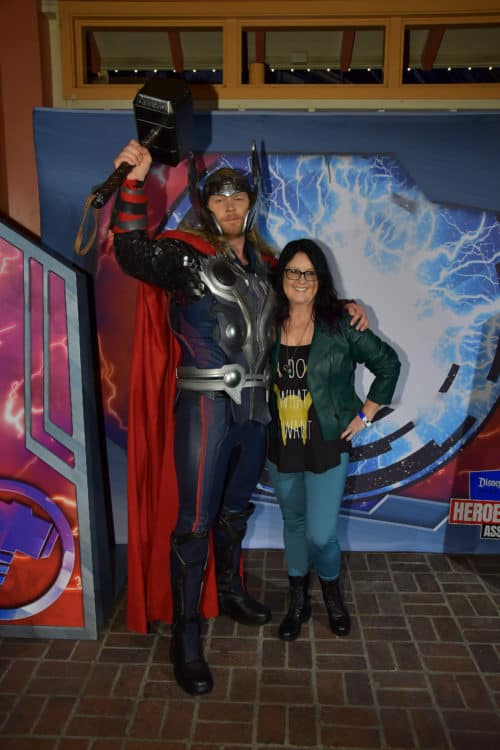 Loki wasn't too far from Thor, and the interaction between the two of them was hilarious, like brothers arguing…just much funnier and cuter and wittier and we didn't need to jump in to stop it.
We got our photos taken with Loki, who told me that I was the most devoted fan yet, due to my tattoo. When I asked if I could hug him, he said "I knew that was coming, so I shall say yes." He had the perfect Loki smug grin and mischievous smile, so I hugged him and it may have gone on a little while because the photographer was having a moment with my phone, resulting in Loki asking me how long a hug could possibly go on. (Dude, you have no idea.)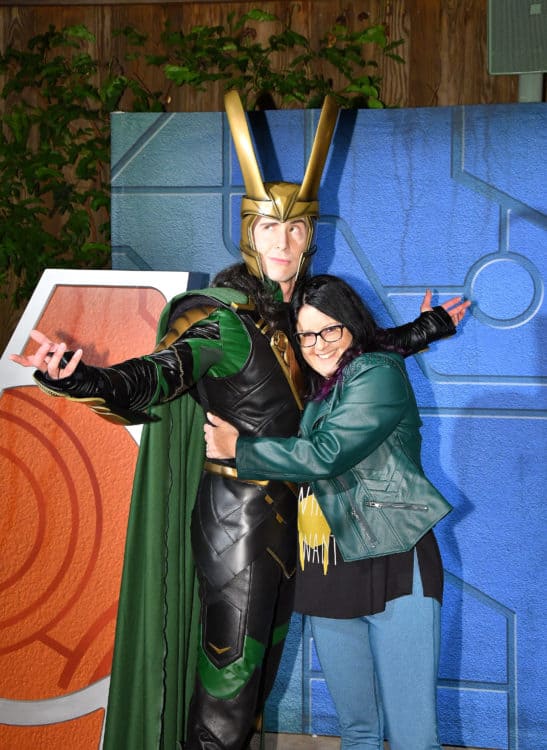 Later, we jumped into a line to see Hawkeye and Black Widow. Memories, right?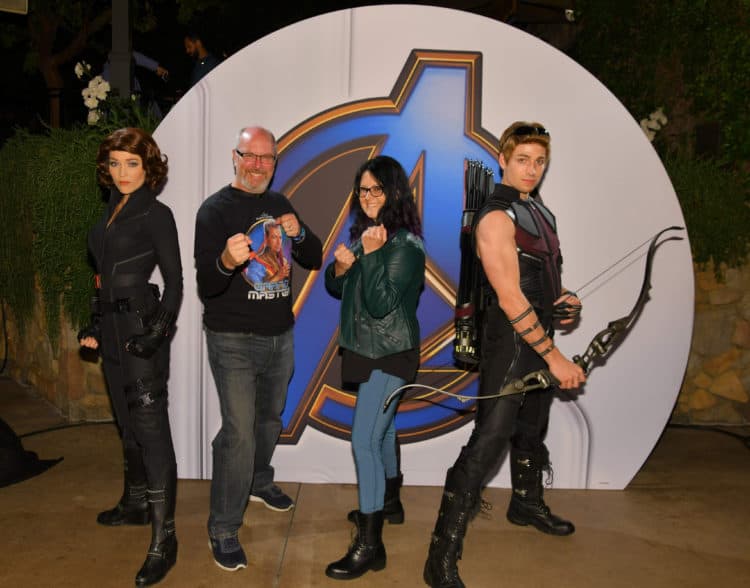 Then it was time to see the big guy. No, not Hulk…the other big guy, Iron Man, the OG Avenger. His line was reportedly 1.5 – 2 hours long at times, but what kind of fan would I be if I didn't get a photo with him? Iron Man is rarely in Disney California so who knows when I'd get this chance next. While we waited, we listened to the music that played non-stop throughout the night, various theme songs from the past ten years' worth of Avengers movies.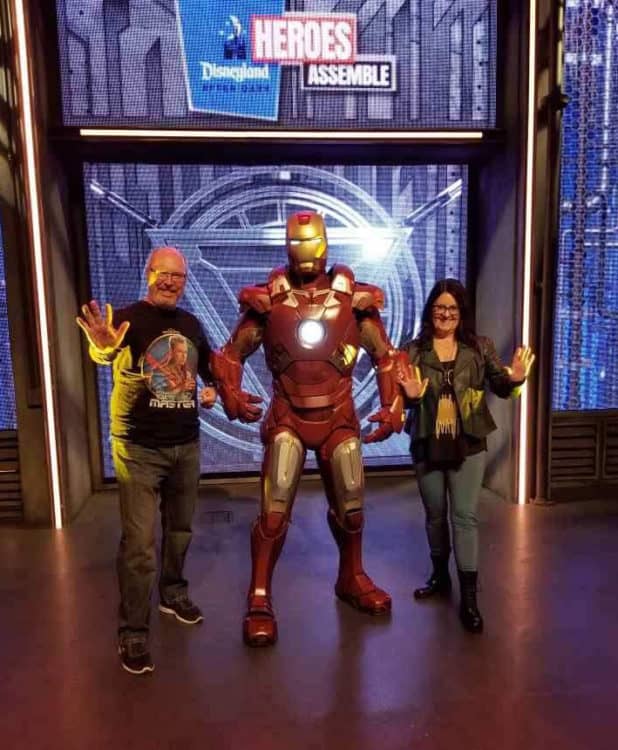 It was fun, and distracting during the wait times, naming which movie and scene the songs were from. I was surprised how easily they came to me…and as I sit here writing this, I'm watching Thor: The Dark World. And earlier today, I watched the original Avengers. For the third time this week.
We didn't try much food, but those Infinity Stone churros. Their locations are strategically placed near queues so you can munch while waiting. There are six stones, so there were six churros, but we only tried the reality stone flavor. It was really good, and the rock candy was a fun twist!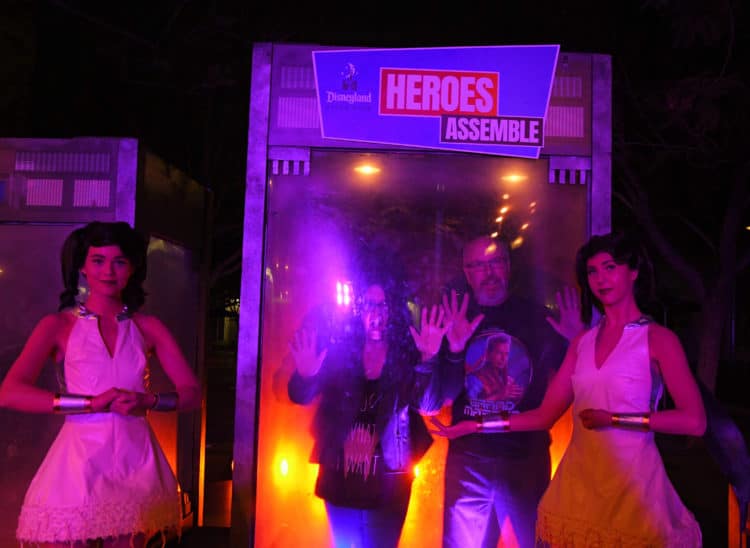 Not only were there all the major Avengers characters available for interactions or immersive photo opps, but our beloved Disney favorites were taking part by being dressed in superhero costumes! Chip and Dale were dressed like Thor and Loki and Mickey Mouse was Captain America! We didn't get our photos with them — four hours go so fast — but we did pass them in the park and they were so cute!
Event merchandise was available, but we only saw a t-shirt and a metal sipper bottle. All the typical stores were open but specific Disneyland After Dark: Heroes Assemble merchandise was only available at one store that we saw.
As guests entered the park and went to the check-in area, each ticket holder was given a lanyard, a set of collector cards, a map for the event, and a 'mission,' should you choose to complete it. It was a series of clues, scattered throughout the park, and once you collected each letter, you unscrambled the letters into a word; if it was correct, you were an honorary member of S.H.I.E.L.D. I wanted to do it, because, nerd, but we ran out of time.
If you're considering attending next year, I have a few tips:
Arrive early: parking was a breeze, shuttles were moving quick and entry lines at the gate were short.
Strategize before arrival: decide who you really have to see, and who you can live without. Head to the first place before 9pm so you can get in line early. ("Line starts here" signs officially went up about 8:45pm, with characters arriving between 9pm and 9:15pm, but some people were informally waiting by the space earlier.)
Bring a light coat: it gets chilly as the evening goes on.
If money isn't a big concern, go both nights. That's how you can ensure you really get to see everyone. As pass holders, we've already seen Black Panther, Captain America, etc., but I do wish we'd gotten to see Dr. Strange. Going both nights would have remedied that, but at $109 a pop, that's not necessarily an answer.
If it happens to be a rainy day, don't let it stop you! Here is my article on tips for enjoying a rainy day at Disney.
So was it worth it? Totally. Would I do it again? FOR SURE. Whatever it takes, if there's a Marvel evening available, where I can be with people that totally get my obsession, I'll be there. $109 sounds like a lot, but it's an immersive experience that a true Disney-Marvel fan will thoroughly enjoy. Yes, it's a lot of line waiting, but you're doing it surrounded by people truly enjoying the happiest place on earth.
While we waited, we saw some amazing costumes: Odin and Frigga, Coulson and Maria Hill, Hulk of old, Yondu, Nebula, Hela, Bruce Banner (in Stark's "Rio" t-shirt, black jacket and black frames), Stan Lee (played by a girl that did a remarkable job!), Deadpool, and more, and of course, all the regulars. I collected several names of people to contact later for custom ears, jewelry and shirts. My new shopping list is LONG.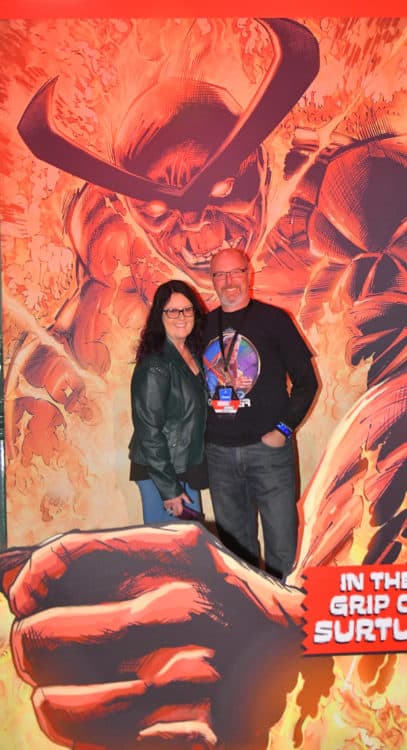 So yes, totally worth it. It wasn't that crowded, and we didn't feel the tired until we got in the car. At 1am, we loaded right onto the tram and were back at the lot and out on the road within mere minutes. Like, some kind of record fast. We were home in bed in under an hour from the time we walked out the gate of Disney's California Adventure.
It was sweet dreams after a fun night of superhero magic that only Disney and Marvel could pull off. Disneyland After Dark Heroes Assemble delivered big time!