Last week, the husband and I spent two days at Disneyland. We'd purchased tickets months ago, as well as reserving a room at The Anaheim Hotel. Problem is, the storm of the year was headed to SoCal and we weren't able to change our plans. Instead of being bummed, we decided to go anyway and not let rain at Disneyland get in the way. We learned a lot, so I'm here to share our tips on how to still enjoy a rainy day at Disney!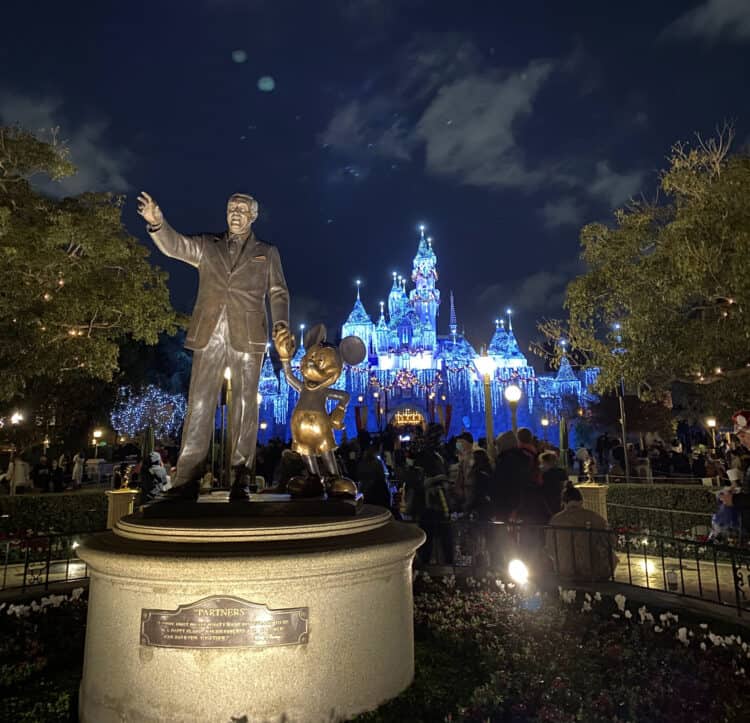 With the new Disney reservation system, the fact is that more of us are going to experience rain at Disneyland at some point. We can cancel — if we do it in advance, if we're a Magic Key holder — and reschedule, or we can muscle on through it. A rainy day at Disney doesn't have to be a disappointment with a little planning!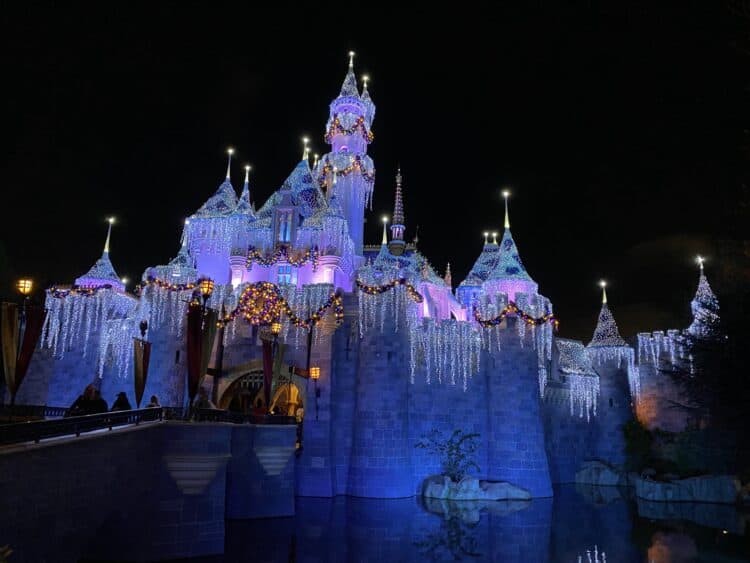 How to Enjoy a Rainy Day at Disney
Buy a quality poncho in advance. They do sell them inside the parks or at local drug stores, but they are cheaper if you order them in advance, especially if it's not something you need as a souvenir. (I mean, the park ponchos are cool but is it really where you want to spend your extra money?) We ordered ours on Amazon and got two for $12.99. They are one-size-fits-all, and we chose a style that allows for us to wear backpacks underneath. This is critical, as even if you're under an umbrella, wind can mean you still get wet. The longer, the better.
Wear rain boots. It may sound like overkill, but I saw SO many pairs of soggy Uggs being worn by people who didn't look happy. We could literally hear their feet sop as they stepped. It had to be so uncomfortable. You don't need to wear rain boots for puddle-jumping — there are a lot of rainproof other types of boots, many with faux-fir lining or tops around your ankles for warmth. If you have comfy snow boots, they will work in a pinch, too. Just make sure that you break them in prior and they have good enough arch support.
Take a small umbrella that folds up. As you're waiting in lines outside rides, they are especially helpful. You can control your distance from other people while waiting in lines, so give yourself enough space and you stay dry while not poking others. (They can become unwieldy though if you try to use while walking in crowds. We got poked by a few throughout the day.)
Gloves. A scarf. And extra gloves.
Wear a warm jacket (one that's temp-appropriate, because the poncho will add a layer of steamy warmth that can be too much if your jacket's too hot) and if you're going back to your hotel at all throughout the day, or are staying multiple days, bring an extra to swap out.
Make meal reservations as far in advance as possible. Pick restaurants that offer indoor seating. Sometimes those with outdoor seating will close the patios on rainy days. They will go fast on a rainy day at Disney!
The Genie+ app can help you deal with shorter lines. At $20 per person, per day, it can be a really valid expense. A lightning lane is more often undercover than a standby line.
Be prepared for less photo opps. Photographers want to protect their gear and lenses are difficult to keep dry.
Spare socks. Even if they don't get wet, sweaty feet can increase the risk of blisters.
If you wear glasses, take a small cleaning rag in your backpack. You'll need it.
Speaking of backpack, use one that's got a quality material and is as water-repellant as possible. Put some plastic bags inside it, just in case you have any worry about the backpack getting wet at any point.
Put your ID and spare phone charger in resealable plastic bags. It also gives you a safe place to put your park ticket, which is helpful if your phone battery dies or you forget your charger.
Take a break if you can. Leaving the park for a bit allows you to get warm and recharge yourself before heading back in. No matter how positive your mood is, after several hours of being wet and slightly cold, it can wear on your mood. A couple of hours in a warm hotel room, boots and jackets in front of the heater on high, can really rejuvenate you! This is a bonus of picking a hotel within walking distance; it may sound like a pain to walk in the rain, but it's worth it.
Scope out places to buy hot drinks. Warming up from the inside out still helps, even with the best of gear on.
Be prepared for canceled shows/parades, including fireworks. It can be a huge disappointment but sometimes it can't be helped. Hopefully you still get to see some of the characters at least a little! We got lucky with this group by the train station.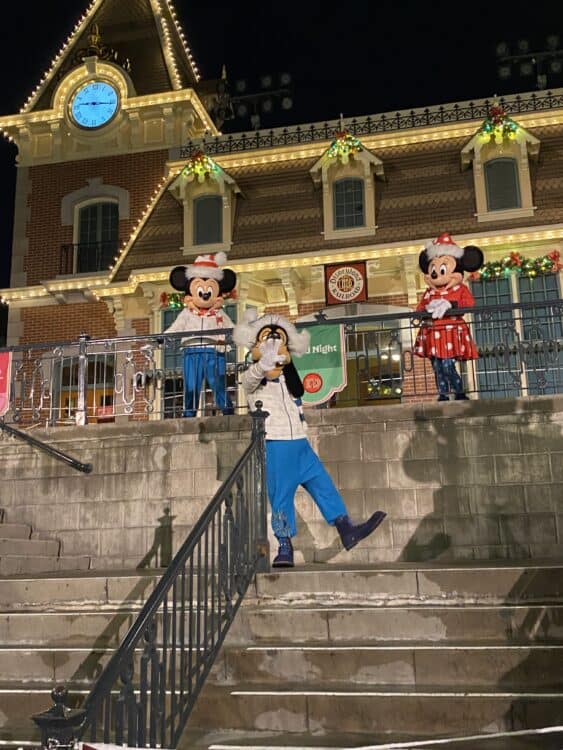 Last but not least, having food delivered to your hotel room rather than standing under an overhang isn't a vacation fail either; it can be a smart way to warm up. Compromising a little here and there will make it all work out!
We got lucky and they still held the fireworks show at night. We also got to catch the official lighting of Sleeping Beauty's castle. Here it is on YouTube, in case you've never seen it!
Also got lucky and saw these guys passing us as we were waiting at Jolly Holiday for some of their famous raspberry Mickey Mouse macarons. They're HUGE. See how wet the ground was?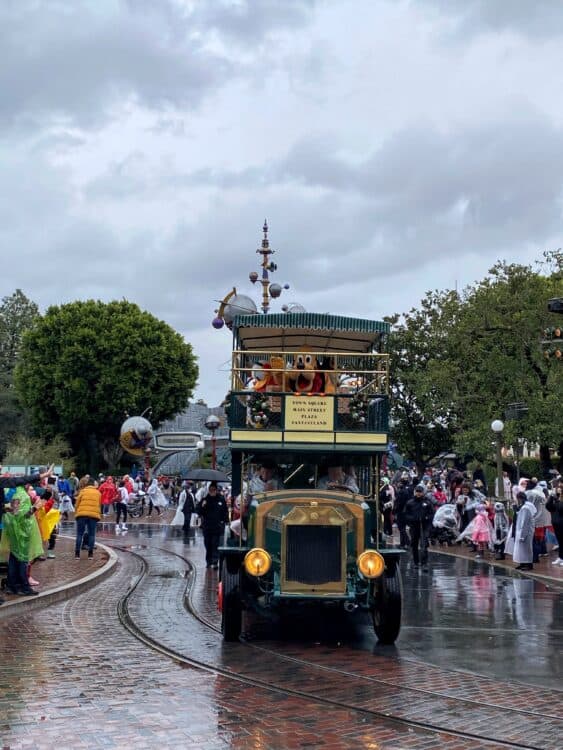 A rainy day at Disney doesn't mean a ruined vacation, it just means you'll experience it in a different way. Some days, rain at Disneyland means less crowds. It also means a new perspective on Christmas lights. The streets are gorgeous when wet!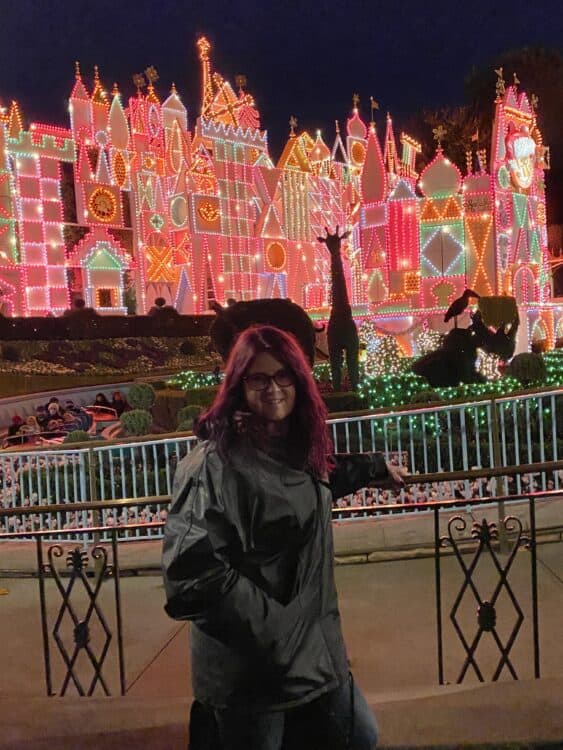 Rain doesn't need to ruin a magical day at Disneyland — go and enjoy it and laugh at the stories to tell later! And be sure to take a lot of photos — just protect your phone! I was wearing gloves almost all day and the rain was cold, so my phone stayed safely stowed in my pocket, under my poncho, most of the day…hence random photos, where you'll see people in ponchos everywhere!