The new DC Universe exhibit opens May 24 at Warner Bros. Studio Tour, Hollywood, and I've got a sneak peek for you!
DC Universe: The Exhibit opens up in the first floor of The Archive building, one of the first stops on the Warner Bros. Studio Tour. It contains authentic props, costumes and scenery from some of the greatest superheroes as well as super-villains, from Batman to Superman to the Suicide Squad from David Ayer's upcoming new movie. The exhibit also offers game testing with the latest of superhero video games, up close and personal photo opps for the mother of all selfies and if you're brave, you can don gloves and pick up kryptonite and live to tell about it!
If you've seen "Batman v Superman: Dawn of Justice," you'll appreciate a lot of the dark scenes towards the front of the exhibit.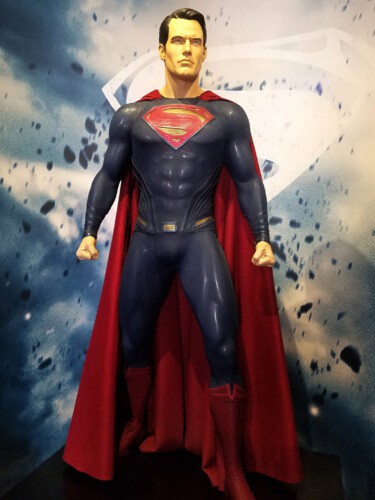 Life-size and right towards the front, Superman reigns supreme….but if you're a Batman fan…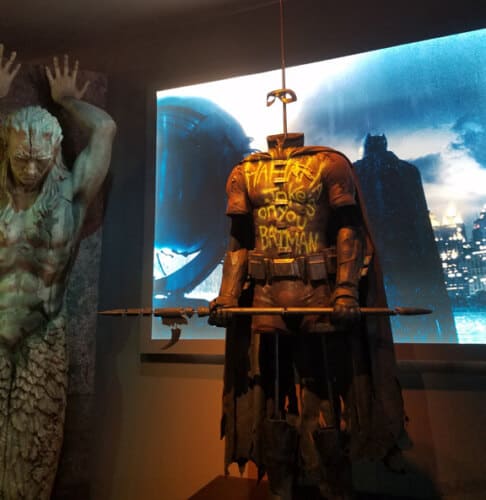 The costumes are impressively scary on their own, but each one had its own scene complete with quotes or digitized blueprints or shadows that will draw you into the exhibit. Even if you're not a fan of DC Entertainment when you come in, you will leave with an appreciation for their dedication to detail, the special effects and the overwhelming sense of size and awe when you stand in front of any of the displays.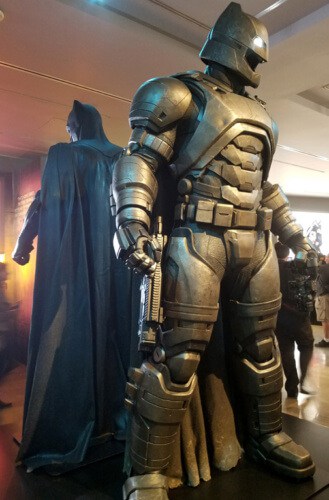 This duo was pretty intimidating, and it ended up being the center of attention during a very brief introduction, in which Gene Simmons shared his love of DC comics with everyone, including running a spontaneous trivia drill to the members of the press on the side of the room where we stood.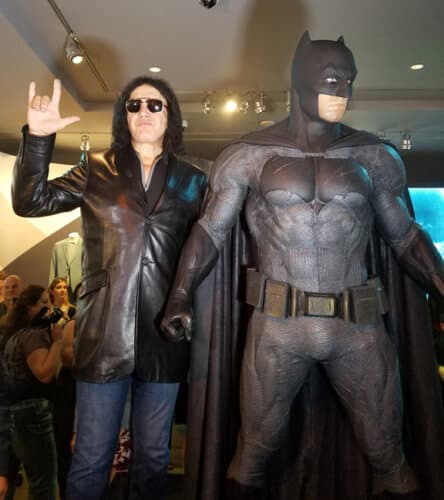 It was a busy event with a lot of excited press, and I'm not sure I've ever seen more selfies attempted in one location than I did in front of Batman, Superman and of course, the cell out of the Suicide Squad. (I may or may not have done that one myself.)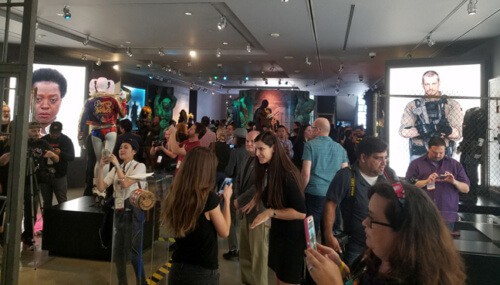 For more information, visit the Warner Bros. Studio Tour website. You can also purchase tickets there and read up on other studio tour news. Wandering the studio lot is a lot of fun, even when not on a tour. You can't help but enjoy seeing familiar scenes from tv and movies as well as the infamous WB water tower. If you're looking for something fun to do this summer, whether you're a SoCal resident or visiting from out-of-state, check out the studio tour and the new DC Universe exhibit!