Misty Copeland is a beautiful ballerina and member of the American Ballet Theater, one of the top three ballet companies in the United States. She began dancing at the age of 13, and after years of hard work, made headlines in 2015 by becoming the first African-American woman to be promoted to principal dancer. One minute of watching her dance will make you understand why!
She is now the primary ballet dancer in Disney's newest movie, the Nutcracker and the Four Realms. This version of the Nutcracker is less about ballet than it is Clara's realization that she is a princess, but Disney couldn't leave out the ballet aspect, hence Misty's role as the story telling dancer. In a matter of a few moments, she portrays to Clara and other guests, via an emotional dance, how Clara's mother became a queen and her very vital role in the four realms. Misty's entrancing dance pulls you into the story and you forget for a couple of minutes that you're watching a movie. Bravo, Misty!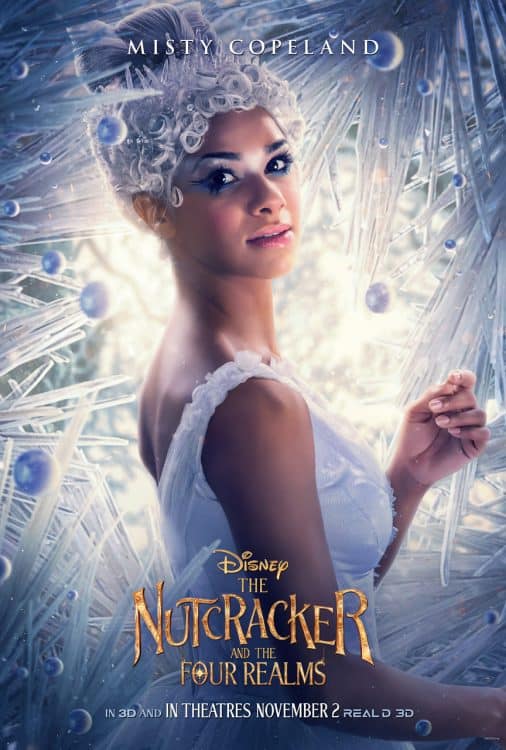 We were invited to interview Misty Copeland on the day of the red carpet premiere of the movie in Hollywood. We were all dressed to the nines in our red carpet attire and Misty came in looking fab in a gorgeous, vivid two-piece outfit…and her first comment to us was how gorgeous we all looked in our varied array of pastel-colored dresses. She was so sweet!
Immediately the topic of Misty's latest Barbie came up, and it was fascinating to hear about her involvement down to the tiniest of details to ensure that this doll was as realistic as it could be. What a fantastic way for her to ensure that little girls playing with Misty Copeland dolls get toys that are as authentic as possible, and it shows Misty's dedication.
Her dedication goes so far into the movie and her presentation, as she shared her hopes that in 30 years, people won't be surprised by a ballerina being brown, but people will be simply like "that's what a ballerina looks like." With Misty breaking new ground, I really believe that will happen. She feels Disney did that for her as she was growing up, showing limitless possibilities and opportunities. (We all have at least one Disney movie we can relate to, if not more, right?)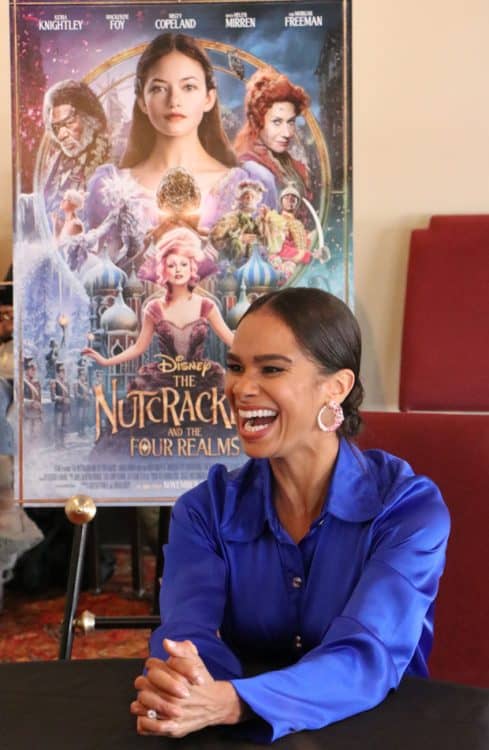 When asked if there was special training for the movie, she said that there wasn't, as she'd go to her typical daily training in the morning and then go on-set and dance — though she did joke that they had to adjust her dancing a bit to work within the beautiful sets and to help her avoid kicking the camera that would come flying in. (Can you imagine?)
Misty's start in ballet isn't what most people expect when they think of dance training. Hers started in a class on a basketball court in San Pedro, California! She didn't hate it, but wasn't sure this is something she wanted to do. Everyone was older and while they all came from underprivileged backgrounds like Misty, they all had gear on, such as tights and leotards, while Misty wore basketball shorts. In fact, she didn't wear typical ballet attire until she was taken on scholarship into her first ballet school. When she could see herself in the mirror that first day, that's when it clicked. She was really becoming a dancer, and she felt beautiful for the first time in her life. To see her say that shows what a humble yet real person she is, as she appeared beautiful to all of us, and her smile lights up the room!
Becoming the ballerina in the movie meant around two hours in hair and makeup each morning after she arrived on set…which was so early that it was still dark outside. Not only did she have the costume leotard on, but she also had a magnetic gadget inside her suit that would allow the spotlight to follow her around. The magic of Disney strikes again!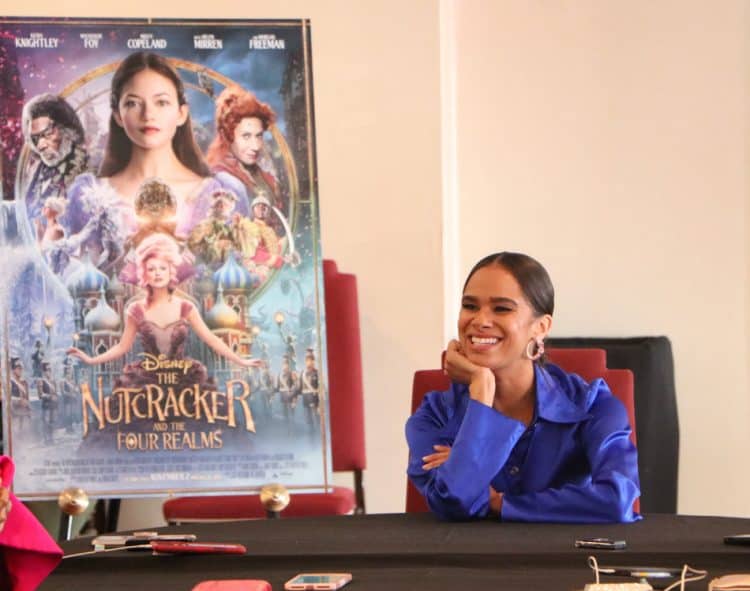 "It's possible to be anything you want to be if you have someone that supports you, or you have representation you can look at in someone that's done that." Words of wisdom from someone who would take 3-4 classes a day just to catch up in her training. And another piece of advice from Misty is that you don't have a teacher that will help you do it, find another teacher.
Because ballet can be seen as exclusive, difficult to get into or expensive, Misty has helped start a diversity initiative in conjunction with the American Ballet Theater  and the Boys and Girls Club of America, called Project Plie. I know when I was growing up, I didn't know a lot of dancers and those I did weren't in regular school with us; they were seen as separate and their lifestyle was hard to understand, and it sounds like Misty's initiative will not only help diversify ballet, but make it more attainable to those that really want it. Way to go, Misty!
Go see Disney's the Nutcracker and the Four Realms. I'm doing quite a few posts on various parts of the movie this week, but I will repeat myself on the fact that you need to experience the movie yourself. With your kids, alone, date night, whatever way you get to the theater, do it. It's a magical 99 minutes of music, fun childhood memories and a fantastic cast bringing a beloved story to life. You will be put into the holiday spirit in no time!