Growing up on a farm in Pennsylvania, right over the border from where I was born in New York, we always had a big garden. Big bushy bean plants, tall stalks of corn, cucumber vines, fragrant blossoms on pea plants, it was gorgeous. My favorite though? The rows of tomatoes that meant so many different kinds of meals. We'd can green tomatoes, make fresh pasta sauce, raw tomato slices sprinkled with pink Himalayan salt, and oh, the salsa.
When I started living on my own, I made sure there were always tomatoes in the kitchen. They're easy to add to scrambled eggs, sandwiches, on top of burgers or even chopped up in a weird, cheap version of macaroni and cheese. They're also the star of many main dishes, and not just pasta, but let's not forget fried green tomatoes.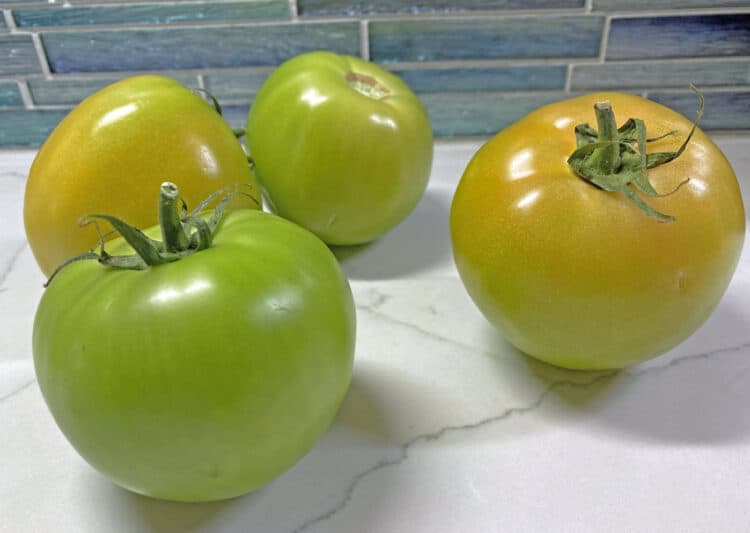 Jump to Recipe
First, to answer the question that I get asked a lot: can green tomatoes be eaten raw? Yes! They are usually just unripe red tomatoes, so they are a little more tart and/or acidic than a fully ripened red tomato. They're also firmer, more solid, and that's why they lend themselves so easily a southern classic, fried green tomatoes.
Traditionally, fried green tomatoes are a southern staple, something I learned when I moved to South Carolina for four years when stationed at Ft. Jackson. The recipes I tried there weren't that different from what my mom had made back on the farm, but every southern cook had their own twist on it. A certain kind of salt, a specific ratio of flour vs. corn meal, only brown eggs. Everyone's approach was just a little different, but they were all amazing. None though as good as what we had when visiting Paula Deen's restaurant in Savannah, Georgia. Her fried green tomato appetizer was just what I'd envisioned after seeing her make them on her long defunct television show. Slightly crispy, perfectly seasoned and full of tanginess.
Chef's kiss.
We spent another three years outside Myrtle Beach, South Carolina, in a very rural four-stoplight town just away from the tourist zone. I'd shop at unusual grocery stores and I learned some of the best southern cooking tips from ladies who noticed me perusing produce instead of smelling, squeezing, grabbing and going. There wasn't a lot to do in our tiny town, especially considering everything on the coast closed from November through March-ish, so we cooked. Experimented. Ate. Cooked so more.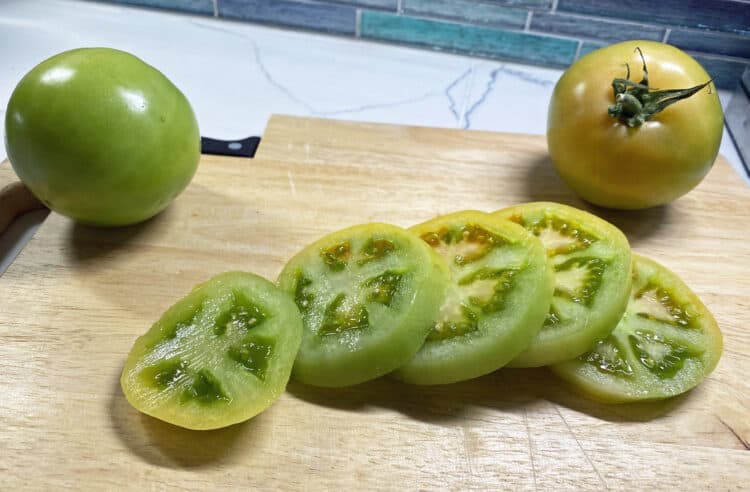 Now that we're about to celebrate ten years back in California, I still make the greens recipe that a very elderly southern woman taught me while standing over the bin in the produce section at a Winn-Dixie. I also make our own version of fried green tomatoes, which changes a little each time if I'm not careful. I made it again two weeks ago, using fresh, large green tomatoes gifted to me by Melissa's Produce. (Head to Melissas.com to order yours online or to see what other items are available; they are your go-to place for all things produce, even the unique and hard-to-find items you've seen on TV but haven't actually cooked with on your own yet.)
The two biggest things to know when cooking fried green tomatoes? Seasoning and coating. Two light on either and they will just be bland, hot tomatoes. Amp up the flavor with at least salt and pepper, and be sure you coat them properly in each of the three bowls to avoid spots with no coating.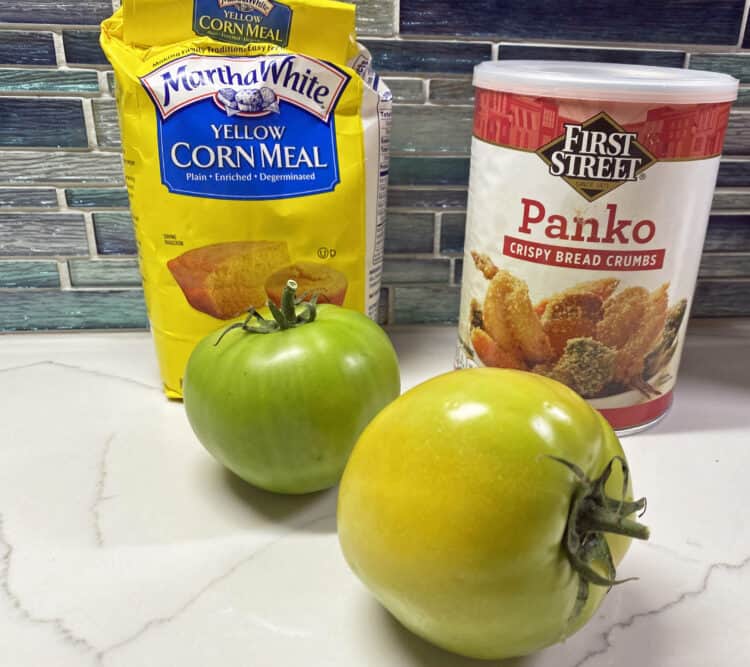 Here's how to make fried green tomatoes!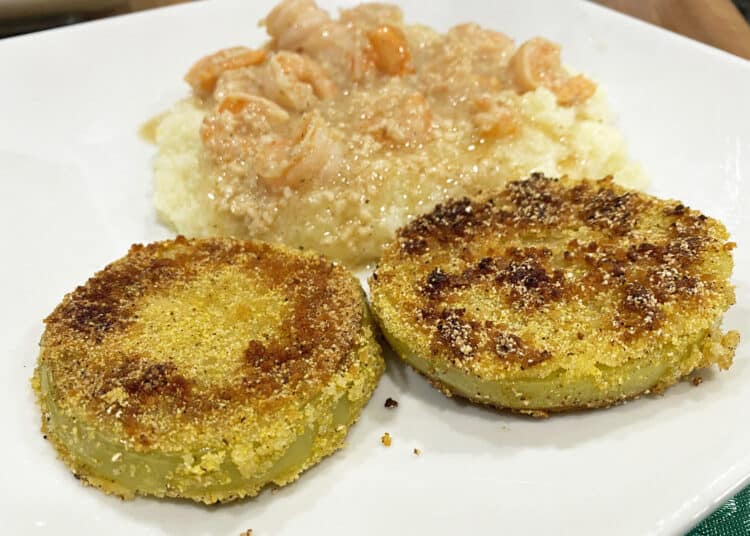 Fried Green Tomatoes with Spicy Dipping Sauce
Ingredients
3-4

fresh green tomatoes, sliced

1

cup

corn starch

2

eggs

1/2

cup

milk or dairy-free milk

avoid any with strong flavors

1/2

cup

cornmeal

1/2

cup

Panko

seasoned or plain, your preference

1.5 – 2

tsp

chili powder

salt and pepper

oil for frying

we used olive oil

Dipping sauce (recipe below)
Instructions
Pour cornstarch on a flat plate.

Mix eggs and milk in shallow bowl.

Combine remainder of dry ingredients in another bowl.

Heat frying pan with some of the oil.

Dip sliced tomato into cornstarch.

Then dip same sliced tomato into egg and milk mixture.

Finish that slice by dipping it into the cornmeal and Panko mixture.

Gently place tomato slice into frying pan. Repeat with other slices until pan is fairly full. Be sure to keep space in between each slice to maneuver tongs and allow oil to flow as you may need to add more.

Flip when tomato is browned and crisping up.

Fry other side sufficiently and place on plate covered with paper towel to absorb extra oil.

Serve warm/hot with spicy dipping sauce. (Recipe below.)
These tomatoes fry quickly, but you will need to do them in batches, so I recommend you have your oven on warm mode to keep them all at the same temp until your last batch is done. There's a lot of dipping here, but it doesn't take long.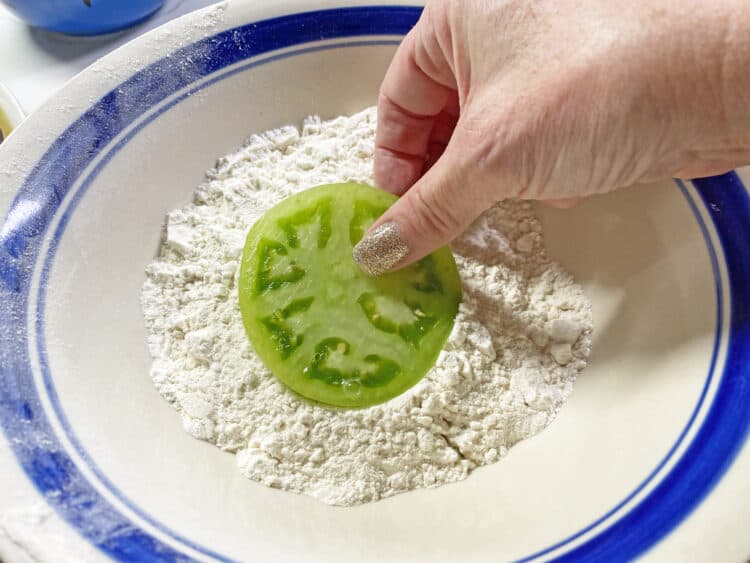 The dipping sauce can be made while your last batch is in the fryer. It's just two ingredients: sour cream (or Greek Yogurt, your choice — or a mix of the two, like I did, if you have both) and your favorite hot sauce. I chose to use Costa Azul from Melissa's Produce, a cross between hot sauce and sriracha. SO good.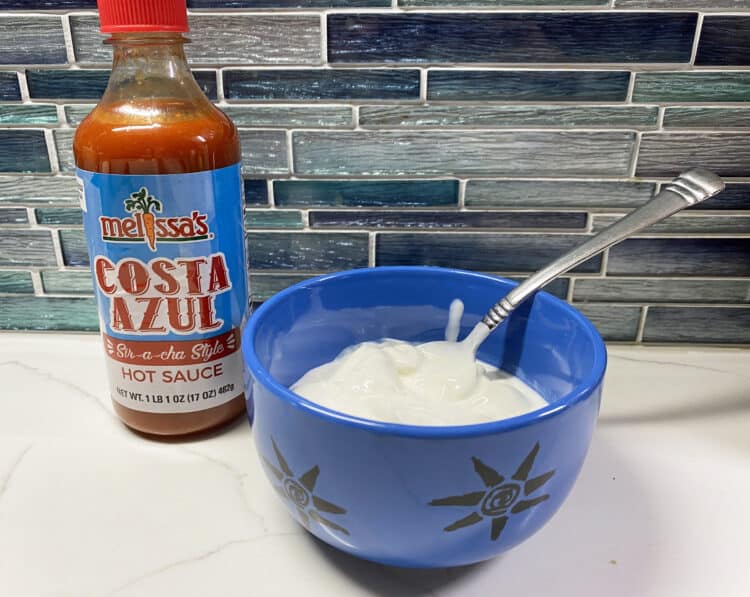 Fried green tomatoes make a great side, or if you're looking for a vegetarian entree, they are fantastic on their own! They can also be made vegan, using an egg alternative option like flaxseed and oil or aquafaba liquid to adhere to the corn starch. The dipping sauce can be omitted or you can sub in salsa or another favorite condiment.
Substitutions Note: if you don't have corn starch, you can use flour. You'll see more of that in traditional southern recipes, in fact, but I prefer corn starch because it's just a little lighter than flour. They can also be made vegan, using an egg alternative option like flaxseed and oil or aquafaba liquid to adhere to the corn starch. The dipping sauce can be omitted or you can sub in salsa or another favorite condiment.
Green tomatoes also have other uses, such as an amazing salsa, a take on baked tomatoes with parmesan or you can green tomatoes similarly to how you'd can red tomatoes. Check your favorite food preservation book or website for tips on how to safely do that. I do can vegetables and preserves, but I have not done tomato products on my own; they have to be done differently due to the acidic level. My mom used to do it but I remember none of the rules! I do, however, remember having to count the pings as jars would seal. We had quite the pantry available to lessen the cost of groceries during winter.
Whatever you do with green tomatoes, enjoy them. Don't be afraid to experiment! You don't need to be southern to learn how to cook them!