Nintendo has been a part of our lives for a long time now. From my oldest kid down to my youngest, we've gone through different iterations of Nintendo games: Super Nintendo/NES, GameCube, Gameboys of all kinds, on to the Nintendo and Nintendo 3DS. Time marches on and we still have all of those original machines, and they all still work! Just last week, a couple of the kids were sitting at the dining table replaying old games. It was a blast from the past and I loved watching them. When kids are little, you want to enjoy every moment but its hard due to exhaustion. When they get older, you wish you could go back to the days when they were tiny again. Whatever inspires them to be a kid again, you jump on it…so when we were invited to attend the VIP event for Play Nintendo on Tour, I did just that, I jumped on it. With a theme like #3DSKidForADay, who could turn that down?
Come be a #3DSKidForADay and join Nintendo on Tour!
The national event debuted at the Westfield Culver City beginning Friday, June 17 and continues through June 19 before it continues on tour. Here's the schedule so you can see where they'll be heading next so you and the kids can head over!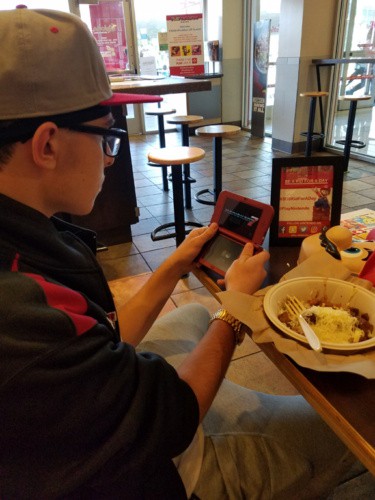 As VIPs, we checked in over at Qdoba, where we were fed delicious burrito bowls. Each kid got to play with a Nintendo 3DS XL unit and three games while eating, so of course, the eating was a slow process in some cases.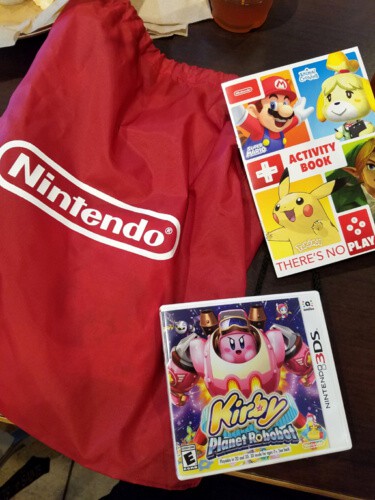 I watched my Little Dude eat a few bites, race Mario Kart, eat a couple bites, talk to his Nintendo 3DS as he made a mistake or got extra points, then eat a few more bites. He still managed to eat his entire burrito bowl! After a trivia game and a giveaway, we were escorted to the VIP sitting area and Play Nintendo display in the center of the mall. To call it a display is not doing it justice, as it was huge.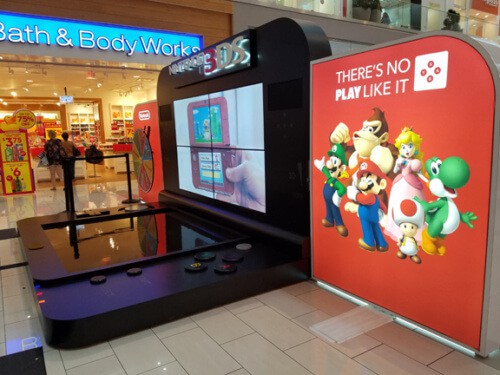 The first thing we saw was the giant Nintendo 3DS machine. The exhibit was full of scenes and characters out of Nintendo history. Kirby's world, Mario Kart, Pokemon, Yo-Kai, you name it. All the chairs were game-themed — from mushrooms to bananas to my favorite, Mario karts. Gaming units were set up all over, each with its own seat, with kids rotating in and out of the seats all night. Some games had big screens and some were community games online. Whatever you wanted to try, it was there.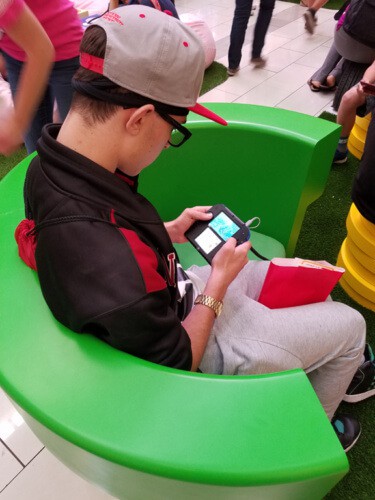 The kids also had the extra chance to do a treasure hunt, where they have to answer a question properly to get a sticker; when they complete the card, they got to play the claw game to get a small plush character. If the kids are too young to do it fully, don't worry — the staff was so flexible and accommodating to make sure everyone got their chance.
Who can pass up these fun photo opps? Never underestimate the ability of parents to remember  the characters and want to get in on the fun!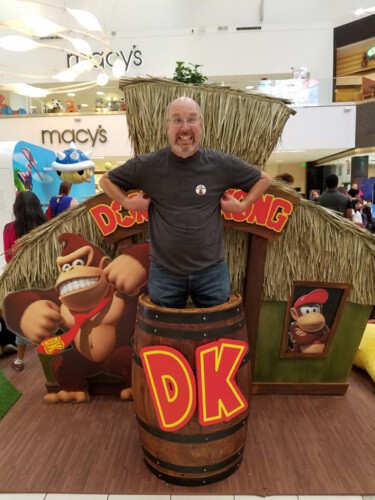 Never lose your inner child! The husband used to sit and play this game with the kids for hours! (And did you know what Mario's name was in the first Donkey Kong? I learned this in trivia….)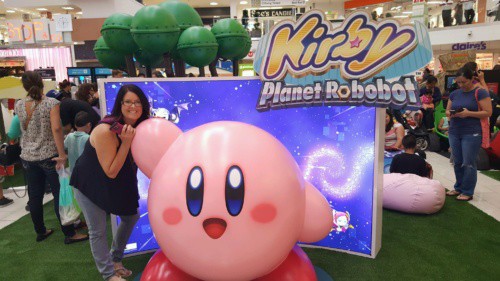 And of course, I had to join in. I love Kirby! We got to try out the new Kirby: Planet Robobot for the 3DS. In fact, I think it was the game that Little Dude played the longest other than Mario Kart. I think we'll be buying this one.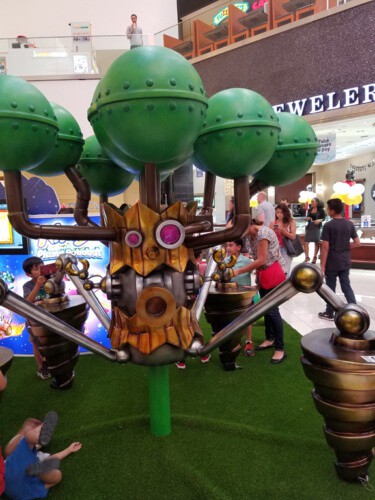 Everywhere we looked were kids focused astutely on their games and parents were following them from section to section. Smiles, cheers and even a dance-off to see who would compete on a game played on the giant Nintendo 3DS XL.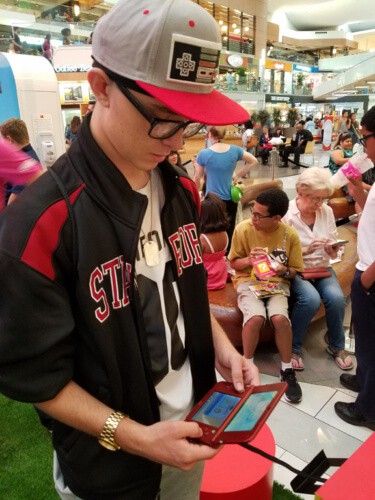 My "Little Dude," wearing his favorite Stanford jacket (the college he aspires to attend) and his favorite old-school Nintendo hat. He had an earache and was quieter than usual but still enjoying the opportunity to be a kid again.  Thank you, Nintendo, for the fun evening! Chances to play together, laugh together and try new things are worth everything. Enjoy every moment and when you can, be a 3DSKidForADay, too!