Have you ever tried kombucha? If you have, you know that a typical store-bought bottle is at least $3 but it isn't always readily found. There are a large variety of flavors available. However, sometimes you have to hunt around for your favorite kind. What many people don't realize though is that it is easy to make at home, and the Big Book of Kombucha will make it even easier!
First, what exactly is kombucha? It's a fermented type of tea, brewed with a SCOBY (symbiotic culture of bacteria and yeast) and then fermented a second time with any additional flavorings. A typical batch can take 7-14 days, depending on your personal choices. The longer you brew it, the zingier it can get. It's a simple process and with the purchase of a few simple things, you can be well on your way to saving money by making your favorite kombucha at home.
Don't let the idea of making kombucha intimidate you. It's a mixture of black tea, sugar, a starter liquid and a SCOBY. (I bought my SCOBY from an organic kombucha brewer for $7, including shipping. Beware: a SCOBY can look funny and it has a fleshy, wet feel that may feel odd to the squeamish.) The mixture 'brews' in crocks or bottles in a dark corner of your kitchen, and the second 'brew' just goes in smaller bottles. You have the option of saving extra SCOBYs in a 'hotel,' basically a jar of liquid that houses the SCOBYs, should you want to keep more around. Other than the price of tea, sugar, the starter liquid (brewed kombucha), a starter SCOBY and some bottles, the expense is minimal. (I share more about kombucha and my experience here.)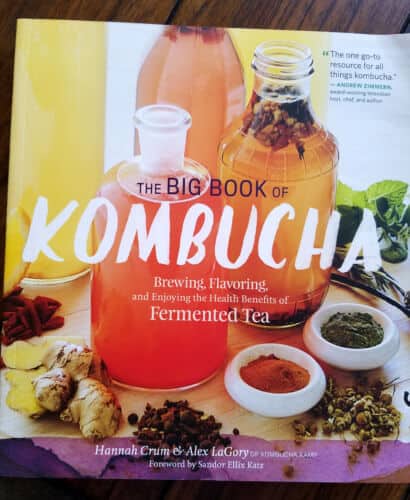 After you purchase the equipment, you can find information on the internet, or you can get your hands on The Big Book of Kombucha. Written by Hannah Crum and Alex LaGory, creators of KombuchaKamp.com, the Big Book of Kombucha is a wealth of information. It's the result of over a decade of their experience with kombucha. It's the only book you'll need to create all the kombucha you could ever think of trying.
I was provided a complimentary copy of the Big Book of Kombucha by Storey Publishing. Published in March 2016, the book is 400 pages and has full color pages and photographs from beginning to end. Why make kombucha? It promotes a strong gut and provides countless other health benefits. The book contains over 250 flavor combinations and recipes, with information to help both beginners and experienced 'brewers.' Beginners will appreciate the detailed starting tips and those with a history brewing kombucha will like the advanced techniques.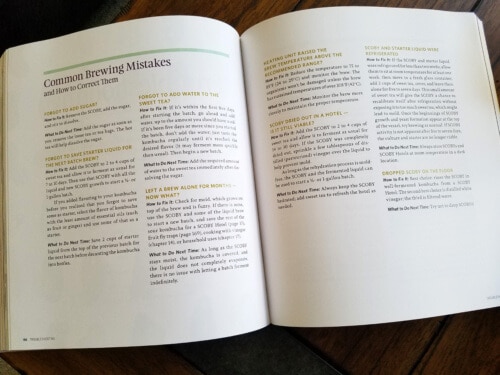 Do you like beer, wine or champagne? All three? I was excited to learn from the book that I can make similar products but with the health benefits of kombucha. (Kombucha does have small amounts of alcohol from the fermentation process.)
One thing I experienced when making my first few batches of kombucha was not understanding the timing. I wasn't sure how long was best to leave the bottles on the counter, if I needed to cap or uncap them, and when. The carbonation can build and I didn't want an explosive mess in my kitchen. (I actually had nightmares about them exploding when I wasn't home, exposing my pups to the brew.)
The flavor options this book suggests are amazing! Chai Spice and Calendula Cucumber from the Herbals section. Jalapeno, garlic, tomato from Savory. Ayurvedic blends including Apple Ginger and Cherry Spice — who knew? Then there were more chapters about smoothies, floats, ciders and shrubs. Want to make kombucha vinegar? You'll learn how. (Beware, your house might smell like vinegar when brewing, but that's normal.)
You can purchase the book online at Storey Publishing, or at Amazon and/or other bookstores. Priced at approximately $24.95, its an easy-to-digest education on the health and beauty benefits of kombucha that you'll want to add to your cookbook collection.