Ever since I was a teenager, I've been celebrating Christmas at Knott's Merry Farm. Sometimes we'd go just to eat at Mrs. Knott's Chicken Dinner Restaurant and wander through Virginia's Gift Shop, and others we'd wander Ghost Town and hit up a few rides. The white lights, the smells of holiday treats and the old-time atmosphere, it has always been a favorite family holiday event.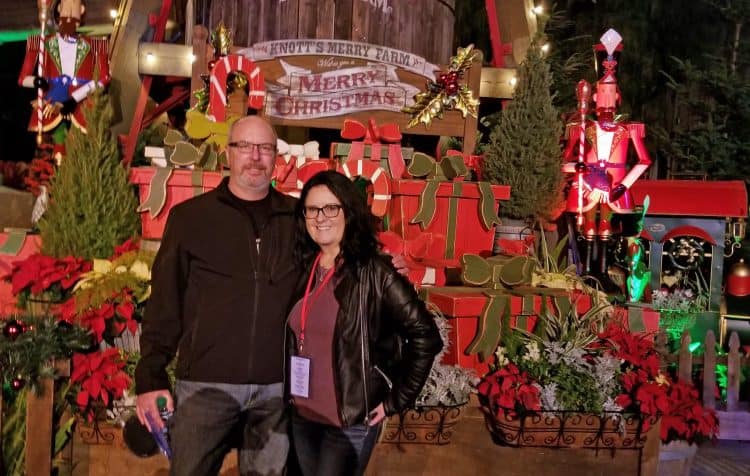 Fast-forward to 2019, and we still attend every year at least once. Last night, we attended as media (meaning we got free entry tickets and food) and it happened to be the first official Knott's Christmas tree lighting of the season. What a fun way to spend a Friday night!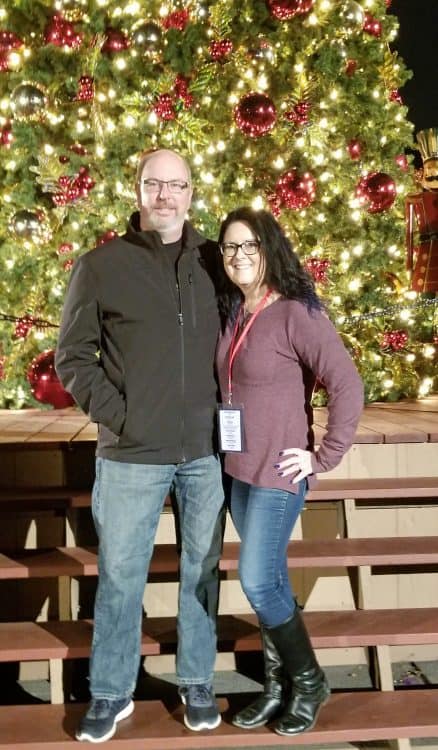 Our evening began over in Ghost Town in front of the huge Christmas tree. With the help of the Boys and Girls Club of Orange County, the tree was lit and the festivities started!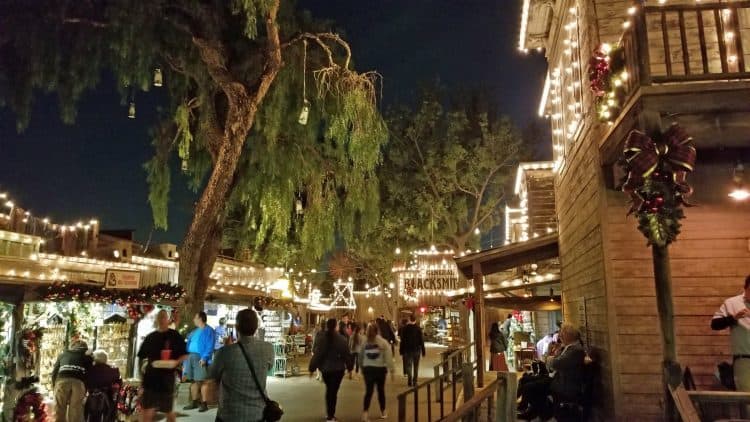 During Christmas at Knott's Merry Farm, Ghost Town is lit up with a whole new level of Christmas lights. Everywhere you look, you'll see white lights lining the buildings, evergreen wreaths and Christmas trees.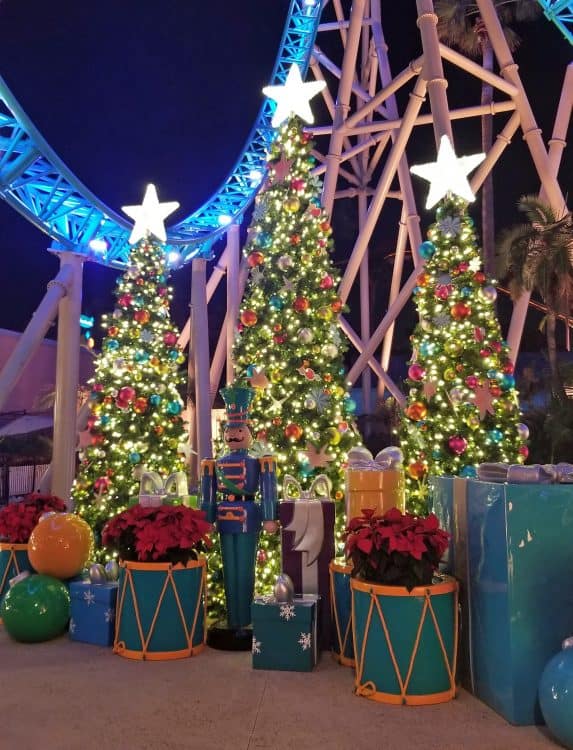 Head over to the Boardwalk and you'll see neon trees by Hangtime and huge Christmas lights on top of Coasters Diner. Be sure to look up as well as looking around you or you'll miss something really fun and unique.

Then there's the infamous fountain over in front of Johnny Rocket's at the entrance to the Boardwalk from Ghost Town. Everyone hangs around the fountain, lit up to look frozen, taking photos. (Then head into the coffee shop right to the south of it, a hidden Starbucks that also sells boysenberry lattes!)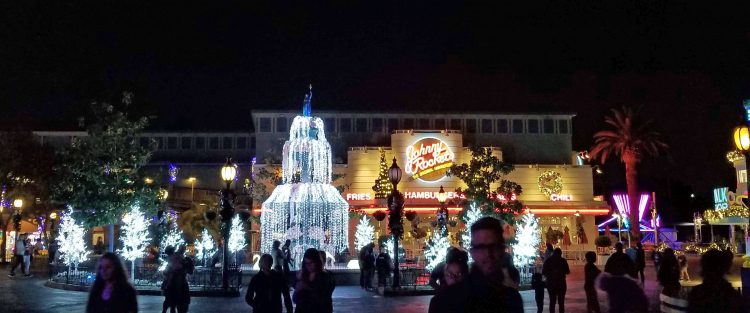 There are nightly shows of Snoopy on Ice, the Peanuts Guide to Christmas, the Calico Saloon Christmas Show, Home for the Holidays and of course, the nightly snows, or "Snow and Glow" in Ghost Town!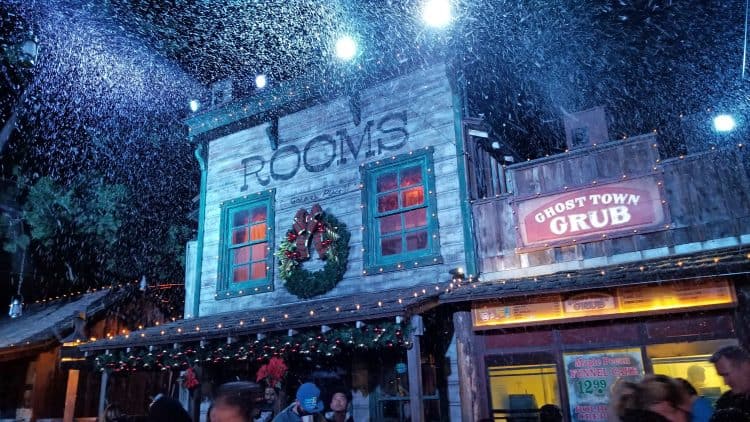 Riding coasters and checking out the Christmas train are a big part of our visits to Knott's during the holidays, but no visit's complete without trying some items on the seasonal food menu. The Knott's Berry Farm Christmas food was taken up a few notches this year by their chef and team.
Life's short, so let's start with the desserts first. Christmas Ornament Apples, decorated to look like Christmas ornaments are a full-size sweet treat, as are the holiday donuts in shades of red, white and green, covered in sprinkles. Cupcakes are always a part of Knott's Christmas food menu, and this year they're as beautiful as always. You've got to try the egg nog cheesecake on a stick, decorated to look like a beautiful Christmas tree and the mint macaron snowman is a lot of fun.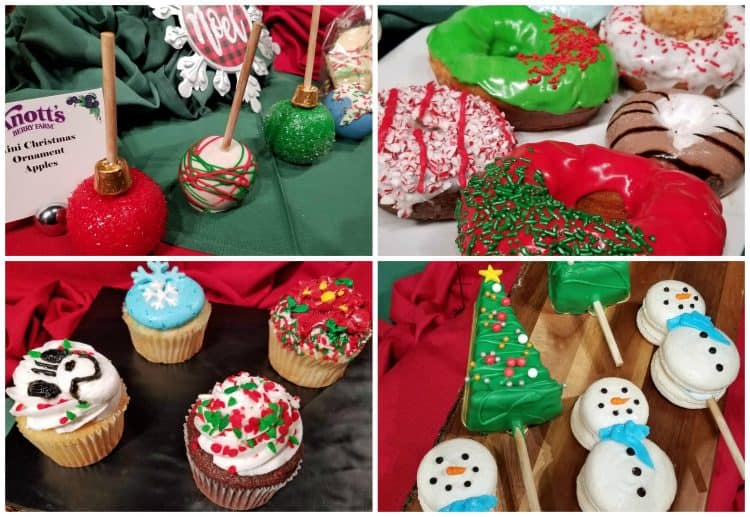 Looking for savory? There's a lot, like the amazing Fried Turkey Dinner balls, which were my favorite thing. (They aren't new this year, but they are still my favorite.) The Holiday Poutine is a fun take on typical poutine, topped with turkey, gravy and cranberries. And then the mac and cheese…I could have eaten an entire huge bowl of that. It was good enough that I almost got back in line to get more, and it was quite a line of press excited to eat.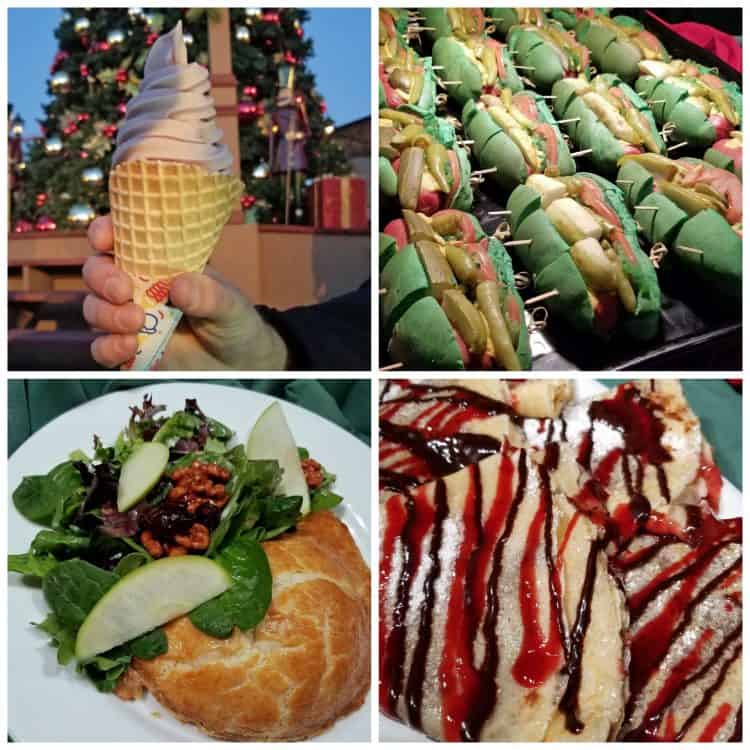 A fan of hot dogs? The Christmas Chicago Dog is a colorful dog you won't get anywhere else, with a green bun and a huge crunchy pickle, perfect with the tomato slices and mustard. The nutella crepes with boysenberry sauce are filling and delicious, and of course, the boysenberry ice cream cones are available year-round.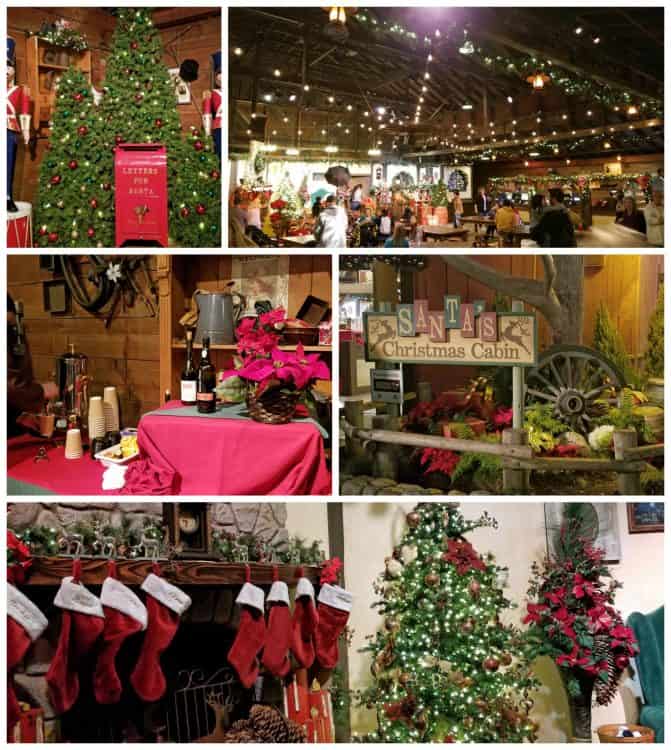 And no Christmas anywhere is legit without a visit from Santa. Head over to Santa's Christmas Cabin to get your photograph taken with Santa (and maybe an elf), enjoy a warm chocolate chip cookie or coffee, and if you're over 21, try a glass of mulled wine complete with orange slice. (And bonus, it's in a coffee cup with a lid so you look like you're sipping coffee, but be sure to get your special wristband at the counter so you can leave the cabin with your cup.)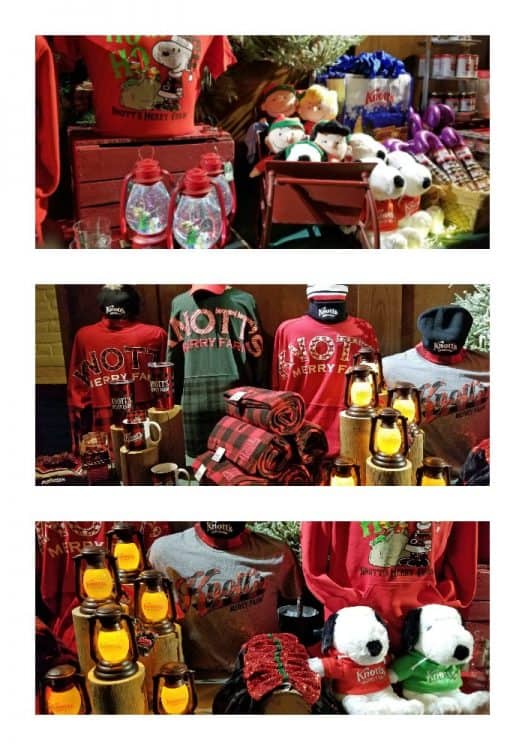 Don't forget to do some shopping before you leave the park! You can find a lot of clothes adorned with Snoopy, these fun flickering lanterns and swirling snow globes with Charlie Brown and his faithful friend in various shops and stores. You can also find unique, handmade gifts in one of the many craft booths throughout Ghost Town. Speaking of Snoopy, I got to snap a quick photo with him!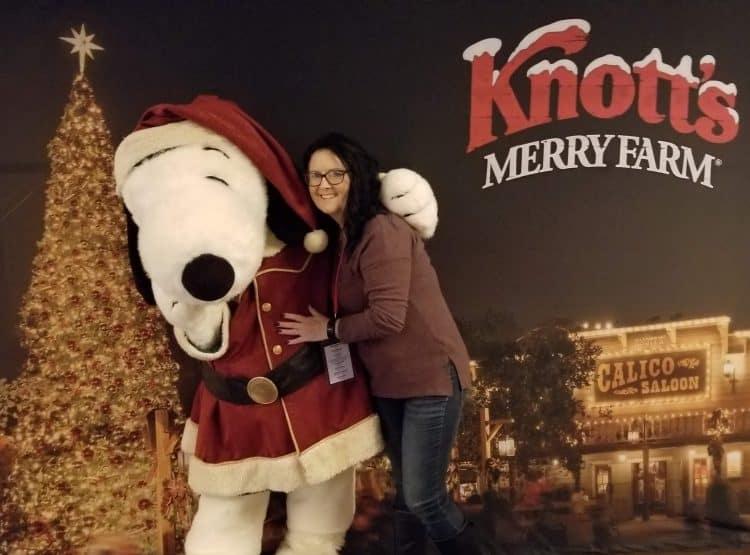 Entry to Knott's Merry Farm is free with your regular admission ticket, which starts at $53. You can find more information at the Knott's website. The schedule of shows and events is available online, along with hours and dates so you can even buy your tickets online as well. (I did this over the summer for my son and it was so helpful! He was able to visit with a group of his friends and I didn't have to run to the bank to get cash; online tickets are also the best price available.)
And right now, if you purchase 2020 Knott's season pass, you get one 2019 visit, so you can use it to experience Christmas at Knott's Merry Farm as a bonus!
Merry Christmas to all, and to all, have a fun Christmas at Knott's Merry Farm!