Last week, I had the pleasure of attending a Glen Ivy spa day in Corona, not far from me here in Southern California. Right off the 15 at Temescal Valley (not far south of the junction of the 91 and the 15), Glen Ivy Hot Springs is easy to find.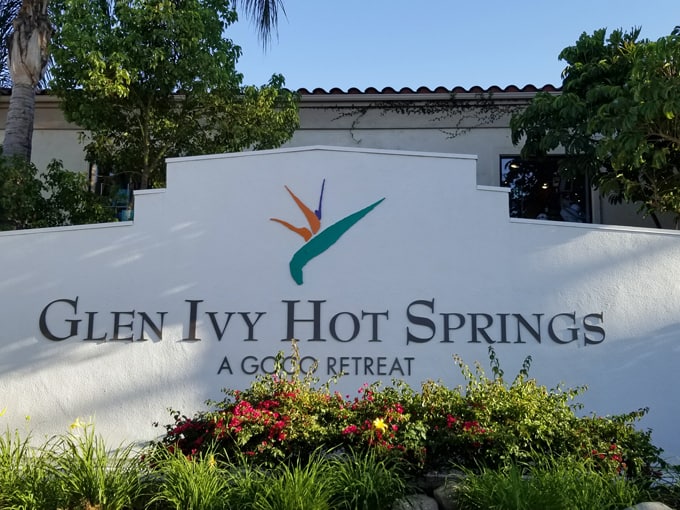 It was a beautiful day outside, a day sandwiched between rain and winds and cooler temps. The cool thing was that we knew we'd be okay no matter what, because the Glen Ivy spa has indoor hot tubs, saunas, covered pools and maybe even best of all, these huge, fat fluffy robes to wrap up in.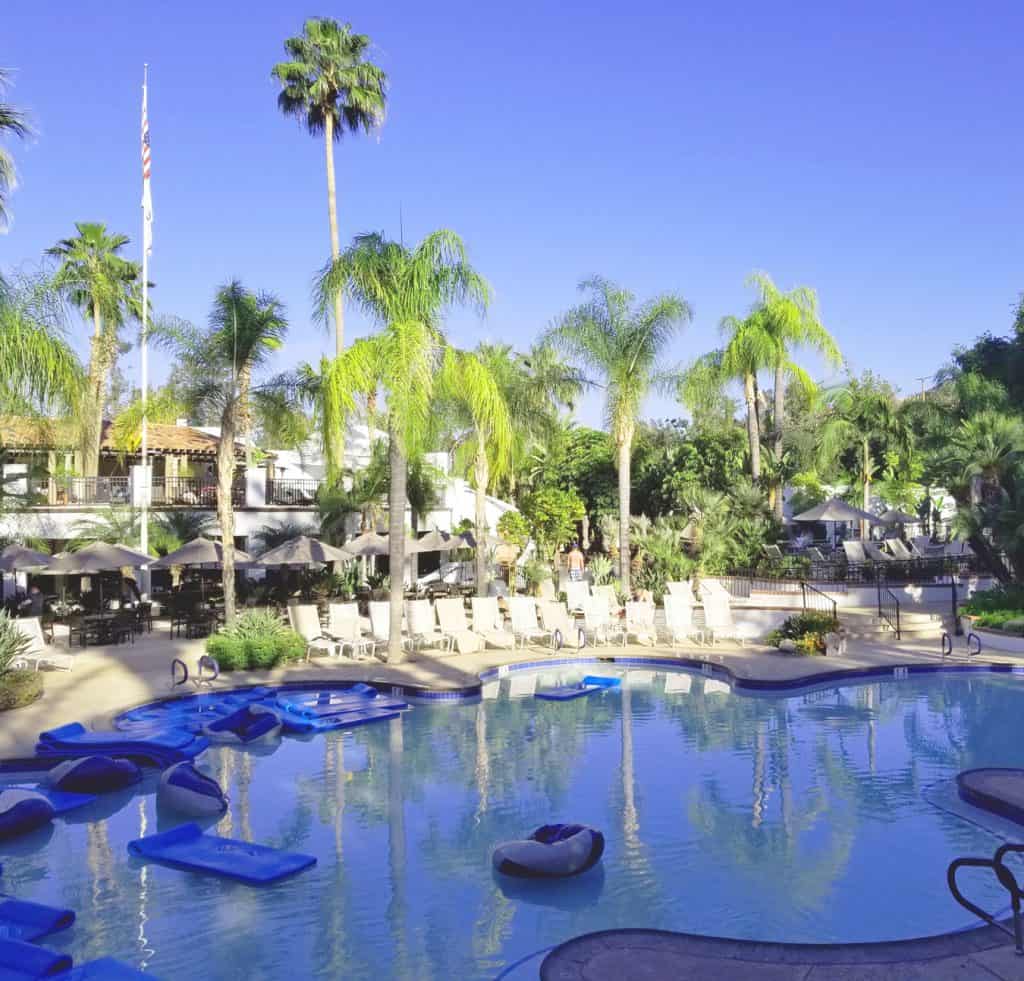 First, thanks to Glen Ivy day spa for inviting us! We were treated to an entire day's worth of relaxation at the spa, along with lunch, mimosas and a couple of the aforementioned robes. All "work" days should be this rough!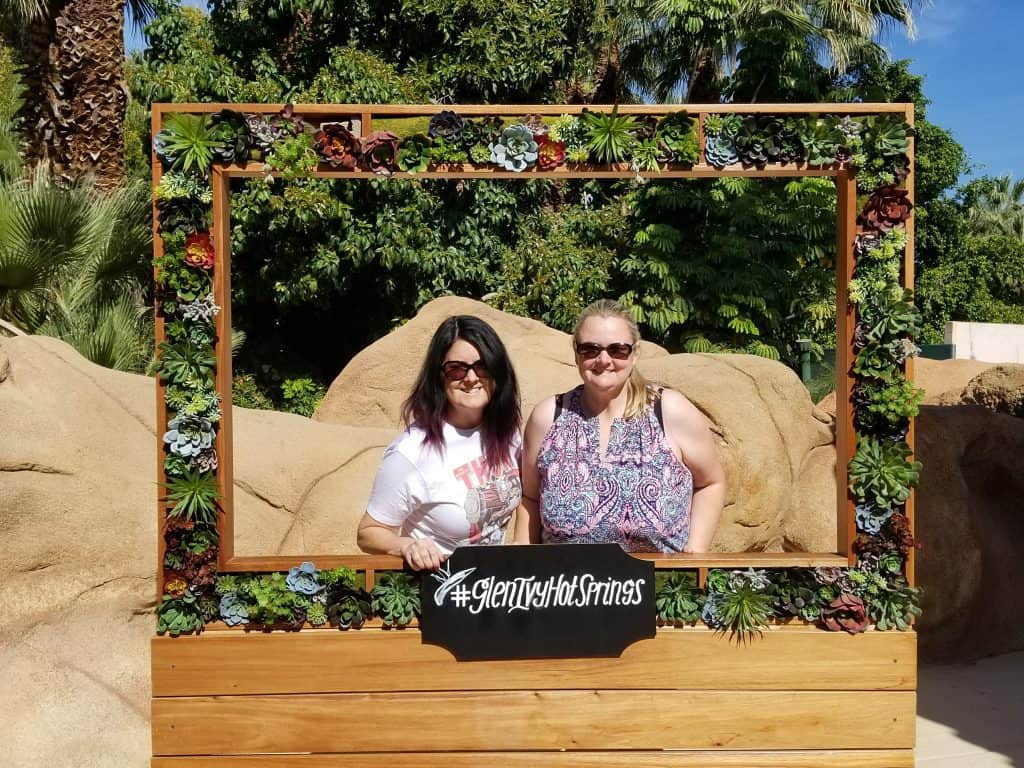 The day started with a quick tour of the properties with Alexa, and then we were on our way to enjoy the many offerings. It was close to Mother's Day, so there were a lot of people but the way the property is spread out, you never feel crowded. There are plenty of comfortable lounge chairs scattered all around, some in sun, some in the shade of the many palm trees, and when you're ready to eat or get a beverage, table space is plentiful.

And you will want to eat here. The Ivy Kitchen serves sustainable, healthy and organic food all day long, including orange juice squeezed fresh from oranges on the property. The menu meats all dietary preferences, and I tried a couple of different options during my day. We started the morning with a bagels and lox on an arugula salad, and for lunch, we each tried the poke salad. Delicious, light and seasoned just right!

Then there are the cocktails. While there's always been a bar on-site by the kitchen, Glen Ivy has recently expanded their offerings. There is now a new covered lounge over by the big float pool. This month's specialty cocktail was the mango jalapeno margarita, and it was spicy! I loved it! Later on, I tried a white wine from their varied menu and we also enjoyed mimosas with breakfast. Sitting under an umbrella, enjoying a good meal, drinking a mimosa…it's the perfect decadence for any busy lady out there. (And there are men there, too, so guys don't have to be left out!)
The Glen Ivy spa offers a number of services to help complete your day, such as different types of massages, facials, pedis and more. You also don't want to miss playing in Club Mud or getting a grotto treatment. I couldn't take my camera down there for obvious reasons — as in, I was literally painted head to toe in this heavenly-smelling skin treatment — but after all three spaces of the grotto, you leave feeling so soft and peaceful, as well as hydrated. The infused waters and tea is plentiful and sitting in the grotto, away from the hustle and bustle of everything, listening to the gentle waterfall, you may not want to leave.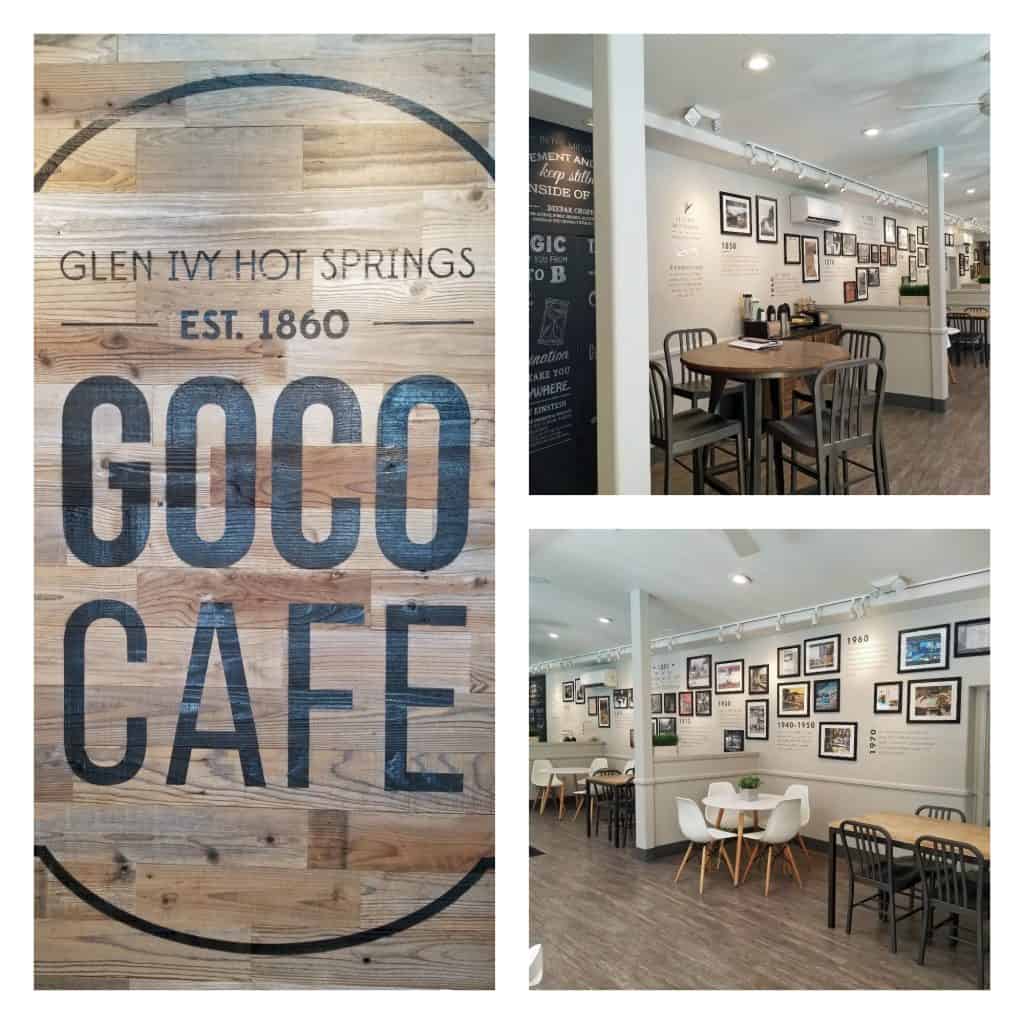 On-site, you can buy Starbucks beverages at the GoCo cafe, an indoor facility facing a large pool where aqua fitness classes take place. There is also a yoga class so be sure to check the calendar before you head over!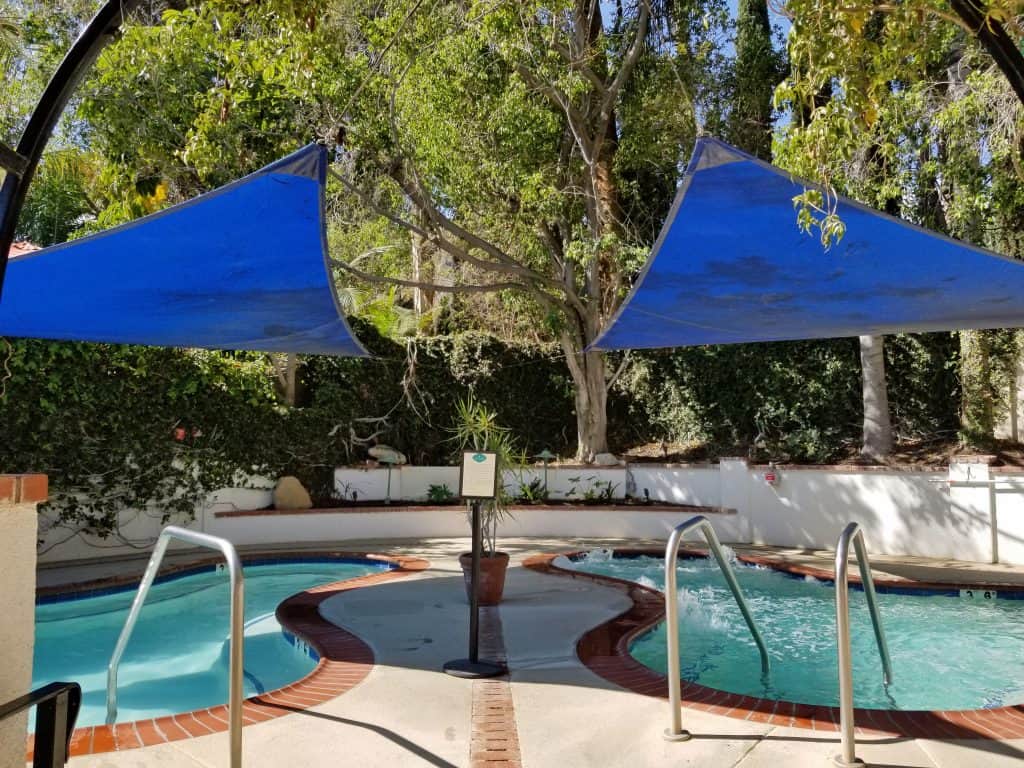 By the end of the day, we had made our rounds to almost every part of the Glen Ivy resort. We spent a good hour floating on the free full-body floats in the lounge pool, sat in the sulfur hot tub for the recommended 15 minutes, did the hot and cold plunge pools (three times!!), sat for a while in the magnesium pool, which is great for sore muscles, and of course, did the Grotto and Club Mud as well as the vista pool overlooking the front of the spa and the mountains to the north. We did miss the saunas and the indoor hot tub sadly, but the day was so full of relaxation, good conversation and delicious food, I left soft and happy and ready to return again soon!

Consider Glen Ivy Hot Springs whenever you need a break, or if you've got a big day coming up, it's a very special place to celebrate with your bridal party, your friends or your partner. If you visit on your birthday, you can get free admission to "take the waters" if you book a massage, so look online for those types of deals. I've attended a couple of years recently on my birthday and it's been so nice! Lockers are free, so you can safely store your street clothes, phone and wallet.
Register your payment options in the bath house changing area and whenever you purchase something throughout the day, they will put it on your tab. No need to carry around your wallet or debit card. Bring sunscreen and maybe a hat. I also recommend a dark bathing suit if you're going to try out Club Mud, as the mud has reportedly stained light-colored suits. SO worth it though! It's so much fun painting yourself with the mud then sitting in the sun to dry it…or sit inside the Club Mud heated room, whichever you prefer.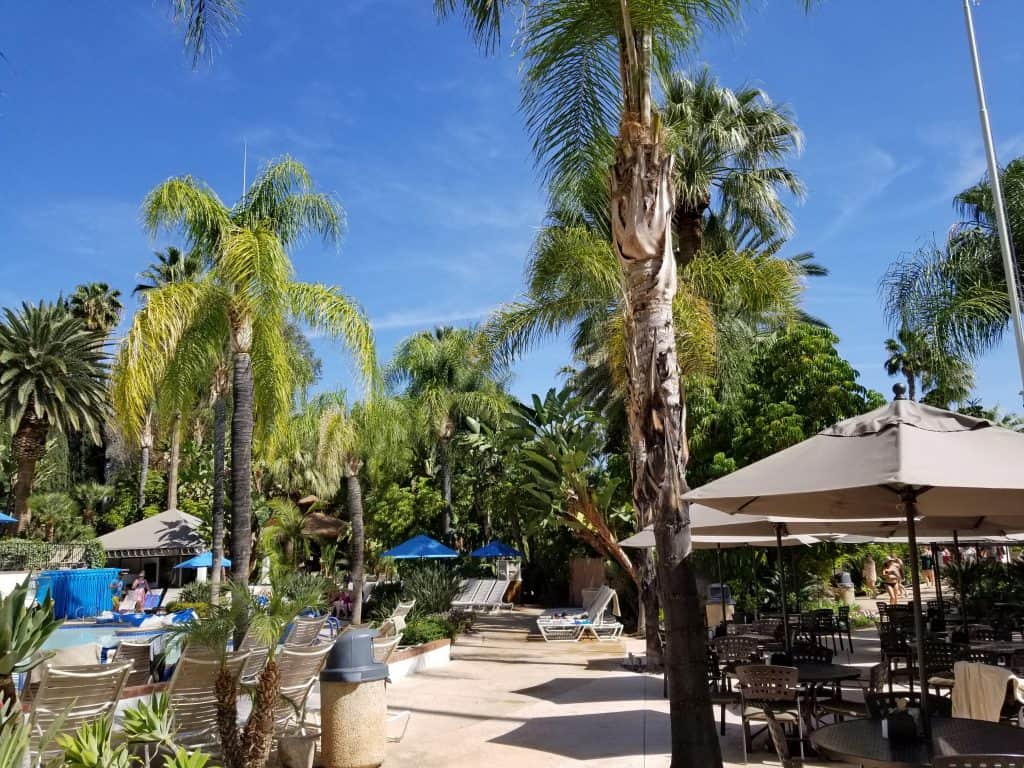 If you want to stay as long as possible, you can even shower and wash your hair using supplied scented products, blow dry your hair with blow dryers available for use in the changing area, and head out on the town without showing that you were laying by the pool all day…though the big smile on your face may give it away!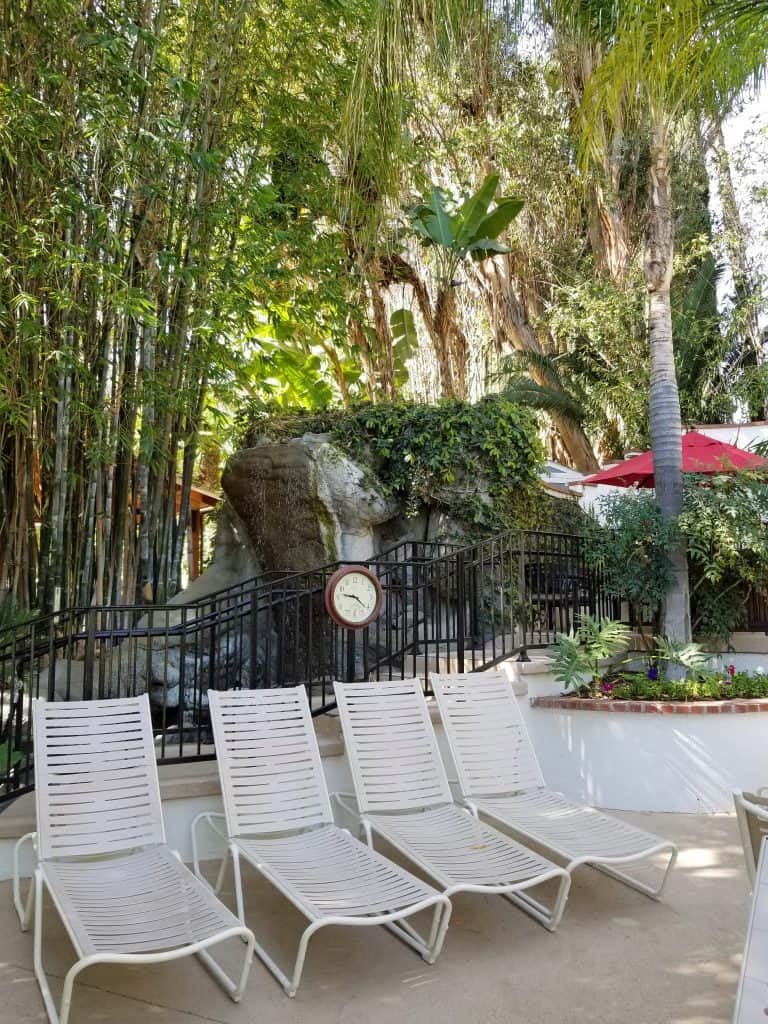 Enjoy your Glen Ivy spa day — Glen Ivy spa Corona is something everyone needs to experience at least once!