Now that the world is slowly reopening and people have more options for safe gatherings on some level, we get to start really thinking about entertaining. I'm so excited to be able to host a family or two for dinner, and I'm already thinking about party food for summer. Barbecues? Pizzas? Happy hour? I can't wait! Tastefully Simple just made it easier for me with these two new package options, and thanks to their generosity, I'm able to giveaway one of each to one lucky winner! Keep reading to learn about the products and how to enter the giveaway.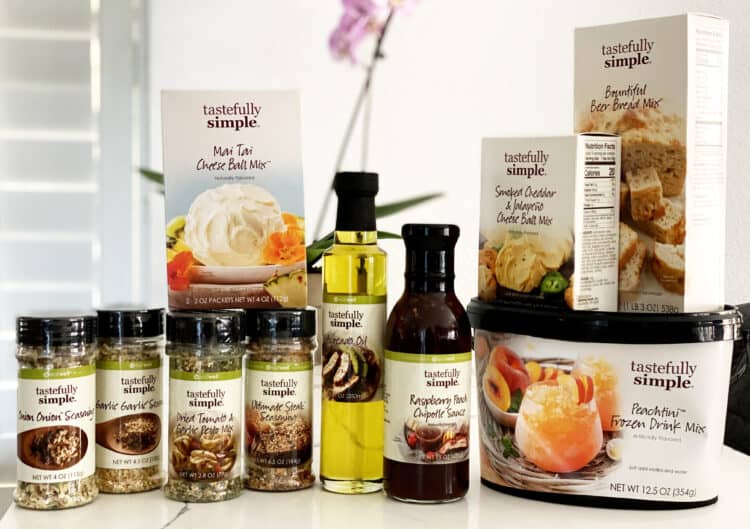 Food for summer is frequently barbecue chicken, potato salad and bags of chips — not necessarily because it's everyone's favorite but because it's easy. Easy is good, followed by affordable. That's where Tastefully Simple comes in! They offer a wide variety of delicious, quality food that you can put together fast, giving you time to spend with your guests and not in the kitchen. That's a win for me!
Tastefully Simple sent me each of the two following kits: The Appy Hour Kit and the Grilling 5-Meal Kit. Two totally different kits that work well together or on their own.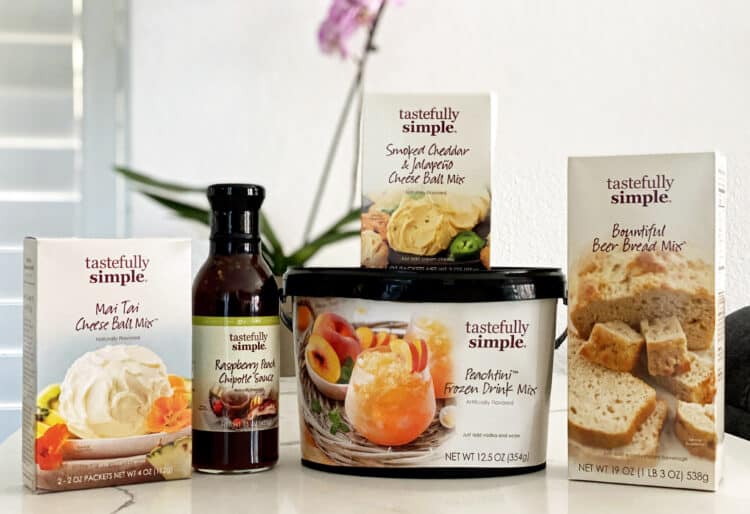 The Appy Hour Kit includes five items and five recipes, each serving 8-10 people. If the Peachtini drink kit is anywhere near as good as the Rockin' Raspberry Frozen Drink Mix, you'll have happy guests…or just add the water, pour in the vodka and pop it in the freezer to enjoy during movie night this weekend. Assemble the cheese ball, bake the bread, pour the drinks…you've got an easy happy hour and everyone's happy. For $43.95, you can enjoy the food with your guests out by your fire pit, making for a perfect summer night gathering. Food for summer just got easier, right?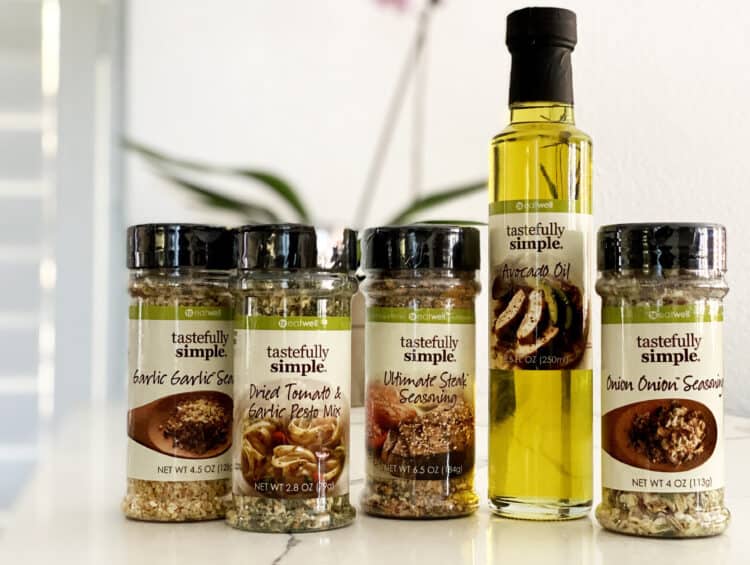 The Grilling 5-Meal Kit helps you fire up the grill with lower-carb, higher protein, keto-friendly recipes that are full of flavor. Each recipe serves 6. Includes five products, recipes and grocery list. This one runs $54.95. I have a stash of the Tastefully Simple seasonings and they get used all the time. The Garlic Garlic Seasoning is the one I use the most but one of my favorite things about their seasonings are the versatility. I've sprinkled them in scrambled eggs, onto a salad with a basic vinaigrette and into mashed potatoes. They dress up all your foods, not just things on the grill!
I've shared about Tastefully Simple quite a few times here on the blog. I'm a big fan, and the family's always excited when they see a box arrive. (And at least one of the kids asks "Does this one have more of the caramel sauce in it?" You HAVE to try it.) It started as a home party program and grew into an online business so you don't have to wait to get invited to a party to try all the products; however, you can still host a party and earn your own free products. It's been great to be able to do it all online during the pandemic.
When you order, be sure to use this discount code to save 10% through June 30! DCLTS10
Enter the Food for Summer Giveaway!
The rules are very simple: one winner per household, winner must be at least 18 years of age and must reside in the United States. No purchase necessary and void where prohibited by law. Winner must use/share blog link to enter giveaway, NOT only the Rafflecopter widget below. Prize fulfillment comes directly from Tastefully Simple, and winner must respond to notification email within 48 hours with physical mailing address/name/phone number or prize will be forfeited and a new winner will be drawn. Dangerous Cupcake Lifestyle is not responsible for shipping issues or fulfillment.
a Rafflecopter giveaway
Enjoy the giveaway, let me know what you order, use the above code to save 10% and I'd love to hear what your food for summer plans are!