If you've ever attended a Queen Mary Halloween Haunt event with mazes and monsters, you've probably seen the sliders. They're the people risking life and limb (sort of) to jump onto the ground and slide towards you, sparks flying, in full costume. While they're a normal part of many haunt attractions, have you ever really watched them? They are undervalued talent that make a Halloween haunt even more scary and now is your chance to learn more!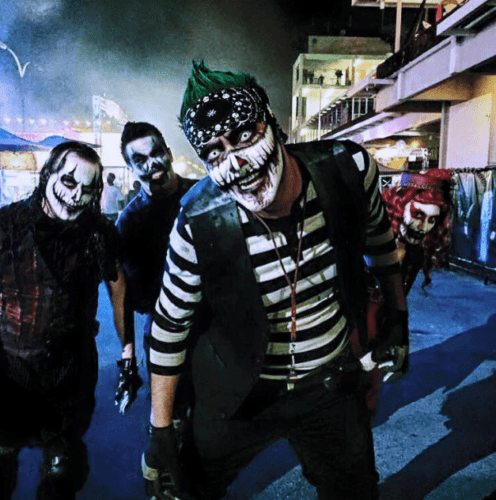 This year's Queen Mary Dark Harbor Sliders Show — Sliders Unite: Breaking the Stigma 
WHAT:  
The Queen Mary's Dark Harbor, SoCal's most terrifying haunt, will welcome elite sliders from across Sothern California to perform in the first-ever Sliders Unite: Breaking the Stigma for one night only on Wednesday, October 26 with two performances at 9:30pm and 11:20pm.
DETAILS:      
For one night only, Dark Harbor will push the artistic boundaries of sliding by bringing the best sliders from across Southern California to the authentic haunt. Creating a spectacular demonstration of talent and skill, Sliders Unite: Breaking the Stigma, will entertain guests with jaw-dropping tricks, high-speed slides, scares, and more. With metal plates strapped to knees and gloved hands, the sliders will effortlessly and speedily move across the ground in synchronized patterns for a frightfully fun choreographed performance.
Dark Harbor
The Queen Mary
1126 Queens Highway Long Beach, CA 90802
Select nights only!
This year's slider show at the Queen Mary Halloween haunt known as Dark Harbor is going to be amazing! I got a taste of it when I attended Dark Harbor with a friend a couple of weeks ago. The sliders not only slide on their own but they perform stunts en masse, including jumping, spinning and even a limbo game. Come check out how sliding's not just for the boys, too! You'll see girls in costume, being as daring as the boys and sometimes even moreso!
If you get a chance to attend the show, you'll enjoy their pyramids, crazy low slides, high jumps and insane spins, all without the benefit of bright lights, because it's all done in the dark only with the suitably scary lighting.
Before and after the show, you'll see them wandering around the festivities. Ask nice and they may take a photo with you! Fun facts: two of my kids are trained sliders AND sliders make their own equipment, getting more inventive year after year. They also do their own make-up! (It's my younger daughter and son. They both frequent the Halloween haunts and Queen Mary Halloween shows. It's nothing unusual to see 'blood-stained' gear on the washing machine and to get texts reminding me to order a new set of metallic knee pads or another tube of fake blood.)
Join the sliders tomorrow night as they come together from numerous Halloween haunt events to surprise us with their scary stunts! I'll be there, will you?
Be sure to arrive early — the maze lines got longer as the evening goes on, so head to your favorite first. Or better yet, buy one of the front of the line passes to allow you to skip ahead to the front. It is well-worth the extra expense and the likelihood you'll get through all of the mazes before the night is done, as well as eat and listen to the music and live entertainment, is really increased. There may also be a secret bar, if you look closely.
You'll also want to leave time to go aboard the Queen Mary and explore a little. There are rumors it's haunted, and while I can't prove that, Scary Mary is pretty darn creepy.  You will definitely have the ultimate scream experience at Queen Mary's Dark Harbor, easy to get to at the port of Long Beach. (Head over to their website, listed above, to learn about other upcoming events in between now and Halloween.)
Happy Halloween, wherever you celebrate, but celebrating at one of the top 10 haunted places on earth will make it even better!