Last week, I attended a mom's night out — beautiful restaurant (Au Fudge on Melrose in Beverly Hills), great food and beverages. It was a Monday night, a great way to start the week. Au Fudge had a big array of healthy but delicious food, an open bar and a lot of women sitting around….playing Nintendo.
Wait, what?
Yes, there was a whole lot of playing the new Nintendo 3DS XL. Huh? Isn't the new Nintendo 3DS XL just for kids?
No way!
I was invited by a PR company to attend the #3DSNotJustForKids evening, where we got to speak with several team members from Nintendo. They were experts in all-things-Nintendo and they were there to explain new things to us and teach us how to use the latest games coming out for the Nintendo 3DS. I've been a Nintendo mom for many years now. From my oldest daughter, down to my youngest child, a son, we've had Nintendo products since day one. Games for the 3DS, the Nintendo Wii and accessories still make their way onto various Christmas lists, so learning more about possible Christmas gifts for this year was a plus.
But first, the food.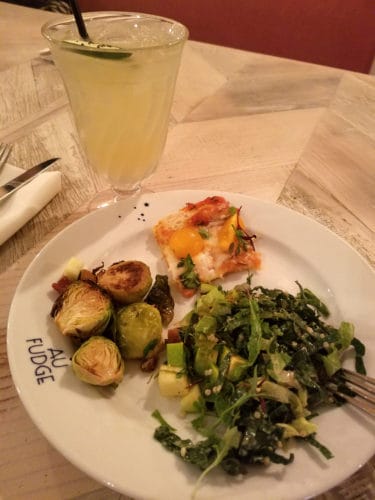 Then there was the atmosphere. Au Fudge is a family restaurant with a toy store in the front where you can also buy the fudge, of course. I got halfway home before I realized I didn't buy any. But that's okay, I had much, much better loot in the car.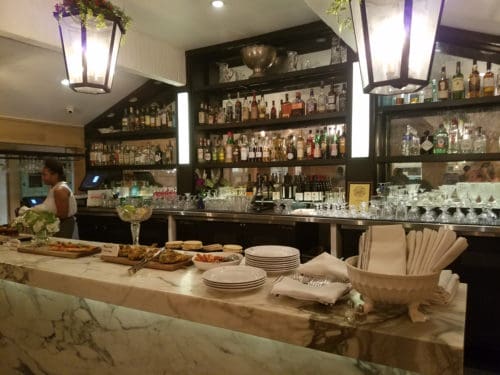 We gaming moms took over Au Fudge. We mean business when we play! We were so serious but it was also fun, trying to see who was going to win.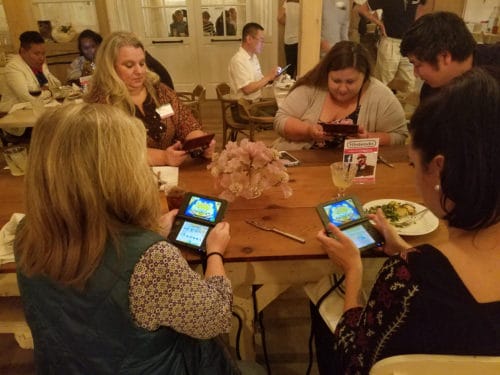 I did not win. But I did get a few good laughs. The game is fun, and very visually appealing. Even when you're not winning, you're enjoying it. The sounds, the colors and the cute factor make it appealing to everyone.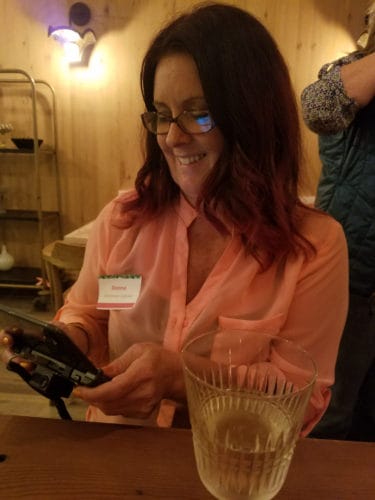 I did, however, win overall. We were all sent home with a customized case for the recipient of our choice. I picked my youngest son, as I'm frequently finding his 3DS laying around the house in various places. I'm hoping this bright blue case means no more losing his 3DS and easier transport in the car.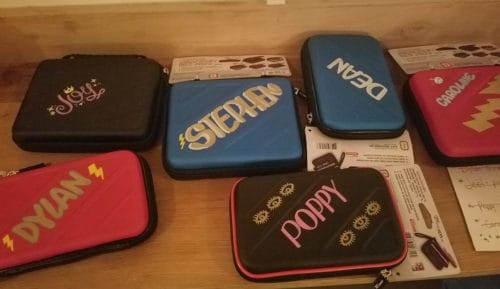 Aren't those cases adorable? The artist was doing such a fantastic job personalizing each case to suit our kids and we got to pick the case that we wanted. (And she didn't know that the lightning bolt is part of my business logo, so that makes Stephen's even more custom!)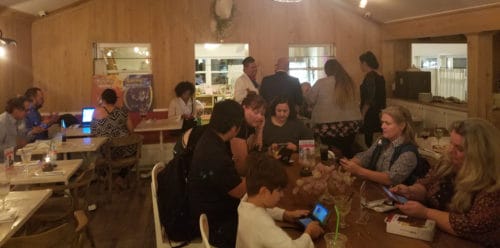 Various stations were set up around our room. One focused on a movie showing us how the new games are being marketed in Japan, the home of Nintendo. The video was adorable, depicting a child who wants to make friends and is unable to in his new school…until he brings out his new Nintendo 3DS. Soon, he's made friends with another Pokemon-loving child and all is good. True story though, right? How many of our kids have stories where they've bonded over Pokemon or other games?
Two new games coming out are Pokemon Sun and Pokemon Moon, both containing new Pokemon characters. One I love is Stuffel, a stuffed animal that turns into a bear. I want one already! You can download the demo now, and if you do that, you can even get a special Pokemon available only with the demo. The full games will be available for purchase on November 18.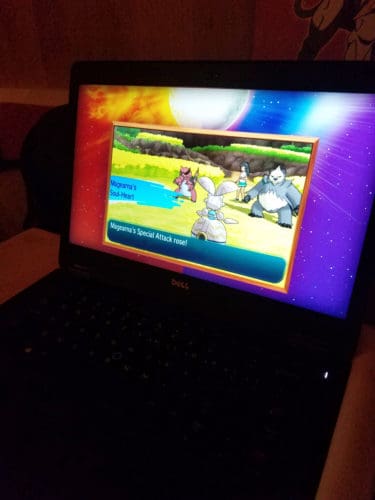 Another game we got to experience is Super Mario Maker. This one's going to be HUGE. It's not just a Super Mario game, but it gives kids — or adults — the opportunity to make a new game. You create it in stages, or levels, and once you've successfully completed it yourself, you can then save it. (The requirement stops kids from going so crazy in the creation process that no one can win.) Add in some coins, mushrooms, stack up the Bowsers, whatever you want! You can then share it with someone else. How cool is that? I know my younger two kids will have a blast with this. Creating, testing, saving and sharing..it's going to definitely be a lot of fun as they try to challenge each other. Who knows, maybe I'll even join in.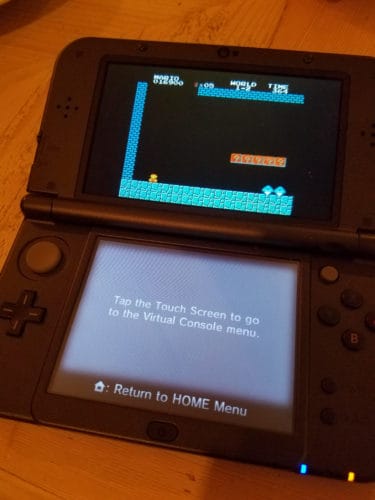 Another game I've always loved is Animal Crossing. The kids played this on the Super Nintendo years ago. I didn't play with them, but I listened to them trying to one-up each other's coin/points on a daily basis. I just got a kick out of watching the seasons change within the game. I loved the snow! I also got frequent updates on how they were redecorating their houses. New wallpaper, new colors..it was fun seeing how each kid's house was so unique and fitting. Animal Crossing is getting a new update. It's likely to reinvigorate the interest in Animal Crossing, and I know I'll be buying at least one copy of the game this holiday season.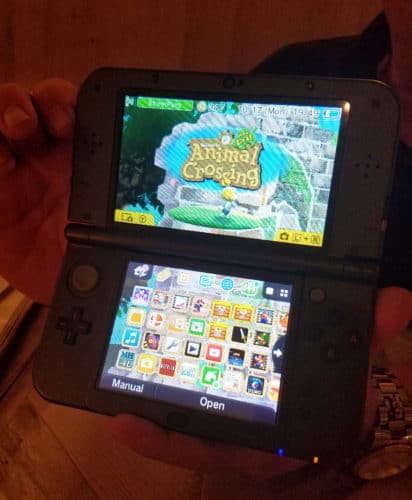 This multi-player coinathlon game had us all stumped at first! One young boy sat down and of course, whipped us all in minutes. Mario Party Star rush will be available for purchase on November 4.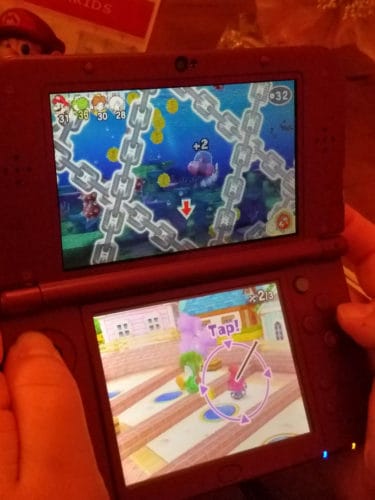 It even mimics pinball. I want it! This is proof, the new Nintendo 3DS is not just for kids. I can easily justify having my own 3DS. I sit and wait at football practice, doctor's office waiting rooms, you name it. Just because we're parents doesn't mean we can't play, too!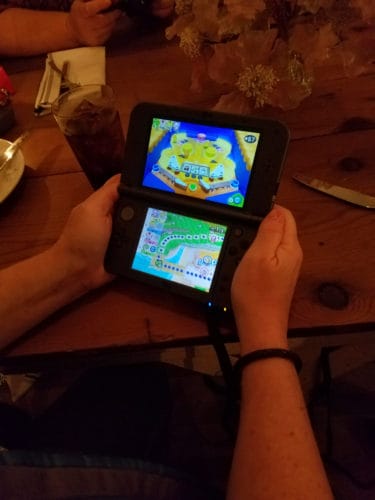 Thanks to Nintendo, we all went home with a goodie bag. The main ingredient? A new Nintendo 3DS XL! It's even the Galaxy theme, which you can't just find anywhere. We also got a charger and a game. Check it out!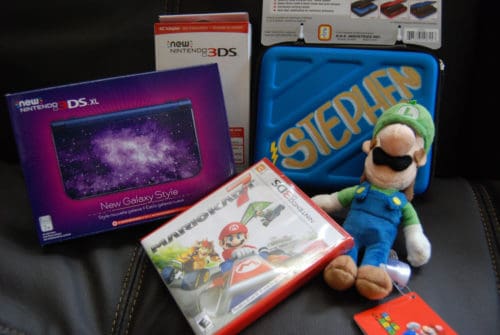 Learn more about the new Nintendo 3DS at their website.  It's got a new C-stick for enhanced controls, face detection capabilities and faster processing power. With a bunch of built-in software, you can have fun straight out of the box. Like the Nintendo Wii, you can even make your own Mii character! That alone always makes us laugh. The site always has info on the upcoming Nintendo Switch, a new portable gaming system coming out in March 2017. Santa can't bring it so I may just end up buying it mid-year and finding some excuse.
Follow Nintendo on Facebook and Twitter, and let me know what game you want the most. I'm starting with Animal Crossing!