Each year we head down to San Diego to start the season with Sea World, and each year I feel the same way: a Sea World Christmas is a memorable way to celebrate the holiday! Have you visited Sea World San Diego over the holidays? If not, now is the time to check it out!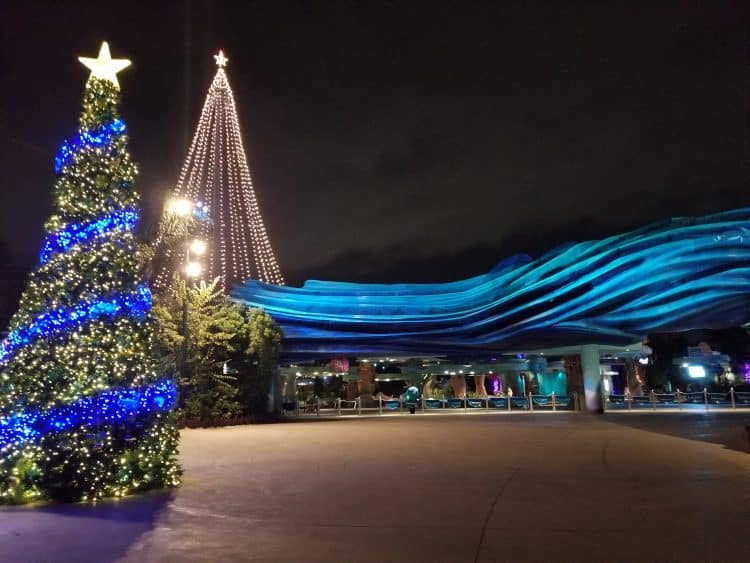 During the Christmas season, the entire Sea World park is decked out for the holidays. Everywhere you look, you'll see signs that Santa is in the house, and boy, is he. Santa's Village is the place to get your photograph taken with Santa and Mrs. Claus, see Santa's reindeer, get some of the best hot chocolate available anywhere, and do some holiday shopping. There is also daily entertainment surrounding a 40′ Christmas tree that you can't miss, including Santa and Mrs. Claus story time.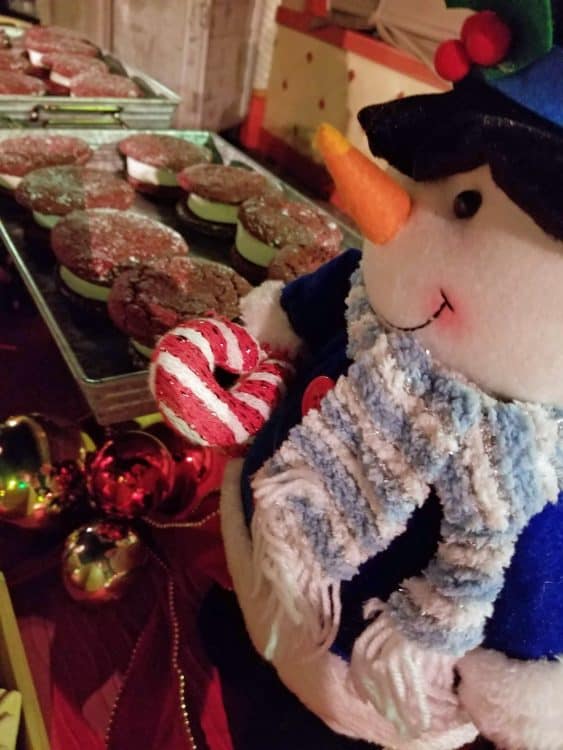 Put the cinnamon buns (covered with bacon, if you choose), gourmet cupcakes, crepes, mini donuts and hot cocoa on your list of things to eat….but first, those red velvet ice cream sandwiches, filled with either vanilla or chocolate ice cream, are something I'd pick as my #1 the last two years!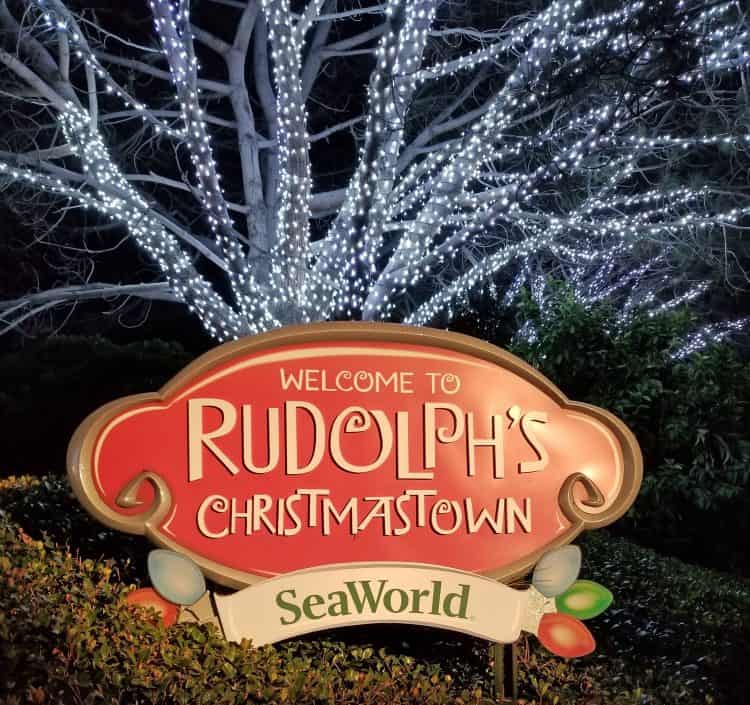 You also don't want to miss Rudolph's Christmas Town, where you'll walk by scene after scene straight out of Rudolph the Red-Nosed Reindeer. Depending on the time of day, you may even run into Rudolph and Bumble walking through the town or taking photos with guests over in the gift shop. Bumble happens to be my favorite character out from Rudolph, and if you ask me, he recognizes me each year. I'm that adult, the one who dances a little in line, then runs to Bumble, arms open wide, ready for a huge Bumble hug.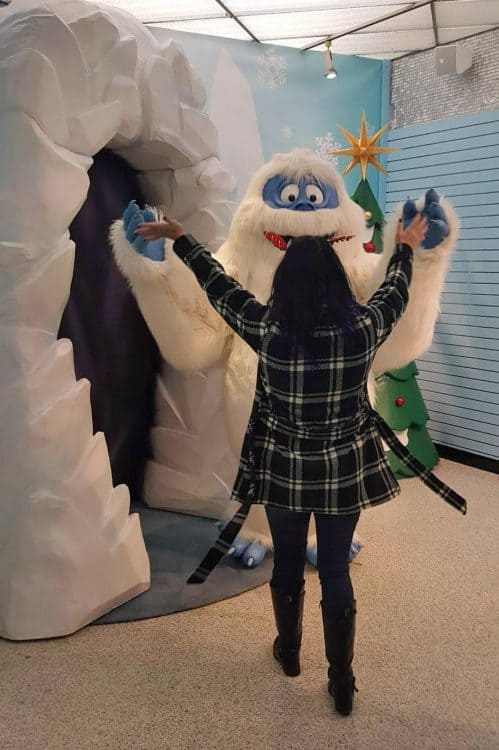 There is a lot of fun stuff going on during a Sea World Christmas celebration, but for me, it's all about Bumble.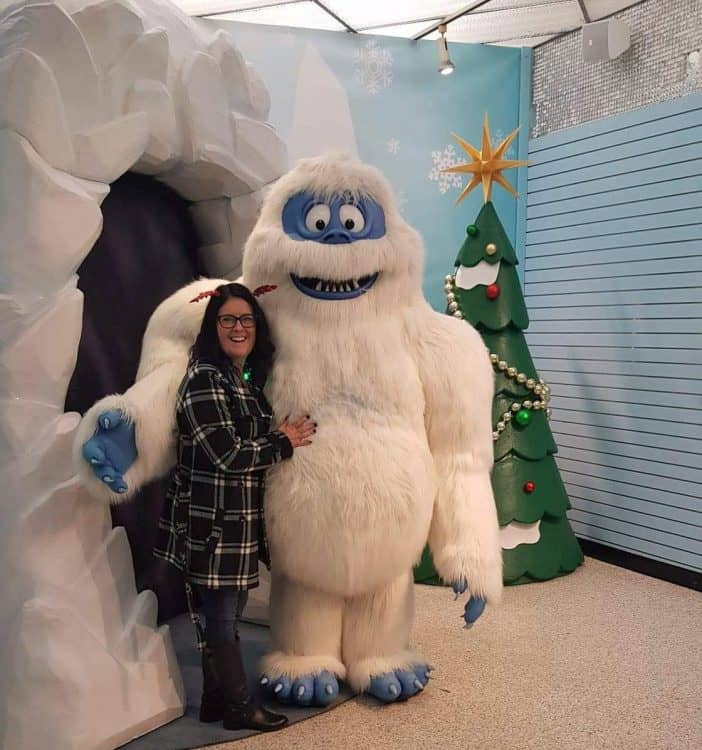 The Holly Jolly Marketplace will fulfill every dream you have of Bumble and Rudolph gifts, too…though I may just keep buying things for myself there. I own all the Bumble ornaments, I bought a mug, I have a plush Bumble and of course, Bumble fleece pants. (Prices are really good, so be sure to visit! If you love Bumble as much as we do, the husband found a 4′ light-up Bumble for our upper balcony at Lowe's!)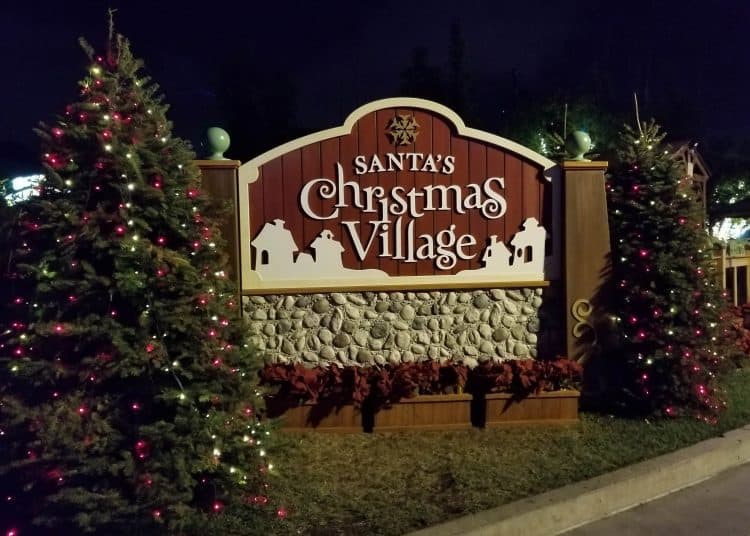 The park feels magical and on the night we attended for media night, where we were provided complimentary entry for the party (and tickets to return again soon), the weather was chilly, making it a perfect night for a holiday party! We even got a hotel around the corner so after the event, we didn't have to make the two-hour ride home but could go relax on the comfy beds of the Ramada Inn just down the road. (It was so convenient being just five minutes away from the park!)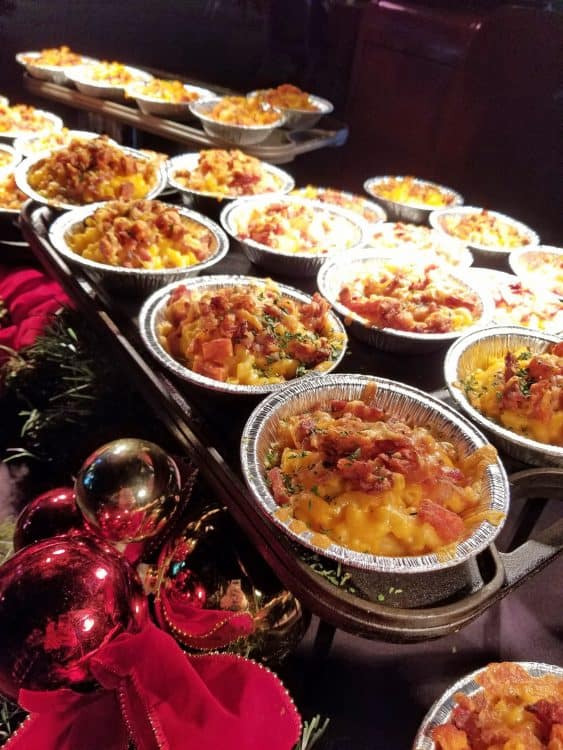 During the media party, we were served up a big buffet of foods to sample, such as the baked mac and cheese, various pizzas, salad, tamales (that I may have had two of) and more. Doesn't that mac and cheese look good? My son loved the sausage sandwiches the most, but we never stand still for long at Sea World.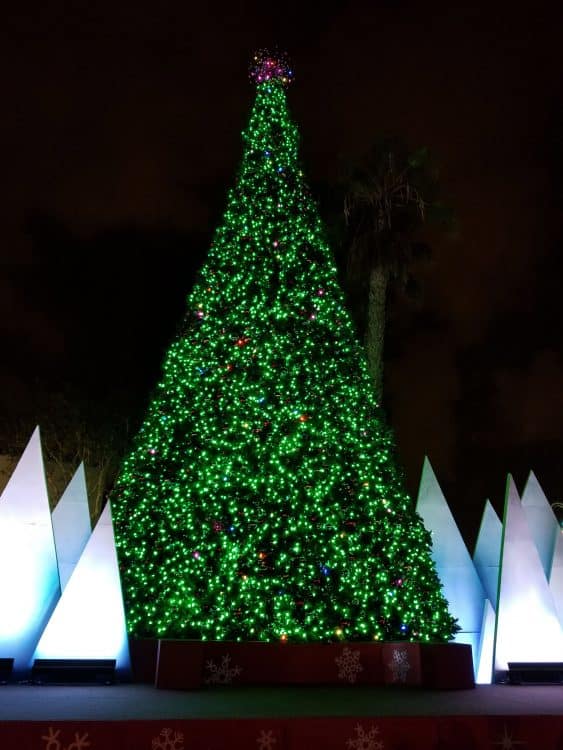 After watching the annual tree lighting, a beautiful but short musical show in front of another huge tree over by Wild Arctic, we got our pictures taken with Rudolph and went to visit the walruses. They are my son's favorite and we have visited so often, I'd like to think that Mitik, a walrus my son has met personally, recognizes him. Mitik stayed at the glass, face-to-face with my son, for over two minutes, and then started clapping. We are so thankful to Sea World for giving my son all these experiences! I think this walrus is Dozer, and it was our first official meeting. I can't wait to go back and see him again soon.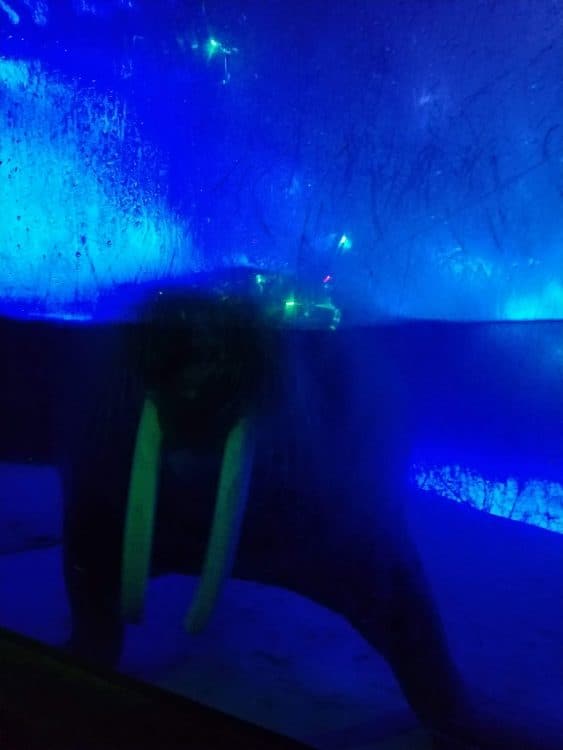 Isn't he adorable?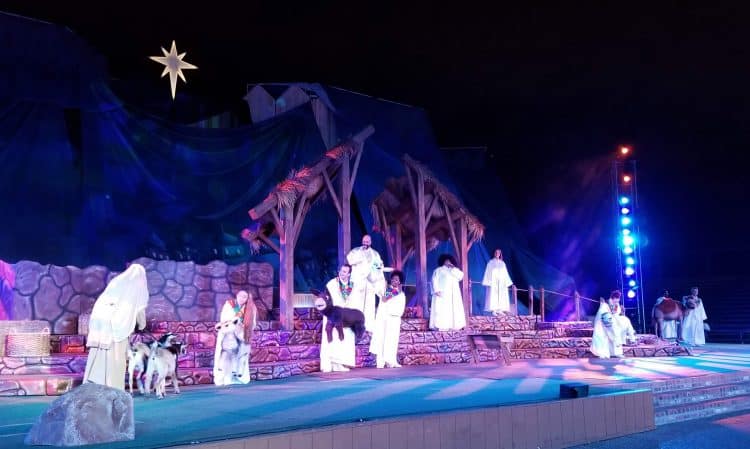 You don't want to miss the nightly Christmas celebration show, O Wondrous Night, the story of the nativity played out with puppets and a large variety of live animals. The entourage grew this year with the addition of three large camels and there are over 20 Christmas carols that will have you moving in your seat. The baby donkey is so cute, but everyone will love all the animals. Children in the audience seem to enjoy the show, and I know we adults did. It's a nice way to relax a little if you've been walking around the park, and it will definitely lift your holiday spirits even higher.
There is a lot to do all day throughout the Sea World Christmas celebration season. Regular shows take place with the animals, exhibits are open to see your favorite marine mammals, and everything's included with your regular admission. (There are extra fees, however, to purchase photos from your free visit with Santa and food is an additional cost, too.) Every day at the Mission Bay theater, you can see the story of Rudolph played with special effects and Clyde and Seamore, everyone's favorite duo, have added a whole new holiday theme to their show, too! The dolphin show also includes a holiday aspect, making it even more festive to watch.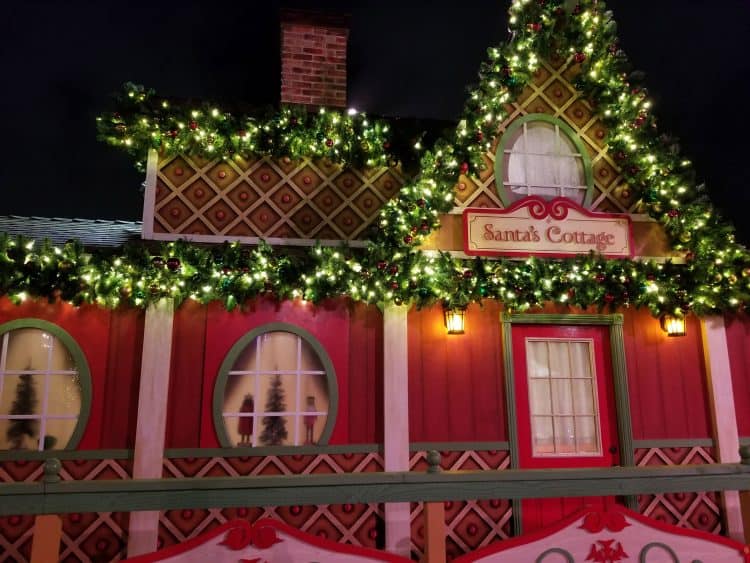 While we all talk about 'taking the kids to see Santa Claus,' let's be real. Santa is magic for all of us, no matter how old we are. After our youngest two kids got photos taken with good ole' St. Nick, all four of us took a big family photo….but I love the smiles on their faces in this one!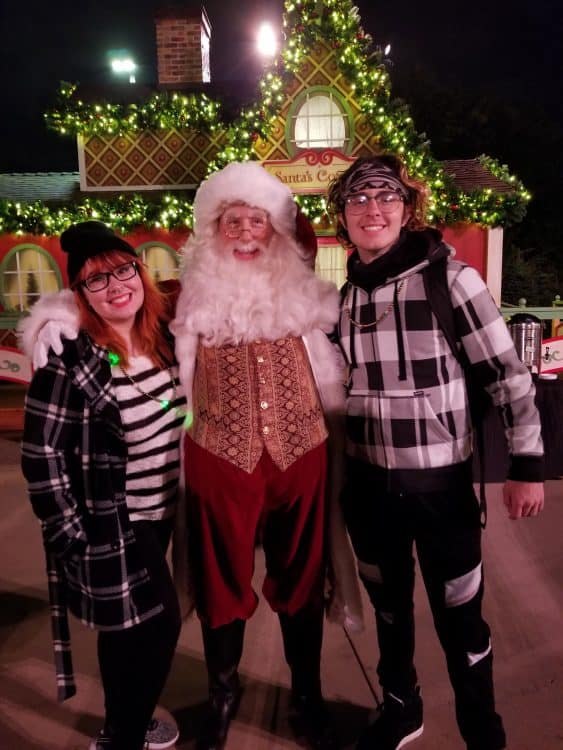 Then we went into the world's biggest photo snow globe for some more fun family photos. I ended up taking home a snow globe ornament for our tree with a professional photo taken by Sea World staff, but this photo sums up our family pretty well.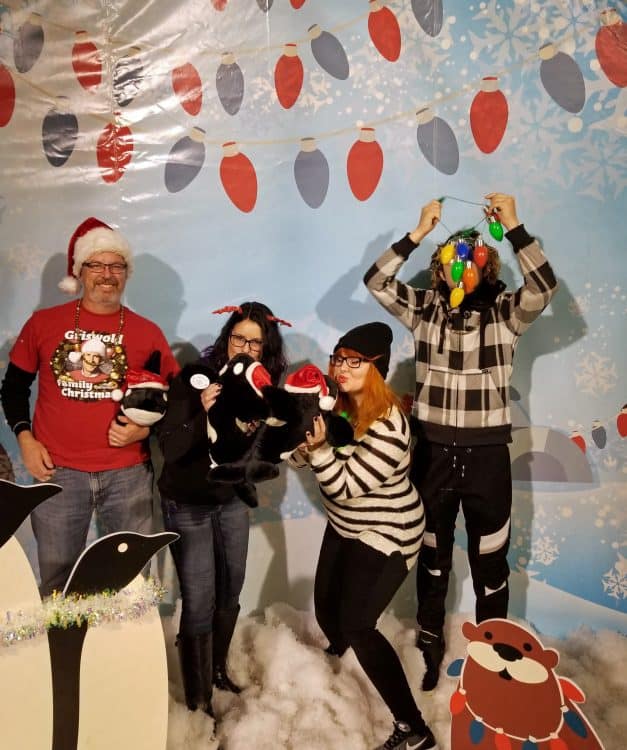 A Sea World Christmas is worth the drive. Find out how to buy tickets online here, and you can also turn your tickets into an annual pass, the Fun Card, which starts at only $7.99 per month per person.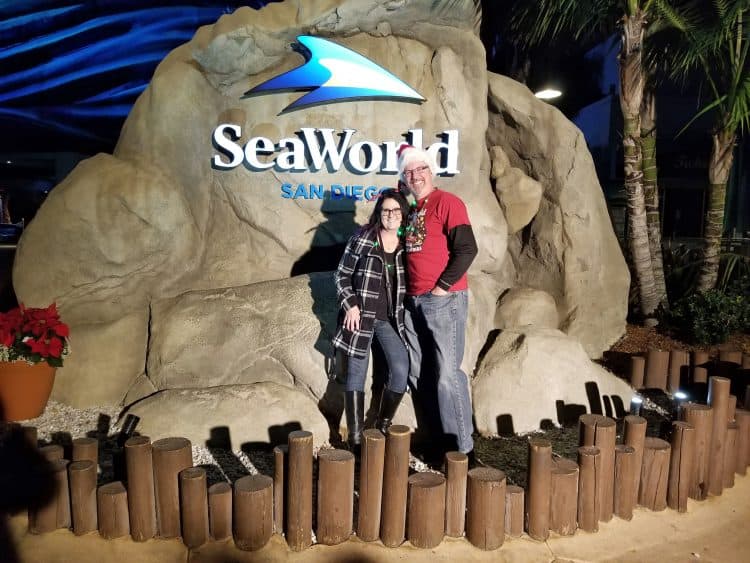 And because we come down several times a year just to visit the walruses, head into Wild Arctic (via the motion ride or the stationery entry) and visit Mitik, Chouchou, Dozer (who arrived just a few months ago) and the newest member of the family, Uquq, a 24-year-old rescue who was orphaned as a calf up near Gambell, Alaska. You can tell them all apart by their tusks if you look closely! We have a special fondness for these guys and had hoped to make it down again this week, which is Walrus Awareness Week through December 8. We come every year this week but we're coming back in two weeks instead. Wave hi to our walrus friends for us!
Enjoy a Sea World Christmas and let me know what your favorite holiday food is! (And don't forget to get a photo with Bumble!) If you're a veteran of a US military branch, visit HERE for info on the Sea World military discount!
Merry Christmas!!