Ever overdo it at yoga class? I admit, I do. I get over-ambitious, sure I can hold that crow pose just a little longer, and ouch. I'm fine at class, and when it's over, I walk — not jog — to the smoothie place next door. By the time I get home, I feel it a little more. Mixed with the energy earned from getting an early morning workout and the inspiration to eat well all day, I'm sore. Relieving soreness after yoga practice isn't always easy though. That's where these T Spheres Massage Balls come in. I love finding new fitness gear and sharing it with you!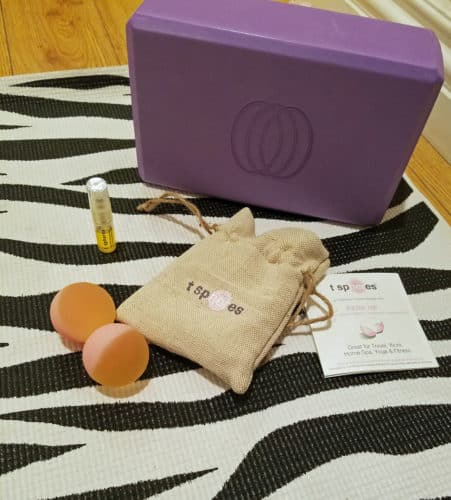 I hadn't heard about them before I received an email about the product. Was I willing to try them and tell you? Sure thing! They sent me a sent of the Perk Up Massage Balls for the purposes of trying them out and I am a new fan! Fun to use and easy to carry in your gym bag, briefcase or suitcase, they smell fantastic. Currently there are four scents available in two different sizes, with a package deal available if you want to try them all for a discount.
Keep reading — a giveaway is coming!
The premise of the T Spheres is easy: roll them across your body or place them behind you, sitting or laying, to release muscle tension. They can also be frozen for 30 minutes or so to help with headache relief, or placed in the microwave or boiling water momentarily for use while warm.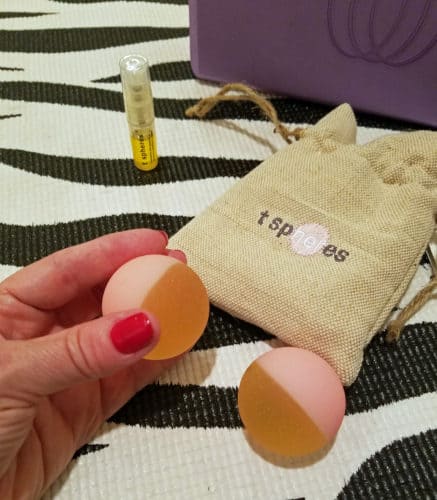 The aromatherapy adds a whole new level to this very portable product. Aromatherapy has been found to enable the central nervous system to respond to stress levels naturally, and each set of T Spheres has a different specific beneficial quality. My set uses peppermint and pink grapefruit essential oils and jojoba. (It's closest to our own natural skin oil, aiding absorption.) Peppermint is used as a decongestant and analgesic, and pink grapefruit is an anti-depressant and emotional stimulant — something we can all use most days, right?
The scent lasts 1-3 months, but can be replaced easily by spraying one or two pumps of the included refreshing oil into the bag, then placing the balls back into the bag to allow absorption. Alternatively, you can spray it into your hands and hold the massage balls.
Created by a professional massage therapist, T Spheres are unique tools built from over 17 years of research and development. Combining two of the most scientifically researched methods for stress relief, they are they only massage balls with both the aromatherapy and perfectly-weighted rubber compound that feels awesome when applied. Massage therapy is known to ease muscular and joint pain, improve range of motion, stimulative the lymphatic system, improve circulation, release endorphins and reduce muscle spasms and cramping. Quite a list of benefits from an inexpensive and small product!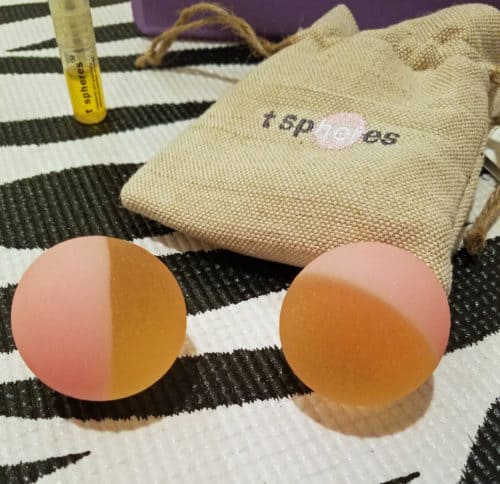 Personally, I've found them great for the knot below my shoulder blade or the stiff neck I get after hours at the computer. They are also incredibly helpful for my plantar fasciitis, which is exacerbated by running in the cold as I find my stride is different from when I run in warmer weather. I can place them on the floor in front of me as I'm watching TV at night and massage my foot and arch without any real effort. As a busy mom, I don't have time to let an injury get in the way and I certainly don't need excuses to not get to yoga class or practice a regular fitness routine. T Spheres have helped me stay stretched and relaxed and I love the way I feel perked up after I use them — they are aptly named!
Want to try out a set of T Spheres yourself? Use my discount code: dangerouscupcakes and save $10 on each set!
Click To Tweet
Want to try out a set of T Spheres yourself? Use my discount code: dangerouscupcakes and save $10 on each set!  You can use that code as many times as you want and on as many sets as you want, so you can try more than one scent.
For a chance to win your own set, enter my giveaway below! 
**Prize shipped directly from manufacturer. Winner must be 18 and reside in the United States.**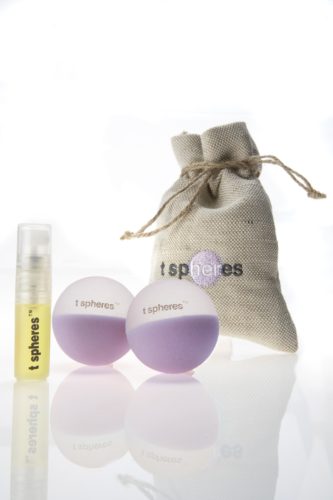 Off to yoga practice I go…gotta work on that crow pose. Up next? Inversion!