If you are in Southern California over the holidays, you need to celebrate Christmas at Knott's Merry Farm! Holiday sparkle is everywhere you look, seasonal food items have been added to the menu all around the park, and there are numerous Christmas shows and other holiday-related entertainment options for all ages. It makes a great family fun day for everyone!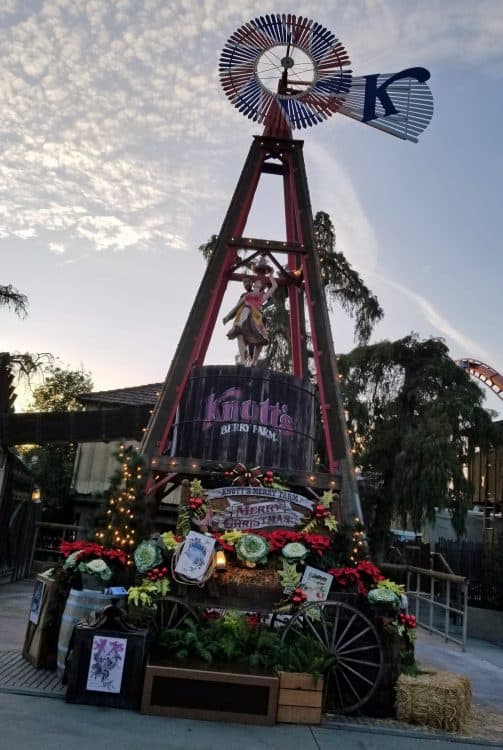 Knott's Berry Farm is known for its boysenberry foods, and in particular, the boysenberry jam that you can purchase in many forms to bring home. (I have some of the boysenberry BBQ sauce in my pantry right now…right next to a new jar of the preserves.) My favorite food to buy is the boysenberry-covered funnel cake. Now that the Christmas holidays are here, I didn't rush over to get a funnel cake because there are so many new things to try!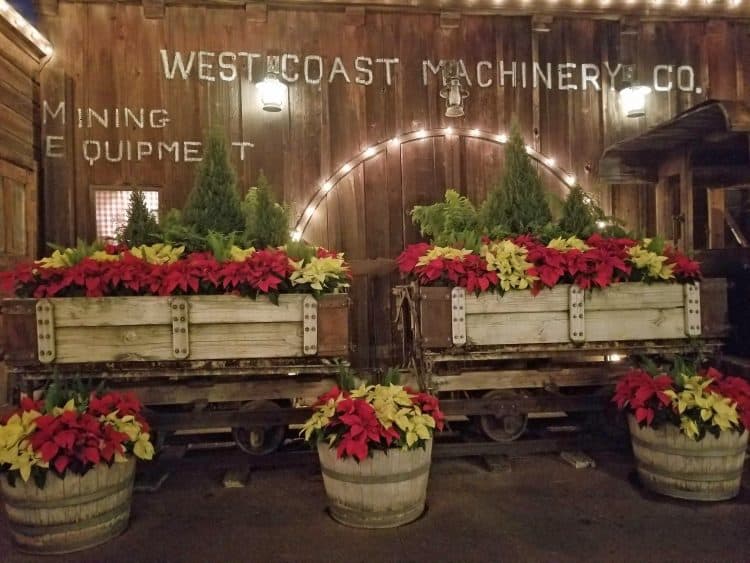 I got to try them all when I attended media night in honor of Christmas at Knott's Berry Farm, an evening of complimentary park attendance to explore, all-you-can-eat holiday foods from the new menu, watching the new Charlie Brown Christmas show, and experiencing the lighting of the annual Christmas tree on its first night. It even snowed!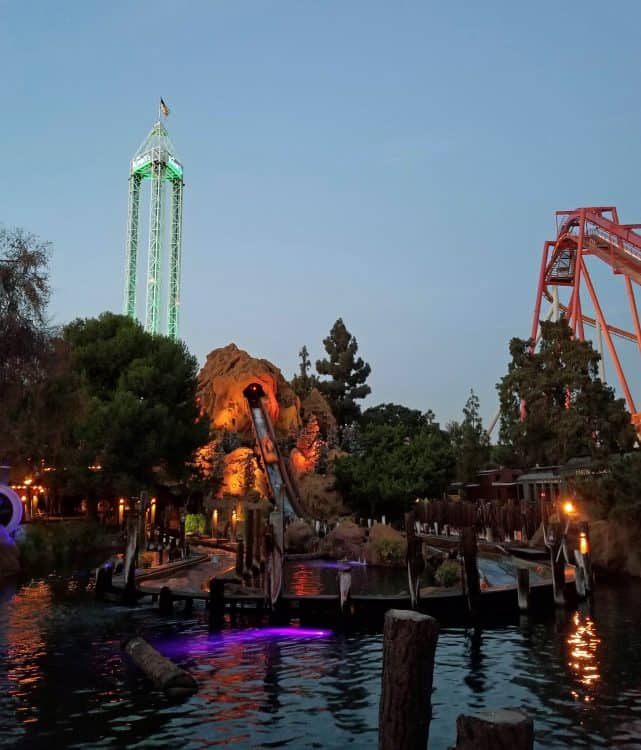 If you haven't ever been to Knott's Berry Farm, you need to put it on your SoCal list of things to do, but a visit during the holidays is something special. From the minute you walk through the ticket gets, the holiday feeling begins. This year, Knott's added all new decorations, enhancing the already magical look to the park, and expanded its previous offerings of holiday foods and entertainment. They even colorized the newest coaster, Hangtime — which literally leaves you hanging facing downwards for over five seconds before you take the plunge straight down — with Christmas colors! (See how it's facing downwards?)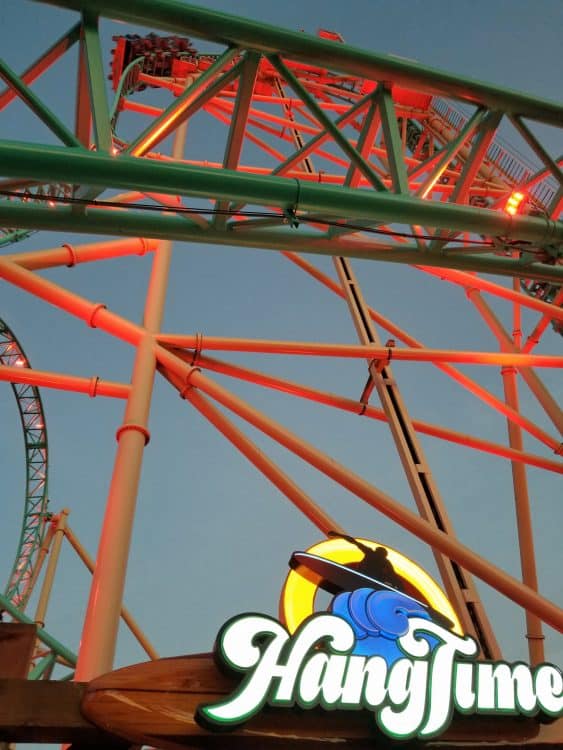 Confession: the first thing I did when I got to Knott's for the media night? Ride Hangtime! I got there before the entertainment started and before food was available, so priorities — I headed straight to the Boardwalk area on the west side of the park and walked right up to the front of the line. "Do you want the front row?" WHAT? BY MYSELF? NOOOOO…..so I climbed into the second row where I could scream without seeing as much. The views on the ride are spectacular; I've ridden it before but not alone and something about doing it alone, eyes open, was too much in the dark. Hangtime is the first and only dive coaster in California, with a 96-degree drop and reaching 57 mph. It's such a rush!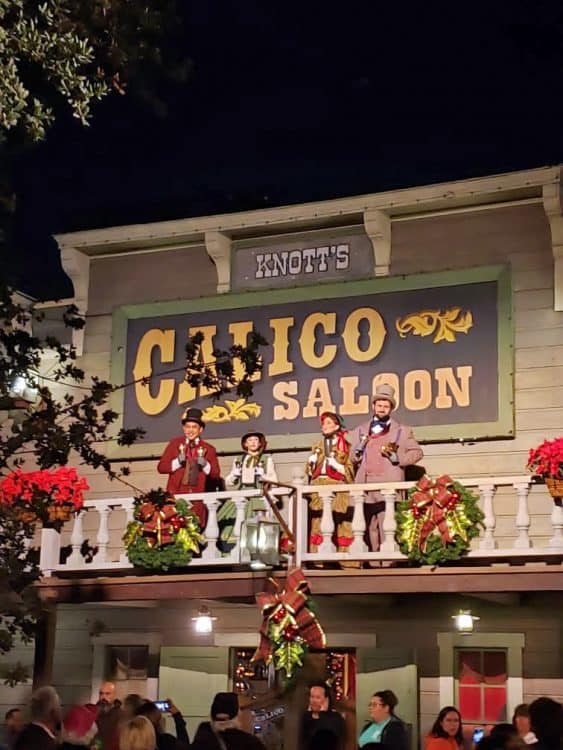 Media night was held on opening night, where the Christmas tree was going to be lit for the first time, signaling the official start of the holiday season, aka Knott's Merry Farm. The park joined with the Boys & Girls Clubs of America, inviting hundreds of members to attend the park with front-row views of the lighting of the tree. The kids were all around us and they were so excited! My youngest is now 17 and it was so much fun to see small children get into the holiday spirit with oohs and ahhhs and cheers. The carolers kept us entertained until it started and it was so festive. Here's a video of the opening ceremony, along with a special guest! (Pardon the vertical — this was a Facebook Live!)
The kids loved seeing Santa Claus! We all 'posed' for a huge group photo taken in front of the tree after. So much fun!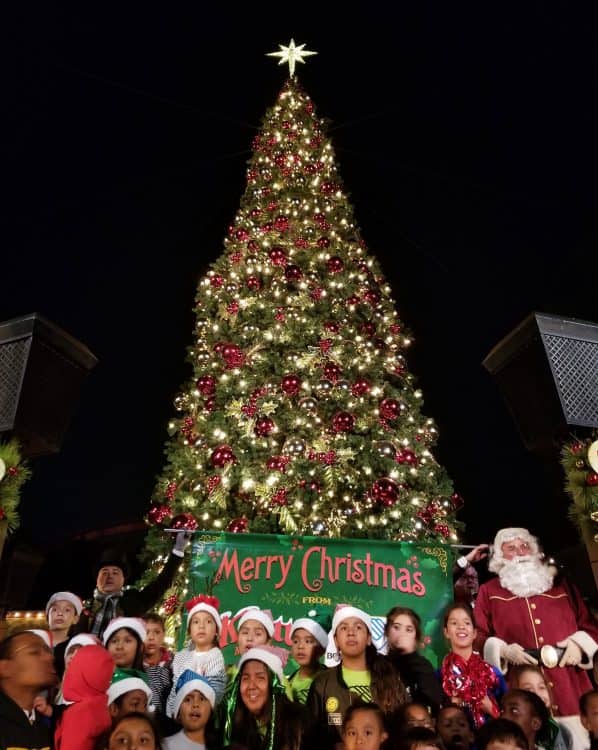 After the tree lighting and snowfall, I headed over to Spur's, where media were invited to come try a buffet of many of the foods now available for the holidays. I may have gone back a second time, one plate just wasn't big enough! (What's the point of visiting a holiday fest to cover the food if I don't try it and tell you about it, right?)
The holiday foods are all so different, everyone will find something they like. There's a Thanksgiving pizza, Turkey Poutine with huge chunks of cheese curds, three types of tamales (pork, chicken and sweet), and so much more — but my clear favorite was the Turkey Dinner Bites. I seriously wanted to find a way to take a couple home in my purse, but those babies are big! Dip them into the accompanying gravy for an extra punch but I could eat those things all day long. You know how you see people walk around with turkey legs? I'll take these please.

And of course, you have to have dessert.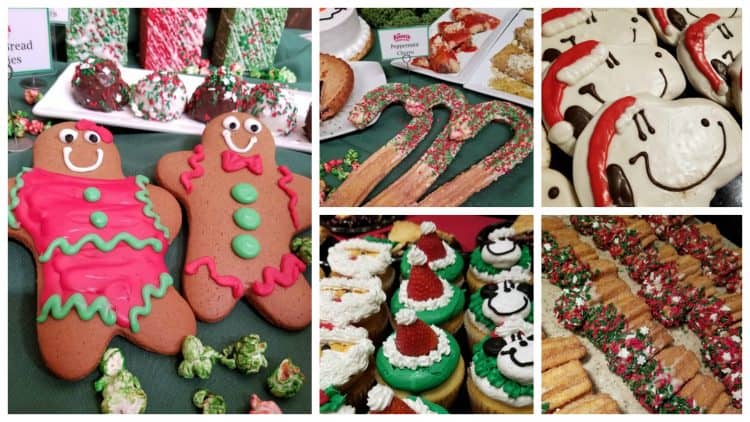 From gingerbread cookies to peppermint cream-filled churros, to cookies of all sizes and shapes, cupcakes, cakes, crepes…the list is long, and here's a video directly from the source, so you can learn where to buy whatever you're looking for.
Christmas at Knott's Merry Farm also means new holiday-themed products and gear, from clothing to toys to gifts and souvenirs. I loved the hoodie with nine different versions of Snoopy's doghouse but there is so much to choose from, it would be a tough call and I may have to buy more than one. (And I never get out of the park without buying a new piece of Marvel gear as it is! The Marvel selection at Virginia's Gift Shop is extensive!)

Be sure to leave time to explore Ghost Town in its entirety. The Christmas Crafts Village booths lining the entire area sell beautiful holiday gifts, including woodworking items, holiday centerpieces, hand-knit hats and candles that bring the scent of Christmas into your home.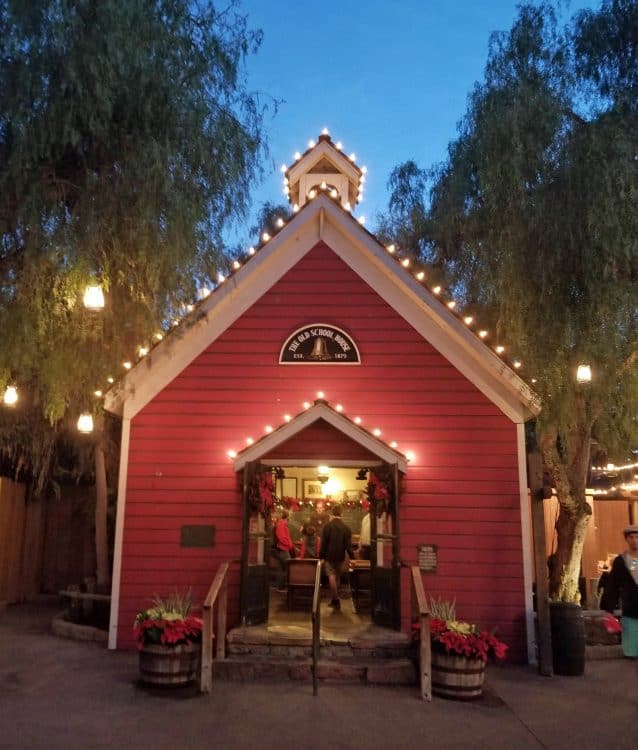 Ghost Town is my favorite part of the park during Merry Farm. The old schoolhouse is reminiscent of the old days, and the Bird Cage Theater is even more picturesque than normal.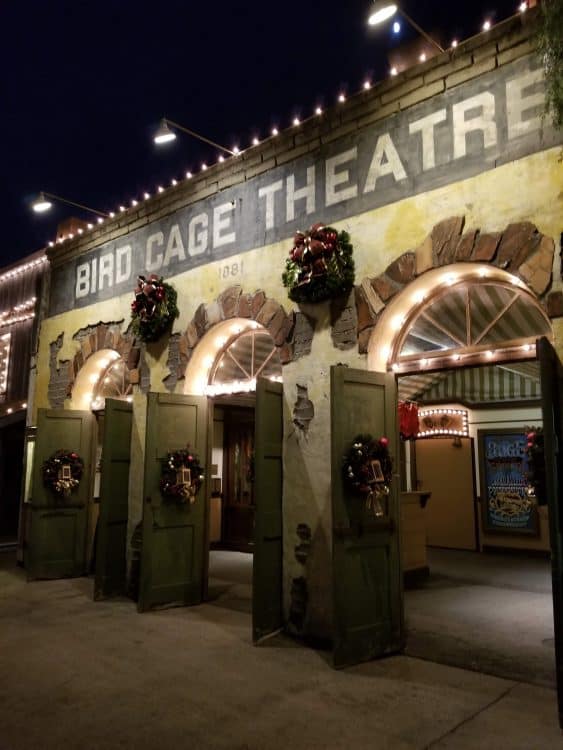 Garland and evergreen is everywhere, and that's where the nightly Snow and Glow shows take place. The Charlie Brown Christmas show also takes place where Ghost Town meets the Boardwalk, in the outdoor theater under the stars. The show is full of classic holiday music and all your favorite Peanuts characters. No show would be complete with Snoopy and he is of course part of the festivities both in the show and at photo opportunities in Camp Snoopy and by the front entry off of Beach at various times.
Speaking of photo opportunities, you'll want to swing by the Wilderness Hall, or Santa's Christmas Cabin. Try some of the delicious hot chocolate, crepes and other seasonal foods but the most important thing in the hall is Santa! You can wait to see Santa and take your own photo, or purchase one taken by the park's photographer. Immediately outside the hall is a variety of seasonal craft beers and other adult beverages. You can even get your hot cocoa spiked, should you want the extra boost of heat. It gets cold in SoCal at night this time of year, which is befitting of the holiday season!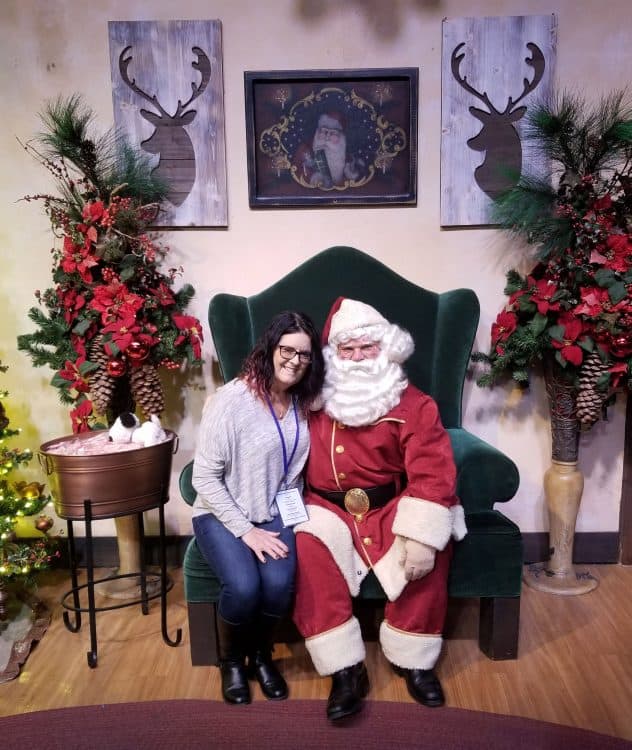 Knott's Merry Farm runs from November 16 through January 6th, 2019. Tickets start at $50, but now's a good time to start your annual pass, too. There's a special available now, which costs $15 up front and eight (8) monthly payments of $10….or you can pay $95 all at once. To buy tickets online, visit here. Parking costs extra at the lot gates and is available at a few places depending on what direction you come from.
For more information, head over to the Knott's Merry Farm website. It's an affordable day (and night) of family fun and even makes a fun date night where you have a challenge to eat ALL the holiday foods! Let me know what turns out to be your favorite, and merry Christmas!