Using essential oils is getting more and more popular, as life gets more stressful and we seek other ways to relax and stay healthy. We live in a world that's often scary, and usually expensive. Essential oils have been found to offer ways to de-stress and make daily life more enjoyable. For not a lot of money, you can enjoy a more natural home. Simply Earth sent me one of their monthly subscription boxes so I could try it all out and share my feelings about it with you. (I'm also holding a giveaway so some lucky reader can win a box, too!)
[perfectpullquote align="left" cite="" link="" color="" class="" size=""]Sometimes, using essential oils can be costly, but Simply Earth uses quality oils with lower prices.  [/perfectpullquote]
Join their monthly subscription box program, and each month you will receive four or five 100% pure oils, recipes for various uses, the directions and everything you need to make something like lip balms, cleaning products, and soaps. It's a deal for only $39 per month with a subscription that you can pause if you need to. There's also a money-back guarantee and the option to cancel your subscription whenever you want. Low obligation and commitment!
My sample box had a soap-making theme. I love it! I like a nice luxurious bath and what will make it more relaxing than the scent of essential oils? It contained all I need to make soap in a couple of shapes, five oils, dropper bottles to make oil mixtures for uses around the house, and those pretty recipe cards to fill those dropper bottles. The cool thing is that while I definitely want to make the soap, I can use the oils in one of my diffusers; I run one every night in my room as a vaporizer and another in my office. I also put one in my son's room, so I can help him with anxiety or if he doesn't feel well. (I love to use orange when he needs to be energized for homework or lavender when he's stressed. I try eucalyptus when he's congested and he says it helps, so using essential oils and a diffuser has been really worth the money.)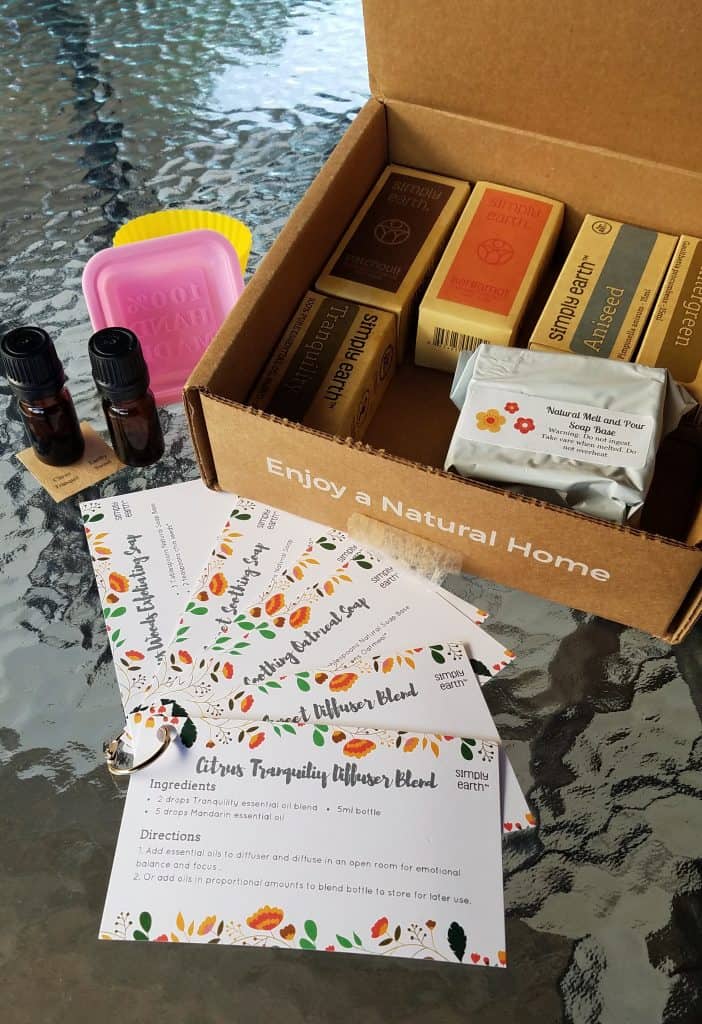 [perfectpullquote align="left" cite="" link="" color="" class="" size=""]With your purchase, Simply Earth donates 13% of the profits to help stop human trafficking.[/perfectpullquote]
These boxes make great gifts, so you are able to buy just one alone for only $49. Or you can subscribe and get one for yourself each month. Not only are you helping yourself, but you are helping stop human trafficking, as Simply Earth donates 13% of all sales towards the cause. Simply Earth is a fantastic faith-based company with a real desire to help others. Started by a dad and his two sons, they are well on their way to making an impact in the world, a goal that we can each help them towards with every purchase.
If you don't want a monthly box, Simply Earth also sells individual products using essential oils, such as odor eliminators, products to utilize the oils around your home, dryer balls (to infuse your clean laundry with safe scent), storage systems and more.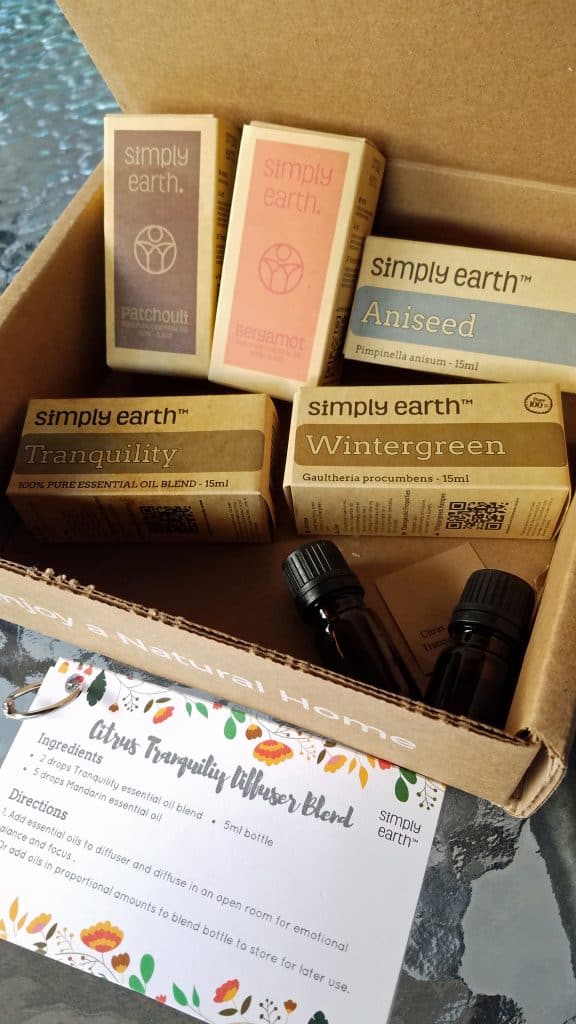 The oils in my box were new to my collection so the recipe cards were incredibly helpful in ensuring that I will put them to their best use in ways I'd never have thought of. And the cards are so cute! They came on a ring that I can use to attach the other cards from other months' boxes, making organizing my oils even easier.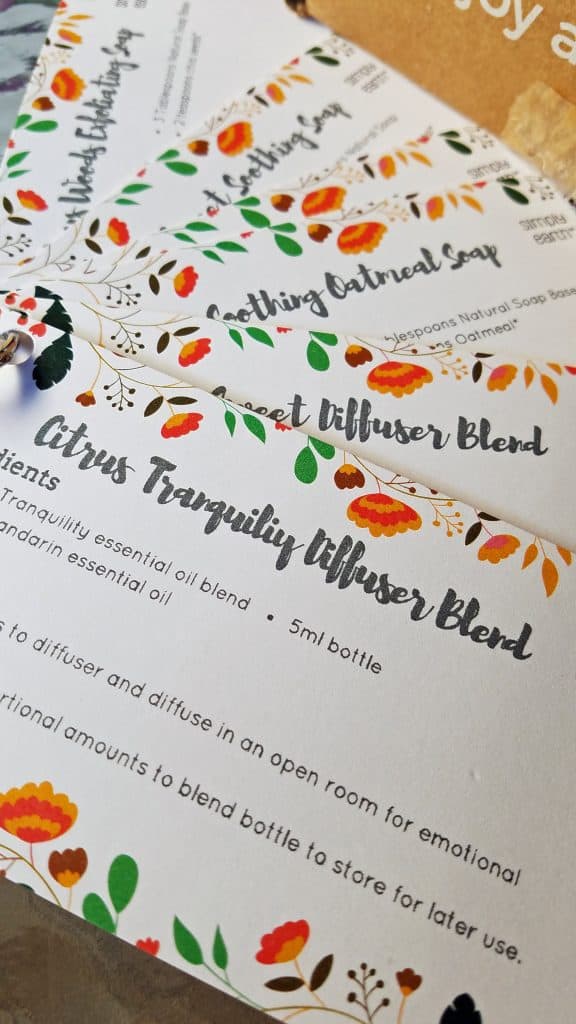 I tried out the above diffuser blend in my son's room on a day where he had a test to study for. He's homeschooled so I'm fortunate in that he can study in an environment that is customized for maximum success. Essential oils has been really helpful, and the above recipe card was beyond easy. I combined the oils in the recommended quantities in one of the provided bottles then put the drops in his misting diffuser. Within seconds, his room had a different vibe and he also enjoys the quiet hiss of the diffuser. Next I want to try the one below! I was recently sick (which I blogged about here) and felt like I'd brought hospital germs home with me. Using an essential oil cleaning product mix made a lot of difference, and the smell is heavenly.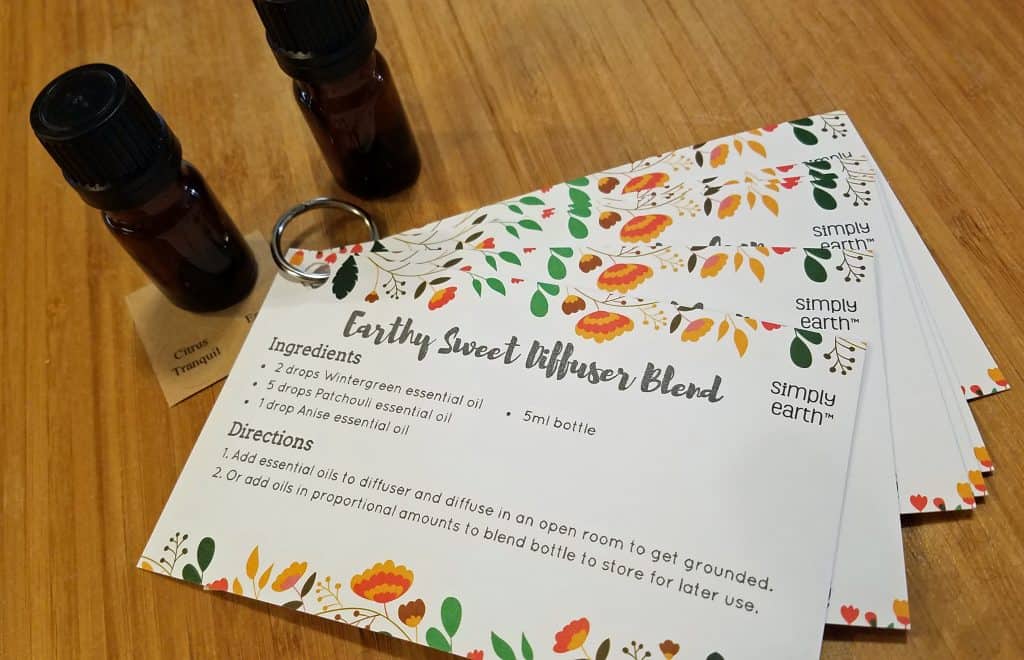 I love the ideas I get from following their accounts and I appreciate my newfound interest in using essential oils even more. Enter my giveaway below for a chance to win one box from their monthly subscription and help enjoy a more natural home!
Giveaway Rules:  Winner must be over 18 and live in the United States. Prize will be fulfilled directly from Simply Earth. Winner must respond with full shipping address within 48-hours of email notification or a new winner will be drawn. (For further details, read my Terms page.)