There is a Spanish Sangria recipe out there for every meal and every purpose, but my spooky Spanish sangria is one you need to save. It's easy, it doesn't require anything that's hard to find AND best of all, you don't need an expensive or fancy bottle of wine.
Even better, it's a small batch Spanish Sangria recipe — because if you want sangria just for yourself or another person, big batches of sangria often go to waste. Nobody wants to eat fruit that's been sitting in anything — even wine — for more than 24 hours. So, if you've been wanting sangria but avoiding making it because it is a lot of work for one person, I've got you.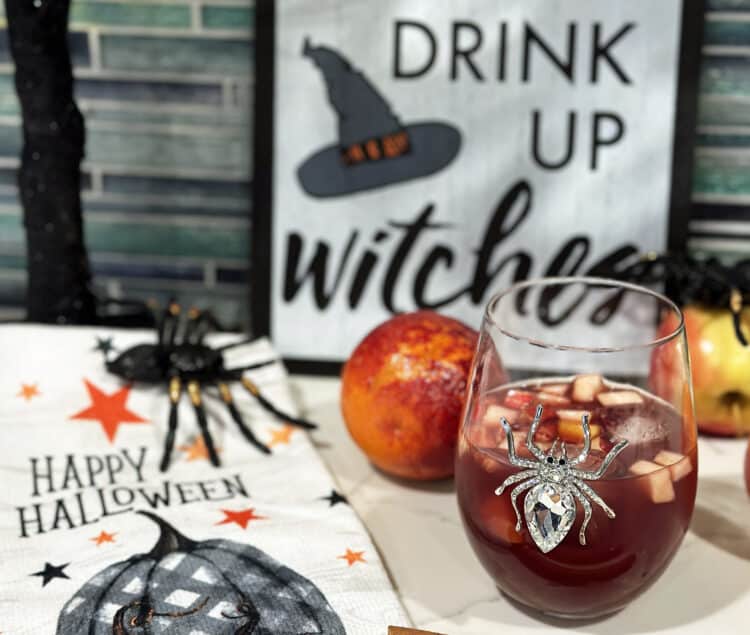 The ingredient list is small, and it can be changed up a bit if the fruit you have on hand is different. Don't skip the blood oranges though! Their flavor is absolutely amazing, they are beautiful to work with, I mean, that color, and the name. Blood orange screams to go in a sangria recipe.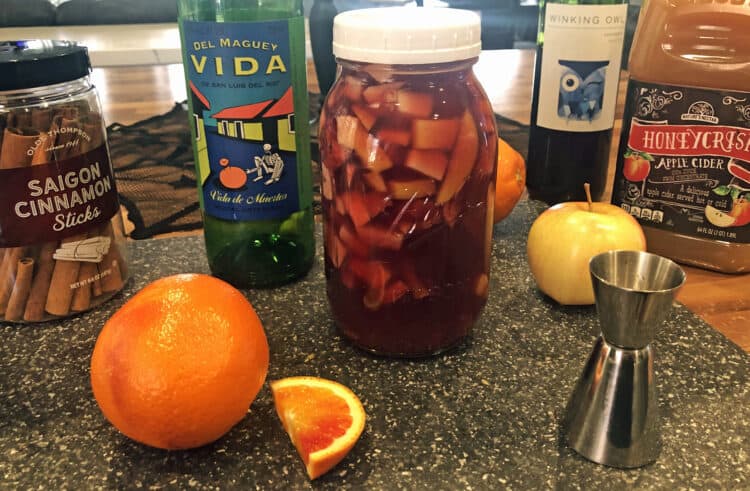 I also made this for the first time during National Hispanic Heritage Month. A traditional Spanish sangria has red wine, citrus fruits, another liquor (brandy, vermouth, etc., there are choices) and a sparkling water. That's what I didn't include in my recipe, because I had enough other additions that made it spectacular — and aside from champagne, I'm not huge on sparkling bevs.
How to Make This Small Batch Spanish Sangria
This sangria takes about 10 minutes to make, but it should marinate in your refrigerator for at least 2-3 hours. It can be kept overnight and used the next afternoon/evening. Technically, it can be okay even the next day, but the fruit can turn mealy (or discolored) if it sits too long. That's why I make it in a quart jar. It's easy to shake and store. It's easily doubled…or tripled, because sometimes you do want more than a small batch.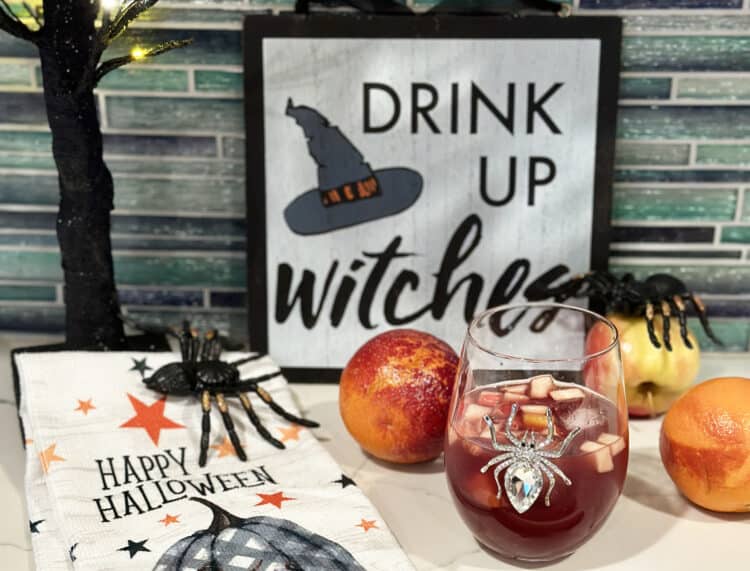 Small Batch Spooky Spanish Sangria
Ingredients
1/4

bottle

red wine

1

peach, chopped

1

apple, chopped

3

blood oranges

1/4

cup

Mezcal tequila

1

cup

spiced apple cider

2

cinnamon sticks
Instructions
Place the chopped apple and peach into a quart-sized glass jar.

Squeeze two of the blood oranges; place juice in jar.

Cut the third blood orange into large chunks; add the chunks to jar.

Insert two cinnamon sticks into the jar.

Add the mezcal tequila and apple cider.

Fill the bottle with red wine until it's full, but leave an inch or so to shake the jar sufficiently.

Refrigerate for at least 2-3 hours to infuse the flavors. Serve over ice.
No peaches or apples? Strawberries and raspberries work great! Pears are also another good option. I used a $3 bottle of red wine from Aldi, but you can use almost any red wine you have. I just wouldn't use rose or a super jammy zinfandel. You want something that's going to let the fruit shine through.
As far as the Mezcal Tequila, there are so many kinds available; I like a super-smoky Mezcal, which isn't everyone's cup of tea-quila….but I love it!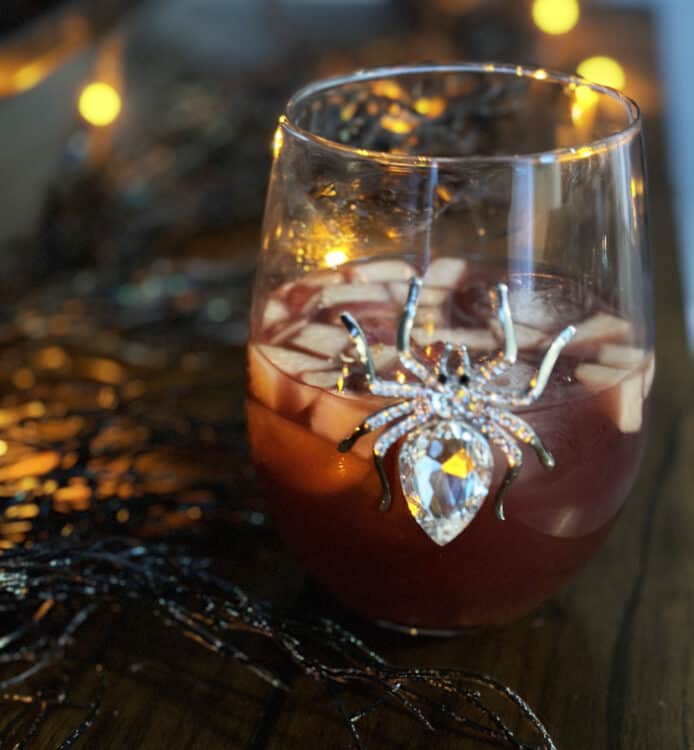 Keep it cold, add some fun ice cubes if you've got them! I used pumpkin ones for the photos, but they melted fast, so next time, I'll fill it up with more ice. I bought the most fun skull ice cube molds on Amazon and I can't wait for more excuses to use them.
Enjoy my small batch spooky Spanish Sangria, and let me know if you try it!