Fresh apricots always make me think of summer, and each year, I buy a bunch when they're first available and temporarily get tired of them. Then I have to get creative and use the rest in recipes that ensure they all get eaten before any go bad…and that's if the kids don't get to them first. This year, I decided to make a favorite dessert of mine, add in some fresh coconut — as in, fresh from the coconut directly — and this Coconut Apricot Crumble is ready to serve your family or guests in about 45 minutes!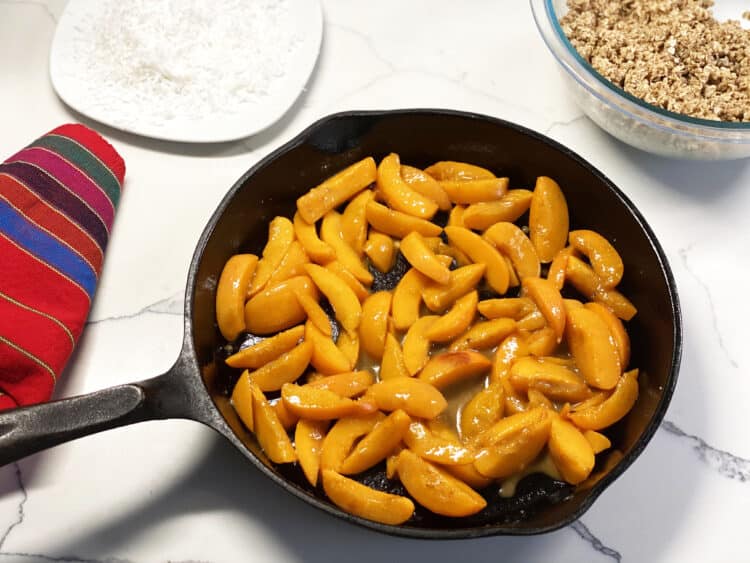 Crumbles can be made with so many types of fruits, but peach or apple are the ones you see the most. Because the recipe is so easy and so versatile, you can sub in other fruits like apricots, plums, cherries or berries. My favorite is blueberry!
This Coconut Apricot Crumble comes together fast. Apricots that are perfectly ripe still have a bit of a crispy bite but they soften just to the right consistency after baking. They're also gorgeous so this dessert is appealing to the eye as well as the stomach.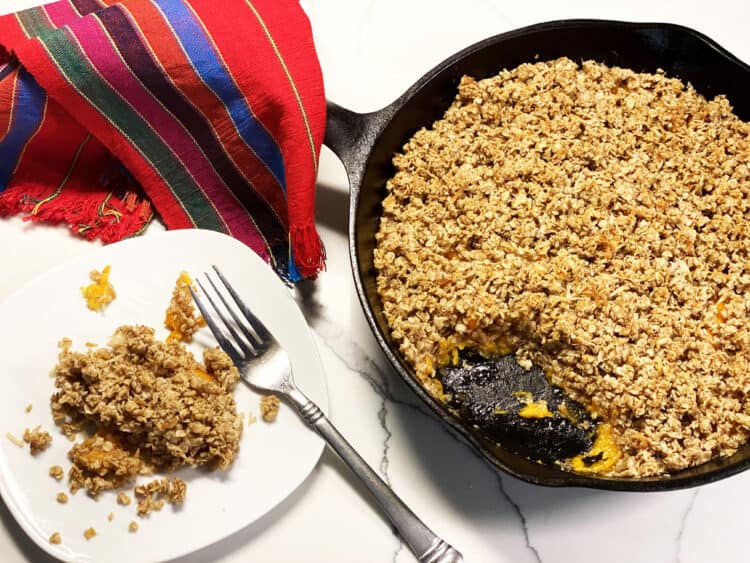 For my recipe, we used fresh coconut. Melissa's Produce provided all the produce for this recipe, including whole coconuts for me to dismantle. This was the first time I did it entirely on my own and it was a blast!
When we were in Maui last month, we stopped by a famous coconut ice cream truck (Coconut Glen's — don't miss it if you take the road to Hana!) and they also serve fresh coconuts to drink. The truck was manned by one young woman who grabbed a coconut from a pile under a tree, hacked one end a few times and handed it to the customer with a straw. We were so impressed! My skill has a long way to go to be as nimble and quick as she is, but I didn't do too bad. I learned a few things to share!
First, you'll want to drain the inner coconut water. Turn the coconut on end to see the three "eyes." One of the three, which I called the mouth, is softer. I jabbed a screwdriver in the mouth, turned the coconut over and drained it in a bowl. Task one down!
Task two took a little more finesse, but with a good hammer, a towel and a safe place to whack the coconut, you'll be fine. I actually took some advice from Martha Stewart's website to heat up the coconut at 400 degrees for 20 minutes or so, until the shell started to visibly crack. Once it cools enough to touch, which was surprisingly fast, I took it out back, wrapped it in a rag towel, and hit it several times on one of the cracks with the hammer. It basically fell apart in my towel!
I then wedged a butter knife between the shell and coconut, pulling a little around the edges, then forward. It pops right out! If there is too much brown peel left on it, it comes off with the same knife, or a peeler directly. It sounds timely but it didn't take too long to get a completely shelled pile of fresh coconut to nibble! Shred some of it on a plane and you're ready to use it in the recipe below.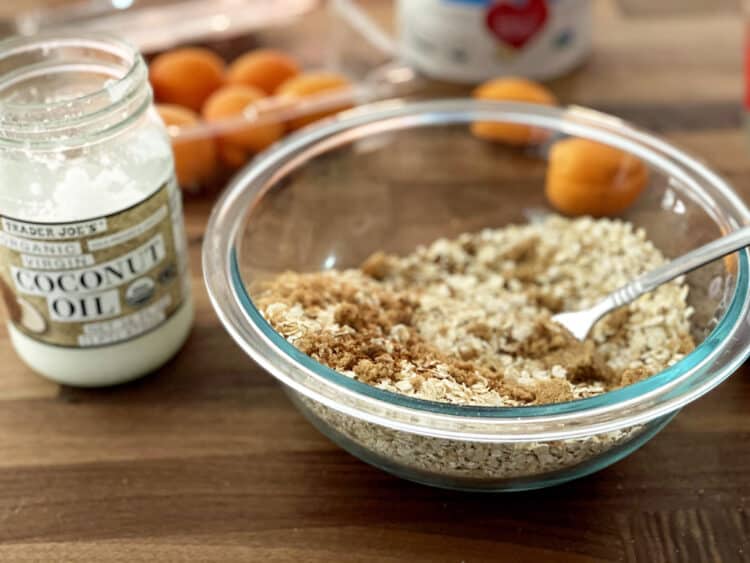 You can add more coconut to the recipe if you want, depending on your preference. Typical shredded coconut from the store is sweetened, so the flavor is a little less intense when you use fresh. The more you add, the more coconut flavor you'll get in the crumble. Next time, I want to add a whole cup.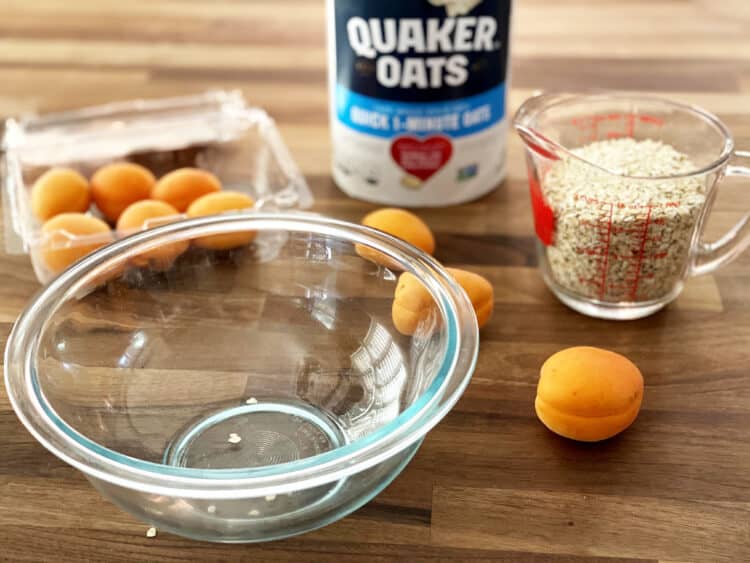 Let's get to the Coconut Apricot Crumble recipe! I used a cast iron pan, which makes for really pretty serving, but you can sub in an 8″ x 8″ square pan. Coat it with coconut oil just like the cast iron so the dessert doesn't stick. I use organic coconut oil that I believe I purchased at Aldi's, but you of course can use any brand you prefer.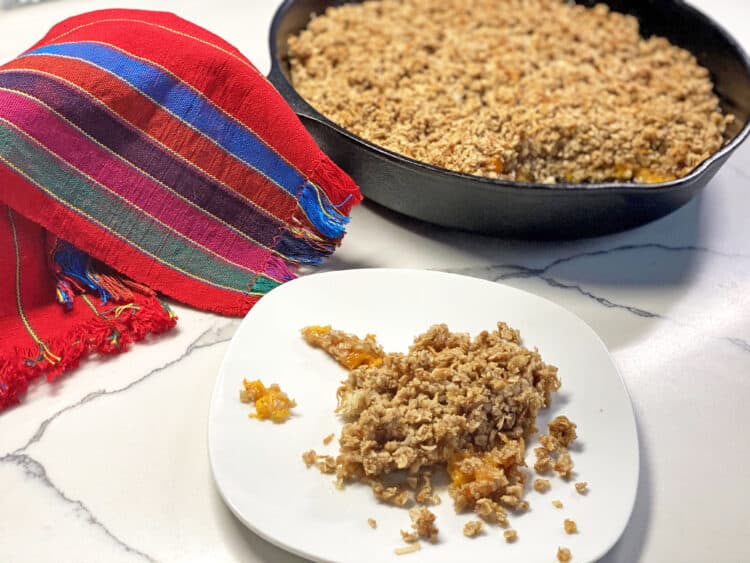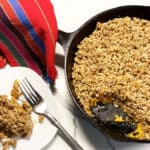 Coconut Apricot Crumble
Ingredients
Apricot Portion: Bottom Half
12-14

fresh apricots

1

tbsp

cornstarch

1/2

tbsp

lemon juice

2

tbsp

brown sugar

3/4

tsp

cinnamon

1/2

tsp

ground ginger

1/4

tsp

cayenne pepper
Oat Crumble Topping
1/2

cup

fresh shredded coconut, unsweetened

1 1/2

cups

quick oats

1/4

cup

brown sugar

1/2

tsp

cinnamon

1/2

cup

butter, slightly softened and cut in cubes

2

tbsp

coconut oil, solid

1/2

tsp

salt

Extra coconut oil to coat cast iron pan.
Instructions
Prepare the fruit portion by chopping apricots. Don't peel them!

Mix them all together thoroughly in a bowl.

Mix crumble portion in a separate bowl. Use fingers if need be to make sure butter and coconut oil is crumbled and no big chunks are left.

Spread coconut oil in the bottom and on sides of 8"-10" cast iron pan.

Pour apricot portion into pan. Pour crumble mix on top.

Bake 25-30 minutes, until you can see fruit portion bubbling up a little between crumble and crumble is turning golden. Don't let it get too dark!
Crumble is best served hot, so if you absolutely can't eat it a few minutes after it is removed from the oven, cover it with foil and set aside. A warming drawer will work, or another five minutes in an oven around 375 degrees. It's great with vanilla bean ice cream. (I also wouldn't prepare it before you can put it in the oven, to prevent any sogginess.) This is delicious made over a camp fire or grill as well!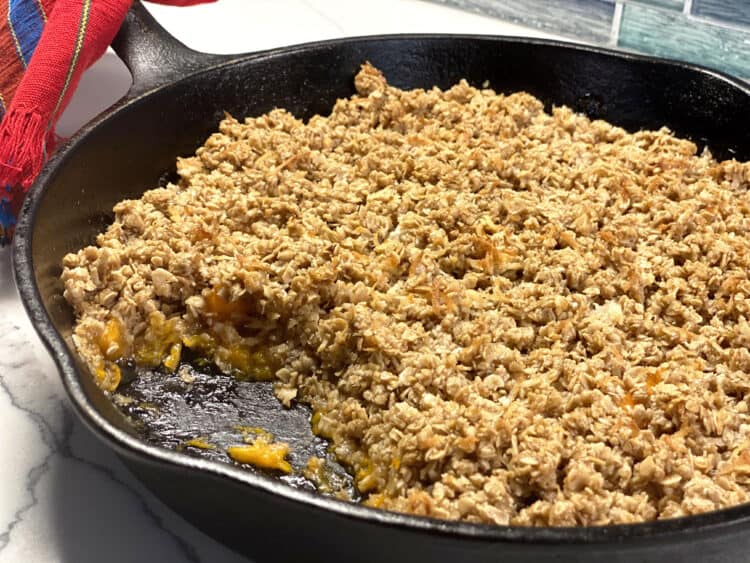 Check out the Melissa's Produce website to learn more about apricots, fresh coconuts and even more produce than you can shake a bean at. You'll find things you've never seen and you can get them all delivered to your home. (I don't know about you, but grocery delivery is a pandemic habit I'll be keeping!)