It's still hot here in SoCal, but we had a few cooler days that made the idea of baking enticing. Courtesy of Melissa's Produce, I had a gorgeous selection of persimmons and my mind immediately went to persimmon bread. I ended up making a new recipe, bourbon persimmon bread with a surprising twist, thanks to a bunch of quince also in the box from Melissa's. The recipe may take a little longer than your typical persimmon bread recipe, trust me, it's worth it!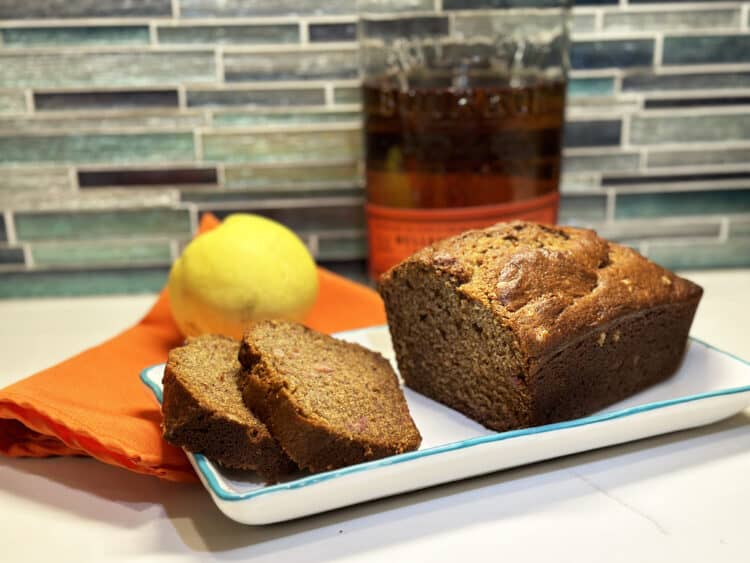 Many persimmon bread recipes have raisins in them. Collectively, I cannot stand raisins…with the rare exception of a yogurt-covered raisin like found in snack boxes at the store. Otherwise, just no. It's a waste of a grape…a grape that could make some amazing wine. Anyone else with me?
Anyway…while I am totally fine with persimmon bread devoid of any additional fruits, I wanted to try something entirely new: poached quince. It's so easy and you end up with something very similar to spiced cinnamon apples. Chopping them up small and adding to the persimmon bread batter results in a moist bread with texture and little pops of additional flavor.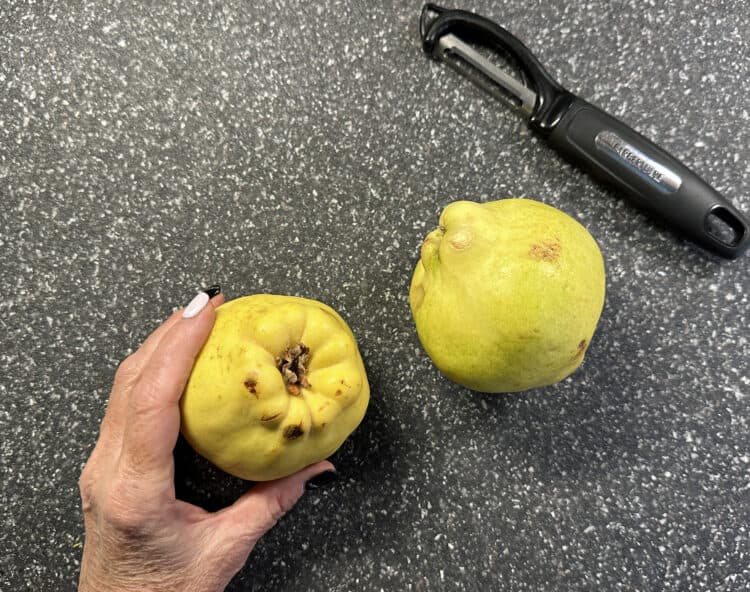 If you've never had a quince, one thing to know first: they have to be cooked. You can't eat quince raw. They are too crisp and slightly bitter. (Yes, I tried a teeny bit so I could explain it!) Peel them and cook them and then they can be used in many different ways. They're kind of a cross between an apple and a pear, and they absorb the spice flavor I infused during the poaching process. And your house smells SO good.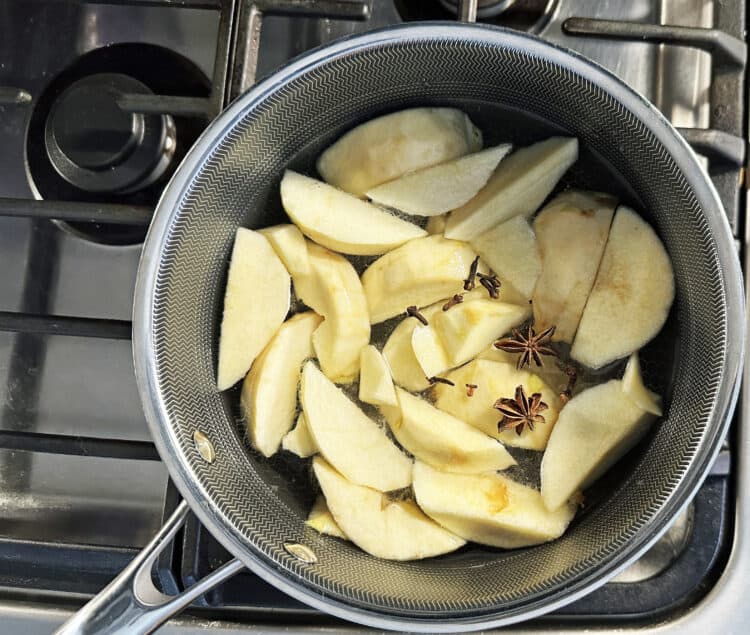 Let's start with poaching the quince fruits. I did mine in our Hexclad pans (for use in the oven and on the stove top) and so easy to clean.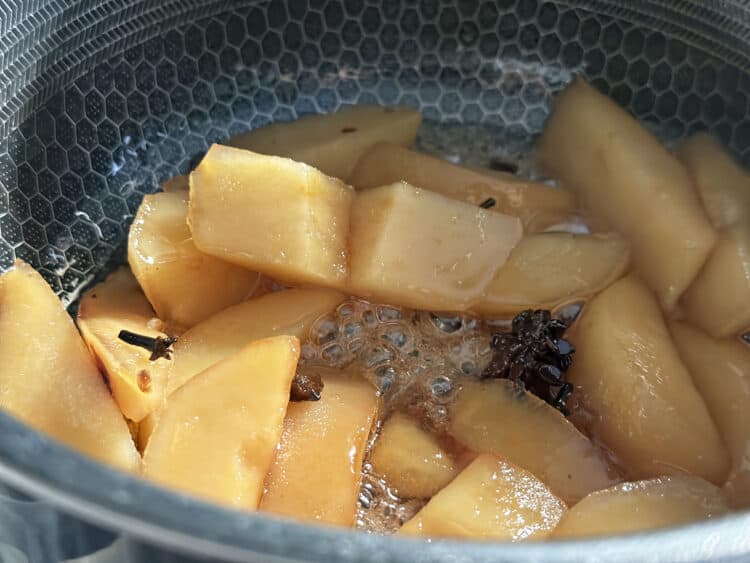 Poached Quince
Ingredients
2-3

fresh quince

3-4

cups

water

1/2

cup

sugar

2

star anise

5-6

whole cloves

1-2

cinnamon sticks

1/4

tsp

allspice
Instructions
Peel and rough chop the quince in large chunks.

Place quince and remaining ingredients in medium pot.

Heat to boil; reduce to simmer for approximately one hour. At 45 minutes, start checking for tenderness. Quince should be fork tender, similar to the consistency of apple pie filling.

Let cool; liquid will be very hot. Strain and reserve fruit for use in persimmon bread recipe.
At this point, your house will smell amaaaaaaazing.
Onwards to the bourbon persimmon bread recipe — because if you don't get working on it quickly, you'll find yourself sitting down with a bowl of quality vanilla bean ice cream and the poached quince on top.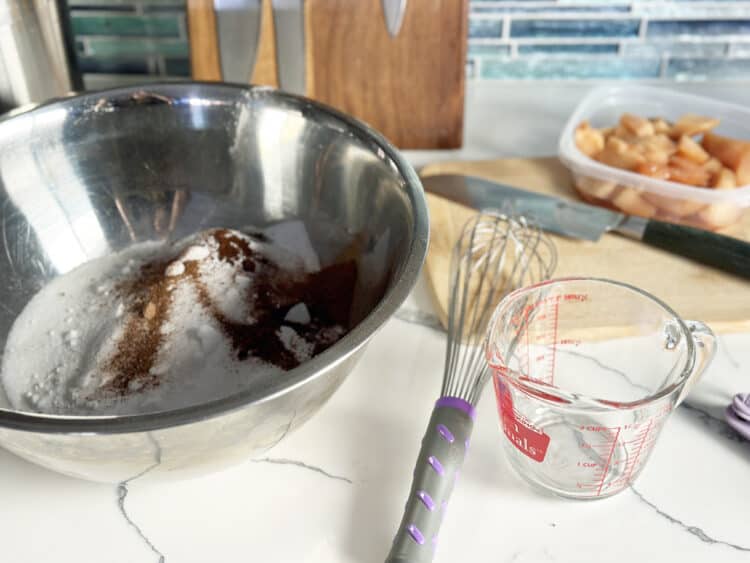 This recipe makes two loaves of persimmon bread. The bourbon flavor is mild, not at all overpowering, but if you choose to leave it out, replace it with more spiced apple cider. Regular apple cider will work, but the spiced cider adds another depth of flavor that you will love!
Bourbon Persimmon Bread with Quince
Ingredients
3.5

cups

all-purpose flour

1

tsp

salt

2

tsp

baking soda

1 3/4

cup

sugar

1

tsp

ground nutmeg

1

tsp

ground cinnamon

1/4

tsp

ground cloves

1

cup

butter, melted

1/3

cup

spiced apple cider

1/2

cup

bourbon

2

cup

persimmon flesh, pureed

1/2-3/4

cup

quince, poached (recipe above) and finely chopped
Instructions
Preheat oven to 350 degrees. Grease two bread loaf pans.

Mix all of the dry ingredients thoroughly in one large bowl.

Mix wet ingredients in another bowl. Combine two bowls, mixing gently just until there are no lumps. (I used a hand mixer for 20 seconds to remove remaining lumps.)

Add chopped quince; fold and pour into bread pans.

Bake for 60 minutes; depending on your oven, this could be a little less or a little more. Check with cake tester before removing from oven. Cool thoroughly before cutting.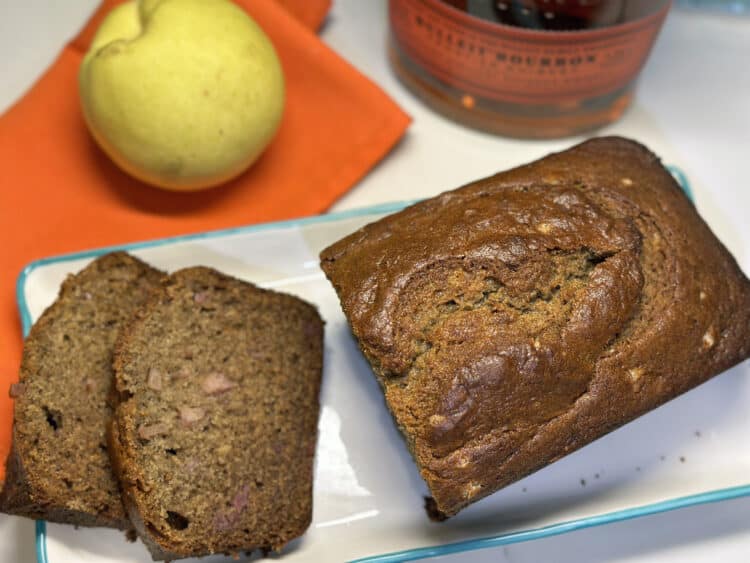 I promise you — this bourbon persimmon bread will disappear quickly. When I make two loaves of any bread, I typically freeze the second loaf; this bread freezes easily, but that second loaf gets cut in too fast to worry about it.
Tip: glass bread pans are preferable. They are not only easier to clean, but they heat evenly, are non-reactive and you don't have to worry about them getting scratched and anything getting into your food.
As far as bourbon choices, I used Bulleit in my bread. I find it holds up well in any baking and is a well-balanced bourbon whiskey, just enough caramel, just enough smoke. It's what I use when I make bourbon syrup for brioche bourbon-custard french toast. Can you tell we like bourbon? We probably have 20 different kinds in our liquor cabinet right now; different bourbons have different purposes.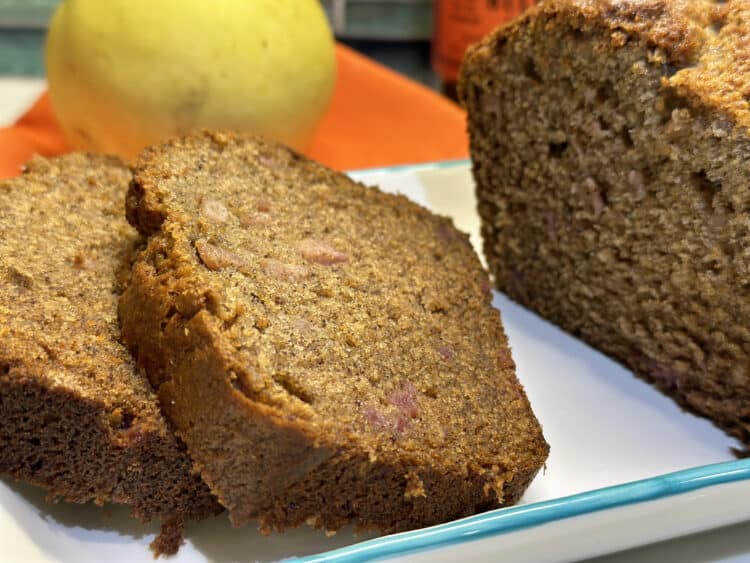 I hope you enjoy this bourbon persimmon bread! It's a great segue into fall cooking, making it a great appetizer for a party, afternoon snack or gift when someone invites you to dinner. Grab a bottle of wine and you'll be the hit of the evening.