Are you ready for a sneak peek at Piper?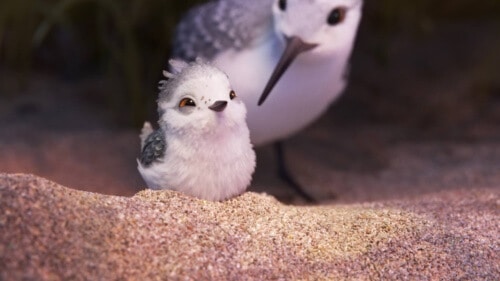 Meet Piper! Isn't she adorable?
Piper's the star of the new Pixar short film, "Piper." It debuts with Disney's Finding Dory, which comes out in theaters this Friday, June 17, as a follow-up to Finding Nemo. Piper is a sandpiper, a baby bird learning to grow up and find her way in the world. Her fuzzy little face and big brown eyes will suck you in from the first scene in this delightful short. The crabs and other animals just increase this birds-eye view into the world of small sea creatures and native coastal animals. (See what I did there?)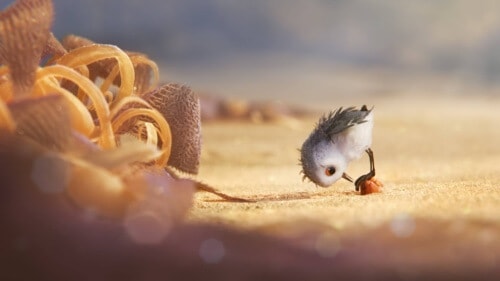 Directed by Alan Barillaro and produced by Marc Sondheimer, "Piper" runs for six minutes, but it's a speedy six minutes, a six minutes where you're continuously "awww"-ing over Piper's experiences in learning how to find his own food. Both Barillaro and Sondheimer have been around their own share of highly successful Disney movies, such as Wall-E, Toy Story, Brave and Monster's, Inc.
"Piper" was actually the result of a test of sorts. Barillaro, fresh off of "Brave" wanted to work with Pixar to develop an animation tool that would increase the technology and realism for future animated movies. They created a short test about a bird on a beach, and that work ended up as "Piper," the fluffy sandpiper with his own approach to feeding himself and fellow sandpipers. If you've ever been to the beach and gotten knocked down by a wave, you'll be able to relate to Piper's dilemma. You'll also forget you're watching an animated movie, as you see the realistic bubbles sneaking up through the sand and hearing those waves crash down onto the sand. As in almost every Disney movie, there's also the mother-child relationship to add to the emotion that this cute little bird will bring about.
Here's your sneak peek at Piper!
And in case you haven't seen it, the newest Finding Dory trailer is a must-see! Just keep swimming!