Have you seen her?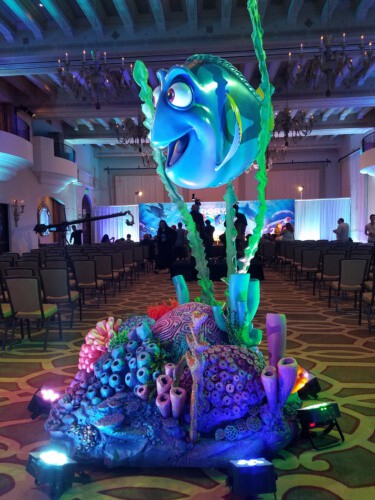 Tell me, have you seen her?
By now, you've probably seen the catchy commercials for Disney's new movie, Finding Dory. Arriving in theaters on June 17, this much awaited movie picks up where Finding Nemo left off ten years ago. I won't give you any clues about the movie — you'll have to see it for yourself — but I will tell you that Disney has done it again. (I say this a lot, but Disney continues to hit it out of the park, over and over, with both their new animated movies and live-action remakes. Have you seen the list of new movies coming out still this year?)
Part of the success of this adorable movie is the star-studded cast. I attended the press conference for Finding Dory last week at a posh hotel in Beverly Hills and got to hear firsthand their feelings on being involved in the story of Dory, the fish with "short term remembery loss."
In attendance were:
· Ellen DeGeneres (voice of "Dory")
· Ed O'Neill (voice of "Hank")
· Ty Burrell (voice of "Bailey")
· Kaitlin Olson (voice of "Destiny")
· Albert Brooks (voice of "Marlin")
· Eugene Levy (voice of "Charlie")
· Hayden Rolence (voice of "Nemo")
· Director Andrew Stanton
· Producer Lindsey Collins
· PIPER Director Alan Barillaro
· PIPER Producer Marc Sondheimer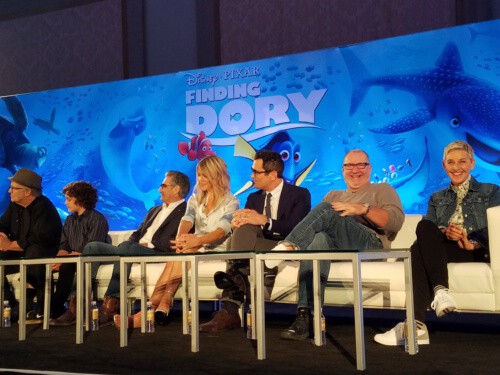 So many big names took a part in bringing Dory to life. Every press junket is unique and each has its own vibe. It may be just that you can't look at the big backdrop with Dory, or pass the huge Dory statue to get to your seat, but Ellen's presence led this press conference. In a way only she could, she had us all laughing and wishing we could sit down and chat with her, or maybe even dance with her. Something about her draws you in. One minute she's got a biting but good-natured wit, and the next, she's sharing something so profound that you find yourself nodding your head in agreement and thinking "wow." Genuine smile, twinkly eyes that imply she's fully listening to everything everyone says and a relaxed stance — she rolled with every question and had everyone riveted.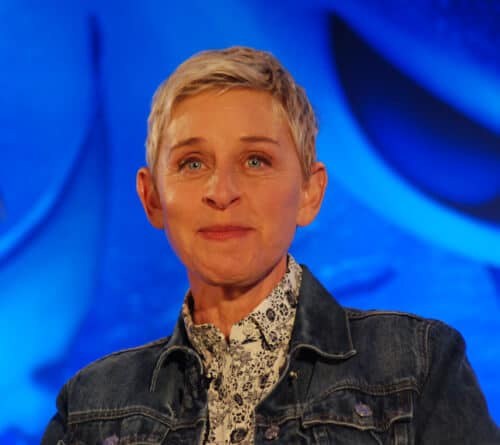 Isn't she just adorable? Someone asked her if she was aware or if it was intentional that Dory has some of her mannerisms. It was no surprise to hear that it wasn't a coincidence; she explained how she was filmed constantly as she read her lines (which sometimes made her cry) so the animators were able to pull in her movements and expressions as they created Dory. You'll see what I mean within just a few minutes of watching Dory's antics. When asked what she felt about playing Dory, she let us in how much she wants all of Dory's traits, and why: Dory shows neverending optimism, perserverance and lack of judgment or anger about her situation. She thinks everything is possible. (She also joked about being personally responsible for every penny the movie makes!)
The rest of the cast contained no slouches though, from young Hayden Rolence ("Nemo") to hilarious Albert Brooks, each offered up some of their own thoughts about the creation of Finding Dory. Hayden loved Finding Nemo and was honored to be tapped for Finding Dory. Such a wise young man.  Albert Brooks shared one of his secrets for life that I think we can all benefit from: if something is bothering me now, give it 30 minutes to see if it still bothers me. Usually, it doesn't. What a great way to get beyond irritation and resentment, yes?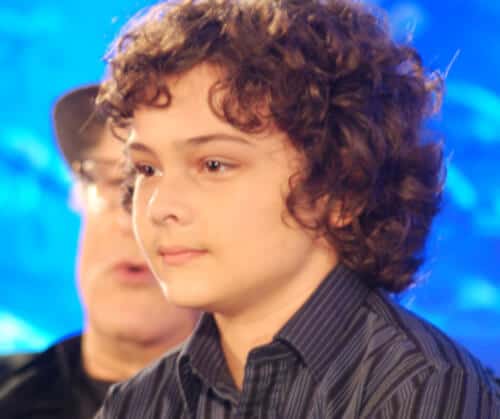 So much talent just a few feet away! Interviewing the cast of Finding Dory was such a pleasure. Don't they look like a lot of fun?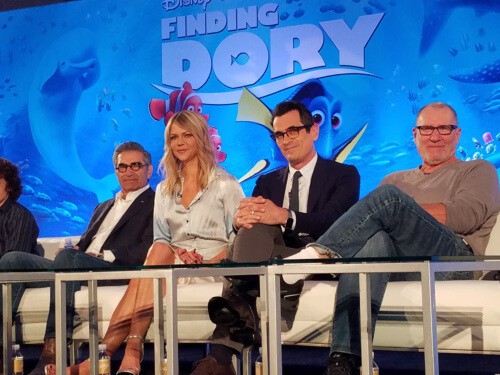 These two. I snapped photos all throughout the junket and couldn't help but laugh at these two, taken seconds apart during one of the many conversations that arose due to questions. That's the nature of a junket; it starts with a moderator getting the ball rolling with a question or two then segues to press members asking individual or group questions. Inevitably, the cast and crew begin to get a little sidetracked, but that's probably some of the best parts. The unscripted, candid, unfiltered behavior gives us the best glimpse into the personalities of the talent and makes us appreciate their work even more. This moment below is just one of those glimpses.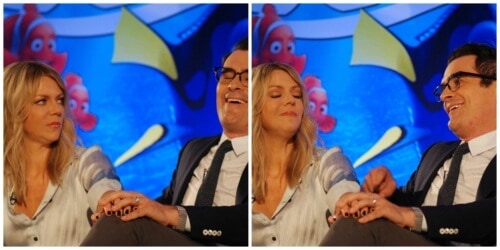 Kaitlyn is a mom and told us about how she has conversations with her young children about life in general, and how we don't need to be perfect because there is no such thing. With pressures in life often being too much, this is a great reminder that we need to take it easy on ourselves and that starts by teaching our children that. Ty Burrell said something that made me think of him as Phil Dunphy ("Modern Family") and his carefree role as a dad on that show. "Life is a very interesting journey filled with surprises, some good, some bad, but all good in the end." Eugene Levy was equally insightful, and he said one thing that everyone agreed with: family is the most important, and Finding Dory exemplifies this in a way that everyone, of every age, will take away from the movie.
I met Andrew Stanton and Lindsey Collins back in March when I attended the Finding Dory Event in Monterey at the Monterey Bay Aquarium. They were just as friendly and authentically engaging with a large crowd as they'd been at the round tables. Lindsey explained how they worked to ensure that the phrase "just keep swimming" was personal to Dory, and exactly why. Questions fly fast during press conferences, but one that got its due time was about the perspective of Dory being special needs. They shared that they'd considered making both of Dory's parents (Charlie and Jenny) be special needs, but decided to make it solely about Dory. There's one scene in the movie, and you'll know it when you see it, that will have you reaching for a tissue. (Doesn't every Disney movie have at least one?) Dory's mother, voiced by Diane Keaton, was carefully chosen and that scene alone could be reason enough. The question was also posed to Ellen later on, about special needs and a disability, and Ellen's answer made me an Ellen fan forever: A disability can be your strength. (Having a child with special needs, that made me tear up just a quick second. What a way to look at it!)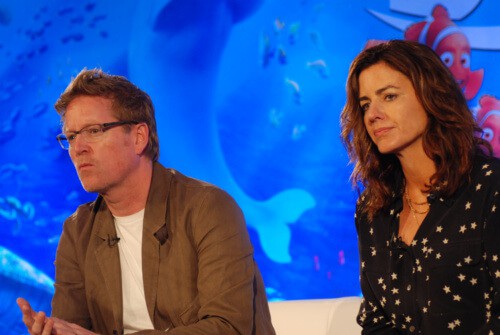 Fun fact: Andrew played Crush in Finding Nemo! He also plays the clam in Finding Dory, and he repeated a brief line for us. Loved that scene in the movie, and how fun is it to have a part in something that way.
So you need to see her. Enjoy the message the movie has to offer, without even realizing it as you laugh at the most lovable cast of sea creatures you're ever going to meet, voiced by a stellar cast of individuals who all put their heart and soul into making this movie the success it's most definitely going to be.
Interviewing the cast of Finding Dory