Some days I just don't want to make dinner. I mean, three meals a day, seven days a week, all that menu planning and shopping gets old….but we still gotta eat. On those days, it's pasta to the rescue. You can't really go wrong, as long as you don't overcook it and you have the basics for a sauce. This Spicy Tomato Carbonara is my take on a traditional pasta carbonara dish. It comes together quick, doesn't require any fancy ingredients and is a great vegetarian option if you skip the bacon.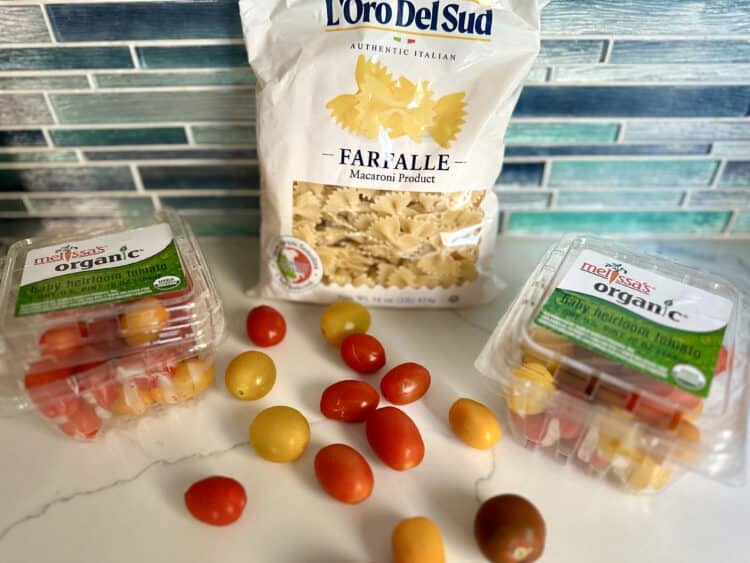 Ready to get cooking? You can jump ahead to the recipe if you want to skip past the photos of this gorgeous dish coming together!
Jump to Recipe
But you might miss the bacon if you skip ahead. (You can omit it if you want to make this dish vegetarian.)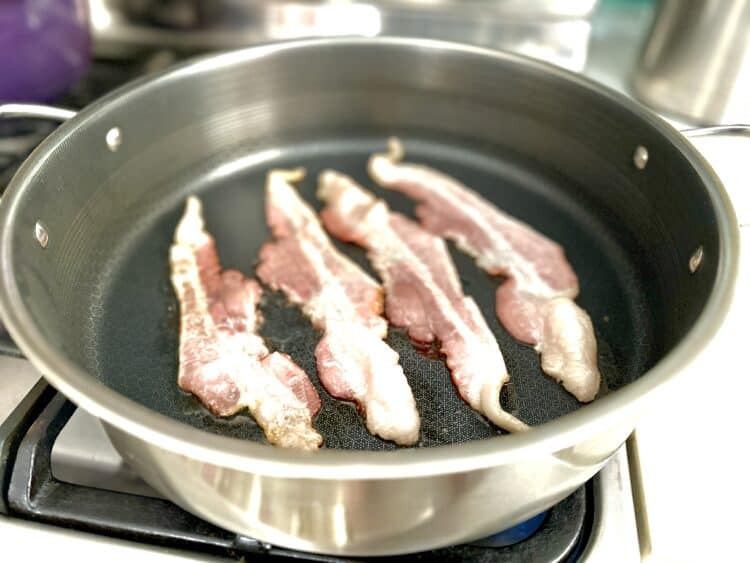 There's not a lot of bacon in this dish, crumbled into small pieces, it adds a different texture and blends perfectly with the cheesy sauce. If you want to change it up, you could replace it with chorizo or sausage. It would be even less traditional carbonara, but food is nothing if not creativity, so have fun with it and use what you have on hand.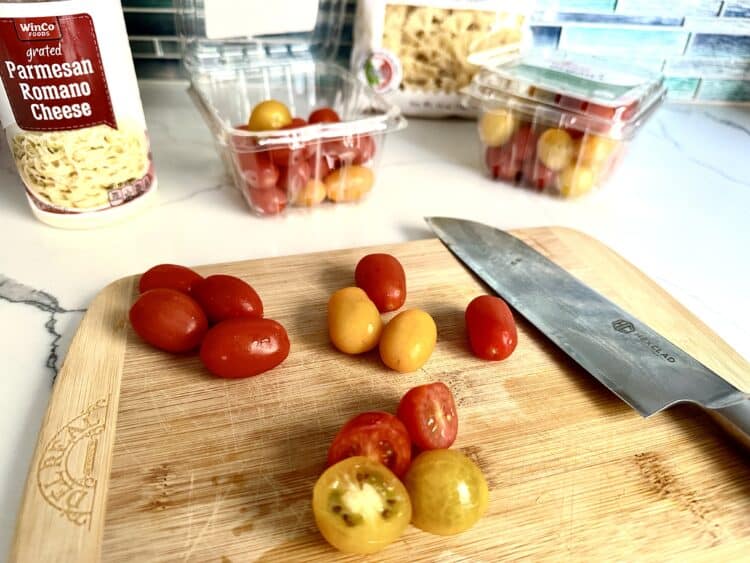 Thanks to Melissa's Produce, I had two pints of gorgeous organic baby heirloom tomatoes. These tomatoes are so versatile — perfect for kabobs, salads and sauces, or even just snacking. They're so flavorful, you don't need to add oils or seasonings to make their flavors pop. (Check out that Hexclad knife! These knives are gorgeous and make chopping so much easier.)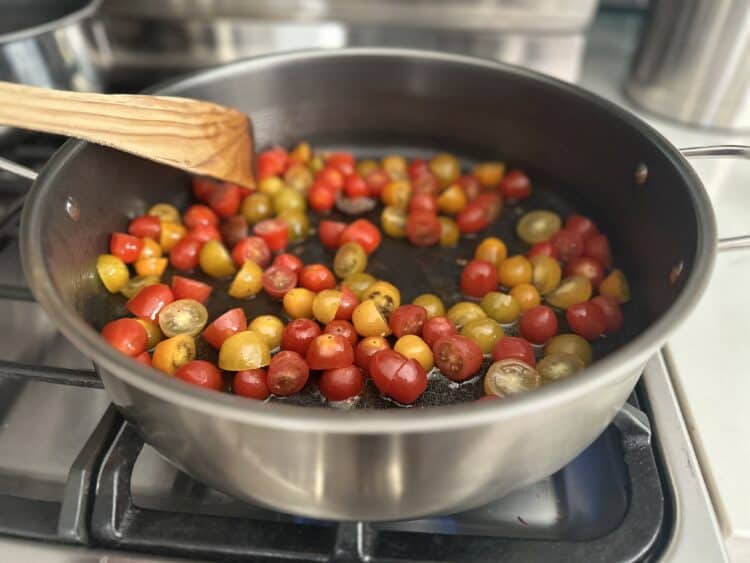 When food is pretty, it's always more engaging to cook, right? And quality cookware makes a huge difference. This is a Hexclad pan, a hybrid deep sauce pan/chicken fryer. This pan gets used a lot in our kitchen, and since these pans can also go in the oven, you can use them for almost anything.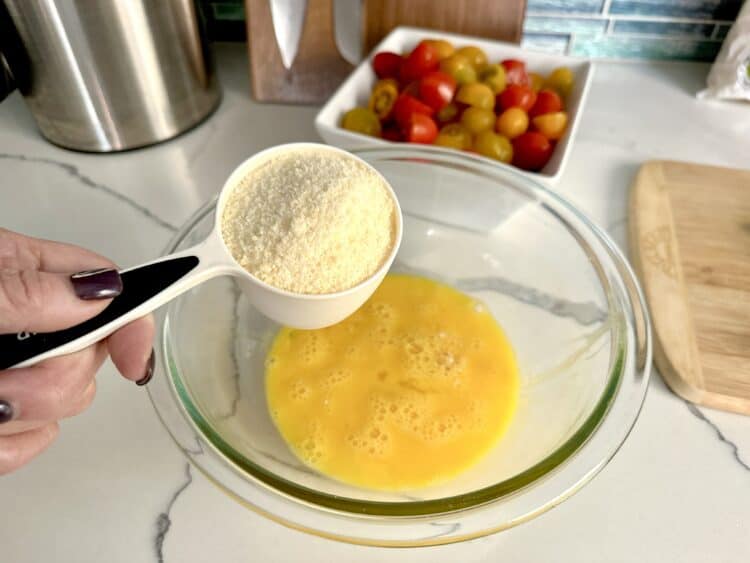 Speaking of quality, use good parmesan. Don't skimp if you have a choice. I used a basic parm from a can, but it's a good parm with a lot of flavor. The egg and parmesan mixture thickens as you let it sit, so don't worry if it looks like the picture below.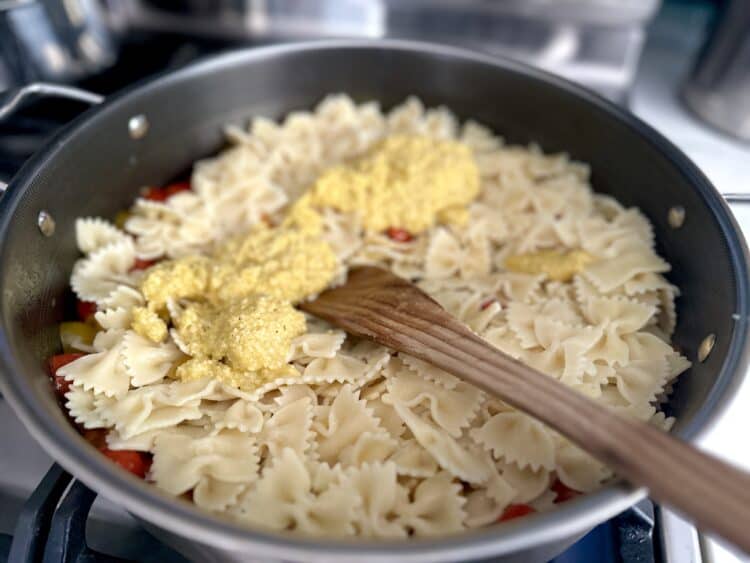 Once you pour in the reserved pasta water, it thins out. Keep up to a cup ready to use, but in this batch, I only added about 3/4 of a cup before the consistency was perfect.
You can technically add in the bacon at the same time, but I like it to retain a little more of its crisp, so I add it in towards the end.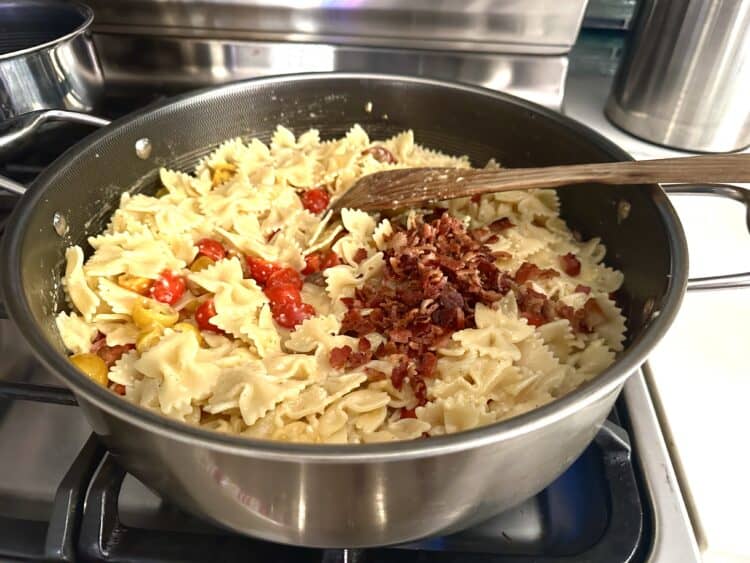 The crushed red pepper adds just enough of a kick, but if you like really spicy, you can always add more than the 1/2 tbsp I added. It wasn't overpowering, and gave just a little heat on the end of each bite. Perfect!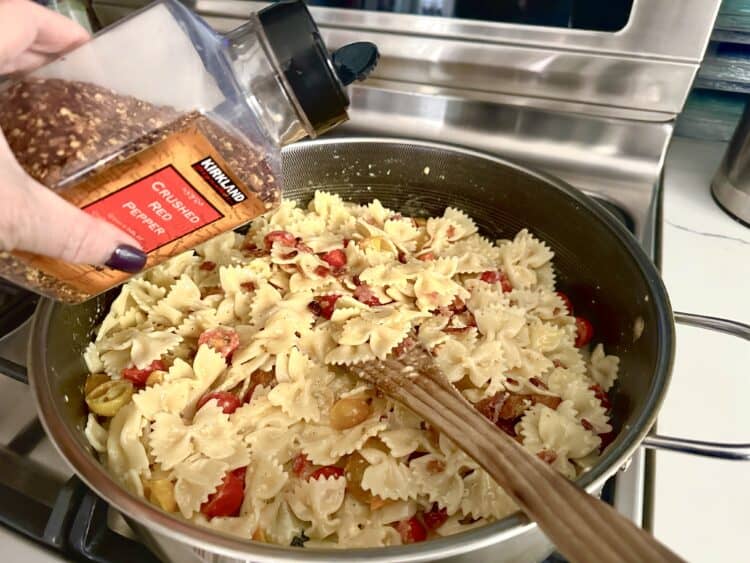 From the time I started, I had this dish on the table in about 35 minutes. I could have done it faster, but I was watching Beat Bobby Flay on the Food Network while chopping the tomatoes, and my knife skills aren't good enough to do both at once.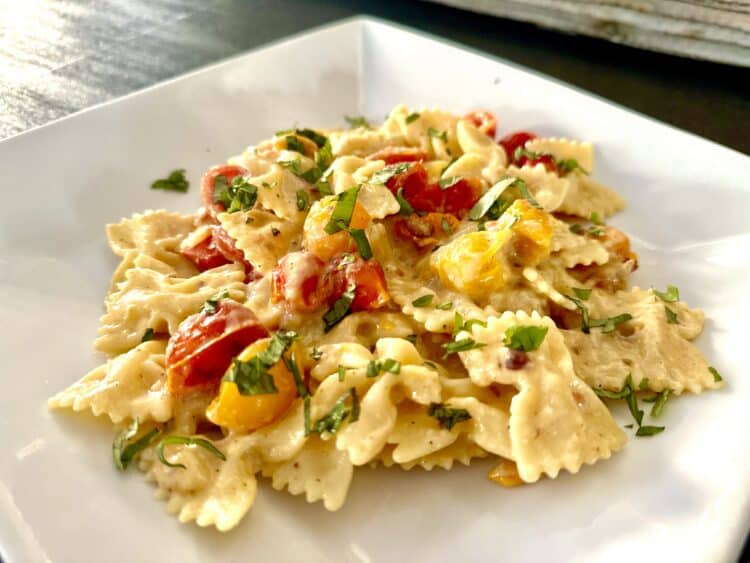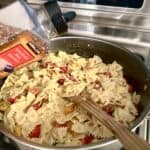 Spicy Tomato Carbonara
Ingredients
1

pound

bowtie pasta

2

pints

baby heirloom tomatoes, chopped

You can sub in cherry or grape tomatoes.

4

slices

bacon

2

whole eggs

2

egg yolks

2/3

cup

parmesan cheese

red pepper flakes

fresh basil, chopped

salt and pepper
Instructions
Boil pasta in heavily salted water. Cook until al dente. Set aside one cup of pasta water; drain. Put pasta aside.

While pasta is boiling, cook bacon in large, deep frying pan. When bacon is done, set aside and leave bacon grease in frying pan. When bacon is cool, break up into tiny pieces.

Mix eggs, parmesan cheese and salt and pepper in a bowl.

Put tomatoes in frying pan; heat for 3-4 minutes.

Add pasta into pan, along with egg and cheese mixture. Combine thoroughly. Add pasta water until proper consistency; you may only need 3/4 cup.

Add bacon and red pepper flakes. (I added about 1/2 tbsp.)

Plate pasta dish and sprinkle fresh basil on top. Serve!
This is pretty much my set up/prep for this dish. I'm a huge fan of Kirkland products, available at Costco. So many of them are actually brand names under the Kirkland label. And that basil? Grown in our garden. It won't be long before I can pick tomatoes from our garden, and I planted four kinds, so I'm excited to see what I can do with them. I suspect there will be more spicy tomato carbonara on the menu.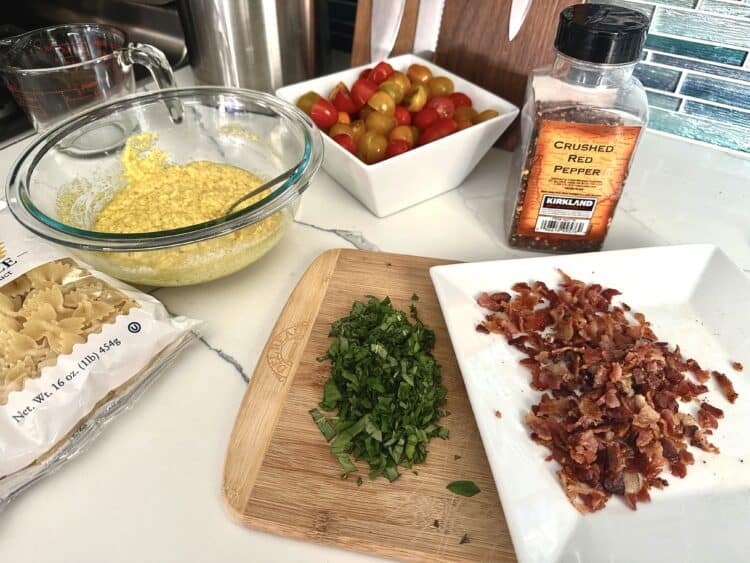 If you're big on tradition, this spicy tomato carbonara is pretty close to the real deal — but keep in mind, I'm not Italian and any Italian food I make has been inspired by food demos or cookbooks, and I've got no real guidance beyond "that looks good!" Food should be fun, as well as delicious and beautiful to eat. I think I scored with this one. Hope you like it!