If you've seen Sony Pictures' Spider-Man: Far From Home movie, you know the premise. Peter Parker plans on leaving the suit behind to take a far from home field trip overseas with his high school classmates. Aunt May packs the suit anyway, which turns out to be a good thing because trouble pops up wherever super heroes go, turning the field trip into a battle of good against evil.
The movie is visually stunning, with special effects that really take the movie to a new level, so it was only fitting that our Far From Home field trip was all about that magic. Where else to meet in Los Angeles than the Magic Castle, an icon of spectacular magic shows and entertainment?
I had never been to the Magic Castle, so pulling into the lot was exciting in itself. Yes, a geek moment and I'm owning it. We loaded up onto the buses to head to our first stop, Third Floor Visualization in Los Angeles, the world's largest visualization studio.
But first…just as we were pulling out of the block, special guests walked on the bus, and they were none other than J. B. Smoove ("Mr. Dell") and Martin Starr ("Mr. Harrington") from the legit Spider-Man: Far From Home field trip! They sat towards the back but quickly had us all laughing, particularly at J.B.'s enthusiasm towards press and being on a field trip with a bus full of us!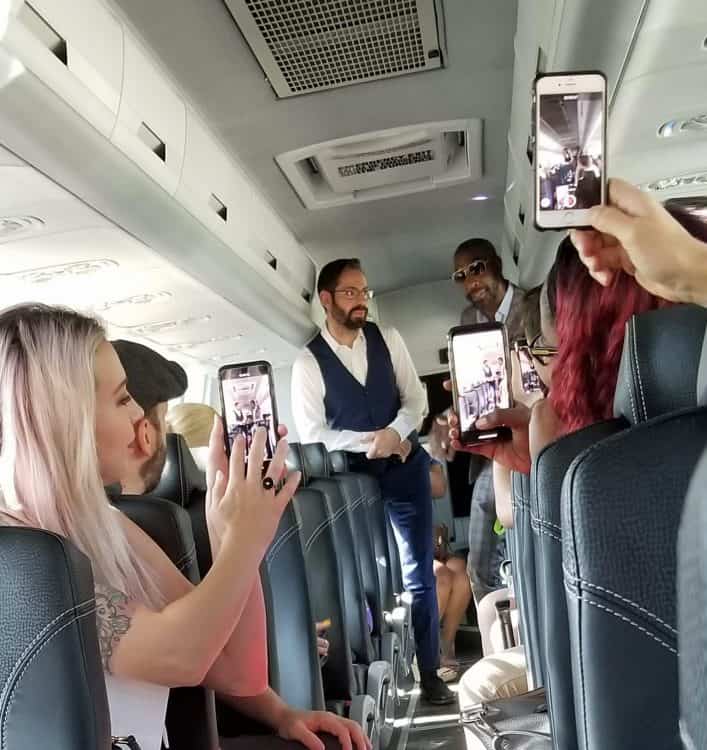 In business since 2004, Third Floor's slate of blockbuster involvement is huge and impressive. Chris Edwards, Founder & CEO, gave us a great lead-in and shared a lot of information about their work on Spider Man: Far From Home, along with Shannon Justison (Visualization Supervisor) and Brian Carney (Visualization Lead). It all took place literally right next to the big green screen they use and one of the suits used by Spider Man was along the opposite wall. Talk about being in a place full of stories and magic!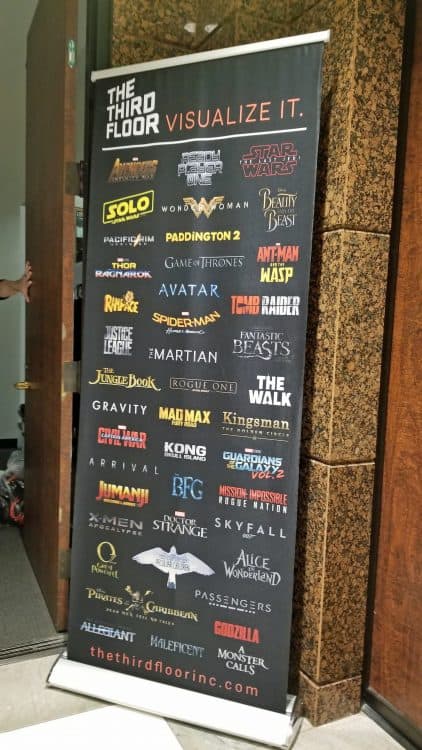 The Third Floor team is responsible for helping design major movies, television shows, commercials, video games and theme park attractions. They explained to us their creation process and how much amazing, difficult work they get done in a relatively short period of time due to their talented crew. If you've seen Far From Home, you'll know what I'm talking about.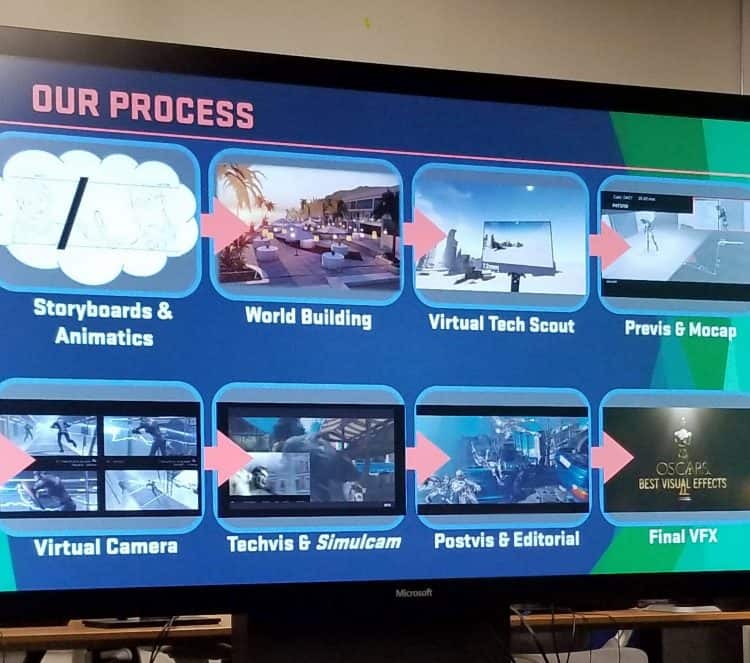 All too quickly, we were getting back on the bus to head to Ironhead Studios, the place where the best and most realistic costumes are created.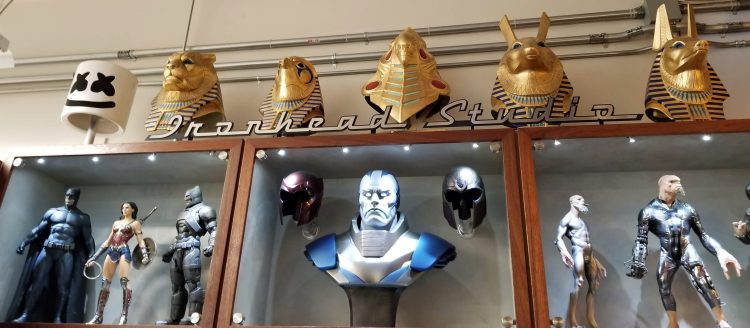 Owned by Jose Fernandez, Ironhead was a labor of love by Jose based on his longtime love of costume creation. He's turned it into an epic success, making costumes for major movie studios such as Sony, Marvel, Disney and more. We weren't allowed to take a lot of photos behind-the-scenes, but here are a few that will give you an idea of the magnitude of their work.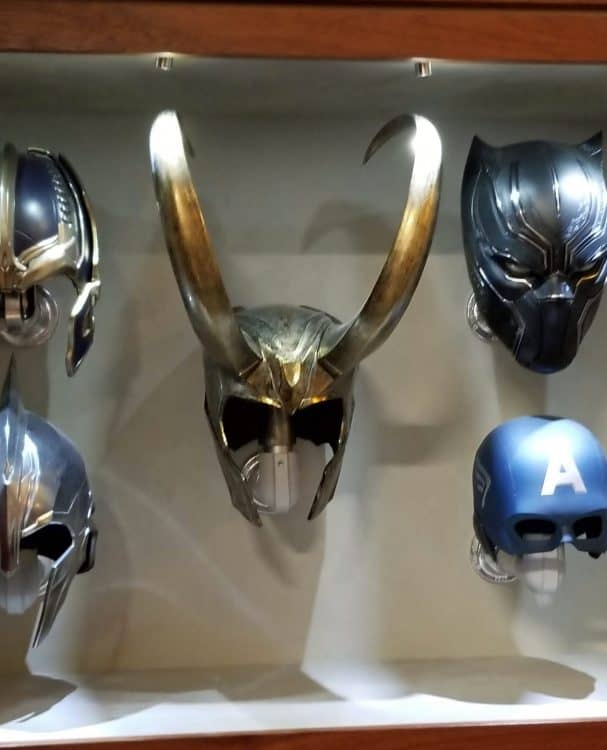 Yes, those are Avengers masks, including the first Loki helmet made! It looked incredibly heavy, but one thing we learned is that weight is a huge consideration because the actors are frequently required to be very active while in their gear and the costume can't restrict their movement. Below is Jose showing us some of the very special gear made for Spider-Man: Far From Home, including the web shooters!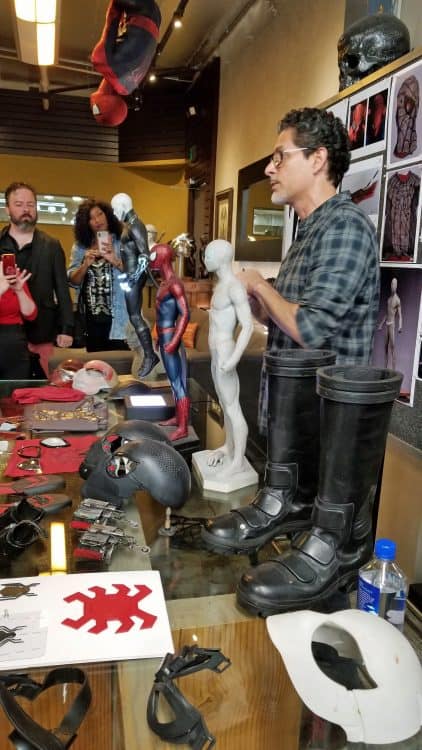 Here's a close-up of what you see in the background of that picture. Isn't this amazing? It's life-size!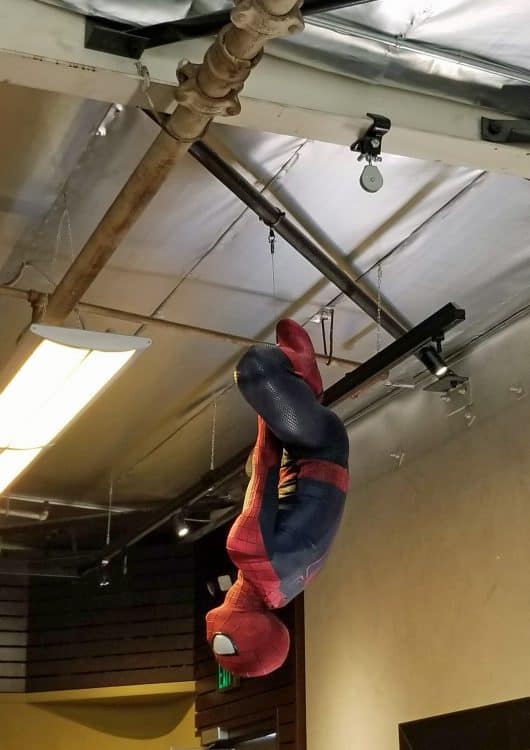 And a close-up of more of that gear. It was spectacular! You'll see some of the various lenses so Spider-Man's eyes are appropriately covered, and those are colored shoe soles in the event his feet are in the shot. It's all covered down to the most minute of details.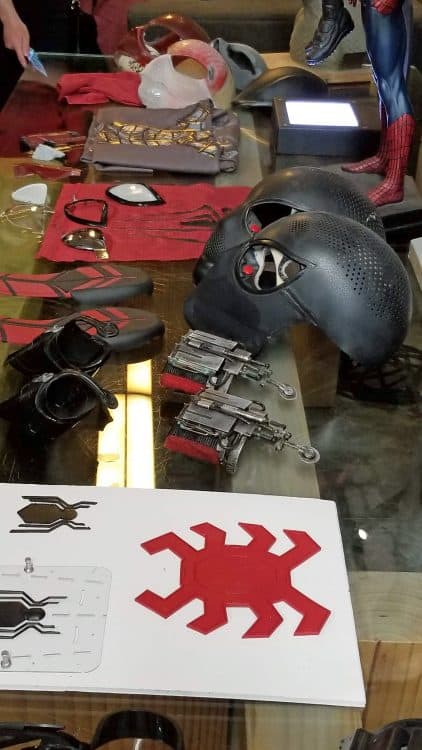 Despite the masks being behind glass, J.B. talked Jose and his team into allowing them to try on a couple of masks. This was hilarious! J.B. covered the entire day live on Instagram, including this momentous occasion of putting on Magneto's mask, while Martin wore Loki's helmet. Everyone was dying at their excitement, and J.B.'s insistence that he play the next Magneto.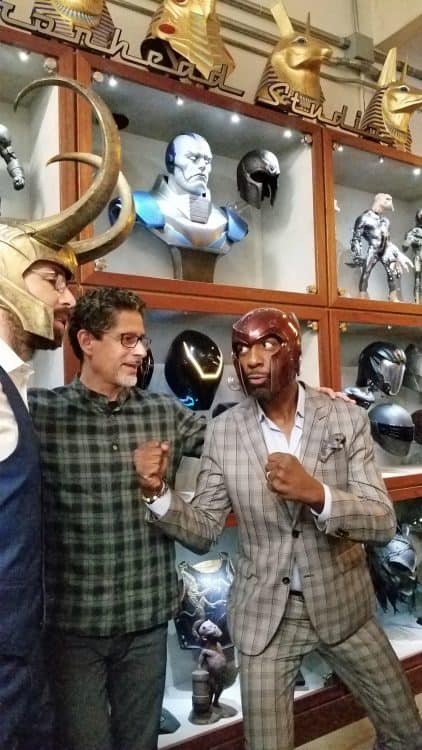 Then it was back to the Magic Castle for lunch and a magic show with Jason Latimer. Jason is a world champion magician, curator of the iconic Fleet Science Center, and co-host of the Science Channel series SciJinks. Latimer unites magic and science to inspire curiosity and demonstrate how the right question changes everything.
From bending light to shaping water, his illusions are featured globally on Television Specials, Series, Live Shows, STEM Labs, & science festivals. Latimer's works has sparked millions of minds to embrace their ability to wonder. We got to watch a magic show where he pushes the boundaries of science while encouraging all of us to ask the questions, and if we can't get an answer, find it. I'm still trying to figure out how he bent lasers as though they were tangible!
Check out this short video where J.B. Smoove assists Jason in a fun magic trick where they shape water. I don't know how this was done either!
I'd be remiss if I didn't give you a peek at the special Spider-Man themed desserts we were served during our lunch at the Magic Castle. These were crafted with love and whoever came up with the idea for those baby Mysterios is genius, they are so cute!
Speaking of cute, our Far From Home field trip even included a boxed lunch, reminiscent of our school days where we climbed in buses for long drives to museums and shows. (It's a lot more fun with Mr. Dell and Mr. Harrington on board!)
Thank you, Sony, for the invitation to attend this fun press day. We learned so many things and I am still excited about being in the same rooms where so much magic was made. The whole event was fun and I'm honored to have been a part of it. Now go watch Spider-Man: Far From Home again now that the Blu-ray is available (as of October 1) or download the movie in digital form to watch with your family for an exciting movie night! (And try to keep a straight face every time Aunt May talks about the tingle!)