South Carolina loves their football, and no team is loved more than Clemson University. This Clemson story is a new Disney+ movie, "Safety," streaming on the subscription service beginning December 11, giving you one more reason why this college is deserving of its notoriety.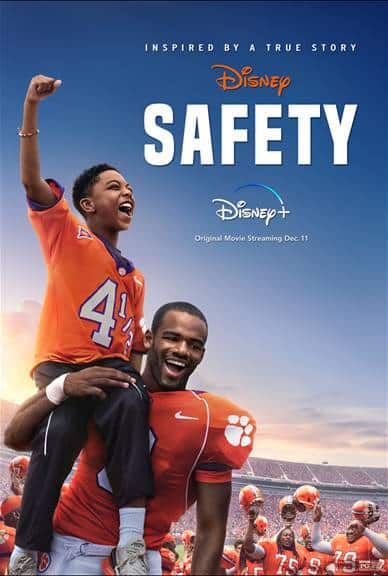 "Safety" is a drama inspired by the empowering story of former Clemson University football safety Ray McElrathbey (Jay Reeves), a young man facing a series of challenging circumstances, whose dedication and persistence help him to triumph over repeated adversities. Aided by his teammates and the Clemson community, he succeeds on the field while simultaneously raising and caring for his 11-year-old brother Fahmarr (Thaddeus J. Mixson).
I knew I was going to like the movie when the roommate in the first scene wears a Captain America t-shirt. Ray starts Clemson, excited for his new position as safety on the college football team, and immediately hits it off with his new roommate. Things are going well, despite a little friction with a teammate over, what else, a girl, but then Ray gets a phone call from his younger brother that changes everything.
When faced with a decision of letting his brother go to foster care, Ray didn't even consider the alternative, collecting Fahmarr out of a difficult situation and stowing him away in his college dorm. Before long, Ray is realizing the challenges of maintaining good grades in his academic classes, excelling at football practice and parenting a younger brother who has seen some sad things in his young life.
Ray and Fahmarr develop a stronger relationship with each other, but what outshines Ray's selfless behavior is that of the Clemson coaching staff and team. Standing behind Ray like we all wish someone would, Ray learns an important lesson about letting others help. Without their help, success would hang in the balance.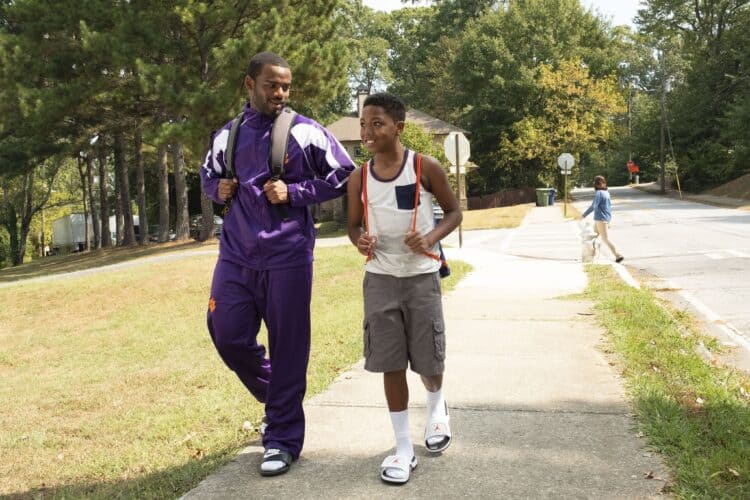 I lived in South Carolina from 2010 through 2013 (my second stint in the Palmetto state) and even though I wasn't a football fan at the time, I had heard Ray's story. It pulled at the heartstrings then, and as a mom, I wondered how a parent could put her child in the position of having to choose between college and a career, or his family. Ray has moxie, strength, courage and a heart of gold, in addition to new people in his life who refuse to let him give up on his dreams. Add in a coach with some personal experience and you'll find yourself cheering for Ray and Clemson.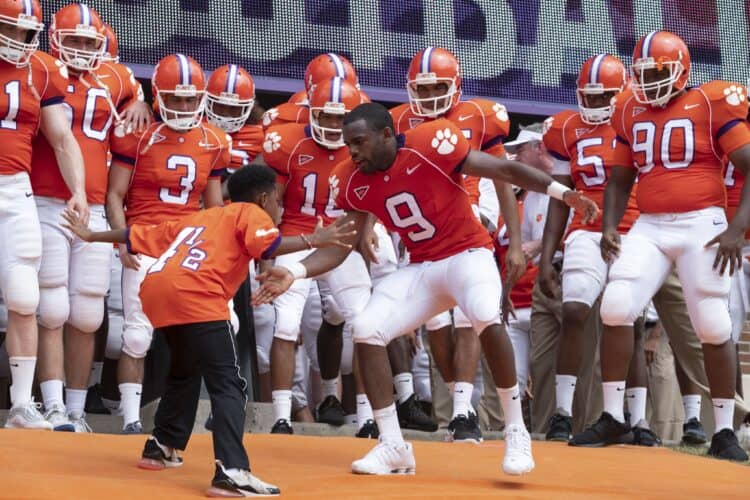 Safety is appropriate for anyone with an interest in football or family, as there's no real vulgarity or even questionable scenes. It comes in just shy of two full hours but moves quickly. There is humor, a love interest and the issue of Ray and Fahmarr's mother's drug habit is clear without going into detail that will have the younger crowd asking questions. It may inspire adults to wonder why this type of thing can happen, requiring a young adult to be unable to get the help he needs to do the right thing.
Producer Mark Ciardi worked since 2006 to get this story to the screen, after hearing the story on the news and getting choked up over this young man who suddenly had to be both mother and father, at an age where he still needed one himself. I was a little bummed to learn that the girlfriend Kaycee (played by Jamie Foxx's daughter, Corinne) was not an actual person. However, her character is smoothly weaved into the story and the dance scene is a tender one between brothers, showing that Ray is doing all he can to give Fay as close to a real childhood as he can get.
There's so much more to this Clemson story than I can share here, so you'll need to watch Safety to see how it ends, but it's an inspiring movie that may just bring tears to your eyes. Until it streams on December 11, here's the trailer. Enjoy. You may just come away a Clemson fan.