July 4th is just a few days away, and like many other families, we're planning our holiday celebration. Fireworks, barbecue, yard games…and spiked snow cones! Our yearly party is a cul-de-sac party with all age ranges in attendance, so we're bringing out the water cannons and doing our best to stay cool. To help you do the same, I'm sharing my spiked snow cone recipe below! Made with Smirnoff Sour Watermelon Vodka and Watermelon Kool-Aid powder, you get a double dose of pucker with a kick!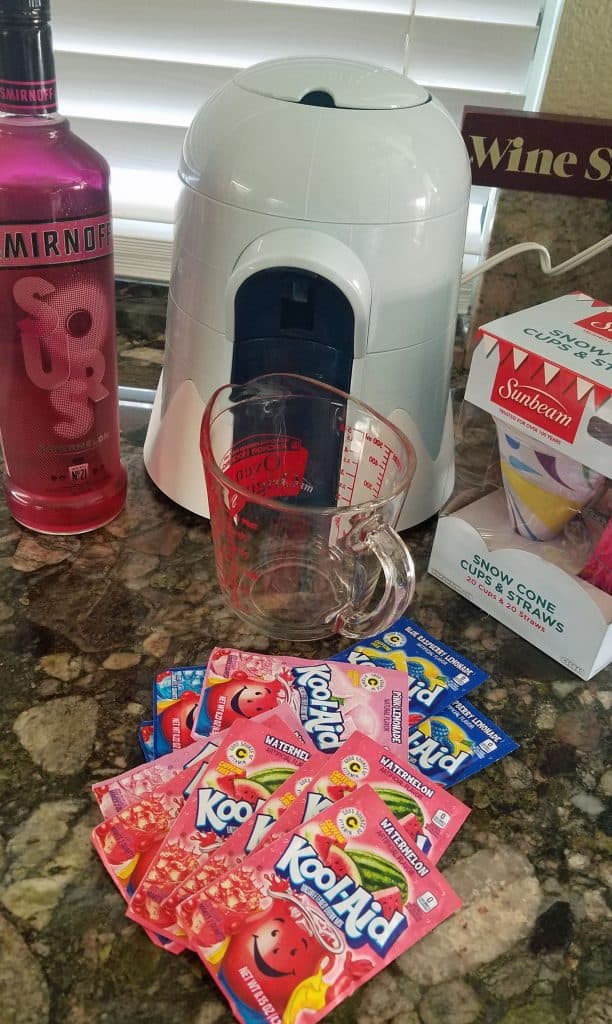 The cool thing to keep in mind is that this snow cone syrup recipe is that you can change it up easily. The sky is the limit on your flavors or flavor combinations. I started off by making sour watermelon, but you can easily modify the recipe depending on your preferences. I'm also making the snow cone syrup without any alcohol, since we'll have some small children and other under-21 guests who will want to enjoy these icy treats, too.
If you are making these without alcohol, replace the vodka with water and put it all in when you cook it on the stove. (Be careful not to put the alcohol in the mixture when on the stove; heat reduces alcohol strength and can also be a fire hazard if you're not cautious. We wouldn't want to see either of those happen, right?)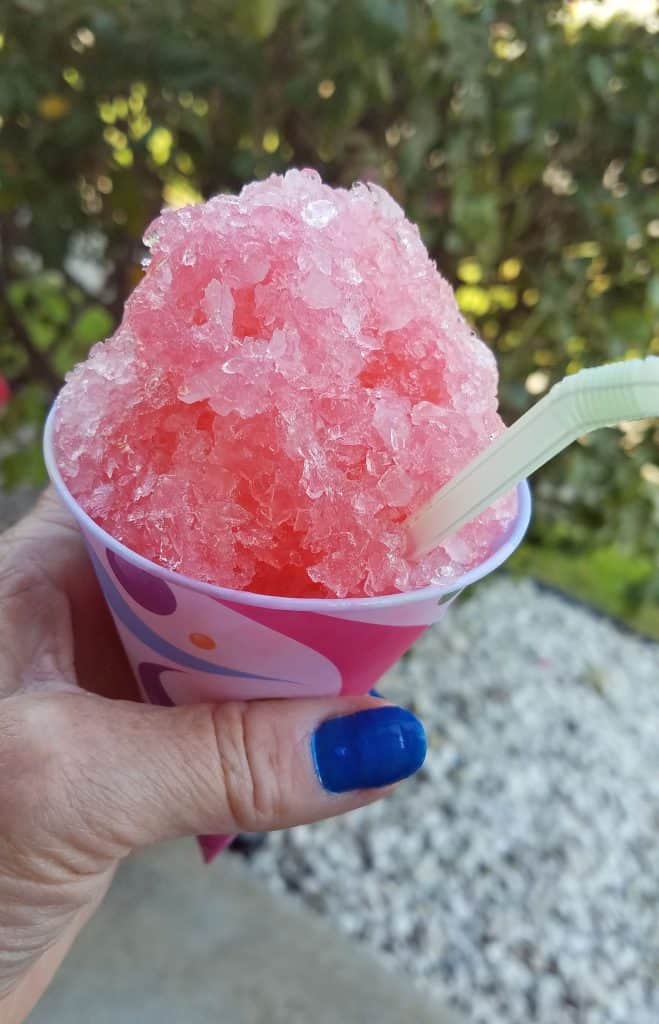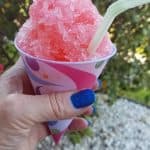 Sour Watermelon Spiked Snow Cone Recipe
Ingredients
1/4

cup

Water

3/4

cup

Sugar

1

packet

Watermelon Kool-Aid powder

1/2

cup

Smirnoff Sour Watermelon Vodka

Shaved ice
Instructions
Combine sugar and water in small sauce pan. Stir until the sugar dissolves. Simmer on low another 3-4 minutes.

Remove pan from heat. Sprinkle Kool-Aid powder over syrup and stir until completely dissolved to remove clumps.

Place in refrigerator to cool. (Or freezer if you monitor it .)

When completely cold, pour over shaved ice in snow cone cup and enjoy quickly! It melts fast!
Making the syrup takes less than 10 minutes, but since it needs to be cooled completely before use, be sure to make it ahead of time. You don't want the adults…I mean, the kids…. getting impatient!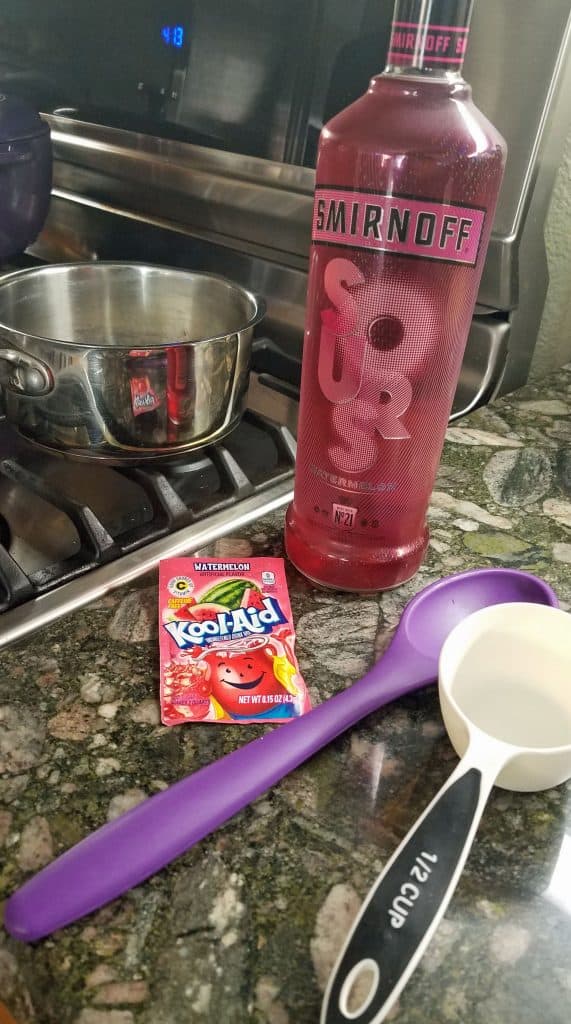 The color starts out pretty dark but lightens when poured on the ice. The syrup is pretty potent, so don't worry if it melts a little before you get to eat it. We found that the flavor was perfect when that happened! Otherwise, it can be pretty sweet. Be sure to tell people the these are spiked snow cones because it's hard to taste the vodka!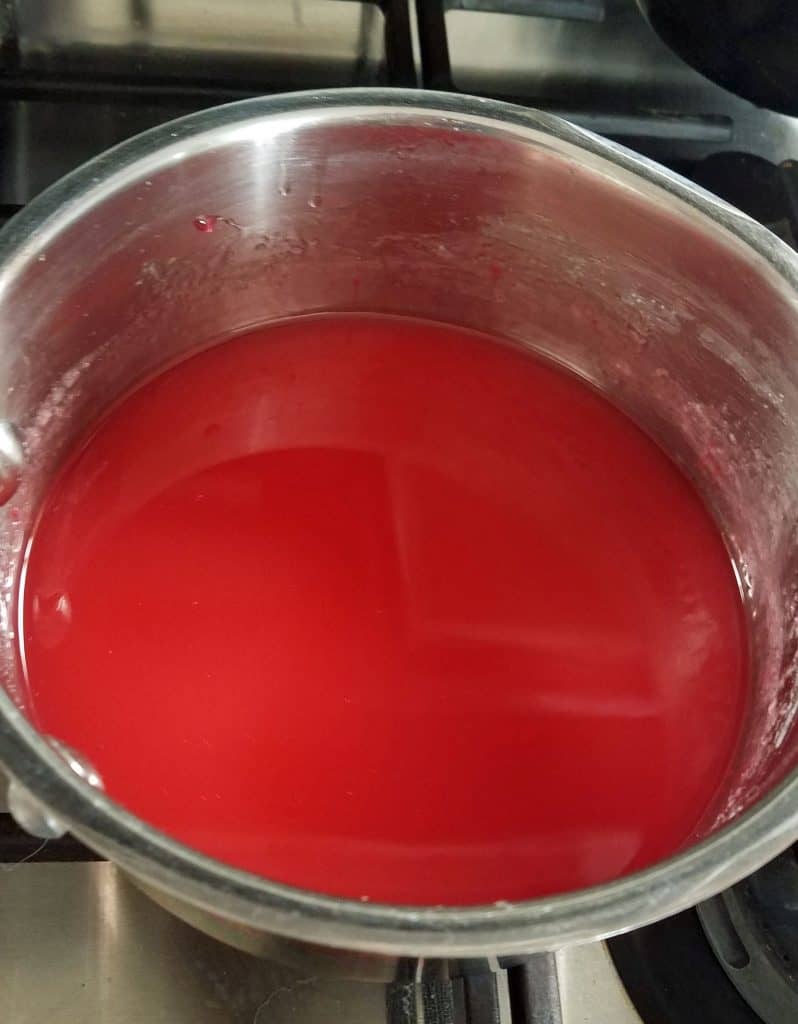 For this year's fourth of July party, we're making Spiked Sour Apple, Blue Raspberry Lemonade and Pink Lemonade flavors in addition to the Sour Watermelon. Other possible flavors you can interchange with Kool-Aid flavors in the spiked snow cone recipe would be: coconut rum and orange or cherry, rum and black cherry, raspberry vodka and raspberry with crushed rosemary in the syrup as it cooks, regular vodka and grape, cucumber lime vodka with lime and some mint in the syrup. There are so many other flavor combos possible! I am still trying to decide what I'd put with Fireball to have a cinnamon-y syrup!
Store the syrups in the refrigerator. Try to use within several days or the flavors can separate. Be sure to cap the containers tightly as sugar syrups can absorb refrigerator odors and they also evaporate easily.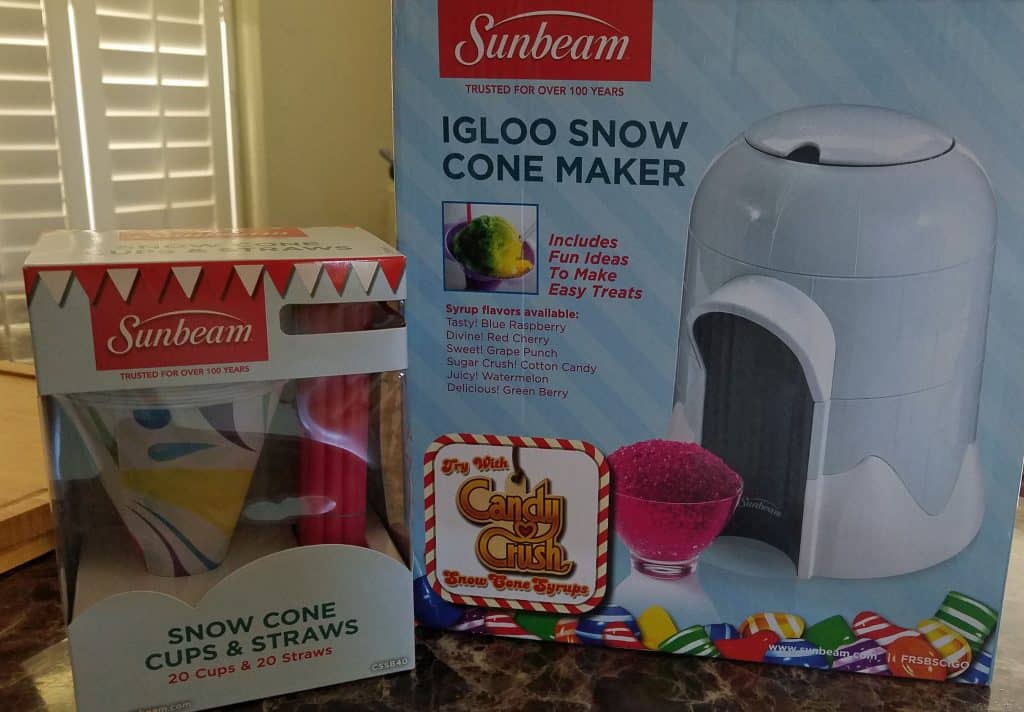 This idea was totally spontaneous, or I'd have gone a little further with fun ways to decorate your snow cones before serving. I was walking by the kitchen appliance section of Target when I saw the Sunbeam Snow Cone Machine on sale (from $29.99 down to $19.99) and I instantly thought how we'd never had snow cones at our parties. (You can also buy it here on Amazon. These are both affiliate links. I have the white one but Amazon also carries the pink one, and you can get fast or Prime shipping!) They're something everyone likes, they don't cost a lot of money to make and other than having ice on hand and making/buying syrups, there's not much prep work. Thanks, Target, for inspiring what I think is going to be a big hit for the Fourth of July!