A couple of weeks ago, my daughter and I had the opportunity to attend a sunrise yoga class sponsored by Womensforum.com and thinkThin Products. It was held up in Santa Monica at the beautiful Exhale Spa in the Fairmont Hotel. The event started at 7am, which meant we had to be on the road by 5am. LA area traffic can be a beast and we were going through some of the busiest parts of the Los Angeles area at one of the worst times of day. If you've got to be stuck in rush hour traffic though, you couldn't ask for a better destination than the sunny California beach, right? This was our view for the morning!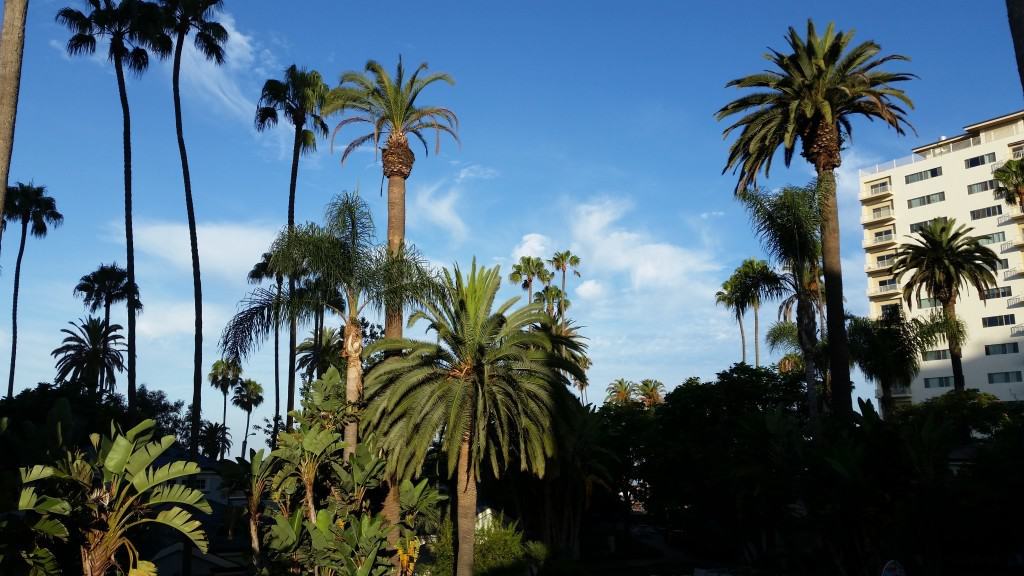 First, a thank you to WomensForum.com and thinkThin products for inviting my daughter and I. The visit was complimentary and we were provided goodie bags and compensation for attending.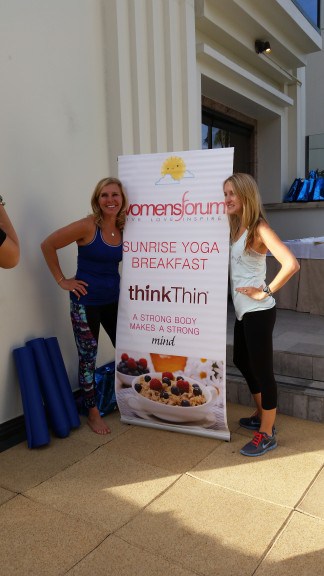 While I love yoga, it's been a long time since I've done it in public with a group. In fact, it was my first official class ever. My daughter doesn't do yoga, but wanted to try, so it was the perfect time to start. It was a low key class, no pressure, and the right pace to pick up the basics without feeling stressed. Yoga's all about strengthening your body, getting tone and strong but feeling in the moment, feeling your body doing each pose and breathing properly throughout. If you get the chance, try adding it to your workout regimen, even if you're only able to do it once or twice a week. I have a long ways to go before I'm 'good' at it, but I enjoy it and each time I complete a set of poses, whether I do it for just a few minutes or an hour, I feel renewed.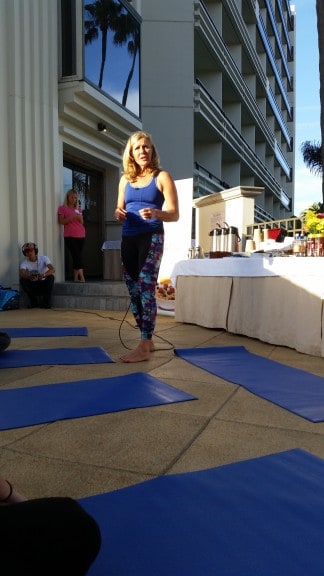 The beautiful Andrea Metcalf from Womensforum.com gave us some great fitness and nutritional info.
Sunrise yoga on the rooftop left us feeling energized and ready to take on the day — even the drive home! We stayed to eat breakfast with the other ladies, which consisted of Argo teas, delicious strong coffee, thinkThin brownie bars (all healthy and full of good stuff) and thinkThin oatmeal, which was made quickly there on the rooftop with hot water from a pump and a couple of minutes of time to steam. Perfect when you're on a schedule, want yummy and still want to eat healthy.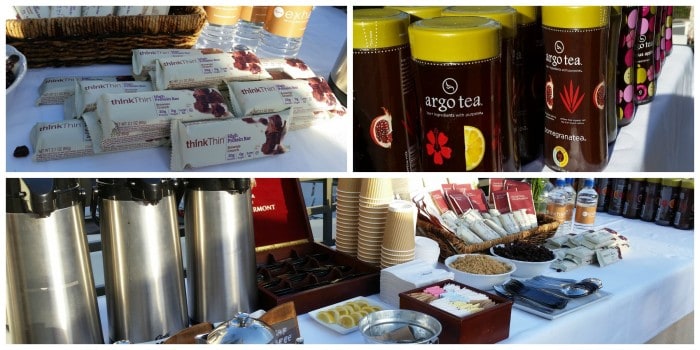 Exhale Spa, we will be back! Thank you, WomensForum.com and thinkThin for the fun morning, food and networking!