This post was sponsored by Starbucks as part of an Influencer Activation. I received compensation and complimentary products to facilitate my review.
Like most households, life is busy in the mornings, maybe even a bit chaotic. Get up, get dressed, get breakfast made, gather the school stuff and get on the road. Part of the routine is filling up the carpool mug with a good strong cup of coffee. No time to sit and sip though, it's all about the caffeine. The luxury of relaxing with it is always later in the day, when I can take off my shoes and curl up in a chair and catching up on what went on in the world overnight or, if I'm really feeling luxurious, paging through a food magazine or reading a good book. That's when I can afford the time to get a little fancier with my drink, when I'll start a new habit — relaxing with a TAZO® Chai Latte, made with the new TAZO® Chai Latte K-Cup® pods for my Keurig®.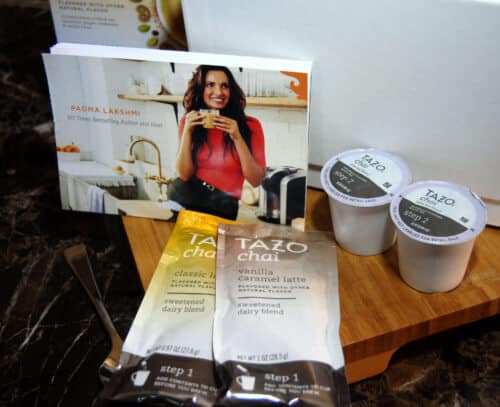 Made from milk, tea leaves and spices, created from creamy blend of black tea, cinnamon, ginger, cardamom and vanilla flavor, resulting a perfect sweet and spicy flavor. Have you tried chai before? Its unique flavor is a black tea blend that goes back 5000 years into Indian history. TAZO® is partnering with Padma Lakshi as the new brand spokesperson to celebrate the release of the new Chai Latte K-Cup® pods. (Did you know Padma is now a New York Times bestselling author?) Chai tea has always been a part of her life and family heritage, so she has developed recipes that are perfect pairings for a cup of chai. You can find them at the TAZO.com website.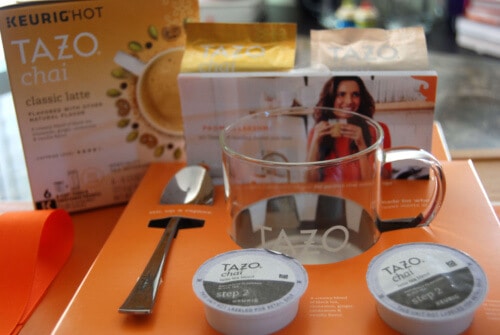 I was sent this adorably packaged box of goodies — a beautiful glass tea mug, an engraved spoon, snack recipes and samples so that I can try the Chai Latte myself. It was the best delivery, wrapped in a bright orange ribbon, representing some "me" time, where I could take a few moments to make a deliciously unique hot beverage and pamper myself with some peace and quiet. Peace and quiet is in short supply when you have a family, but something about holding a hot mug in your hands and smelling the delicate spices makes you want to lean back in your seat, take a deep breath and forget about your to-do list for a few minutes.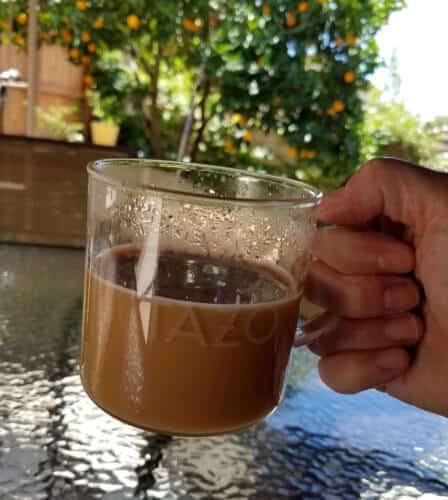 For more info, you can visit TAZO® on Facebook, Twitter, Pinterest and Instagram. The Chai Latte K-Cup® pods are available at Target and Walmart in my area, and there are other stores that you can find via the website store locator. They come in both chai classic latte and chai vanilla caramel latte flavors. Which do you think you'll like the best? Try both and see! I won't tell you which one I liked the best, only that I plan on buying more of both. I especially love the mild resemblance to gingersnap cookies, always a favorite of mine, and something that makes me think of holiday preparation and fun. In the triple-digit heat hitting Southern California right now, I love being able to think about the holidays and cooler weather. Now I have plenty of excuses to take those few minutes of quiet time every afternoon, just in time to be as relaxed as possible before dinner rush begins. Who doesn't want that?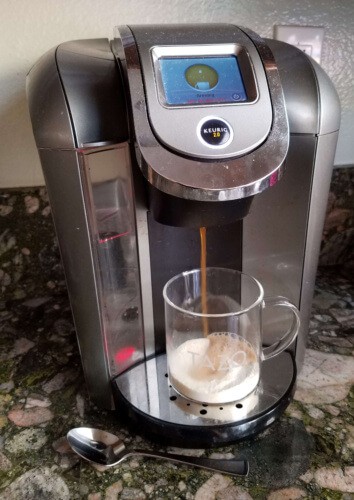 Making the TAZO® Chai Latte is simple. Just two steps yields a latte reminiscent of what you'd get in a coffee shop but you don't have to leave your kitchen. Pour the contents of the flavor packet into your favorite mug. Pop the TAZO® Chai Latte K-cup® into your Keurig® and brew the 8 oz. size. Boom, you have you a Chai Latte! Start a new habit, and let me know what you think after you try it out. I'll just be on my balcony, enjoying the cool breeze and five minutes of peace and quiet.