I recently had the chance to participate in a Q&A with Sara Gilbert and Ames McNamara, two members from The Conners cast. (ABC's hit show, The Conners, airs on Wednesdays at 9/8 CT.) In a session that was both entertaining and endearing, we learned how reality parallels with episode scripts as both Sara and Ames shared openly about real life and their show involvement.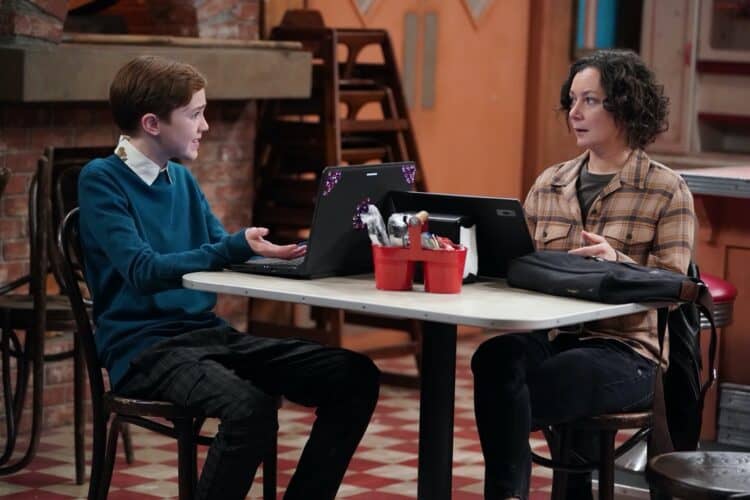 Before the Q&A session began, we screened two unaired episodes. In typical Conners fashion, they were self-deprecating, humorous and real-life focused, dealing with COVID, financial issues and the politics of life in a pandemic-changed world.
The session took place via Zoom, as do many this past year, but that didn't stop either Sara or Ames from candidly answering our many questions. As anyone who has watched the show knows, The Conners is about a large family living in the midwest, dealing with financial issues that have been a part of their lives since the beginning. From trying to avoid foreclosure, to job loss, marital issues, to helping a gay child be comfortable and confident in his life to just struggling to get by, the show has hit on so many hot topics and this season is no different.
Sara Gilbert is no wallflower when it comes to addressing difficulties in our world, and her passion for wanting equality and fairness shines through. It was evident throughout the entire interview on how representation matters, and I'm personally glad to see her be able to showcase it in a way that makes others unable to avoid it.

As an 'almost empty nester' myself, I found her commentary about how her children on the show are growing, changing and getting ready to live on their own to be refreshing and thought-provoking. We spend so many years getting our children ready to live on their own, yet we're still unprepared, in some ways, when it happens. She feels Darlene is getting to that area in her life.
"And I, although I do have a younger child, my teenagers, it's sad, you know. It's sad in a way, the loss of their youth, and you kind of look at them and think, where did my babies go? And so I think that brings a lot of self reflection with it- where am I in my life?"
It looks like, going forward, Darlene will be dealing with some of that in future episodes, so keep an eye out for story lines that hopefully will continue to help us relate and say "I'm not alone" when realizing our years as mom are changing and evolving.
A fun question was posed to both Sara and Ames, and I love that it gave them a minute to think outside of the norm for a minute and give us some insight into their celebrity interests. When asked what special guest star they'd love to have on a future episode, their answers were both really different.
Ames said, "I think for me, it would have to be someone like Lin-Manual Miranda. He's someone who I think is a really amazingly creative person, and I love Hamilton."
Sara answered that the two she could think of off the top of her head would be Judy Dench, Lisa Kudrow or Octavia Spencer. I'd watch those episodes!
As mentioned above, the show frequently hits on real life issues, and when asked what future topics we could expect to see covered, Sara reaffirmed her dedication to keeping in-step with our current society.
"…if you have such a large platform, it's so important to use your voice and, and talk about what's going on in the world. I don't think we directly go after every topic. It's more when you're talking about what's affecting the family, you naturally are going to be dealing with what's happening in our society, especially if you're dealing with a family that is lower-middle class, and struggling to get by, a lot of the day-to-day issues are going to affect them."
This is what's continued to keep The Conners so popular. It's not a stretch to understand them, and their ability to laugh at their predicaments further endears them to us all. Another example of their efforts to be inclusive is Ames' portrayal of Mark.
"It's definitely, I'm sure, sparked conversations, and it's something that's really good to be shown on TV because it's definitely a part of peoples' lives who are – any person out there, questioning who they are or, you know, as they grow up, you sort of find yourself. And I think that that's one my favorite parts about playing Mark, and I think it's also one of my favorite parts about the show."
Here's a brief clip from the next episode:
If you haven't watched The Conners yet, give it a go. It's lighthearted humor yet it gets deep to the heart of things that we all hear about and live on a regular basis. Thanks to ABC, Sara and Ames for such a fun Q&A. If these two are any sign of the rest of the Conners cast, I bet this is a fun show to be a part of!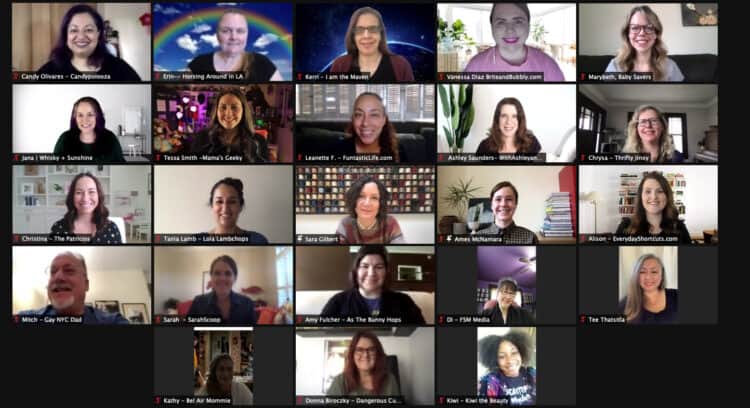 That's me, bottom middle in the Army green shirt. (I really need to move that poster behind me so it doesn't reflect so much light!)