My name's Donna, and I hate to drink from the same water bottle as someone else does. Long before COVID, I was a bit of a neurotic about it, and I've tried a lot of things to prevent someone else grabbing my bottle. Once the pandemic started, we became even more focused on recycling so we had a water filtration system installed so we could keep refilling our bottles instead of buying anything. I wish I'd known of Name Bubbles then, so I could decorate a water bottle to make it my own and stand out from the rest!

If you're sending your child to school with a refillable water bottle, a Name Bubbles label may be just what you need! It's easy to personalize and decorate a water bottle with Name Bubbles custom name labels. They are also a simple and fun way to label a backpack, gym bag or laptop sleeve to prevent theft. (And for safety's sake, you can put it on the inside, if you're worried about someone seeing your child's name.)
To learn more about Name Bubbles custom labels, their website shows you all the different styles you can order. It's a mom-owned business that's been around for more than a decade, so you can trust them to be a quality product. They're affordable, durable and unique.
I wish I'd had these when my oldest son was young. He was notorious for leaving his lunch bag on the playground. In fact, there was a period of two weeks back in elementary school where it was stolen every single day. I had to start sending paper bags until we could figure it out, because whoever was taking it was pretty quick. We never did find out who it was, but my son got served hot lunches until the school got it handled…after three days of pb&js and an apple as their 'replacement.' A name tag that isn't easily pulled off could have really helped!
Another use for Name Bubbles is to decorate a water bottle for kids in daycare, or even a baby's bottle if you have more than one kid in your care at a time. (I had two under two, and I had to color-code water cups!) You can make it even cuter by uploading your own image to Name Bubbles!
If you're sending your child off to any type of summer camp, you can use Name Bubbles labels in a lot of different ways! I'd be popping them on individual hand sanitizer bottles, toothbrush handles and maybe even masks. There are things you just don't want to risk being shared during COVID, right?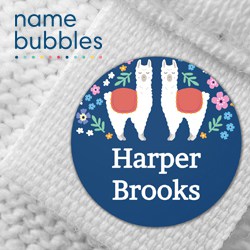 I love the versatility of these and the ability to order them on the fly. You can also order them in value packs, such as a varied selection for one low price, like a camping pack, a clothing label pack, a daycare pack, or more.
Here are a few deals to bookmark:
Save 20% SITEWIDE with code BTS20 7/1/22 – 9/30/22
Now I'm off to go refill my water bottle. It's a lot easier to stay hydrated when you can find it amongst all of the rest! Do your Name Bubbles shopping online today for great prices for all your needs…and let me know what you think!