Last week, I got to attend an interview with the cast of Ant Man and the Wasp. As the Marvel-obsessed fan girl that you know I am, if you've been reading the blog for any length of time, it was another amazing afternoon. (Remind me later to tell you about my new Marvel tattoo! I finally did it!)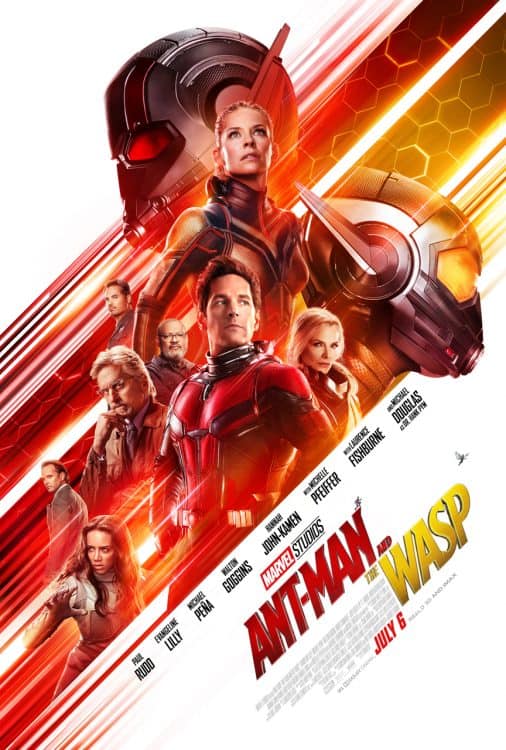 The cast in attendance for the interview was:
·         Paul Rudd ("Scott Lang / Ant-Man")
·         Evangeline Lilly ("Hope van Dyne / The Wasp")
·         Michael Douglas ("Dr Hank Pym")
·         Laurence Fishburne ("Dr Bill Foster")
·         Hannah John-Kamen ("Ghost")
·         Director Peyton Reed
·         Producer Kevin Feige
As with all Marvel and Disney press junkets, we were treated to fun photo opportunities, food and beverages before the interviews began. When I initially got the invite, I was wondering what type of photo opps would be available, and my first hope was for a green screen or some other Marvel magic to turn me into the size of an ant. Bucket list item =  check!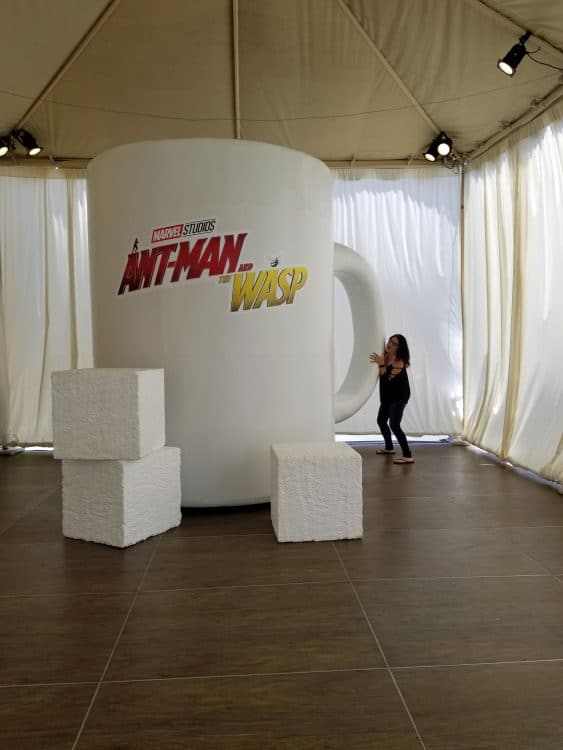 I sure do love my coffee, and the ants were too busy saving the world to put the sugar cubes into my coffee — and I like a big cup of coffee — so I had to do it myself.
As we were waiting for the junket to start, we saw Michael Douglas and Paul Rudd walking down the hallway from one-on-one interviews. The buzz started, and soon we were seated in the conference room, right in front of a ginormous spoon, bread bag tag, fuse and a Hello Kitty Pez dispenser, all from scenes in the movie where Ant Man is tiny. What a cool display, right?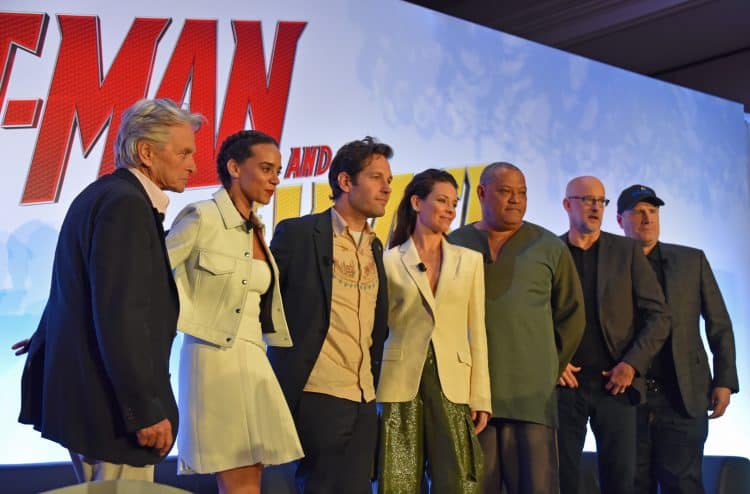 Most press junkets end up with the majority of questions going to the lead role, and this one was no exception, but I will say it was a pretty close tie with Peyton Reed, the director. He immediately praised Paul as being such a generous writer, as he helped co-write the movie. (Michael Douglas, however, interjected that Paul gave himself the most funny lines — said out of love, as you can see this cast really comes together as a team and has a definitely obvious Marvel bond going on.)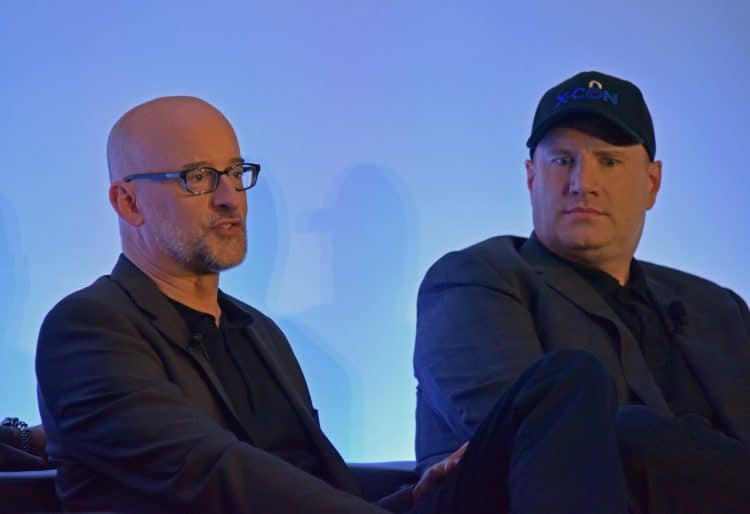 Without giving anything away from the movie — because you have to see it — I will share that Peyton explained the logistics behind filming major scenes in an area heavily populated with tourists, namely Lombard Street in San Francisco. It's a hilarious yet dramatic scene, so we're all thankful that San Francisco was so gracious to let them film without interruption.
Kevin Feige is known for keeping a tight lid on things for future Marvel Cinematic Universe movies, and despite nudging and creative phrasing, he wouldn't give any hints and he made us laugh all the while!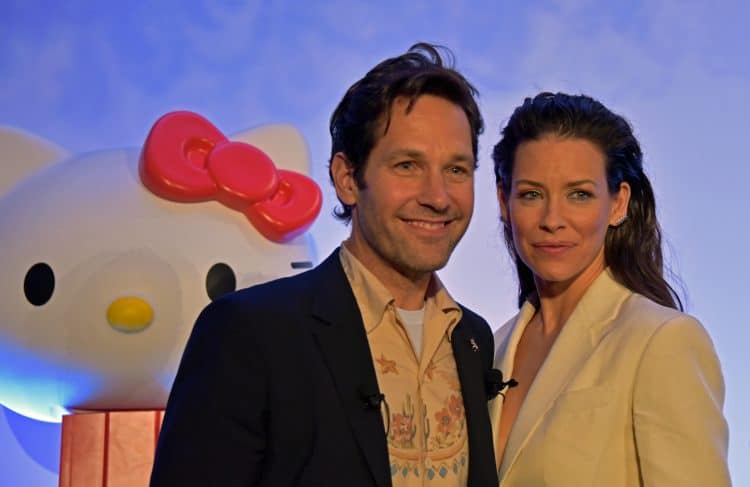 If you've seen Ant Man, you know that it has a lot to do with quantum physics, and Ant Man and the Wasp just takes it a lot further. With Hank Pym's wife having sacrificed herself to the quantum realm to save the world, Hank and Hope van Dyn team up to try to find her. It's been some time since the ending of Ant Man, with Scott Lang dealing with the ramifications of his actions up to and including Avengers: Civil War. This means Hope gets to suit up, and Evangeline, who was beautiful with her hair combed back and long, gets to become the superhero she was always meant to be. This important moment is not lost on Evangeline, who shared that a favorite scene to shoot was the scene in the restaurant. (You'll need to see it to know what scene I'm referring to.) Her physicality and stunt work in the movie puts her on-par with the other superheroes and she had a blast making the movie.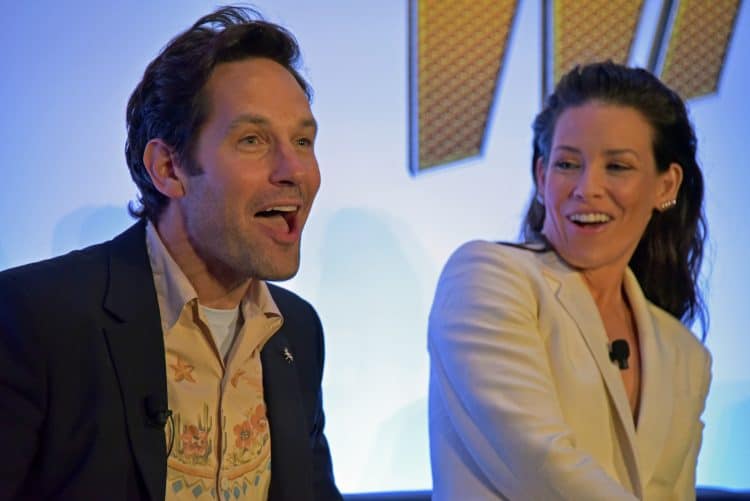 Evangeline's secret is that she was always fascinated with quantum physics, something no one else in the cast could say as emphatically as she was able to. Who knew?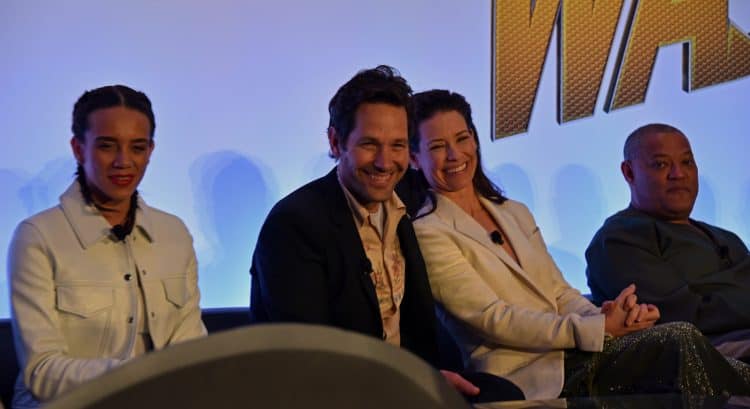 Michael Douglas was ecstatic when he learned that his wife was Michelle Pfeifer. (And she looks amazing in the movie, might I add?) Throw in that they were going to be 30 years younger, and he was thrilled! (He laughed a lot during the entire interview and it was so much fun to see! They even made a joke about the streets of San Francisco — do you get the reference? About only half of the junket audience, me included, did!)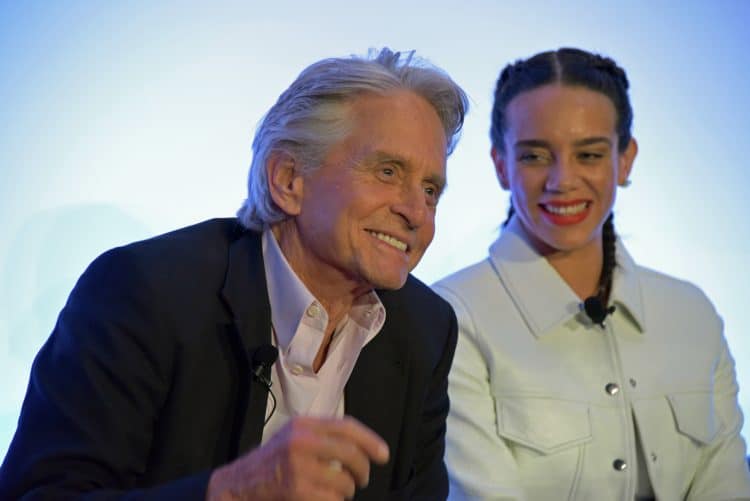 One of the most interesting comments in the junket was from Hannah John-Kamen, who, in her beautifully crisp accent, when she was asked about her role as a villain. Her perspective that villains don't necessarily see themselves as villains, and that she herself found herself to be a threat, not a bad person, how you have to play it like a good person who thinks everyone else is bad. That makes you think a lot differently about villains, doesn't it? I already felt that way with Loki, and it makes a lot of sense in regards to the Ghost.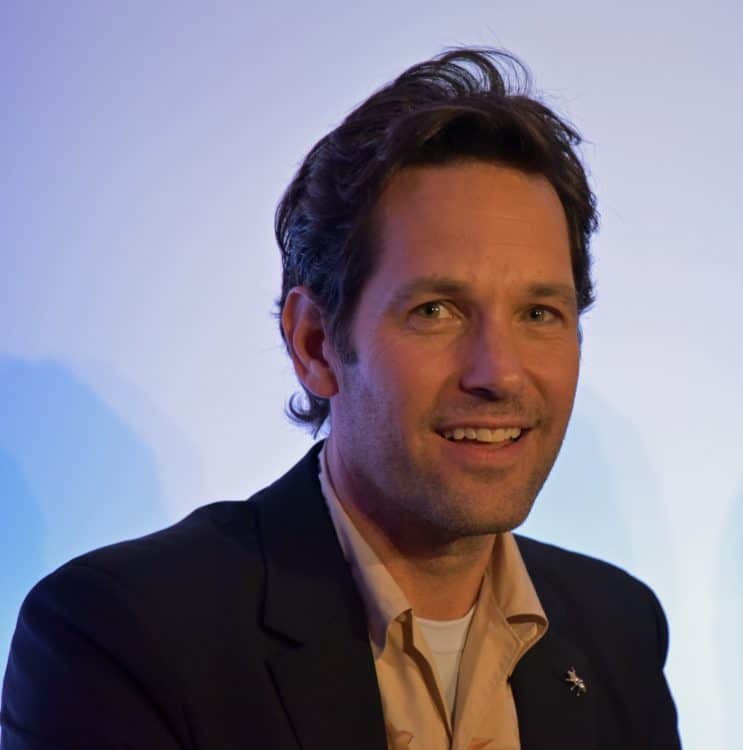 I like to think he was looking at me here. He was, right??
The junket went way too quickly, but I managed to take only about 250+ photos of the cast. Paul Rudd and Evangeline Lilly laughed a lot, and while Lawrence Fishburne is more stoic, when he laughs, he really laughs. What a day it was. Thank you, Marvel! I can't wait to see the movie again!
In the meantime, here's the trailer — enjoy! It comes out on July 6, so I'll see you at the movies!