One of my favorite parts of working in media is working with film releases. Recently, I was invited by Dolby to attend the red carpet premiere of Pirates of the Caribbean: Dead Men Tell No Tales. What an absolute thrill! (I was going to say "rush," but Geoffrey Rush is in the movie and it's too early in the post to be punny.)
The premiere was held at the Dolby Theater on Hollywood and Highland, in the heart of all things celebrity. With the Walk of Fame out front and the El Capitan across the street, it's a popular place for tourists. The shopping center is full of boutiques and restaurants making it a good place to spend the evening. Park in the structure, get dinner, then head into the Dolby Theater to watch a movie. Date night made easy!
The night of the premiere, Hollywood Boulevard was shut down for the red (blue) carpet. Music from the movie played loudly as the cast walked the carpet and met with individual outlets for interviews. Below is a Dolby Laboratory teaser video from the evening. You can feel the excitement from the crowd just watching it!
Due to really tight security for the event, I didn't have my phone with me, so I have few pictures, but I have one of me on the carpet — proof I do clean up pretty nicely!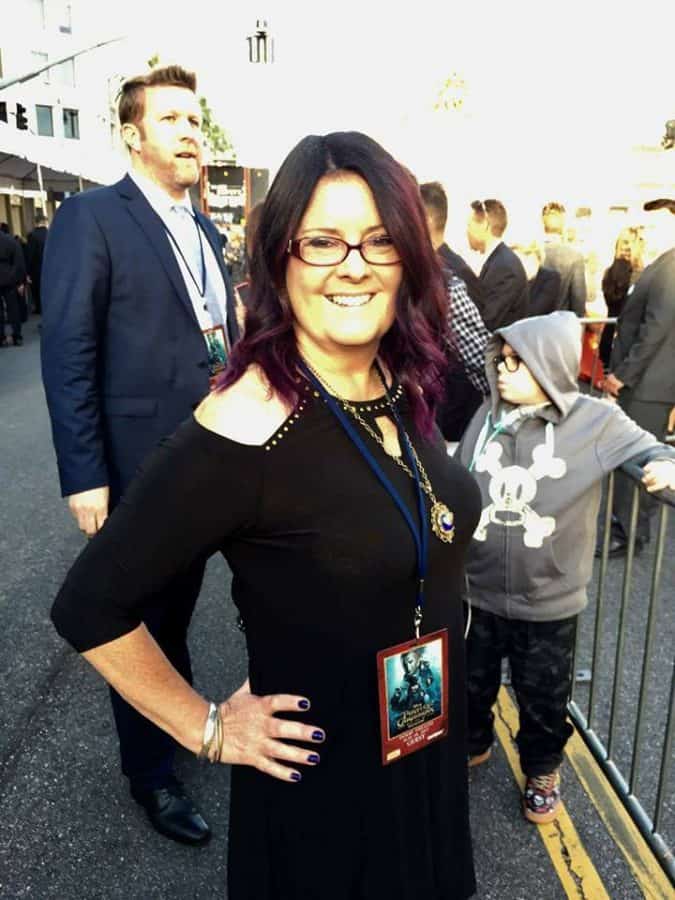 Thank you, Janis of MommyBlogExpert.com for taking these photos of me! We were surrounded by celebs and other guests of the premiere, so excited to head on in to the Dolby Theater pre-party. Fittingly, they were serving rum punch, so we all knew where the rum was. (We'd just come from a pre-pre-party at Trastaverde Ristorante in the H & H complex, courtesy of the Dolby team as well.) Enjoying pre-party chatter amongst the cast is an incredible experience, no matter how many times you attend an event such as this. It will never get old, and I've been working with entertainment for 20 years now. And then after the movie, we of course had to stop for another photo opp at the top of the infamous Oscar stairs.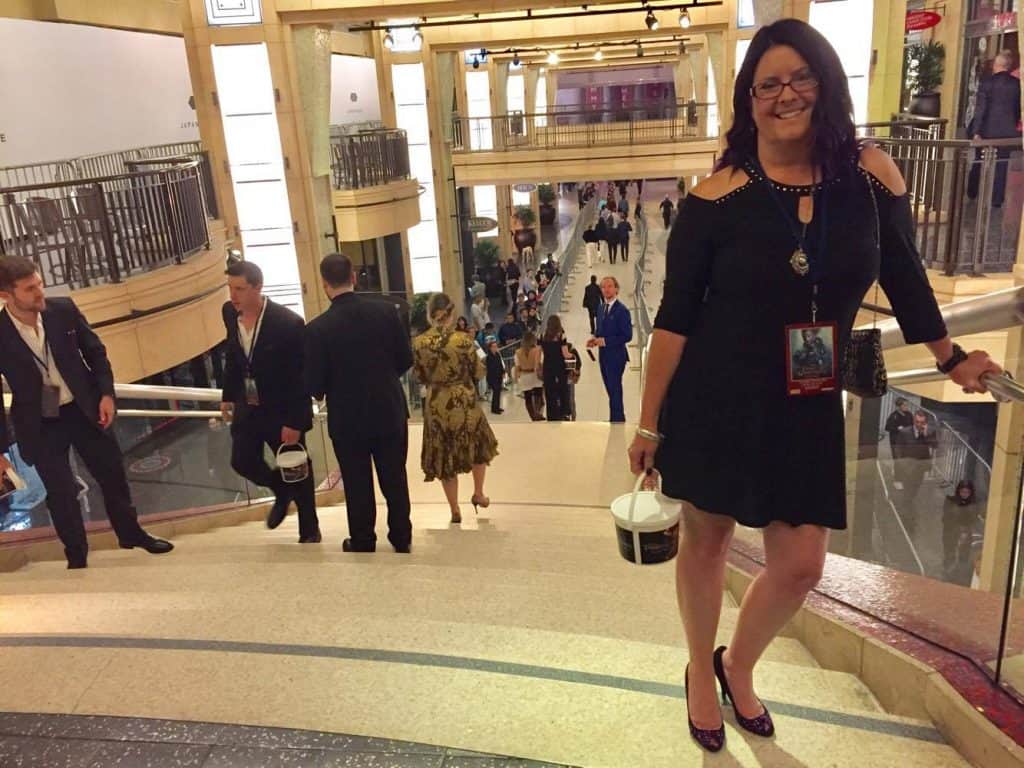 If you haven't had the pleasure of going to a movie in the Dolby Theater, let me say this: you aren't just watching a movie, you're experiencing it. Dolby Atmos is a surround sound system like no other. You're not simply sitting in a chair in a theater with your closest friends, but you're immersed in the movie itself. When Captain Jack Sparrow is being chased and trying to stay with his band of sketchy pirates, the explosions are not just on the screen, but all around you. If you're watching it in 3-D, even better, as the drops of the zombie sharks fall on you in their attempt to prevent Captain Jack from reaching the shore, giving 'immersing you in the movie' a whole new meaning. Read more about Dolby Atmos here.
If you want the full experience but can't fit a movie into your schedule, contact the theater and inquire about one of their tours! With its rich Oscar history, you're sure to see some familiar sites and you'll enjoy the artwork on the walls throughout.
[perfectpullquote align="left" cite="" link="" color="" class="" size=""]Follow Dolby on Twitter at @Dolby and @DolbyTheater. It's a quick way to stay on top of what events are being held at the theaters, as well as movie trivia and inside info. [/perfectpullquote]
Then there's Dolby Vision — with breakthrough lighting technology, you'll see the brightest brights, the most contrasted and realistic darks and vibrant colors from beginning to end. Like Atmos, it's also available for your personal devices. Read up on how to make that all happen here. Available at each link I've shared is the opportunity for a small taste on your own laptop, desktop, phone or tablet, so check it out!
The movie itself is fantastic. We've seen it twice now and may just go a third time. When you put Johnny Depp, Javier Bardem and Geoffrey Rush in one movie, how can it not be amazing? Add in new cast members, like Brenton Thwaites and Kaya Scodelario, and there is no wonder people are rushing to the theaters to see it again and again.
I'm back down from the Cloud 9 experience of the evening, but I'm looking forward to the next Dolby event and thrilled to be a part of it all! Attending the premiere of Pirates of the Caribbean: Dead Men Tell No Tales was another spectacular perk of working in media that I'll remember for a very long time.