I said it earlier this week and I'll say it again: Melissa's Produce out in Vernon really knows how to put on a food demo and host a cookbook author. I'm lucky enough to be able to attend these demos every couple of weeks and they are fantastic at introducing me to a new cookbook, new recipes and inspiring me to get back into the kitchen for fun and not just necessity. This last week's demo was no exception.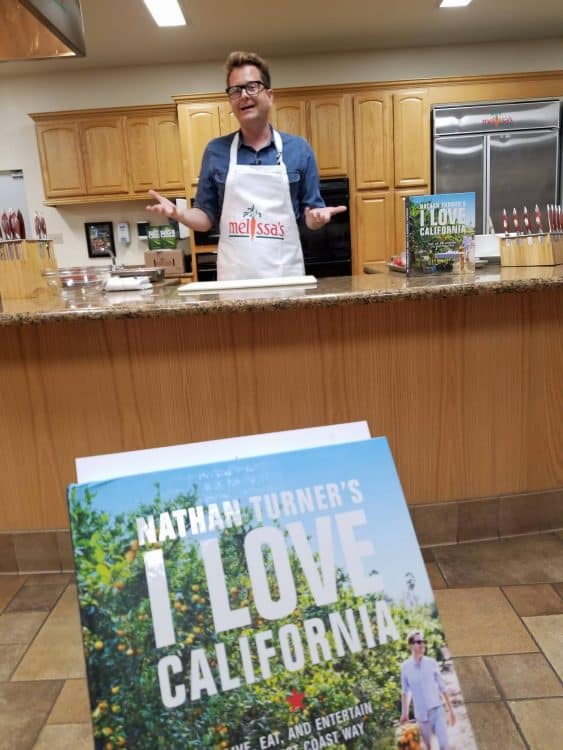 Nate aka Nathan Turner, already well-known for his interior design skills, Million Dollar Makeover shows and other special guest host appearances such as Oprah, has ventured into the cookbook realm with his new book, I Love California. It is a culinary trip up the coast of California, showing the world that we are way more than avocado toast. This book is 72 recipes of spectacular California comfort food mixed with menu plans and tablescapes, making this book the ultimate gift for a foodie friend. (I actually ordered it for a friend of mine already!)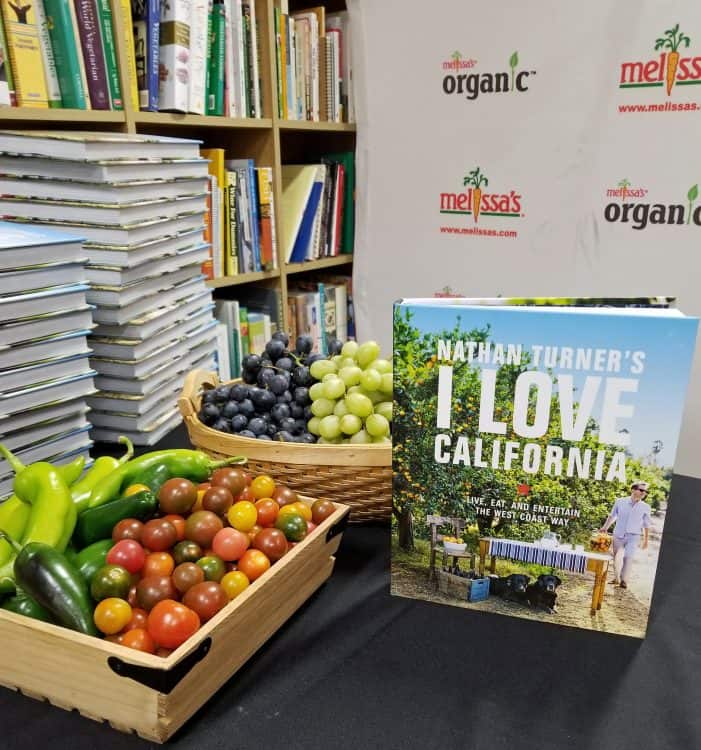 Each of the food demos I've attended so far starts with a book signing and photo opp session, segues into a huge buffet lunch made of several recipes from the book, and then a presentation by the author. Nathan was a fun guest, with his stories of learning to cook with his grandmother and wanting to be able to properly recreate her recipes: if his house smells right, then he's done it well. Let me tell you, the place smelled really good as Nathan cooked a tri-tip in marinara sauce that smelled so delicious, I'd make it and put it on fish or chicken even, since red meat and I are not friends.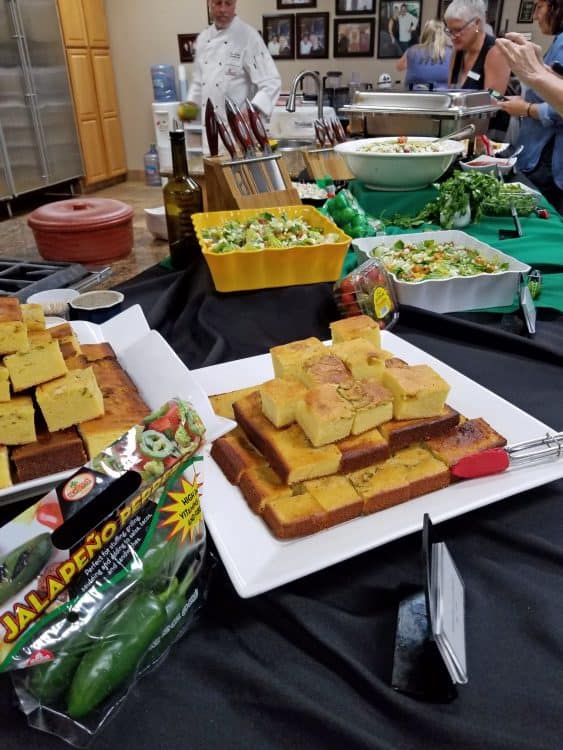 Nathan puts on a good show and it's easy to understand why he's been so popular in the television space. He laughed at our numerous photo requests and rolled through his presentation effortlessly. I thoroughly enjoyed Laura Bashar's presentation two weeks ago and now Nathan's added to my growing repertoire of cooking tips! I've been cooking for a long time now, creating recipes and experimenting with cupcakes especially, but I love when an author inspires me to get back to the heart of California comfort food or improving on my outdoor cooking skills.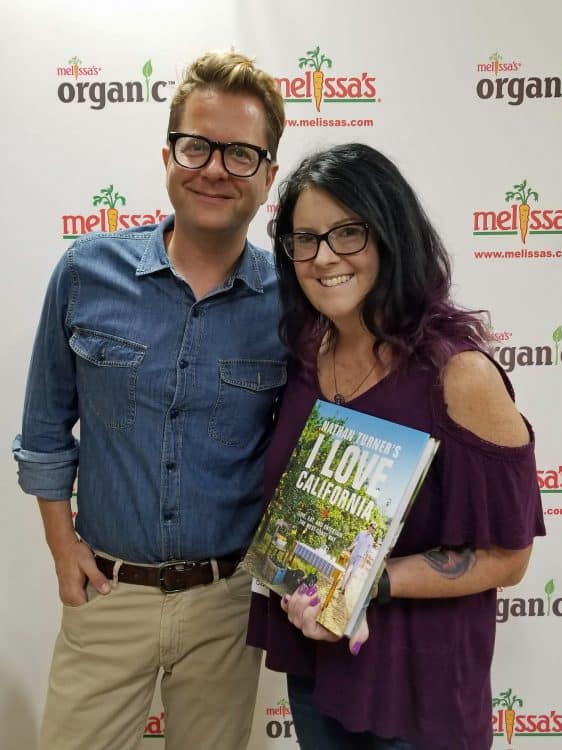 Thank you, Melissa's Produce and Nathan Turner, for a fun day! I'm enjoying the cookbook and when I get back to my kitchen tomorrow, I'm going to start picking up recipes for this week's menu plan. Now that school is back in session, I am back on duty for more regular dinner plans. With my schedule, sometimes that gets tough but I now have two more cookbooks to help simplify it. I'm lucky to have a husband that can cook as well, so we'll make it a team effort if we need to!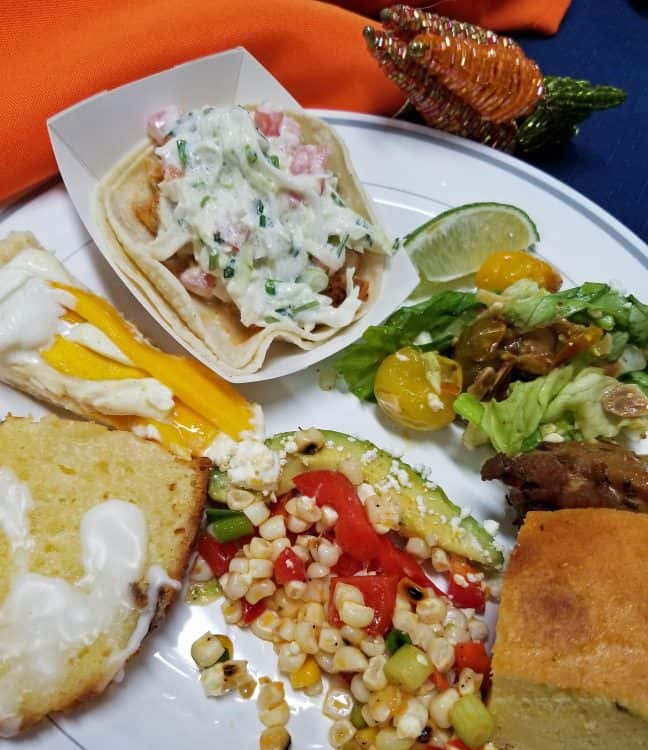 Okay, so there's my plate, and I have zero shame in telling you I went back for seconds of the tacos AND I may have a second slice of that tart made out of Keitt mangoes straight from here in California.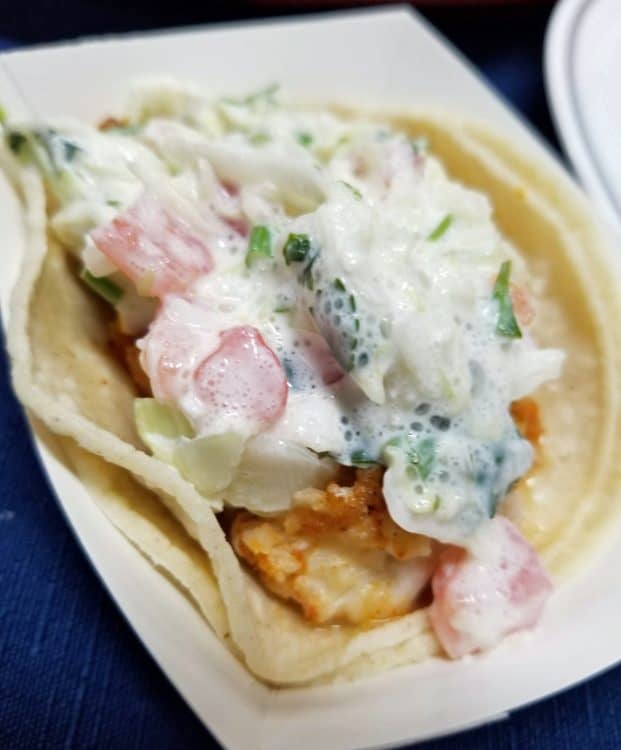 The tacos were amazing, topped with cole slaw and with a light tangy flavor. We eat outside at lot here in SoCal and these tacos will be perfect for entertaining out back as soon as the weather cools down a bit.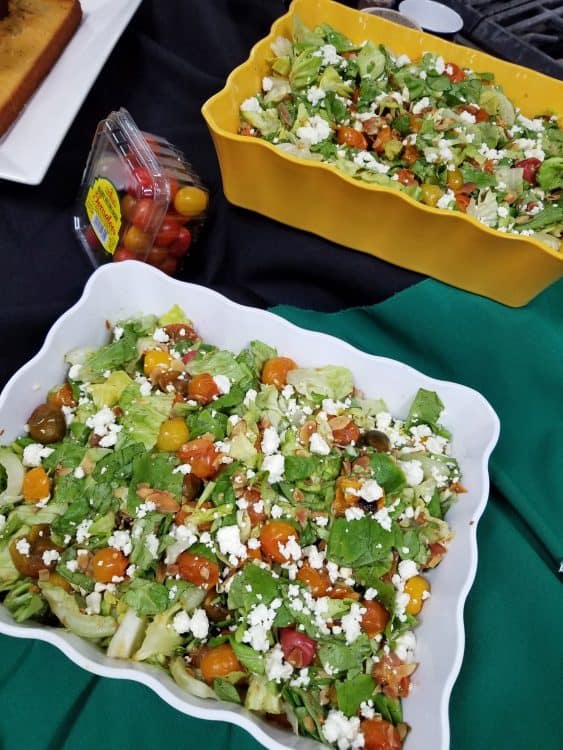 These roasted tomato salads were a perfect accompaniment to the tacos. Crispy lettuce, tomatoes with just a slight char and feta cheese — my kind of salad that I could dig into for lunch on its own.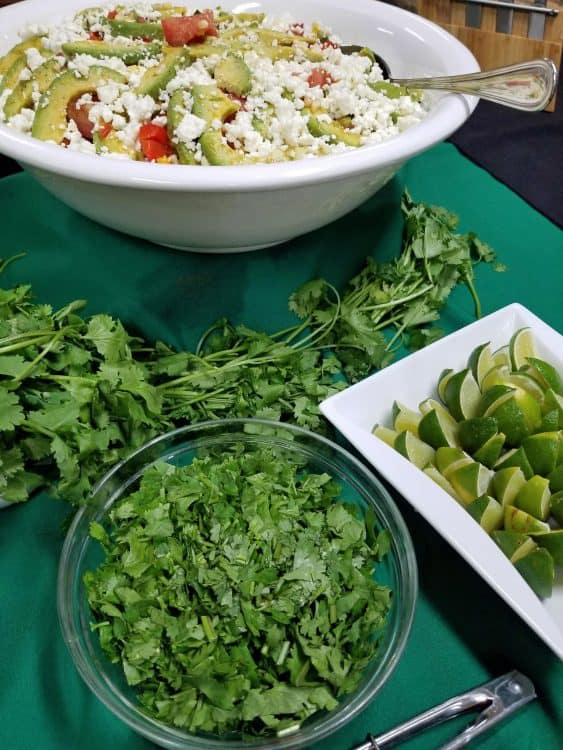 I had just made corn salad the night before this event, but I had failed in that I didn't put avocados in it. It added a whole new level of flavor and texture. I just love how the colors of the tablescape, even just for the buffet for people taking a ton of photos, were so beautiful.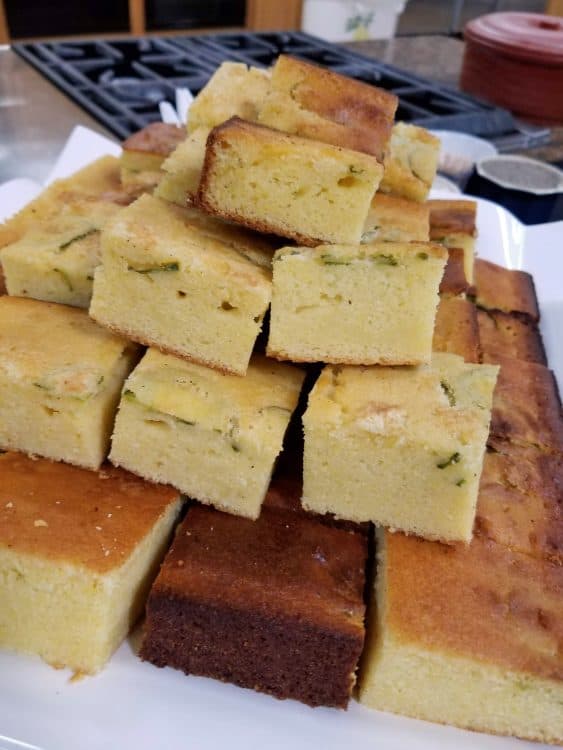 Jalapeno cornbread. No words are necessary, other than to say it was moist and did not fall apart all over my plate or on the floor. That says a lot to me, because while I love the flavor of cornbread, if it falls apart before I can get it to my mouth, it's just a waste.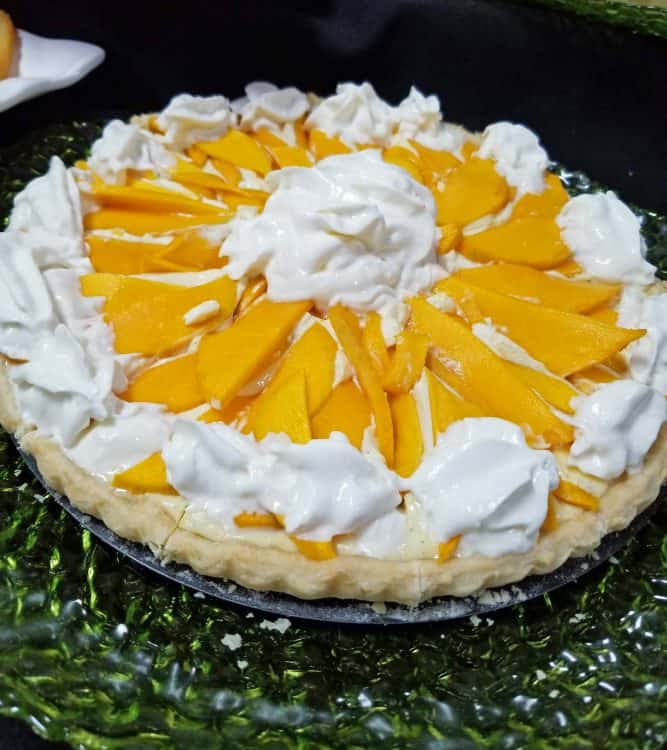 Back to that mango tart though. This was by far my most favorite thing to eat this week. Those fresh Keitt mangoes were tart and tangy and everything a mango should be. The custard was almost like whip cream, yet light and more flavorful. I'm very picky about tart crusts, because a lot are crumbly and too thick, almost overpowering the tart. This mango tart was worthy of killing my entire days' worth of calories. (Ask my friend, she can attest that we may have been ready to throw down over any remaining pieces. SO good.)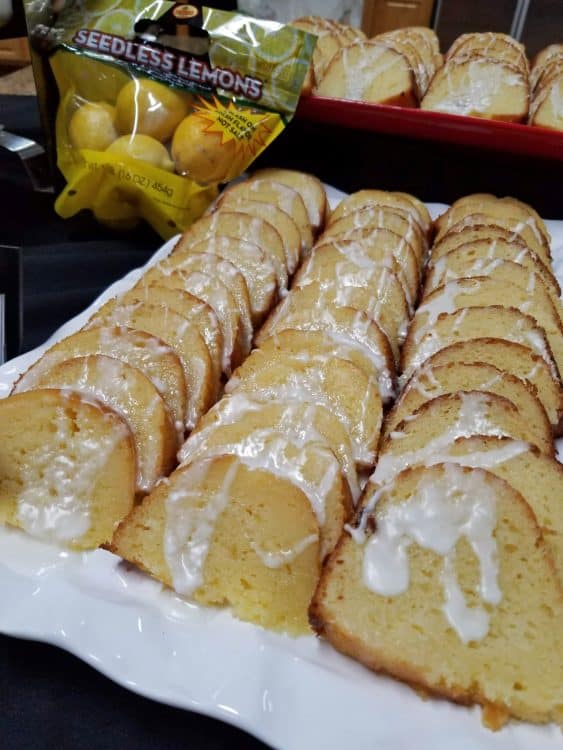 Then this lemon bundt cake…I had one piece and was too full for a second, but I did put a couple of slices in some foil to take home to the husband. He is so supportive when it comes to helping with whatever I need, whether it's a quiet house so I can write or holding the lights for photography or just holding down the front and doing school pick-ups so I can attend events. He is a major lemonhead and I knew he'd love this. Bingo. This one's going to be the dessert I need to make for an event next week, hands down, because it'll be easy to transport and if mangoes are hard to find, I won't be left hanging.
Another fab event, Melissa's Produce! Thank you for hosting us and I can't wait until next time!