The Universal Studios Hollywood Christmas celebration is back now and bigger and better than ever in 2021!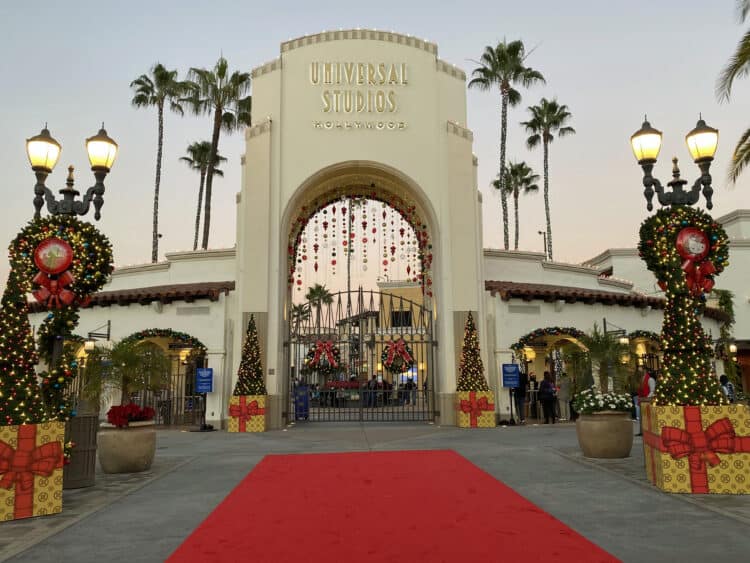 We've been going to the Universal Studios Hollywood Christmas celebrations for years now, and it was such a bummer to have missed it last year due to the pandemic. Thanks to Universal Studios, who gifted us tickets for the family to return this year, we spent this past Sunday at the park. Not only did it feel sentimental to return to a favorite place for holiday fun, but the park has more to see and do this year than ever before!
First, let's talk about the Wizarding World of Harry Potter. Hogsmeade was decorated from stoop to spire, and it is capped off with the Magic of Christmas at Hogwarts light show when it's dark. (Times change depending on park hours.) We had lunch at Three Broomsticks, enjoying the castle vibe while eating food straight from the history books.
I get the same thing every single time, the Bangers and Mash meal. Minted peas, mashed potatoes and sausage. Every plate there goes well with the Butterbeer, of course, but I prefer to get the cold version during the day and the hot Butterbeer at night.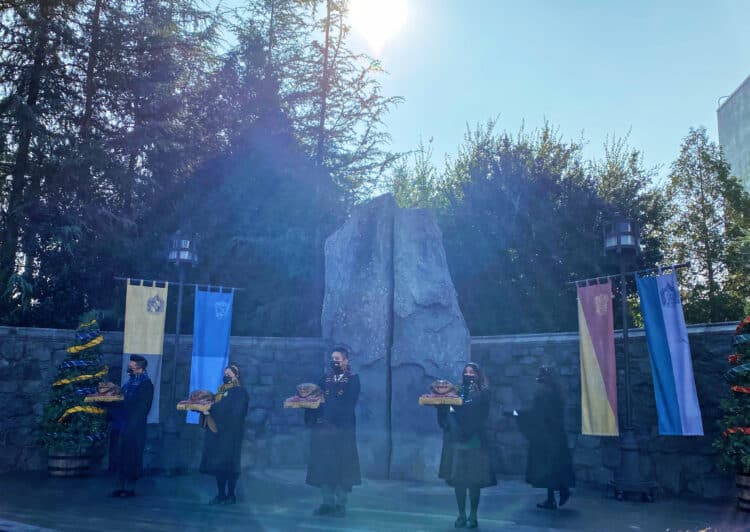 When strolling through Hogsmeade, don't miss Ollivander's, where you can have an authentic wand chosen just for you. Pick up some gear at one of the many shops, representing your house (I'm a Ravenclaw) and keep an eye out for the a cappella Frog Choir, performing Christmas songs throughout the day.
Another can't-miss is Whoville and their Grinchmas festivities not far from the park entrance. Attend a story time led by Cindy Lu Who! Mail a postcard to the Grinch at Mt. Crumpit at the Whoville post office. For every postcard mailed, Universal Studios Hollywood's Discover a Star Foundation will make a donation to School on Wheels which benefits homeless youth in Southern California! And it's just fun, no matter how old you are.
Chat with different Whoville citizens.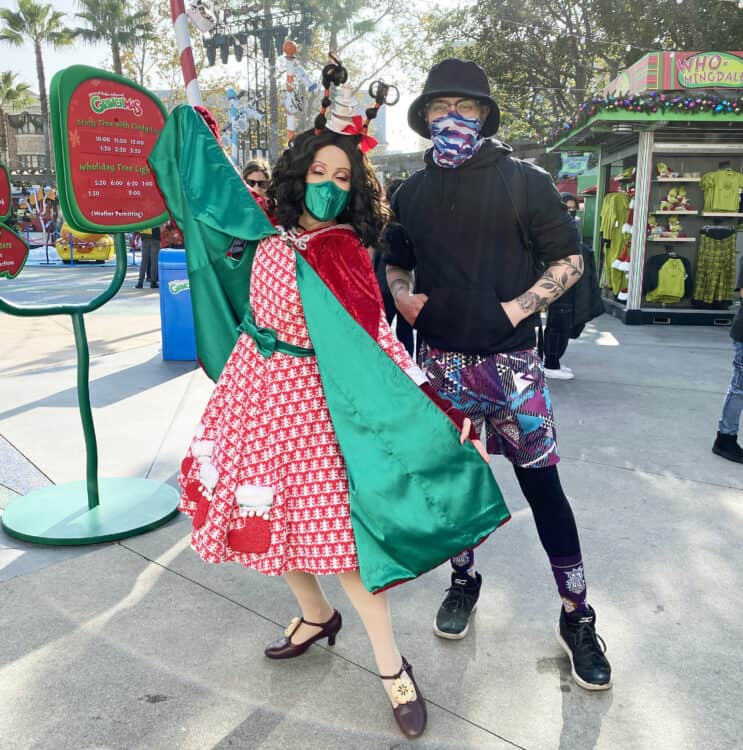 Get your picture taken with Max, the Grinch's dedicated sidekick.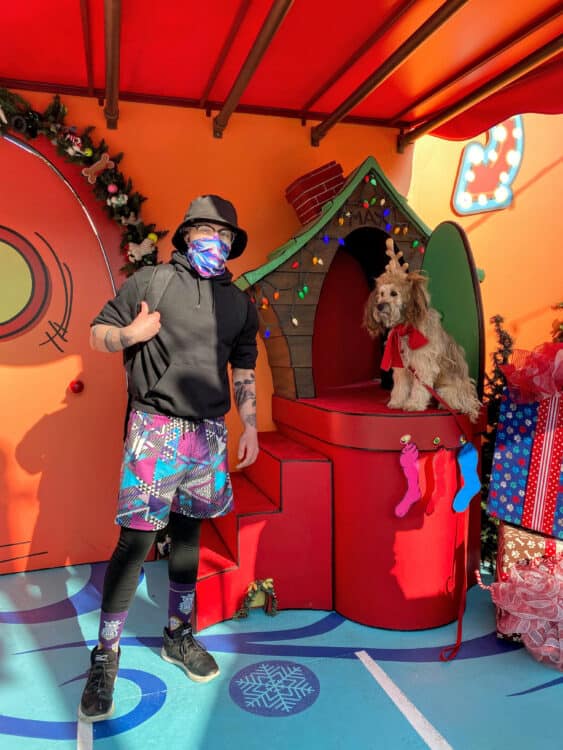 And of course, go see the big guy himself…the Grinch. (Bear in mind, the line to see the Grinch can get long, but he chats it up with every single guest, dances and takes multiple photos, so it's worth the wait.)
Last, do not miss taking a photo with the 65′ topsy turvy tree. It's lit nightly along with a snow flurry!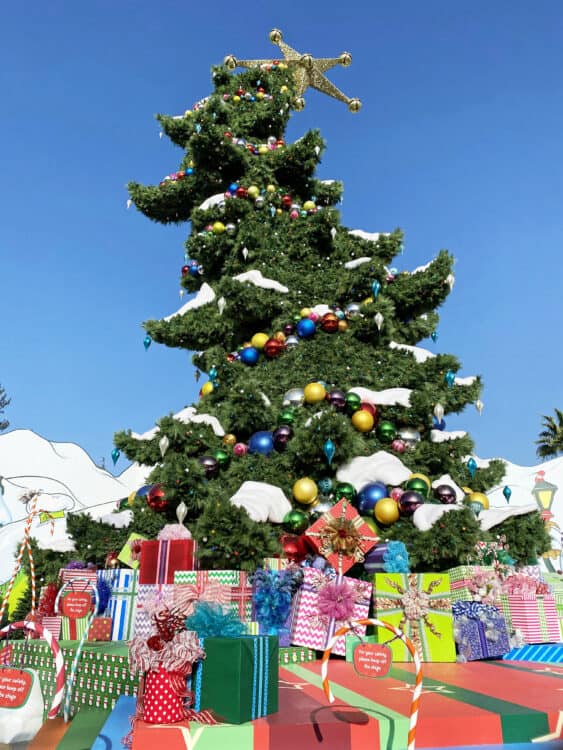 The new Secret Life of Pets ride is really cute! I didn't know what to expect, but you walk through various movie scenes while waiting to take your ride through the land of dogs. It's absolutely adorable!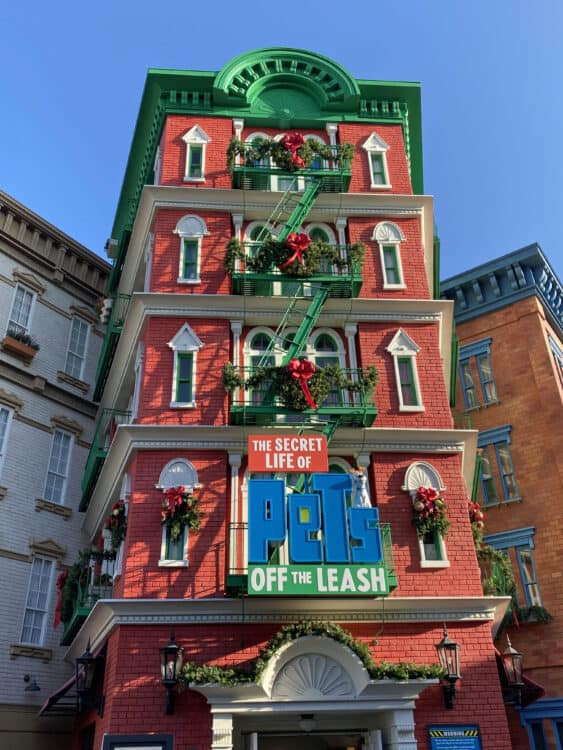 As always, there are always a lot of character photo opps throughout the park. We ran into quite a few, and these are a couple of favorites.
Christmas decorations are EVERYWHERE….except the studio backlot tour, which wouldn't look right with lights on props or scenes. We ride this every single time, with my favorite part seeing the shark from Jaws. Norman Bates from Psycho was on the loose, and we got to see more of the downtown backdrops due to a commercial being filmed.
If you head down to the lower lot — which you need to do, because there is so much down there — you need to ride Jurassic World. Keep in mind, you may get wet so don't keep your Express Pass or anything else important in a back pocket; also, secure your backpack but maybe set it on your feet, looped around your leg, to keep the bottom of it from getting wet. Totally worth it though, because the revamp of this ride is amazing. The drop is steep but quick and it's pretty amazing.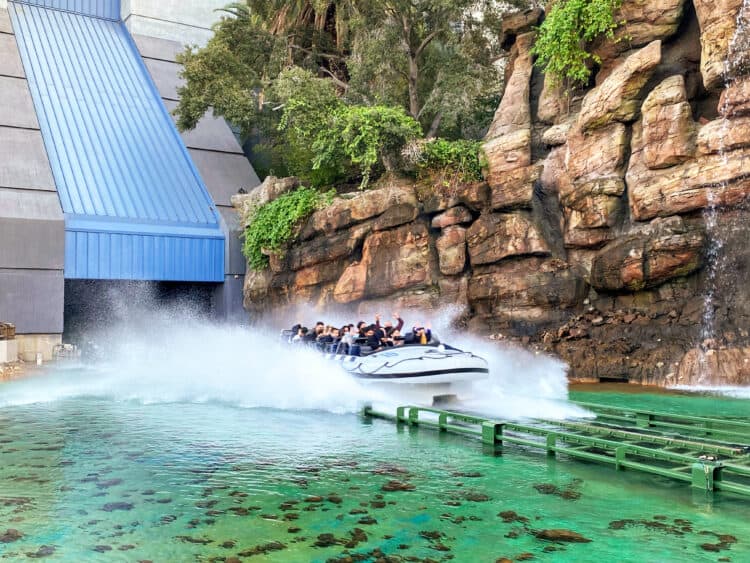 Outside of Jurassic Park, you'll find the Isla Nublar bar. They currently only have the clear plastic tiki glasses instead of the selection of three, but the cocktails are delicious and a great way to cool off…and even on a cold day, they're a lot of fun. Like many of the food and beverage carts and restaurants, they also have some holiday special items that looked really fun!
Don't miss The Mummy ride. It's fast and goes backwards on its return to the station, so secure loose glasses or get a locker. It's a favorite ride of ours! You can interact with a velociraptor, get a selfie with Blue and see one of several Transformer or Mummy characters for more photo opps.
Universal Studios also provided each of us with an Express Pass. This allows us to bypass the main line and wait in a shorter line. There is an added fee for it, but on a crowded day, it can help you to maximize your time by ensuring you have the best chance to ride everything. (The Express Pass only works once per ride per day.) It does not work on photo opps or seeing the Grinch, so plan accordingly.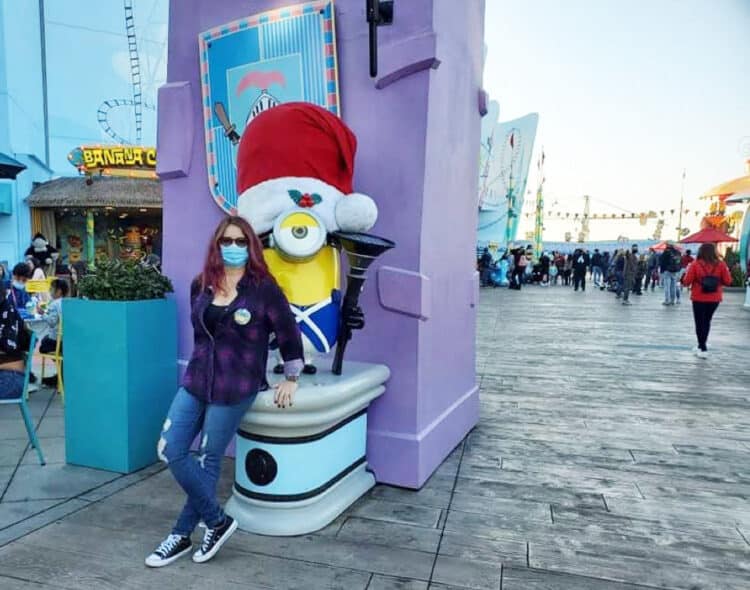 Per California guidelines, at the time of this writing, Universal Studios does require proof of vaccination OR proof of a negative test taken within 72 hours. They do check it, so be sure to have it handy. This occurs after you complete the security line outside the entry gate. Also, once you exit the park and want to reenter, you do need to go through the security and proof process entirely again.
Masks are required both inside and outside right now, also according to Los Angeles rules; when you take photos with anyone, you need to leave the masks on. Exceptions are when you are eating and drinking, and we did see people walking with beverages, masks down, but we also saw employees asking people to pull up their masks over their noses, so you will need to wear the mask properly. (Yes, we did take a couple of photos of ourselves with our masks down, but only when we were far away from anyone else; everyone was pretty good about respecting distance between people, which was a relief.)
You can purchase your tickets online HERE, and reservations are required, to help keep the crowds down. It felt pretty crowded when we attended, on a Sunday, so my guess is reservations would not be hard to get if you plan ahead. The holiday fun has also been extended until January 9, so there's extra time to visit!
Experiencing a Universal Studios Hollywood Christmas season is a blast, so give yourself a full day to really appreciate it all. Explore. Look in the corners. Fun details are everywhere, and the park will have you wanting to return for a Hollywood Christmas every year!