There was a time I'd go to Knott's Berry Farm just to get one of their funnel cakes. Crispy funnel cake covered with fresh whipped cream and a pile of fresh boysenberry preserves. It was worth the trip alone. Knott's was where we hung out as teen, going on Montezooma's Revenge over and over over, meeting friends and making new ones. We loved the boysenberry food and many of us took jobs at the park in order to have easy access to one of our favorite plates. Who needed lunch when you could use your breaks to ride your favorite rollercoaster?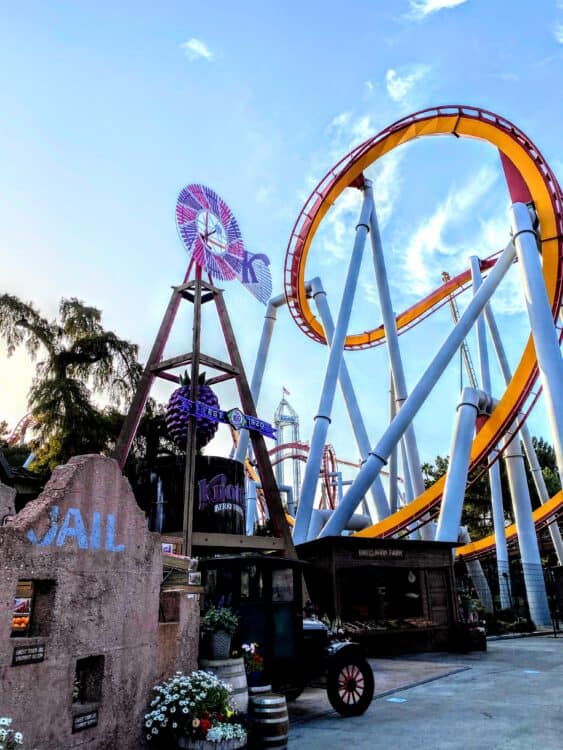 Like so many other people, I've got decades of memories with Knott's Berry Farm as the star. Family dates riding the original Knott's Beary Tales. Riding the long-gone Sky Jump drop ride, being terrified of falling out but doing it again. Watching the old west shows over in Ghost Town and being chased by monsters during Scary Farm. And the Soap Box Racers, who didn't love racing against other cars?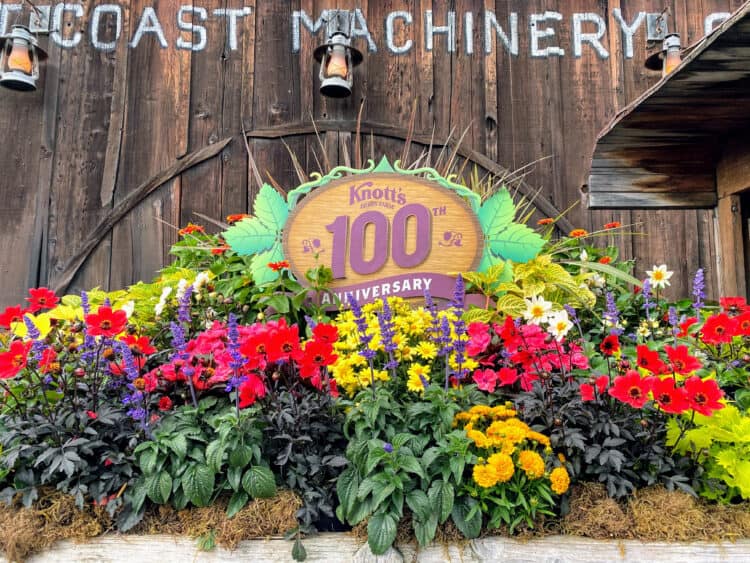 And the food…from boysenberry-filled churros to cheesy pizza to holiday themed cookies. Boysenberry wings. All things boysenberry. And it wasn't just boysenberry food. I actually have a tube of boysenberry chapstick in my purse. Shopping in Ghost Town always means unique gifts for my friends.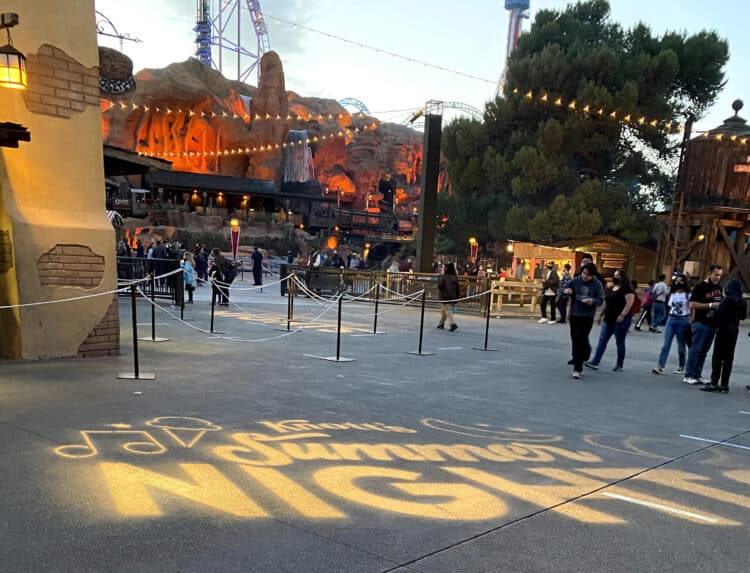 Knott's Berry Farm has a rich history and the Knott's family goes back a long way. Beginning last week, Knott's is now officially celebrating their 100th anniversary, and we're getting a chance to go back in time. The park is full of flashbacks to the early days, with fun photos opps and QR codes that allow you to scan the code and learn about that particular area of the park's origins.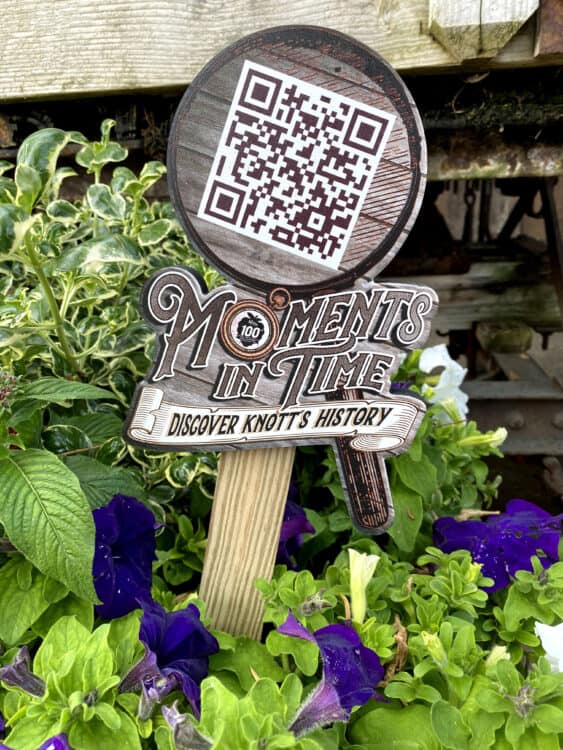 Knott's gave us tickets to its media night for the #Knotts100 celebration. (Search that hashtag on social media for even more photos and news about the park.) We were entertained by a cast of new characters, who wandered the park for selfies, as well as the band, Hiatus, who will be playing at Knott's as part of their Summer Nights series.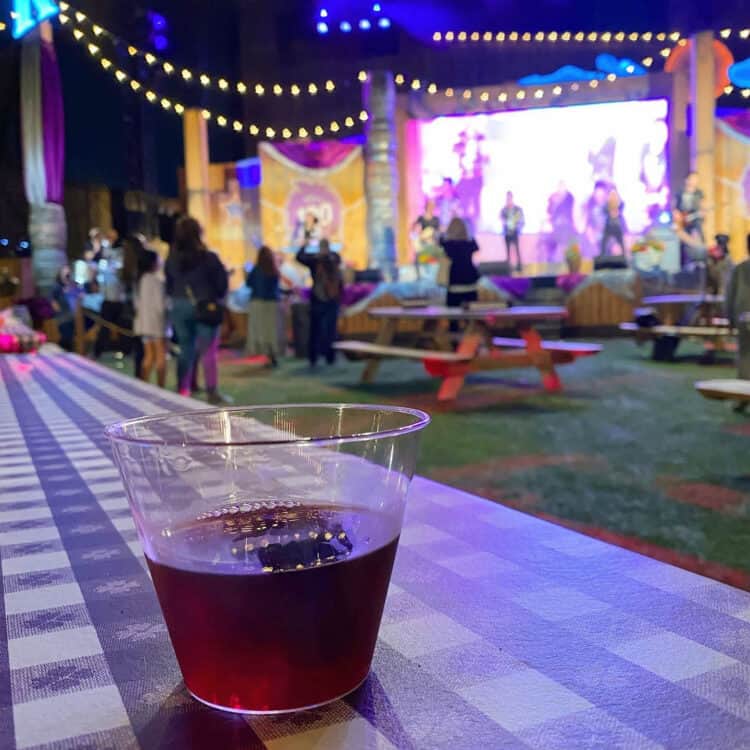 From now through September 6, Knott's 100th Anniversary: A Knott's Family Reunion, you can flashback to the past while creating new memories for your future. Reservations are required, but everything is included in the price except for food.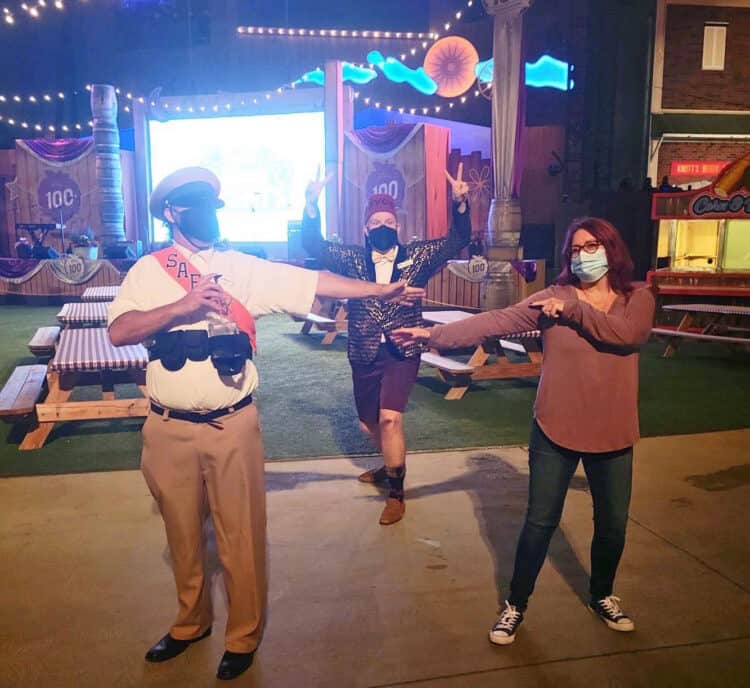 Be sure to ride the new Knott's Beary Tales with Boysen Bear and Girlsen Bear. 34 years after the original ride, you can help chase off the foxy thieves stealing the pies and see who scores the highest.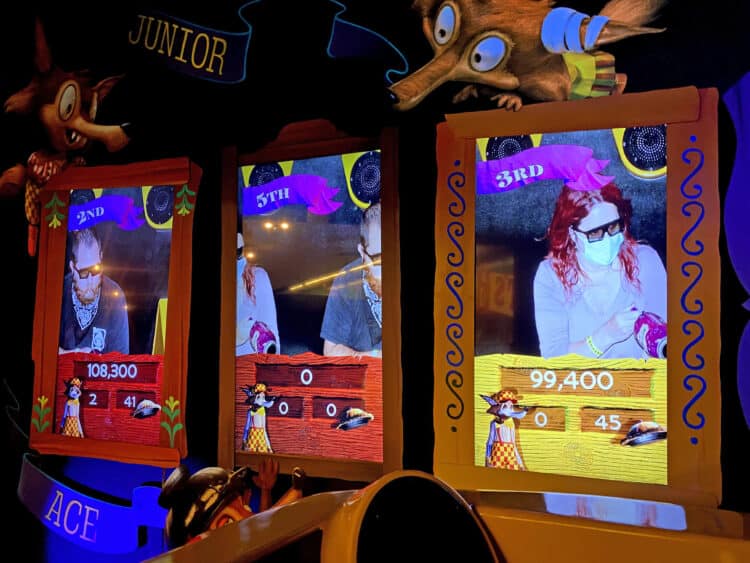 Shooting with a boysenberry 'jelly blaster,' it's a few minutes of silliness that feeds into any bit of competitive spirit you may have. (And I barely won when playing against my son!) Don those 3D glasses for the full experience, complete with boysenberry smells!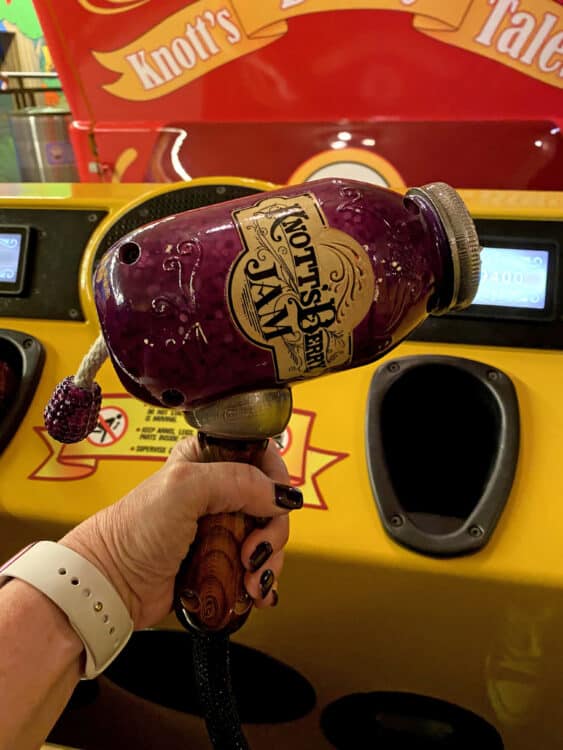 The special boysenberry food list is long. The fun buns are pretty amazing, as is the boysenberry beer, wine and sangria. We enjoyed a big plate of pulled pork mac and cheese, which filled us up but of course, we always leave room for the infamous funnel cake.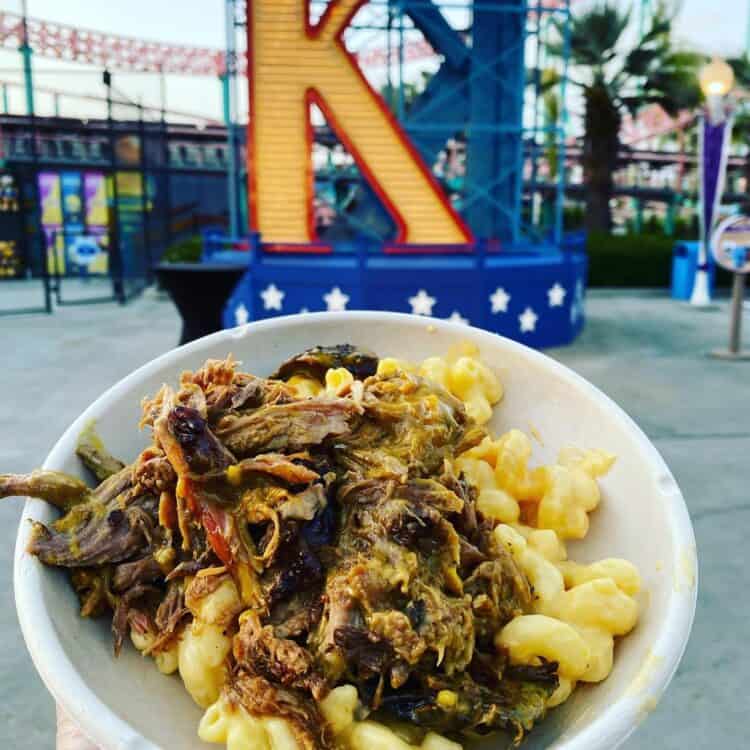 Take a trip back in time and show the kids what Knott's was like in the earlier days, and give them a glimpse of the decades of farm stories long before your time, too.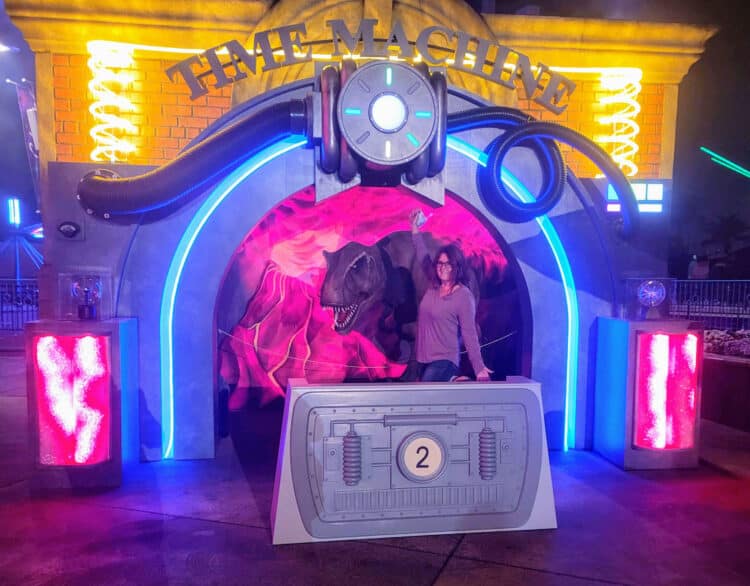 Camp Snoopy gives the young kids a place to play and ride while the big kids can still ride Montezooma's Revenge and Xcelerator…which we headed right to before we started eating the night away. And then there's Hang Time, the only dive coaster in California, that leaves you slightly hanging, completely downwards, without making the drop and taking you through twists and turns before heading back to the gate.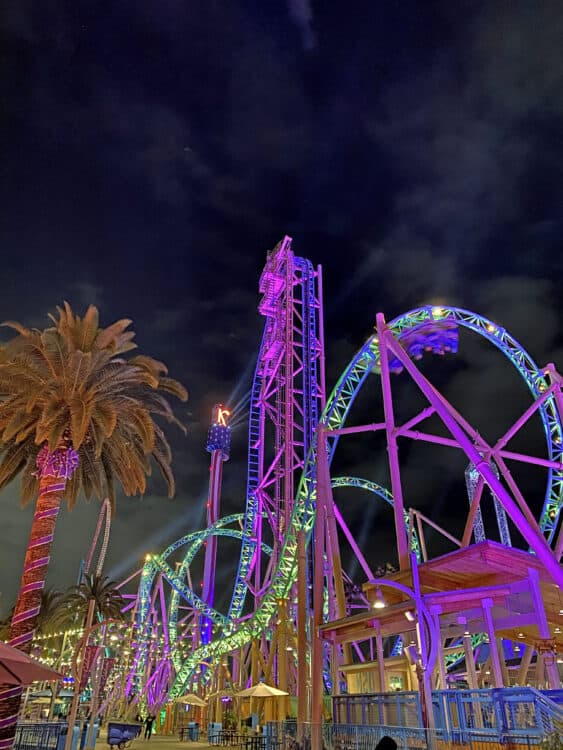 Wherever you wander throughout Knott's during their 100th celebration, it's decorated in purple, from the purple-wrapped trees to the huge glass boysenberries in shiny, dark purple. Safety protocols are currently in place, with mask requirements, social distance markers and hand sanitizer available. (We even kept our masks on when riding Xcelerator. I was so afraid my fun purple mask would come off, but when a ride gets 80mph+ in just a few seconds, physics takes over and it's pretty plastered to your face!)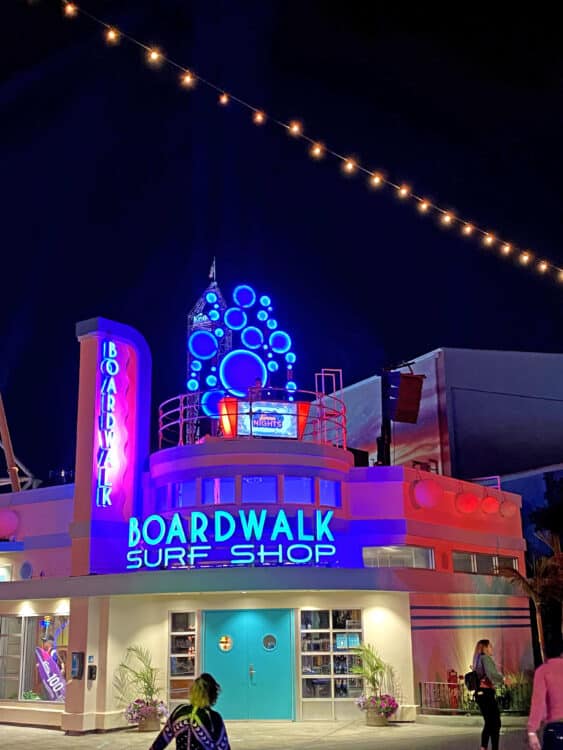 Enjoy Knott's 100th and don't forget the funnel cake!