You may have seen the trailer by now for Sony and Columbia Pictures' new movie, A Journal for Jordan, hitting theaters everywhere on December 25, 2021. If not, I've linked to it below, because it's a real, raw and emotional movie that you'll want to see. I saw it last week, and also had the pleasure of taking part in a Dana Canedy interview. Keep reading for my movie review and Q&A from the interview.
A Journal for Jordan is based on a book written by then-New York Times Senior Editor Dana Canedy, candidly penned about her relationship with First Sergeant Charles Monroe King. Dana (played by Chante Adams) and Charles (played by Michael B. Jordan) met through her father, a veteran, and they fell for each other. Hard. Separated due to his career enlistment, Dana chronicles the pitfalls of a distance relationship, made even more difficult by the challenges the military poses, challenges that Charles handles with unabashed love for both his country and Dana.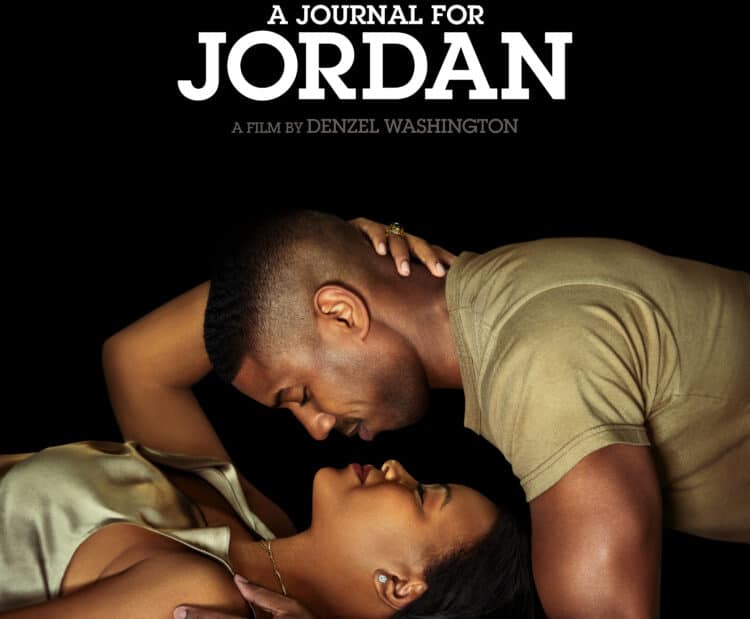 In 2006, Dana becomes pregnant with their son, Jordan, and Charles is sent overseas to Iraq. He chose not to leave Iraq for the delivery, out of a true dedication to his team, but gets one quick visit back home to meet their six-month-old son and Dana, who gifts him with a blank journal. He returns to Iraq, unable to guarantee he'd be home next, where his convoy runs over an IED. Charles was killed, and Dana is sent his belongings, which included the journal. In her grief, she learns how to keep Charles alive for their son, and to move on in her own way.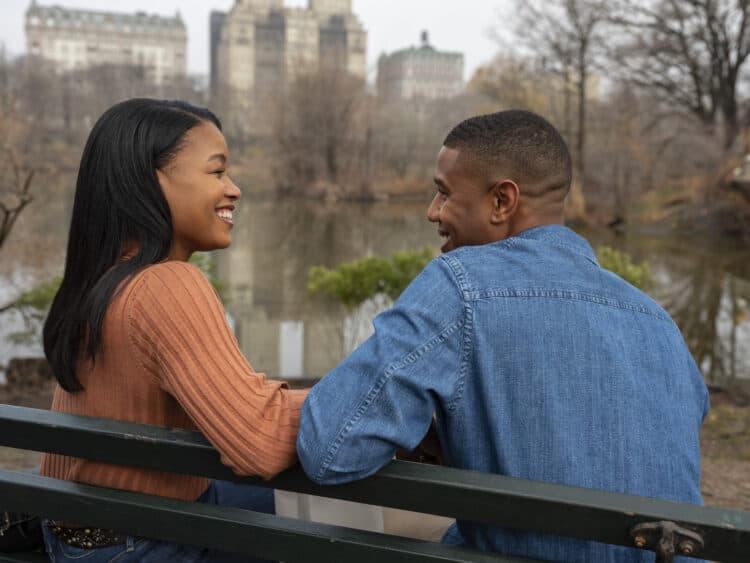 As a veteran, and someone who was widowed many years ago, this story got me on many levels. It had me in tears, for Dana, when she got the formal notification of his death. For Charles, that he never got to know his son beyond that one brief visit. For Jordan, that he never got to really 'meet' his dad.
The memory of someone telling you that your spouse/partner has passed is indelible. It doesn't matter how many years or decades pass or if you're in a new relationship. Directed by Denzel Washington, I was sucked into their story and that moment felt very real. Getting to meet Dana, I got teary all over again, not a typical moment for me, but what a tribute to Charles that this story does that. Dana said to me "It's okay." She's such a beautiful, kind woman.
Our military and their families deserve all the care and compassion we can give them. If you're not from a military family, you get a glimpse of the sacrifices they make and the life they lead. Each time that phone rings or someone comes to the door unexpected, you jump just a little. We hear stories on the news, we use the term PTSD like we can compare or we know what it means in its truest sense of the word, and we make judgments based on political feelings, yet throughout it all, our soldiers are still out there on the front lines, protecting our freedoms, both literally and figuratively. They're sleeping on cold, hard-packed dirt or standing in the rain guarding a gate. They're seeing things civilians will never understand and doing it voluntarily.
Dana was a joy to interview. I was so excited about the opportunity. It's not every day you get to meet a NYT Senior Editor or a Senior Publisher from Simon & Shuster. Her spirit was so compassionate and positive, and she was so open to our many questions. She's the only national journalist in the US who had received that knock on the door, and as she said, who else better to tell this story.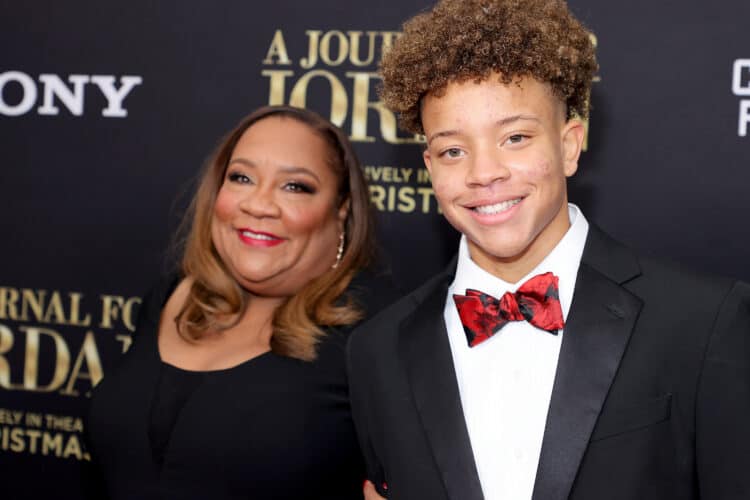 I had so many questions after things got rolling, but I asked Dana what scene was the most difficult or best to see reenacted on screen, and why. It was a broad question, but I could only imagine that reliving so many moments can dredge up memories both positive and sad. She explained to me that she brought Charles' belonging, including his dog tags, which Micheal B. Jordan wore that day….after taking a break to walk away. Truly, I cannot imagine the emotions on set this day. So beautiful and touching. She also brought the suit that Jordan had worn at his father's funeral and a stuffed animal from Charles. What an amazing way to bring Charles to life for Denzel, Michael and the rest of the cast.
The most difficult moment to film was the scenes in Arlington Cemetery, which relived the third most difficult day in Dana's life. The soldiers in the movie, several with obvious injuries from their service, were all real veterans. What an absolute honor to Charles and his fellow soldiers. "Sometimes painful moments are useful. I was willing to go through that to be able to share what we ultimately released to the world with all of you."
The book was a bestseller, and I wondered what it felt like in that moment when she learned it was going to be made into a movie. She wrote the book from a place of both pain and pride, the pain of having lost him and the pride of what he left behind and wrote in the journal. She wrote the book for Jordan, and each chapter starts with "Dear Jordan." She wasn't sure if anyone beyond he and her mom would read it, but she felt it was an honor of a lifetime and that complete strangers are hugging them and pulling them close, drawing on their strength. Her prose isn't just in a written form; she speaks so eloquently as well, and I am ordering the book to read after the holidays. I want to sit on my couch, wrapped in a blanket, cocoa in hand, and reading their story from cover to cover.
Thank you to Sony for allowing me to be a part of the screening and junket. It truly is a special movie. It has been rated PG-13 by the Motion Picture Association for some sexual content, partial nudity, drug use and language and it runs 2 hours and 11 minutes. It hits theaters on Christmas Day, but take the tissues. It's a great movie for everyone, and men, if you think it's a movie for women, please don't let that stop you from seeing it. It's got so much in it for you to enjoy.