Yesterday was hot as blazes here in Southern California. Summer is halfway over for many of the local kids who return to school the first week of August, so we try to pack each weekend with fun. Summer goes too fast, so to escape the heat and have fun together as a family, we planned to make a day out of visiting Raging Waters. Located in San Dimas, Raging Waters is where the 57, 10 and 210 freeways converge. It only took us about 20-25 minutes to arrive, making it perfect for a day trip.
If you're considered visiting Raging Waters, here are some tips and info about the park to maximize the fun you have. I received free tickets for my family from Raging Waters in exchange for this post. I also got a coupon code so you can save money on your tickets! Click here to go directly to buy your tickets online or enter code: DangerousCupcakeDesignsBlog16 at checkout when you see the code box. You'll receive $8 off your regular admission tickets on Monday through Friday, or $3 off tickets on weekends.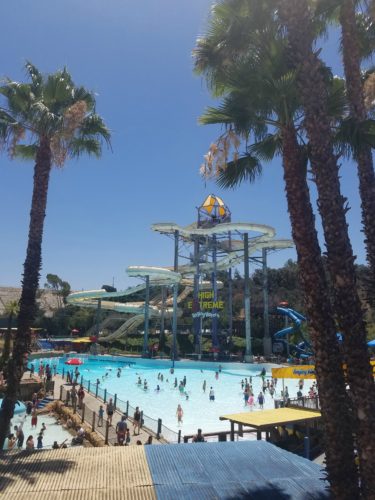 Here are some facts about Raging Waters:
Raging Waters is 50-acres of fun, sure to entertain guests of all ages.
It's the largest waterpark in California, with over 50 attractions.
Raging Waters is home to the only hydro-magnetic water coaster.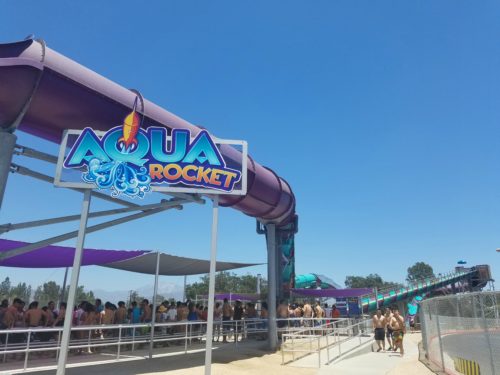 There are at least 10 places to eat, offering a large variety of lunch and snack foods. We loved the funnel cake with cheesecake batter! (We also got strawberries and whip cream on ours. Yum!)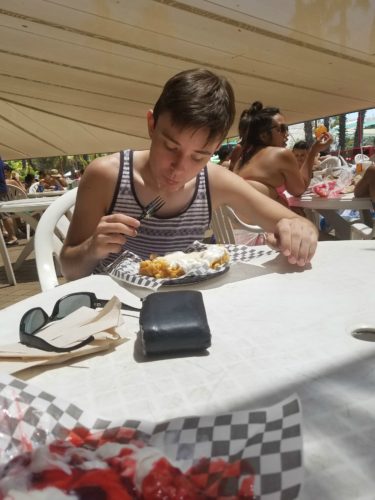 The park was built in the hills, allowing for mountain views, and takes advantage of its natural surroundings.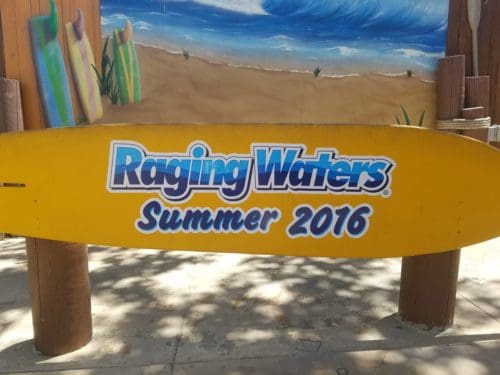 Here are some things to consider before visiting Raging Waters:
Consider visiting Raging Waters on a week day. We were told the lines were shorter and there were less people. (You'll also save $8 on tickets using my discount code DangerousCupcakeDesignsBlog 16 instead of $3 you'll save on weekend visits.)
Read up on the H2Go Pass. It's an electronic reservation system utilizing a wristband that allows you to reserve your place in a virtual line, reducing your time waiting. They offer standard and premium options, depending on your needs and budget. It is available for nine of the rides. We did not have the H2G0 pass, and I wish we had. I think we'd have hit up more of the rides and maybe even done a couple of the repeats. (One of our sons is special needs, so I do wish we'd obtained H2Go passes.)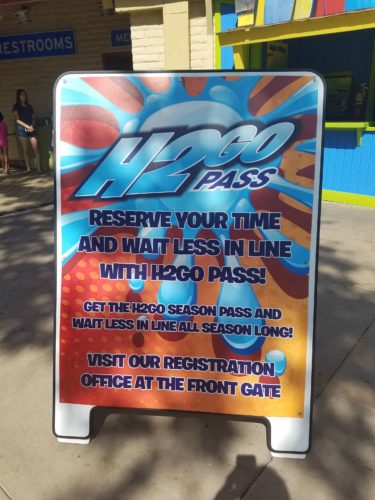 Cabanas are available for rent. They begin at $99 depending on your group size and needs, but you'll appreciate the place to sit in the shade. It will also make it easier when you eat.
Bring cash for your parking. It is $15 for regular and $20 for premium. (Or if you go early, you will still get up close to the entrance for only $15.)
Also bring cash if you want to rent a locker. They comes in various sizes, and therefore have various rates. We got the largest for towels, clothes, phones and gear for four of us. Just remember your code and locker number! We made the mistake of saying the code out loud when we had to repeat it to one of my sons; we were concerned that someone had overheard it so we changed the locker as changing the code is not an option. The employee had us on our way with a new locker in under five minutes. There are a lot of lockers, but I'd head there right when you get in so the lines are shorter.
Water shoes will allow you to ride without having to stow your footwear at the ride entrance then go back and get it. The ground can get pretty hot.
Speaking of stowing, if you can, leave your glasses in your locker or with someone not going on the rides. My son lost his glasses in the lazy river. The staff has a good system in place for lost and found, but you won't want to have to worry about it if you can. You'll be asked to remove them while on rides anyway.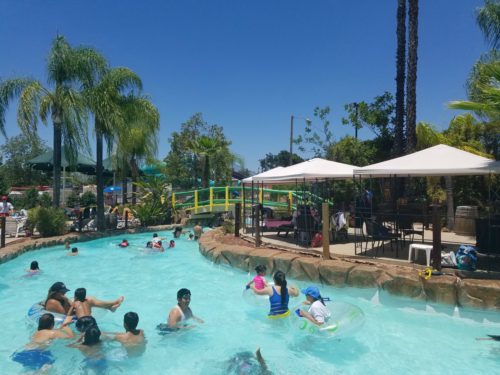 You can buy a waterproof lanyard for your phone from the gift shop. We saw them all over. I didn't purchase one, so I don't have any photos taken while on the ride, but if I was a passholder, I'd definitely use it. I'm pretty sure that there's at least one employee who got a kick out of my son's girlish screams coming down Neptune's Fury. I wish I had photos of us on the ride!
Be patient. It's hot, so a lot of people want to get into the lazy river and on the rides at the same time. This is typical of a popular amusement park during the summer, so patience is handy when waiting in line. We did have some good jokes while standing and waiting so we made the most of it all.
Don't forget the sunscreen! You can still get sunburned on an overcast day.
Want to go again? Once you're there, inquire about a season pass. They will credit that day's ticket towards the price of the pass, leaving only around $20 due so you can go whenever you want!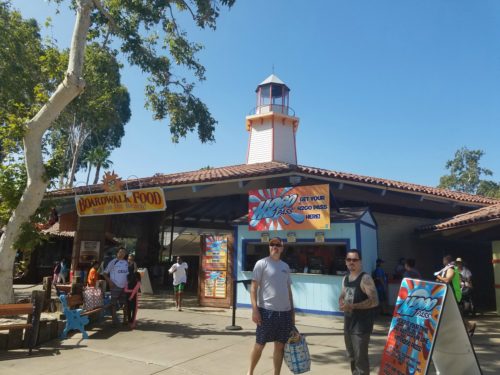 Our favorite ride was Neptune's Fury, but everything we visited was a blast. Floating in a tube and circling in the lazy river was a nice break in between slides. You travel through the Amazon and past some pretty waterfalls, complete with an animal soundtrack. Details all throughout the park are spot-on, and it's all very clean and well-staffed. We've visited a lot of parks throughout our many years as parents and this one was right up there with usable restroom facilities and availability of staff when we had questions.
Enjoy your visit to Raging Waters and stay cool out there!